Last Updated on June 25, 2023 by Matt
If you know how to park your electric scooter safely, properly, and legally, you can save yourself a lot of trouble.
Let's see how to park your scooter right.
To ensure you always park an electric scooter properly and legally, no matter if it's a personal or shared one, you need to know what areas you're allowed to park it in and in what position. Most cities require e-scooters to be parked in the furniture zone on sidewalks, at bike or e-scooter racks, and in designated parking zones. Parking your ride in these locations won't limit the movement of other road users and will protect you from facing penalties and fines.
Tips on how to park your electric scooter outside
These are some practical tips to help you park your scooter easily and properly.
Check where you're allowed to park it
Any e-scooter rider has the responsibility to comply with the regulations and laws adopted by the city or country they live in concerning electric scooter parking. While each country enforces different regulations and rules on the parking of this vehicle type, they almost all allow parking e-scooters at bike racks and in the furniture zone of sidewalks.
One paper has found that Los Angeles requires scooter riders to park their two-wheelers on sidewalks that are 3 feet wide at the minimum.
Contrary to this, in San Francisco, e-scooter users are required to park their scooters on 9-feet wide sidewalks.
Moreover, the study shows that although most cities in the U.S. allow e-scooters to be parked in the furniture zone of sidewalks, some cities, such as Sacramento and Phoenix, forbid this.
So, to make sure you always park your two-wheeler legally, you need to get familiar with all the local regulations and rules by reading them online or learning them from a government resource.
Be considerate towards other road users
Before you park your electric scooter and leave it unattended, make sure you assess the parking space.
Think about whether leaving your ride there will cause other drivers and pedestrians any inconvenience. For example, check if your parked electric scooter blocks any residential or commercial building entrance, bus stop, driveway, curb ramp, or crosswalk.
If it does, be mindful of others and look for another parking space where it'll be legal and considerate to leave your scooter. In this way, you'll never need to worry that you might get fined or banned from riding it for several months as a result of improper, illegal parking. Also, you don't have to worry about an irritated person whose movement you've interfered with damaging your scooter.
Find a suitable parking space
Appropriate parking spots for electric scooters include:
designated e-scooter parking zones
the furniture zone on sidewalks
e-scooter or bike racks
areas that aren't cramped with vehicles or pedestrians
areas that don't block crosswalks
areas that don't limit accessibility for other road users around
Know what areas you shouldn't use as a parking space
Keep in mind that there are certain areas and places that most cities do not allow to be used as parking spots for electric scooters. These areas include:
private property
curb ramps
wheelchair access ramps
handicap zones
emergency exits
bicycle lanes
driveways
in the way of other vehicles
residential and commercial building entrances or exits
against building facades
a garage entrance or exit
at corners
loading zones
utility boxes
public drinking fountains
near fire hydrants
transit stations and stops
landscaped area
Park it properly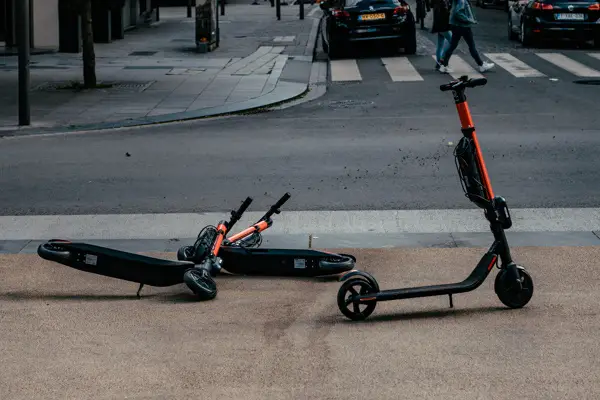 Most cities require electric scooters to be parked at e-scooter or bike racks, covered bike parking areas, or as near as possible to the curb of sidewalks. Scooters should be also arranged in the same row as adjacent fixed objects, like trash cans, posts, or trees. In this way, they won't obstruct the way on the sidewalks.
You should always park your e-scooter upright on a stable, flat surface, and lower the kickstand to prevent it from toppling. You also need to make sure that if your scooter accidentally falls down, it won't fall in the area of the sidewalk or street where people will walk or other vehicles drive.
Note: A scooter lying sideways or flat on the ground on sidewalks can be a serious hazard for all pedestrians, especially individuals with limited mobility and visual impairment.
Lock it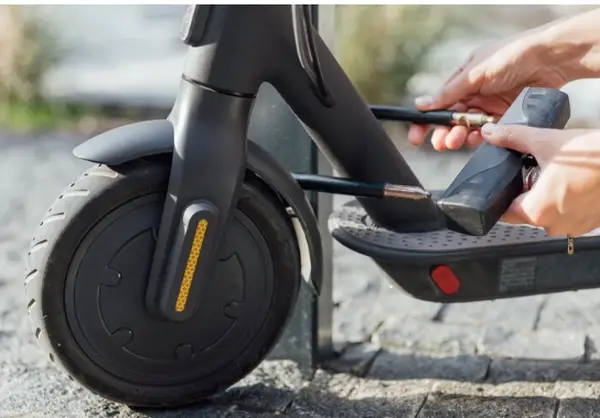 Electric scooters have been growing in popularity, but so has electric scooter theft. If you don't secure your scooter when you park it outside, someone can easily steal it once you turn your back.
Therefore, make sure you always secure your e-scooter using solid, durable locks. There's a variety of locks you can choose from, each with its own advantages and flaws.
Also, besides locking certain components of your scooter, make sure you secure it to an e-scooter rack, a bike rack, or a tall post as well for maximum protection against theft.
How to park your electric scooter during cold weather?
Most e-scooters use a lithium-ion battery that works by transferring electrons and ions between the two electrodes. Cold temperatures can affect or even stop these electrochemical processes, thereby reducing the performance and lifespan of the battery. This, in turn, reduces your scooter's range.
So, when you need to park your e-scooter outside in cold weather, make sure you cover its entire deck with a heated, waterproof, and insulated cover or blanket.
Can you leave rental scooters anywhere?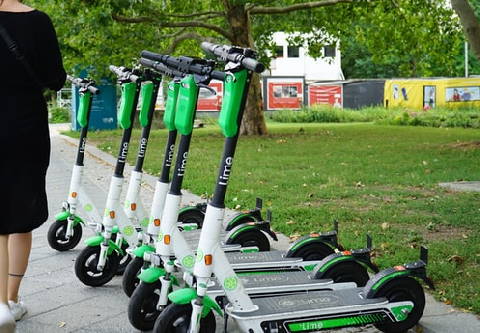 Shared electric vehicle companies usually allow you to end your trip with their scooters wherever you please. However, there are some factors you must consider before deciding where you'll leave your scooter rental.
First things first, you should not park a shared e-scooter at bus stops, entrance and exit ramps, and in no-park or no-ride zones. Also, make sure you never leave your scooter lying flat on the ground or in the area of a sidewalk where it could block the path of others around.
In general, you must not park in any location where your parked e-scooter may get in the way of other vehicles and pedestrians, and thus prevent them from moving freely and safely and impede their accessibility.
When you need to park a dockless e-scooter, search for locations such as furniture zones on sidewalks and e-scooter or bike racks. Also, make sure you park it upright and in a position that won't make it harder for the next user to pick it up.
Tip: If you want to find out more about how to use and park shared e-scooters, check out this article here.
---
Want to get
FREE SCOOTER
tips, exclusive discounts and promotions, and unseen scooter hacks? Join the
Scooter Secrets club
.
---
Liked this article? It really helps if you share it.
Follow @escooternerds on social media for more cool stuff
---