Last Updated on September 17, 2023 by Matt
After reviewing and comparing more than 50 models that are currently available, we finally have it – the best electric scooters with top speeds of up to 20 mph / 32 kmh.
In this article, we will look at 8 different scooters, divided by their best use cases.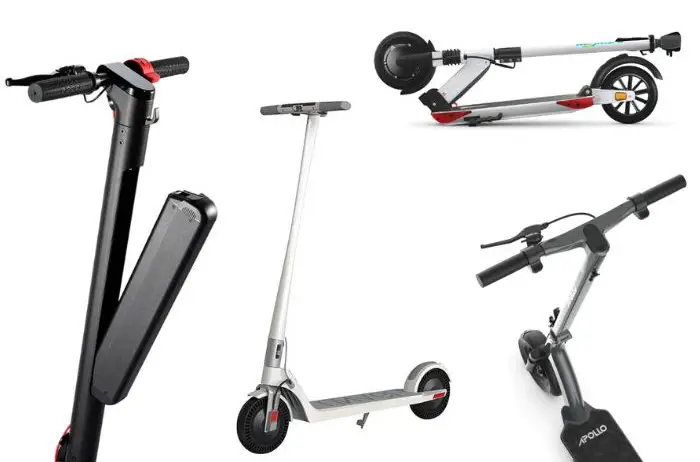 Best 20 mph electric scooters
These are the best 20 mph / 32 kmh electric scooters, their best aspects, and the prices you can typically find them at.
Apollo Air 2022 – Best overall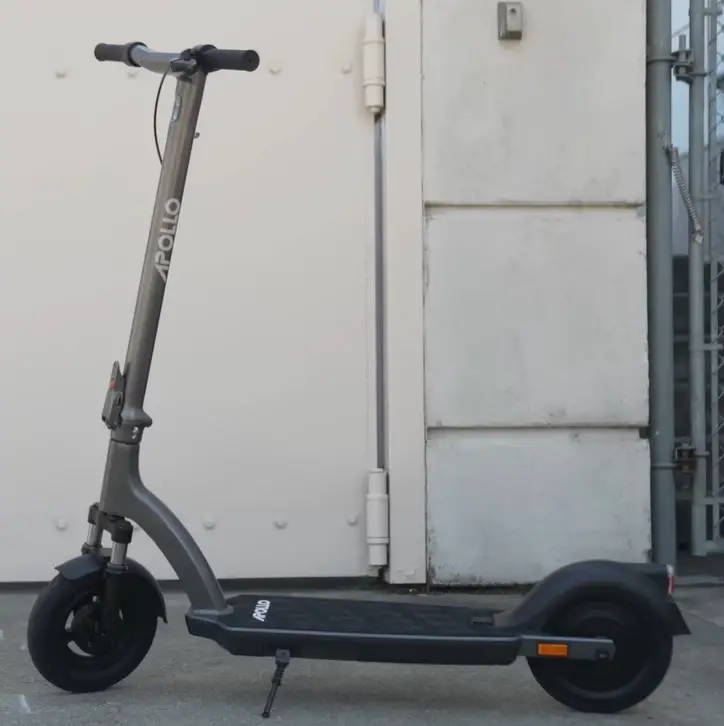 It is practically impossible to find a scooter with a high-end design in this category, but the Apollo Air 2022 is the closest it gets to such a thing.
This past year was a hot one for the Apollo brand. They released a lot of new improved versions of their old models, with some new design tweaks and huge performance boosts.
Even their 20 mph star – the Apollo Air, didn't fall short of an upgrade.
This improved version of the lightweight bestseller comes with a great range of 31 mi / 50 km on a single charge, while taking around 7 hours to fully recharge. And with a weight of 38.5 lbs / 17.5 kg, it's quite portable as well.
It may not the lightest scooter on this list (read more to find out about that one), but most average adults will be able to manage it.
But the biggest reason why the Apollo Air 2022 is, without a doubt, the best scooter on this list is its build quality. The scooter is made of 6061 aviation-grade aluminum, and is equipped with some next-level parts you rarely find in this price range: a great waterproofing of IP54, dual front fork suspension, a great braking system with a regenerative brake, and a high-end battery with protection from short circuit, overcurrent, overcharging, and temperature resistance.
For the price of $999, you get one of the most durable electric scooters in the 20 mph range. The cost may seem higher than the other picks below, but it more than pays for itself.
Turboant V8 Dual-battery – Longest range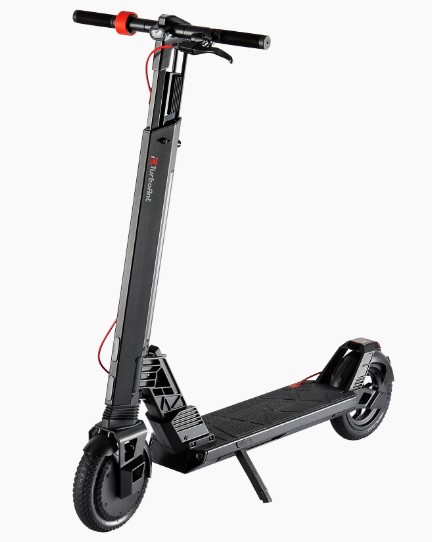 Scooters in the 20 mph category will rarely have up to 30 mi / 50 km of range. They are budget options, after all, so you will sometimes deal with subpar builds and small batteries here.
In fact, some scooters on this list will provide even less range, but on average you can expect them to last 3 to 4 short rides.
And this is where Turboant V8 Dual-battery comes in.
Equipped with two batteries, one on the deck and one on the stem, the Turboant V8 Dual-battery scooter has up to 50 mi / 80 km of range.
Charging takes around 4 hours, and yes, you can charge the two batteries simultaneously. That gives you around 12 mi / 20 km per hour charging, which is the best charge-to-range ratio out of all 20 mph scooters.
But the best news?
The battery on the stem is fully removable from its bed. This gives you the option to recharge the scooter in your office while leaving it downstairs, reaping significant benefits out of its design.
Other features of the Turboant V8 Dual-battery include a dual braking system with a disc and an electronic brake, a great lightning system with a 3W headlight, brake light, and 4 LED lights on the side, 15° climb angle, an IP54 waterproof rating, and a dual spring rear suspension.
The price of the Turboant V8 Dual-battery is typically around $800, but you can often find it discounted for as low as $650, making it one of the cheapest scooters with a removable battery in the world.
AovoPro 365 Go – Most portable, most waterproof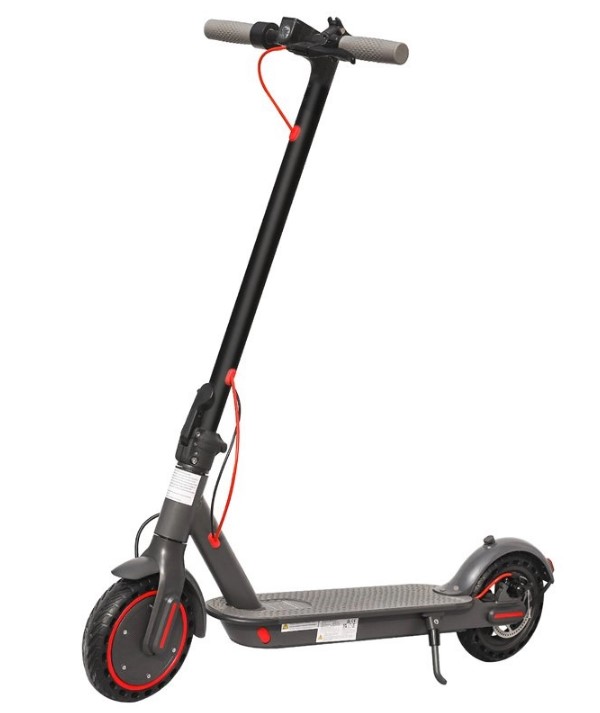 Scooters with low top speeds are generally lightweight as well. Their motors and batteries are small, and their builds don't require hefty frames.
35 – 45 lbs / 16 – 20 kg is the general weight range for this category.
But priced at a mere $340, the AovoPro 365 Go comes with an even more astonishingly light weight 26 lbs / 12 kg, making it the lightest and most portable scooter in the 20 mph range.
The scooter is made of aluminum alloy and has one 350W motor which is enough for a top speed of 20 mph, but still weighing a lot less than its competitors.
In addition, the AovoPro 365 Go is the most waterproof 20 mph scooter you can find at the moment, with a water protection rating of IP65 – great for protection from hard splashes of water from all sides. You can ride it whenever you want, carry it upstairs with ease, and never lose time waiting because of its 5-hour charging period.
For $340, I believe this is one of the best deals you can make on the e-scooter market right now.
Anyhill UM2 – Best for heavy adults
Anyhill UM2 is my favorite scooter for heavy adults in the 20 mph range.
Heavier riders are mostly out of luck when it comes to budget scooters, as they all have fairly low limits of 220 lbs / 100 kg.
But the Anyhill UM2 can withstand much more.
This $899 priced sleek scooter with a removable battery has a weight limit of up to 300 lbs / 136 kg, way more than any other 20 mph scooter you will find.
With the 6000 aluminum alloy frame, along with the large 10-inch solid tires, and a powerful 750W motor, this model is perfect for people who are on the heavier side but don't want to overspend on an electric scooter. The removable battery stored beneath the deck is just a big plus on top of all that.
The Anyhill UM2 uses a mobile app for all controls, including cruise information and locking the scooter up. You will also find it in fresh white or black variations, so you don't have to worry about the looks of your next personal vehicle.
In case you want to find out more about this scooter, check out my detailed Anyhill UM 2 review.
Unagi Model One – Best design
Although all of the above scooters look great in their own way, nothing comes even close to the design of the Unagi Model One.
Unagi made waves in the e-scooter market when they released this model, as it quickly got labeled the scooter of the future.
It is simply beautiful.
The frame comes in 5 color options: white, blue, black, red, and brown, all of which look absolutely gorgeous (although the white and the matte-black combo definitely look the best in my opinion). Its deck is thin and elegant, with every angle of the scooter displaying a high level of attention put into this design.
The Unagi Model One does not shy away from a solid performance too.
For $590 you get a sleek scooter with dual 250W motors, peaking at joint 800W power, three speed modes for full ride control, ABS brakes with a braking distance of 13 ft / 4 m at full speed, and solid rubber tires that require no maintenance.
All in all, this is the best-looking 20 mph scooter you can find. You can check out my complete Unagi Model One review for a better look into its build and specs.
Hiboy S2 – Best with solid tires
Solid tires are one of the best innovations in the world of personal vehicles. They require no air inflation, no maintenance, rarely wear off, and are fairly cheap and easy to replace when needed.
There are a few scooters with solid tires in this category, but the Hiboy S2 outperforms them all in many ways.
This aluminum-made budget scooter comes with one of the best ranges in models under $400. Its battery provides up to 17 mi / 27 km of riding on a single charge of 4-5 hours.
The scooter is also powered by a 350W motor, which may not sound like a lot at first, but it's more than enough to withstand a 220 lbs / 100 kg person on a 15-degree incline.
Of course, we are actually here for the tires. The Hiboy S2 comes with durable 8.5-inch solid rubber honeycomb tires, which are fully puncture-proof. To combat the lack of ride comfort these tires produce, the brand has installed dual rear suspension springs on the scooter.
That way, you are getting the full benefits of solid tires, without comprising ride quality at all.
Turboant X7 Pro – Best value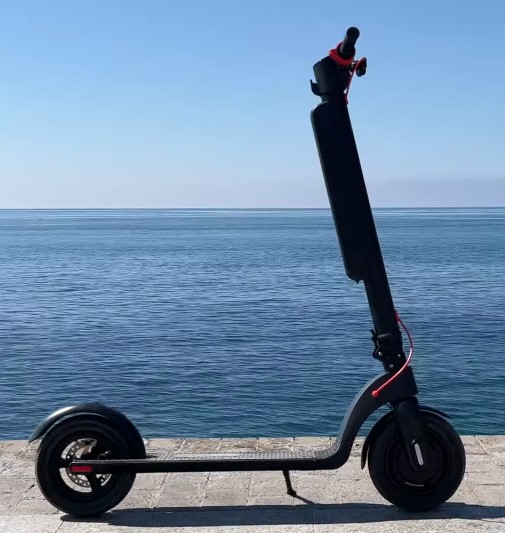 As you can see so far, all 20 mph fall in the budget category – they are all priced under $1000. But even then, a few of them still cost around $700-$900, which might be out of pocket for some of you.
For value shoppers who are looking for great deals and cheap prices, I suggest the Turboant X7 Pro. Priced at $550, it is one of the cheapest scooters you'll see that can truly surprise with its specs.
This super light electric scooter has one of the most complete feature packages for how cheap it comes:
a removable battery with a 30 mi / 48 km range
275 lbs / 125 kg weight limit
10-inch pneumatic tires
disc brake and an electronic ABS brake
IPX4 waterproof rating
all while weighing only 33 lbs / 15 kg
It's no surprise that this is the absolute bestseller of the Turboant brand, which is renowned for making good quality budget scooters. You simply can't go wrong with them.
I recently did a full review of the Turboant X7 Pro scooter, so go and check it out to see what type of quality am I talking about here.
GoTrax GMax Ultra – Best alternative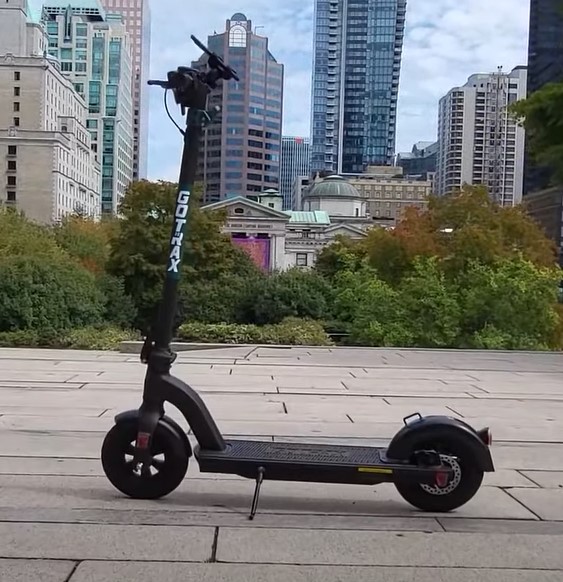 A "jack of all trades, master of none" would be the perfect description of the best alternative pick in the 20 mph category – the GoTrax GMax Ultra.
If you look at this scooter's specs, you'll see they are all exceptionally strong, but just shy away from being the best on this list.
It has a 45 mi / 73 km range, which is huge for an $800 scooter, but is barely beaten by the Turboant V8 Dual battery. Its IP54 waterproof rating is also one of the highest on this list, but only just the second-best in total.
And the list goes on and on with most of its features: two batteries, of which only one is removable, a weight limit of 275 lbs / 125 kg – highest among all 20 mph scooter, and the scooter itself weighs 46 lbs / 21 kg, which is fairly light and carryable, but not the lightest.
What more can I say – the GoTrax GMax Ultra is the true greatest alternative option. If you want great specs that cover every point of the ride in an equally decent fashion – this is your choice.
Read my GoTrax GMax Ultra review and see if this all-in-one electric scooter fits your needs.
Frequently asked questions
Here's what you might want to know before buying yourself one of these scooters.
How much do 20 mph scooters cost?
Scooters in this category are some of the cheapest ones on the market. They usually cost between $400 and $1000, but you will most often find them in the $550 – $800 range.
Are 20 mph scooters safe?
Almost all electric scooters today can go up to 20 mph. It is the lowest top speed you can see on modern e-scooters. As such, they are arguably the safest models you can find.
Compared to power scooters that go up to 50 mph (roughly 80 kmh), these cheaper commuters are a light breeze, are very easy to ride, posses practically no danger to the rider, and are great for beginners.
Can adults ride 20 mph scooters?
Absolutely! Although they might seem weak compared to premium models, these 20 mph scooters are perfectly fine for adults. A quick glance at each model above will show you that all of them can endure at least 220 lbs / 100 kg of weight on their deck, which is perfectly fine even for some of the heavier adults out there.
Are there any 20 mph scooters with a seat?
While none of the above scooters come with an integrated seat when you're ordering them, some models do support adding a seat on their deck aftermarket.
Unfortunately, you won't be able to do this with all 20 mph scooters. Some of the most popular choices that support this feature are Apollo Air 2022, the Turboant scooters, and the AovoPro scooters as well.
You can buy a seat on the very same website where you order the scooter itself, and it will typically cost you around $100 – $150.
Summary
Those were the best 20 mph scooters available in 2023. You can take another quick look at them, their best use cases, and their prices in the table below.