Last Updated on March 31, 2023 by Matt
The Dualtron Thunder is a beast of a scooter. It is a power scooter in every sense of the word. I've tested dozens upon dozens of scooters, and the Dualtron Thunder is still one of the most powerful scooters I've ever tried. If extreme, exciting, endless rides sound like a good idea to you, read on.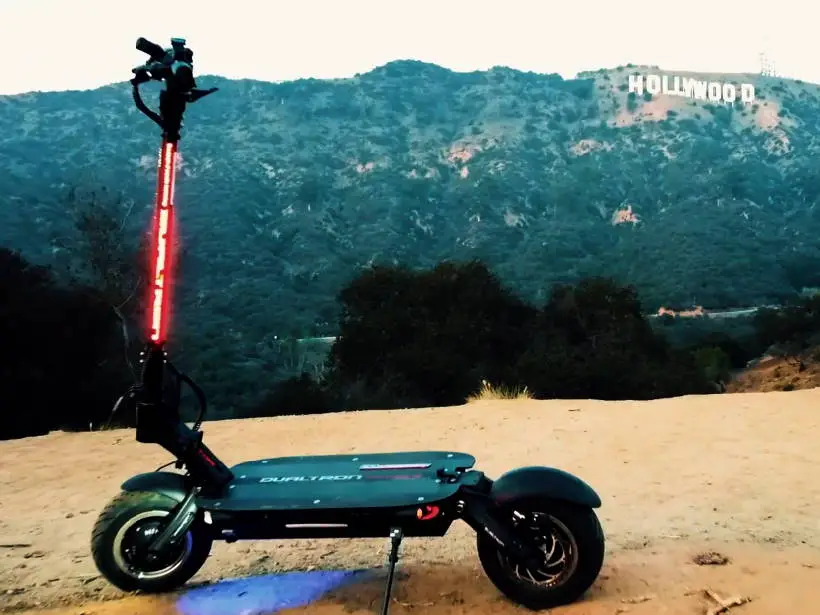 Dualtron Thunder Review
The Dualtron Thunder is one of the most powerful electric scooters I've ever reviewed. With a hub BLDC motor in each wheel for a combined real power of 2400 W and peak power of 5400 W, and a 60 V 35 Ah LG battery, it provides a top speed of 50 mph / 80 kmh, a range of 75 mi / 120 km, and a 35° climb angle, one of the highest in the scooter game.
Dualtron Thunder pros and cons
PROS
Amazing power
World-class build quality
Proven track record
Great speed and performance
Great range
Great quality overall
Incredible lifespan
CONS
Heavy weight
Big dimensions
Almost impossible to carry
Expensive
Short rear mudguard
No bell or horn
Mediocre kickstand
Buying, shipping, discount
Up until recently, most Dualtron scooters were only available in the US and Canada, and availability in Europe and Australia was limited. Today, Dualtron scooters, including the Thunder, are more easily available worldwide.
The best place to buy the Dualtron Thunder from is Voromotors, which became their official distributor. Shipping is free in the continental US by default with Voromotors, and free on orders over $3000 in Canada, the UK, and most EU countries. Since the Dualtron Thunder costs $3499, you will get free shipping in those countries as well.
As an added bonus, if you add the 1-year Extend product protection and use my coupon code FreeExtend at checkout, you will get a 2-year warranty entirely for free.
If you live in the UK or some European countries, it may be worthwhile checking out RideAndGlide, as they will also provide competitive prices and free shipping.
Warranty, returns, customer support
The Thunder has a 2-year warranty on the critical electronic parts (motor, battery, controller, throttle), as long as you use my coupon code FreeExtend and add the 1-year Extend product protection. As usual, damage or modification voids the warranty.
There is a 7-day return period if the scooter hasn't been used, but you can also request a 7-day test-ride if you want to try the scooter out first before buying.
The Dualtron electric scooter brand
Dualtron is the most famous brand for powerful electric scooters. They simply don't bother making any budget, commuter, or even middle-price scooters, and they only focus on monster scooters. This is great news, as they are quite specialized at it, and are only getting better.
The original brand hails from South Korea, which is a big step up from most scooter manufacturers that usually come from China.
Basics
Let's start with a quick overview of the basics of this scooter.
Unboxing and assembly
The Dualtron Thunder arrives in a huge box, with tons of styrofoam for protection.
The box includes:
scooter
folding lock frame
remote control
charger
multitool
wheel caps
owner's manual
Folding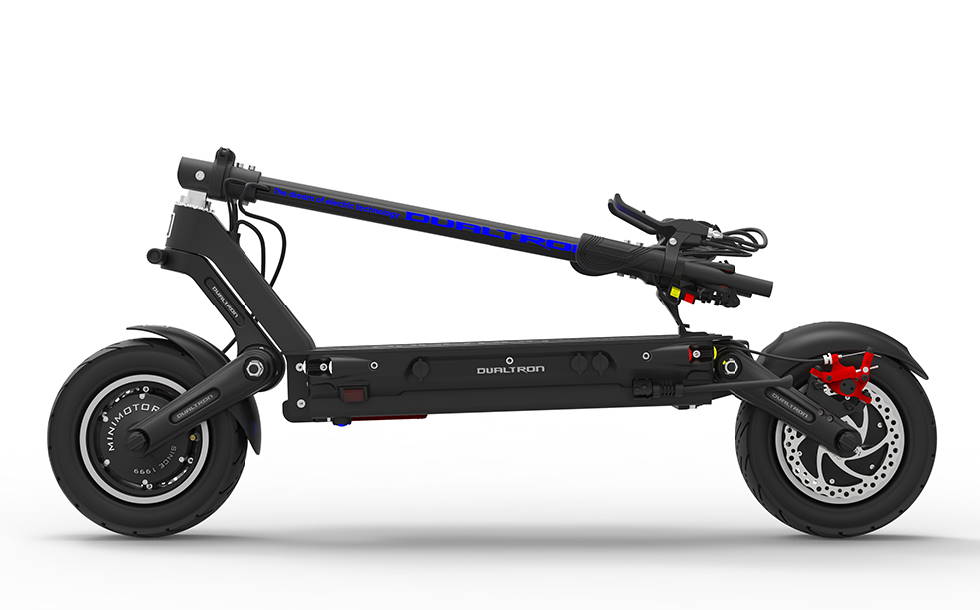 The Thunder is a fully foldable scooter, with the option to fold it both at the stem and at the handlebars. The folding mechanism, using quick-release clamps, is very secure, and together with the steel stem makes the Dualtron Thunder one of the safest fast scooters.
Intended use and ride experience
While not exactly a racing scooter, the Dualtron Thunder is well-equipped to handle very fast rides. It has the build, the toughness, and the quality necessary to provide stable rides at high speeds. Even riding at the maximum speed will not cause the scooter to vibrate. Interestingly, I never felt unsafe or at risk even while riding at higher speeds, and pretty much all of my rides were super-smooth (I didn't dare to ride the scooter at the top speed, more on that below).
It is easy to control and balance, as it's quite nimble given its size and tire width.
The Dualtron Thunder is a true fun, performer scooter that will provide a big adrenaline rush. Not that it can't be used for short trips and commuting, but its powers are best put to use when ridden on less busy streets and at higher speeds.
While riding, you will hear a gentle but potent hum from the motors.
Build quality and materials
The Dualtron Thunder is a top-of-the-shelf scooter in terms of quality. It's huge, sturdy, stable, and built like a bulldozer. Nothing can stand in its way. Every part, screw, nut and bolt, is of the best quality I've ever seen, and will stand the test of time.
The frame of the scooter is made from aviation-grade aluminum alloy, with a hardened steel stem and silicon and plastic details. The stem is very strong, which is one of my favorite things about this scooter.
Design
Both the design and the execution of the Dualtron Thunder are almost flawless. The scooter looks incredible, both tough and pleasing to the eye, and sports a lot of bling in the form of decisive lines and colorful lights.
Terrains and offroad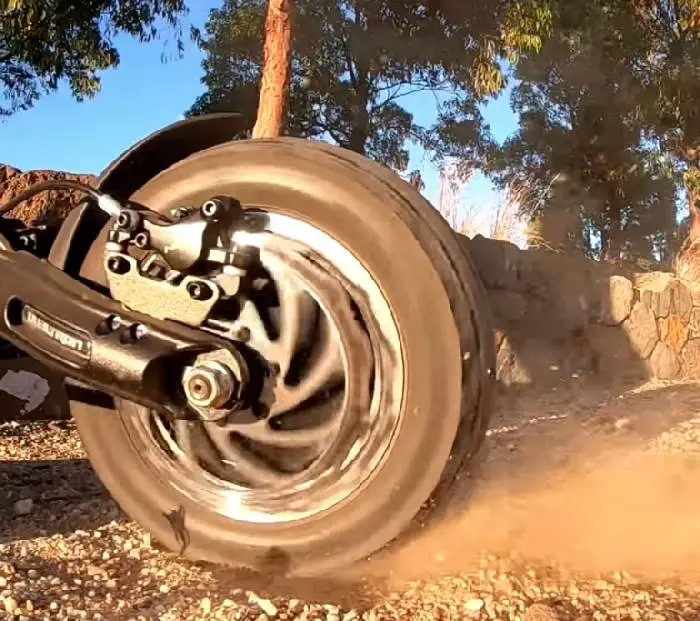 While the Thunder is primarily a fast scooter, it tackles the challenges of the offroad rides quite well. It has the required build quality, suspension, and tire size, to be suitable for riding through all types of terrain.
The tires are not true offroad tires though, so even if you can go through the occasional grass, gravel, or dirt patches, you should not do it all the time.
I only tried it on challenging terrains a few times, including dirt trails and pebbles, and the Thunder performed almost like an off-road scooter.
Performances
It goes without saying that performances are the main attribute of the Dualtron Thunder scooter, and the Dualtron brand in general.
Speed, motor, and power
The top speed of the Dualtron Thunder is 50 mph / 80 kmh. That makes it almost as fast as a small car, and puts it in the category of racing scooters. Only a handful of users have dared to test this top speed. I only dared to go as fast as 35 mph / 56 kmh. Anyway, many owners have confirmed that the scooter is capable of reaching the advertised top speed. (one owner even reached 55 mph / 88 kmh!).
That kind of speed is made possible from the dual hub BLDC motors, one integrated into each wheel, with a combined power of 2400 Watts (5400 Watts peak power).
Range, battery, and charging
The Dualtron Thunder has an official range of 75 miles / 120 kilometers. I only did a few short range tests, and 40% of the battery got me around 25 mi / 40 km of range at medium-fast speeds, which means I would probably get around 62 mi / 100 km of range in my circumstances.
The LG battery has 2060 Watt-hours and 35 Amp-hours of capacity, with a voltage of 60 Volts. This scooter is one of the very few that come with a cooler for the battery, as the insane speeds can easily overheat it.
The battery takes around 20 hours to charge fully with the regular charger, but there is also a fast-charging option that reduces the charge time down to 5-6 hours.
The battery is quite big, but it will still cost you just 10 cents to charge it during off-peak hours in the US, and somewhere around 35 cents during peak hours. In Canada, the costs are 20 pennies during off-peak hours and 25 pennies during peak hours, while in Europe the prices average around 40 cents during off-peak hours and 50 cents during peak hours.
Climbing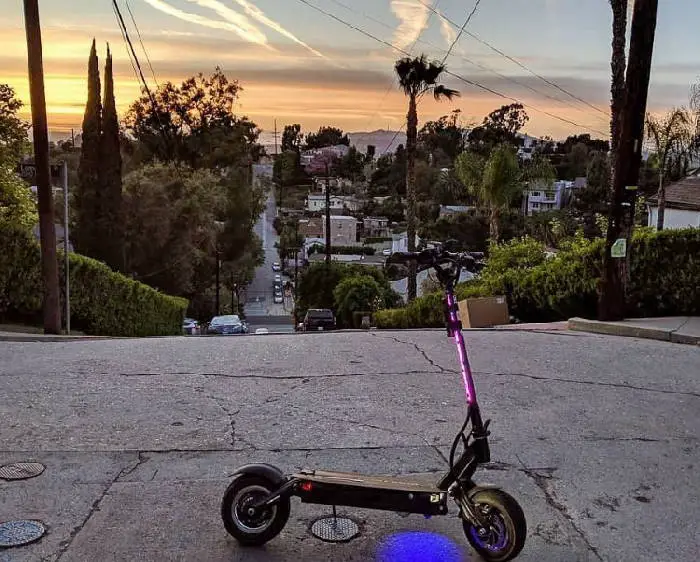 The official climb angle of the Dualtron Thunder is 35 degrees. I didn't test the scooter at a hill that steep, but I can confirm that it conquers hills rather easily (20 degrees are no issue at all, and it can probably climb even steeper hills).
That makes the Thunder one of the best-climbing electric scooters ever. And it's no wonder – dual motors with 2400 Watts of power, 11-inch tires with extra width for greater torque and traction, huge battery, all contribute to this scooter's remarkable climb angle.
Features
Although Dualtron put a much bigger focus on performance, they never neglect the features of their scooters.
Tires
The extra-large tubeless pneumatic tires are 11 inches in diameter and 4 inches wide. That's necessary from a scooter this powerful, because when riding at 50 mph / 80 kmh, every pebble on the road will be felt, and you want the most shock absorption and stability you can get.
Since the tires don't have inner tubes as most budget scooter tires, flats will be less common. The wheels themselves are easily removable, and spare tires usually come pre-installed, which means that fixing a flat will be relatively easy.
Brakes and safety
With 160 mm dual fully hydraulic Nutt brakes, the Thunder has one of the best braking systems in the game. The braking distance from the full speed hasn't been tested yet, but the brakes are very strong and of excellent quality nonetheless. The brakes have ABS (anti-lock braking system), which is always great for a scooter this fast.
The Thunder's build quality and attention to detail make it very safe, despite the crazy speeds it's capable of.
For this type of scooter, there is only one type of recommended helmet, and that's a full-face motorcycle helmet. Take this seriously and always wear it when riding, as the scooter has crazy acceleration and power. You should also consider additional safety equipment, the more the better. That means gloves, motorcycle armor and jacket, elbow and knee pads, the whole shebang. Check out the guides on electric scooter helmets and electric scooter accessories to find some good items.
Suspension
Like everything else in the Dualtron Thunder, the suspension is in a league of its own. Both wheels have a swing-arm suspension system with replaceable rubber cartridges, that can be easily customized to your body type, road conditions, and preference.
Water resistance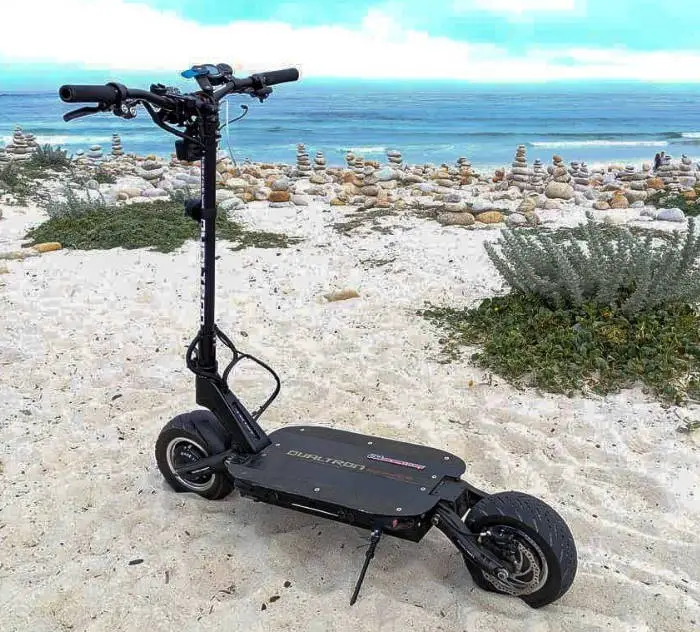 The Dualtron Thunder has an ingress protection rating of IP54. That means the scooter is water-resistant and can handle water splashes from all angles, and it will probably not be damaged by riding in the rain. The scooter is not fully waterproof, so avoid riding it in the rain if you can. I only rode through some light rain once, and there were no problems at all.
Lights
This scooter is not afraid to shine.
The 4 front LED lights on the front of the deck are super-strong, as are the rear deck lights (2 red, and 2 yellow that are activated when the brake is used).
But even better, the Dualtron Thunder has blinking multi-color LED strips on both the stem and under the deck, which make it one of the scooters with the most and strongest light setups ever.
It's simply impossible for anyone to not see you when riding. Keep in mind though, that riding with all of those lights turned on will have an impact on the battery. It is a big battery, but not infinitely big.
Handlebars and deck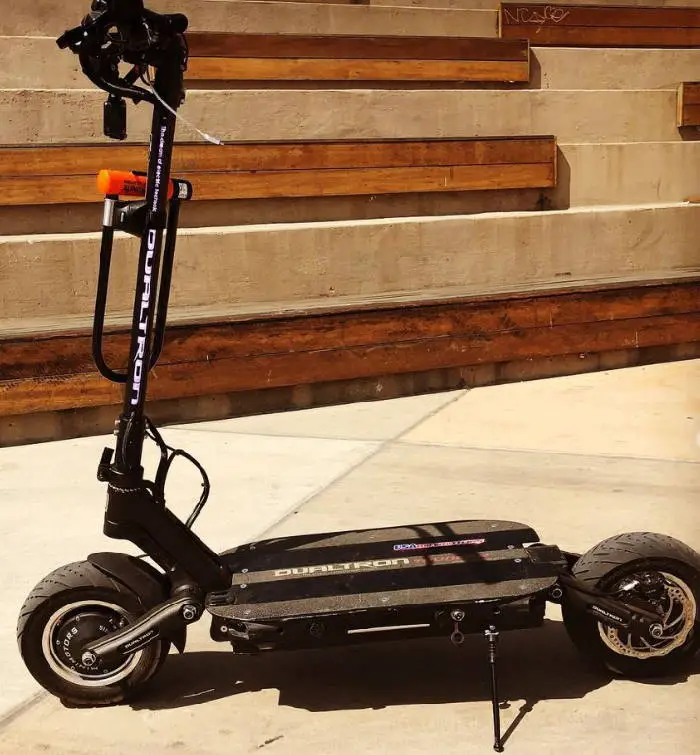 The handlebars are very ergonomic, and the positions of the individual control parts are very natural. There is no finger or hand fatigue while riding whatsoever. The deck-to-handlebar distance is 38 inches, while the total height is 48 inches.
The 24-inch long, 12-inch wide deck is one of the largest electric scooter decks ever. I believe "platform" is a much better word here, you literally stand on a huge platform, and ride comfort and feet position are never a problem. It has a ground clearance of 6.5 inches.
The deck has three gripped tapes on it to prevent slipping.
Portability, weight, and dimensions
Basically, you can forget about carrying this scooter for longer distances. Or, maybe you can carry it, but I personally found the weight and the dimensions a bit unmanageable (I'm about 5'11" / 180cm and weighed about 200 lbs / 91 kg at the time, so I'm not exactly a small guy, and I still struggled with carrying the scooter).
Weighing in at 95 lbs / 43 kg, the Dualtron Thunder is a pretty heavy scooter, and a lot of people will find it difficult to carry.
With a length of 50 in / 126 cm, the Thunder is also quite long and will have trouble fitting into the trunks of small cars. I couldn't find a way to fit it in the trunk of my Ford Focus. The handlebars are foldable, and that is a plus for portability, but even with that feature, the Thunder cannot be considered a portable scooter.
Weight limit and use by heavy adult
The official maximum weight limit of the Dualtron Thunder is 265 lbs / 120 kg.
I haven't seen this limit tested, or the scooter tested by a heavier rider than that, but honestly, I believe the scooter is actually capable of supporting more, and Dualtron are simply underreporting this. With a peak motor power of 5400 Watts, a steel stem, and a huge deck, the weight limit of 265 lbs / 120 kg is just Dualtron being humble. I believe that my own weight (200 lbs / 91 kg at the time) was absolutely no issue for the scooter.
Anyway, that's still the official weight limit, so keep that in mind if you are close to that weight.
Controls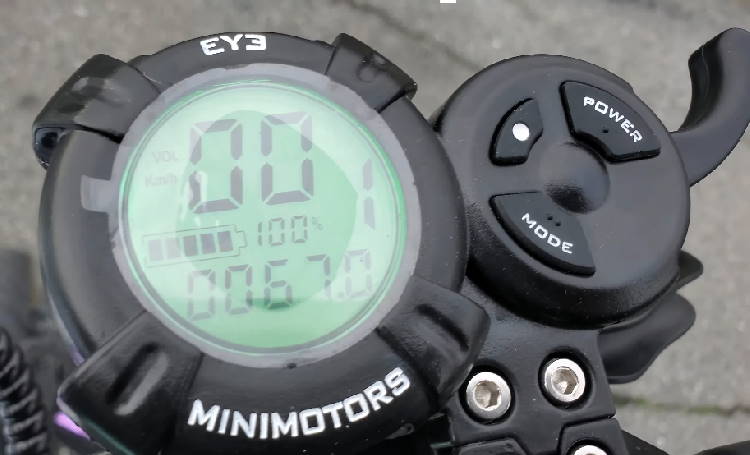 The right handlebar holds the classic EY3 control dashboard, optionally including a fingerprint lock. The three buttons on the right of the screen control the power, the speed mode, and the riding options.
The round display screen shows:
current speed
battery level
speed mode
voltage
trip distance
riding time
The top speed will vary based on the speed mode and whether you're using single or dual motor mode.
The small dashboard on the left handlebar has two buttons, a yellow and a red one. The yellow one toggles the LED lights, and the red one toggles between the single and the dual motor usage.
The Thunder comes with a remote control for controlling the LED lights.
Accessories and customizations
The Thunder comes well-prepared, but there might be some things you want to get after-market.
The coolest accessory you can (and probably should) consider is the fingerprint lock. Given the price of this scooter, it is a very worthwhile investment that will seriously deter thieves. You should still consider getting a strong scooter lock anyway, as this is quite an expensive item and you will want it to have as many security layers as possible.
You will probably want a bell or a horn as well, as riding without one of those can be either inconvenient or dangerous. Owners frequently go for a better mudguard as well.
The wireless phone charger is also a very interesting idea that many owners choose to try out.
The Dualtron Thunder can support an optional seat. The seat is not included in the package, but the scooter is ready to support it.
Problems and downsides
The Dualtron Thunder doesn't really have any flaws or known issues that are true dealbreakers. There are a handful of minor issues I've noticed, all of which can easily be addressed with aftermarket solutions. It would be better if the scooter came just perfect out-of-the-box, but I still haven't seen a scooter like that, so the best thing to do is simply learn about these small issues and possibly address them if they are an annoyance.
Probably the biggest complaint I have about the Thunder is the rear mudguard, which is kinda short. There we have it – the biggest issue is a small rear mudguard, something which can be fixed with a very simple spare part.
The Thunder doesn't include a bell/horn. You will have to get that part if you want your scooter to be road-legal.
Also, the kickstand is not something to write home about. Given the scooter's size and weight, it should be a lot thicker.
Finally, you should keep in mind that this will not be a scooter for everybody. If you are after a simple budget commuter, you will want to look at the Xiaomi M365 Pro, or the Ninebot Max, or something similar. Getting a scooter that is this heavy, and this powerful, while probably fun, will be a waste of money if you only need to commute to work.
How does the Dualtron Thunder compare to other electric scooters?
Dualtron Thunder is truly in its own category in regard to other e-scooters, but there are still many competitors out there that are aiming for the throne.
Dualtron Thunder vs Dualtron Thunder 2
The next version of the Dualtron Thunder, logically named the Dualtron Thunder 2, is a clear upgrade and a much more performant model, even though for the majority of riders out there, even the regular Dualtron Thunder will be insanely overpowered.
With the Dualtron Thunder 2, you will get about 10 mph / 17 kmh more speed, 30 mi / 50 more range, and two times the motor power, which will result in more torque, acceleration, and climbing power.
The best part about the upgrade is that it's usually not even that much more expensive than the standard version. So, if the Dualtron Thunder is somehow not powerful enough for you, and you'd like the taste of even more power, check out the Dualtron Thunder 2 at Voromotors (same as with the Thunder, use my coupon code FreeExtend at checkout for a 2-year warranty).
Dualtron Thunder vs Dualtron Storm
Interestingly, while the Storm is a newer version of the Dualtron line, it doesn't really surpass the Thunder by that much in terms of performance.
Even though you will get more powerful motors, you will get practically the same top speed and just a bit more range. The climbing angle will also be the same, and the braking power and the suspension will also be very similar.
One scenario where the Dualtron Storm is clearly superior is for usage by heavier people. Since it comes with an impeccable build quality, and has a weight limit of 330 lbs / 150 kg, it will be one of the best scooters for heavy riders available today, beating the Thunder by 66 lbs / 30 kg in terms of the weight limit.
Another advantage that the Storm will provide is the removable battery. By buying a second battery, you will be able to practically double the range of the Storm.
If those advantages sound good to you, you may want to see my detailed Dualtron Storm review.
Dualtron Thunder vs Dualtron Ultra 2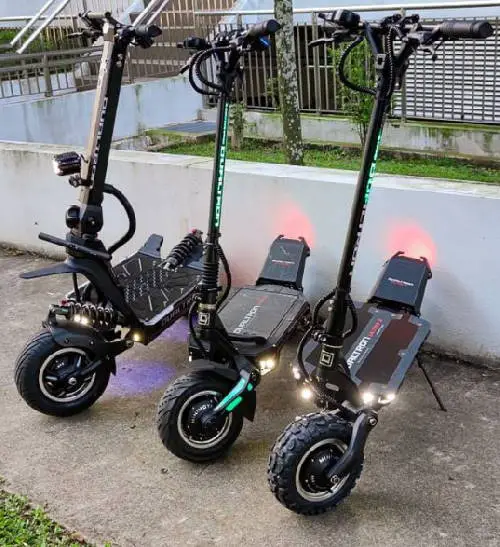 The Dualtron Thunder and the Dualtron Ultra 2 are similar scooters on the surface, although not quite the same. Still, calling the Dualtron Ultra 2 the "Dualtron Thunder for offroad" may not be too far from the truth.
The top speeds, battery, range, and motor of both of these scooters are very similar, so their performance will be comparable.
But overall, the Thunder is bigger in size, and it has stronger brakes as well, as the Ultra 2 has disc brakes. Also, the Thunder has adjustable suspension while the Ultra 2 lacks that option.
The Ultra 2 comes with offroad tires, while the Thunder comes with standard riding tires. The Ultra 2 will also lack the multicolor LED lights on the stem and the deck.
Overall, the Ultra 2 is less powerful, but it's also quite cheaper than the Thunder. If that sounds like a better deal for you, see my complete Dualtron Ultra 2 review.
Dualtron Thunder vs Inokim OXO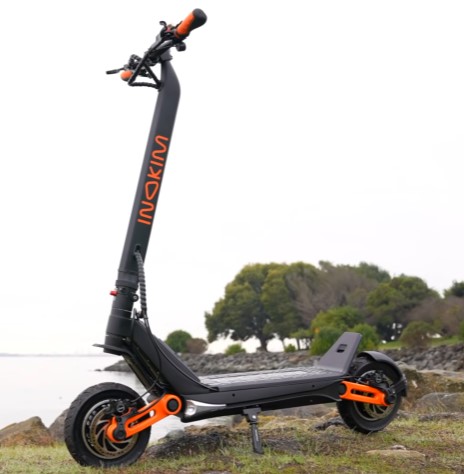 I've been asked about how these two models compare several times, but in my opinion, they are somewhat different scooters that belong in different categories, and it's somewhat like comparing apples to oranges.
The Inokim OXO, while a powerful scooter, lags behind the Dualtron Thunder in performance, especially in speed, acceleration, range, and most notably, climbing. It will be much more powerful than the typical budget scooter, but the Thunder will simply outshine it in the most important categories.
Where the Inokim OXO shines is the build quality, and in this particular comparison, the price, as it will be around $1000 cheaper than the Thunder on average.
So, if performance is what you're after, stick with the Thunder, but if you're looking to maybe save some money and still get a great and pretty powerful scooter, take a look at my complete Inokim OXO review.
Dualtron Thunder vs Kaabo Wolf Warrior
On paper, the Dualtron Thunder and the Kaabo Wolf Warrior look almost identical. Comparable top speed, range, battery and motor, but also similar size, weight, and same water protection level, all of that makes these scooters sound similar.
Also, both come from very well-respected and popular power scooter brands.
The Kaabo Wolf Warrior is probably a bit better-suited for offroad, as it comes with offroad tires, although you can get it with standard tires as well.
The Thunder does seem to climb better, and that's the biggest noticeable advantage it has over the Wolf.
I'd say stick with the Thunder for regular rides, and check out the Wolf if you're looking for an offroad scooter.
Frequently asked questions
There is a lot of noise surrounding the Dualtron brand and all of its models, so it's expected to have some questions about it before making the final choice.
Where are Dualtron scooters made?
Minimotors, the brand that manufactures the Dualtron scooters, is based in South Korea and has manufacturing facilities in China. They were founded in 1999 and launched the first Dualtron scooter in 2016 as part of its flagship power scooters line.
Is Dualtron Thunder waterproof?
Even though the Dualtron Thunder has an IP54 waterproof rating, I still wouldn't recommend riding it out in the rain. Heavy rainfall and constant water splashes can damage the electronic parts of any scooter, even those with a strong build like this one.
Which Dualtron is the fastest?
Dualtron Thunder can reach an insane speed of up to 50 mph / 80 kmh, but it's not the fastest Dualtron scooter. The actual fastest are the Dualtron X and Dualtron Storm, the two most expensive Dualtron scooters, which can even exceed a speed of 55 mph / 89 kmh!
Dualtron Thunder specifications
Dualtron Thunder Specifications
| | |
| --- | --- |
| Top speed | 80 kmh |
| Top speed | 50 mph |
| Range | 120 km |
| Range | 75 mi |
| Motors | dual hub BLDC |
| Power | 2400 W real, 5700 W peak |
| Climb angle | 35 ° |
| Battery | 2060 Wh, 59.2 V |
| Battery type | LG 3500 cells |
| Charging time | 20 h |
| Ingress protection (IP) | IP54 |
| Weight | 43 kg |
| Weight | 95 lbs |
| Weight limit | 120 kg |
| Weight limit | 265 lbs |
| Tire size | 11 in |
| Tire type | pneumatic tubeless |
| Tire pressure | 45-50 psi |
| Foldable | yes |
| Foldable handlebars | yes |
| Seat | optional |
| Trunk or basket | optional |
| Build material | aviation grade aluminum alloy + steel |
| Terrains | all terrains |
| Brakes | dual 160 mm Nutt hydraulic |
| ABS | yes |
| Shock absorbers | dual spring-arm |
| Lights | 4 front + 4 rear + stem + deck |
| Keys | fingerpring optional |
| Warranty | 6 months |
| Folded dimensions (L * W * H) | 126 cm * 32 cm * 54 cm |
| Folded dimensions (L * W * H) | 50 in * 13 in * 21 in |
| Unfolded dimensions (L * W * H) | 126 cm * 32 cm * 122 cm |
| Unfolded dimensions (L * W * H) | 50 in * 13 in * 48 in |
| Deck dimensions (L * W) | 61 cm * 30.5 cm |
| Deck dimensions (L * W) | 24 in * 12 in |
| Ground clearance | 16.5 cm |
| Ground clearance | 6 in |
| Deck to handlebar height | 96 cm |
| Deck to handlebar height | 38 in |
| Adjustable handlebar | yes |
Verdict – should you buy the Dualtron Thunder?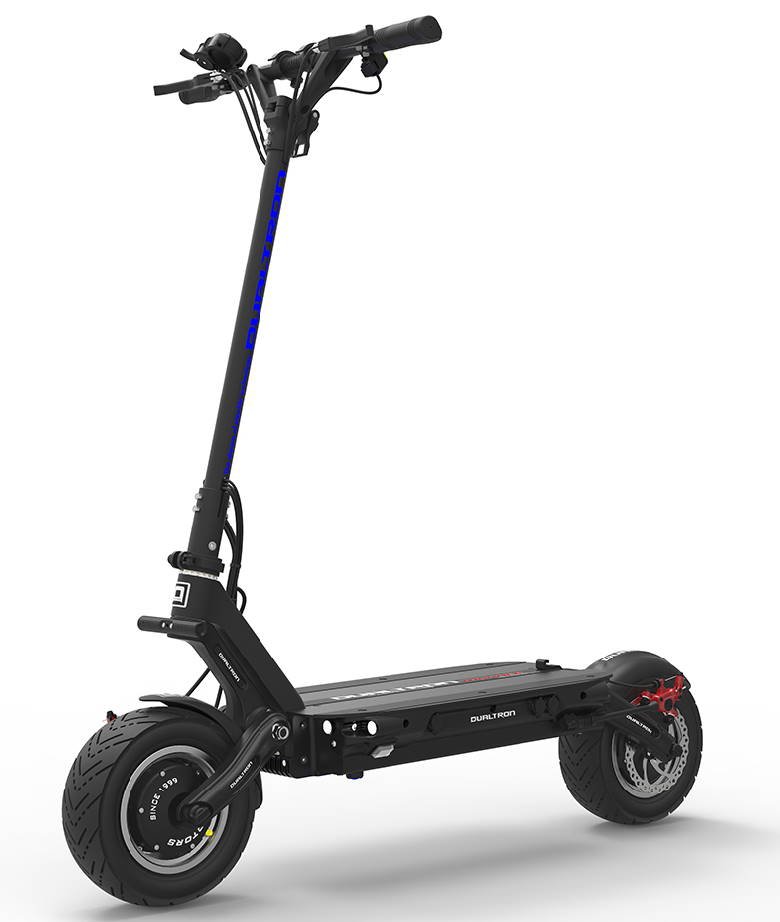 Obviously, this is not a scooter for everybody. If riding faster than 30 mph / 50 kmh is already too much fun for you, you will want to check out other scooters (maybe 30 mph scooters might be a better option).
Also, if $3499 is too much for you, then you will want another option as well. Maybe scooters under $1000, or scooters under $500, can offer you some good choices.
But if you don't see yourself as belonging in those categories, and you simply want the best power scooter money can buy, then I would definitely recommend the Dualtron Thunder.
I've found this scooter to be both fun and reliable. It will not leave you stranded on the road, and it will make sure you stay in one piece even when doing crazy stunts at 50 mph (try to not do that, but I totally understand if you do).
The Dualtron Thunder is one of the best, most powerful, most high-quality electric scooters I've ever tried. It is costly, but it justifies every penny of its price. If you are the type of person that just wants the best of the best, then you will definitely want to check out the Dualtron Thunder.
Where to buy the Dualtron Thunder from?
Worldwide
The best place to buy the Dualtron Thunder from will be
Voromotors
in most cases, as they ship worldwide, and by adding the 1-year Extend product protection and then using my special discount code
FreeExtend
at checkout, you will get a
2-year warranty
for free.
---
UK, Europe
If you live in the UK or some European countries, then see the prices that
Ride And Glide
offers for this scooter, as shipping will be free and you may end up getting a better deal overall.
Where to buy the Dualtron Thunder
---
Want to get
FREE SCOOTER
tips, exclusive discounts and promotions, and unseen scooter hacks? Join the
Scooter Secrets club
.
---
Liked this article? It really helps if you share it.
Follow @escooternerds on social media for more cool stuff
---