In this article, we will be looking at the best electric scooters with top speeds of around 30 mph (around 45 – 50 kmh).
This is one of the most interesting scooter categories, as it includes some excellent scooters that are right in the middle between the regular commuting scooters, and the faster and more powerful ones.
Best 30 mph electric scooters
These are the best 30 mph / 50 kmh electric scooters, and the perfect use case for each of them.
EMove Cruiser – best overall, best waterproofing, longest range, biggest weight limit
The EMove Cruiser is one of the best electric scooters ever made, and it's very likely the best 30 mph electric scooter in the world right now.
Several "best" and "most" can be used to describe it.
Probably the most famous attribute that the EMove Cruiser can boast is that it's the most water-resistant scooter in the world right now. With an IPX6 rating, specifically a value of 6 for water protection, it can withstand strong jets of water, which makes it suitable for most sorts of rainy and wet weather. Keep in mind, it's not fully waterproof (that would require an IPX7 rating), but it's still the only scooter with an IP rating this high. And it's not even a competition – the second most waterproof scooter has an IPX5.
With that in mind, this is also one of the best electric scooters for winter rides. Even though both riding in the rain and in the snow should be avoided, if any scooter can handle it, it's this one.
Maybe even more important than that, the EMove Cruiser has an impossible range, without weighing a ton and a half – with 62 mi / 100 km on a single charge, while weighing 52 lbs / 23 kg, the EMove Cruiser is almost a miracle of a scooter. I'm not even sure how that's possible, but user tests and reports have confirmed it numerous times.
With a weight limit of 350 lbs / 160 kg, this is the best 30 mph for heavy adults as well. Another best.
The big 10-inch pneumatic tires and the dual suspension system will give you a very comfortable ride. The Voromotors store, which is the official store for the EMove Cruiser, is one of the most trusted brands in the scooter world, and their customer support is unrivaled.
Simply a brilliant scooter, and one of my personal all-time favorites. It's usually priced around $1499, but using the coupon below you will get a discount for it. You can check out the full review of the EMove Cruiser if you want to learn more about this brilliant scooter.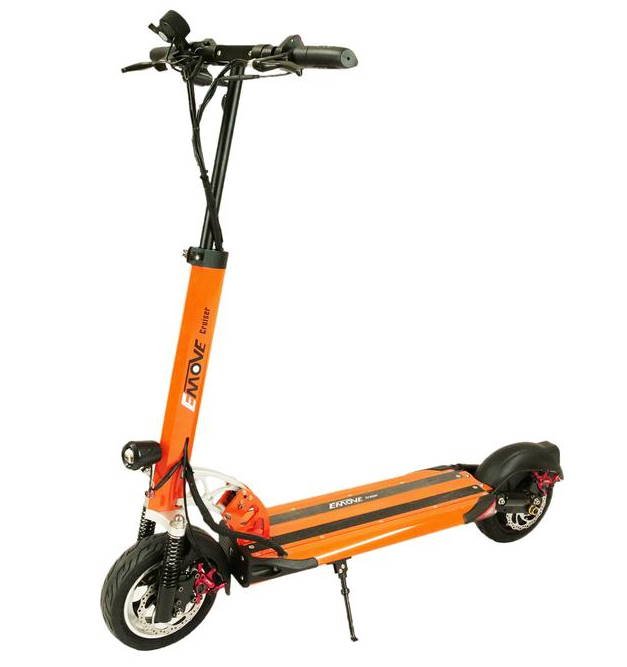 Apollo Explore – best value
The Apollo Explore is excellent value for money, as it provides a great combination of range, speed, power, torque, and performance, while being of very solid quality, and all of that for a very reasonable price.
With a top speed of 31 mph / 50 kmh, a range of 34 mi / 55 km, and a 1000 Watt motor that will give you climb angles of 20 degrees and very swift acceleration, the Explore has literally everything you may ever want from a scooter.
Coming from the Apollo line, the Explore is a great performer, but it also looks very cool. It includes a lot of lights, and the LED strips on the deck give it its signature look and feel.
Weighing in at 52 lbs / 23.5 kg, the Apollo Explore is not terribly heavy for a 30 mph scooter, and with its portable dimensions, along with the foldable handlebars, it turns into a very compact package that can be a great commuting companion as well.
Also, typical for most Apollo scooters, the Explore comes with great disc brakes, and dual spring shock absorption.
Currently, the Apollo Explore can be found for the price of $998, and it is the best-value 30 mph electric scooter available. Check out my complete review of the Apollo Explore to find out more.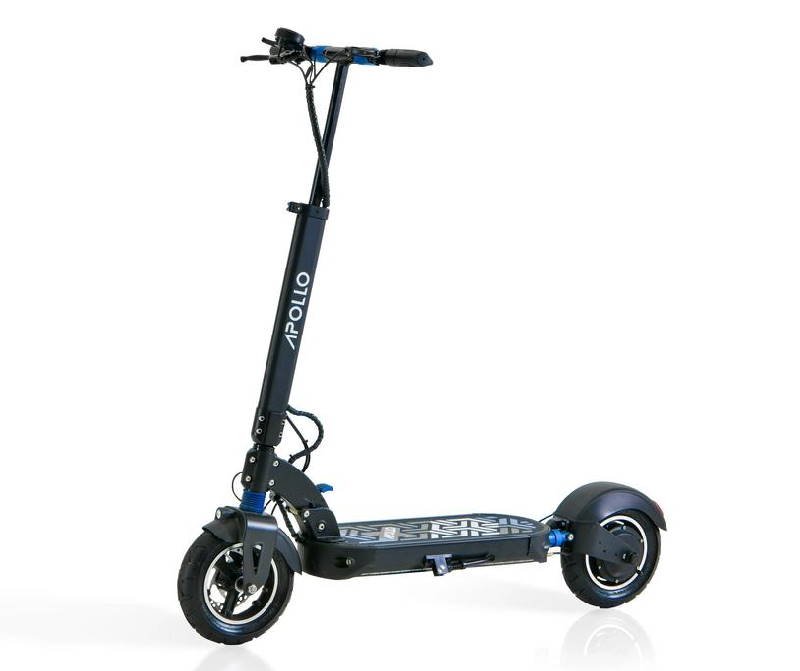 Inokim OX – best high-end
The Inokim OX is not the most powerful scooter on this list. It doesn't have the longest range, the best acceleration, the best waterproofing, nor is it the most portable one.
It is, however, the most premium, most well-put-together 30 mph scooter you can find.
This luxury choice will come at a price of $1640 for the 13 Ah version, and $1970 for the 21 Ah version. The difference between those will be in the range – the former will have a range of 38 mi / 60 km, while the latter will be able to cross 62 mi / 100 km on a single battery charge.
That price makes both of these versions the most expensive 30 mph electric scooter. What you get for the price is amazing quality, a very long lifespan, most likely no defects in the foreseeable future, and a very stylish, elegant look. All of those are characteristics of most Inokim scooters, and that's especially true for the OX.
The scooter is an original concept by award-winning designer Nimrod Sapir, and every single part in it is proprietary and custom-made to work in perfect harmony with every other part in the scooter.
The Inokim OX has dual motors for a combined power of 1000 W (1300 W peak), which will give it a top speed of 28 mph / 45 kmh, a climb angle of 15 degrees, and a weight load of 265 lbs / 120 kg. The scooter will be protected against water damage with an IPX4 rating.
And, not to forget, the brand recognition with this scooter is amazing as well – the scooter looks great, and is instantly recognizable and distinguishable from all the other me-too commuters.
If you are after the highest-quality 30 mph electric scooter and money is not really an issue for you, I recommend the Inokim OX. Simply pick the battery that will give you the kind of range you need. You can also check out my thorough Inokim OX review to find out more about this scooter.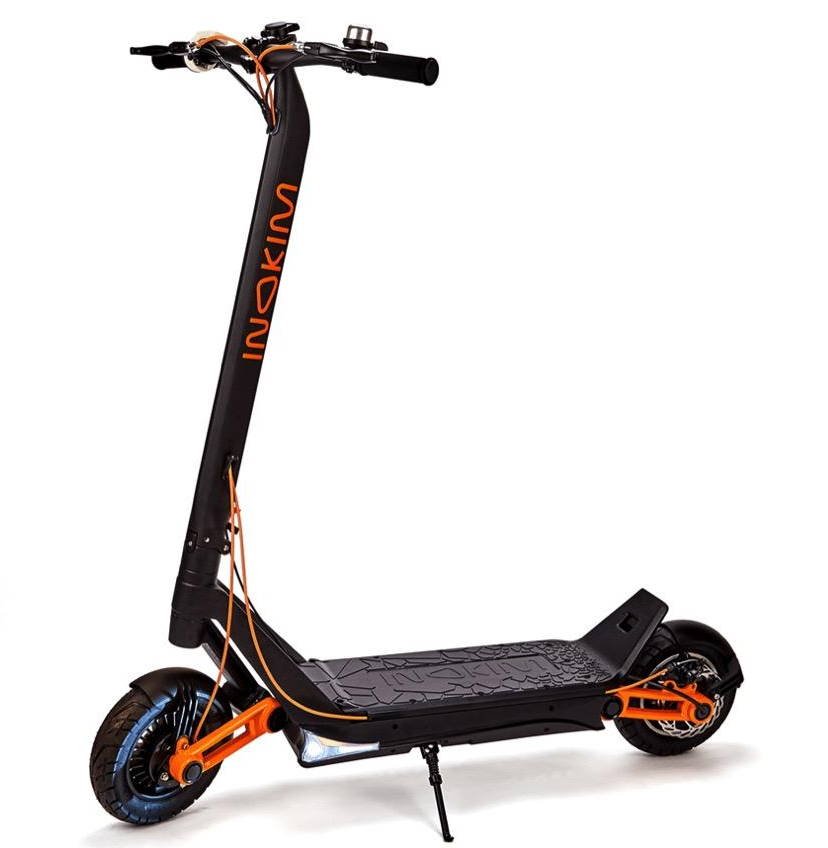 Mercane Widewheel Pro – best with solid tires
The Mercane Widewheel Pro is the Batbike of scooters.
Its trademark solid wide tires not only give it its signature look, but they will also never go flat, provide better balance, and better traction.
This scooter barely makes it in the 30 mph category, with the top speed of 26 mph / 42 kmh falling short a few mph / kmh. It makes up with the two motors for a combined power of 1600 Watts peak power and 1000 Watts real power, the great climb angle (around 18 degrees), and the overall build quality and sturdiness.
The dual disc brakes are very strong, and the front and rear spring suspension will make sure your rides are comfortable despite the solid tires.
I've been blamed at times for focusing too much on specs and performance and value, and neglecting what is probably the most important aspect of scooters for many, and that's how fun are they to ride and own. And for that, the Mercane Widewheel Pro is a summer day. One of the coolest-looking scooters ever, the Pro is a real hoot, and owners love it dearly.
If you want the check out the detailed review of the Mercane Widewheel Pro, you can find it here.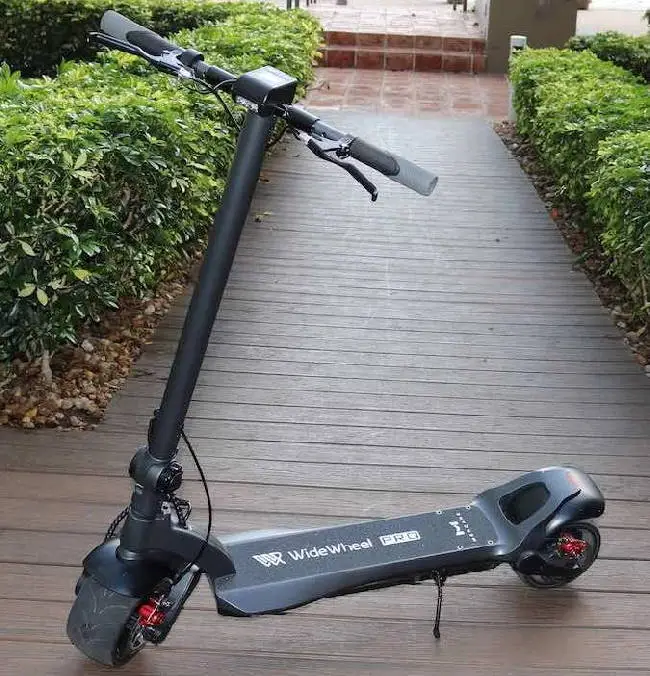 Hiboy Titan Pro – best offroad, most powerful
The Hiboy Titan Pro is the most powerful 30 mph scooter, and also, the best choice if you need your scooter for riding offroad.
The dual motors of this bad boy have a combined power of 2400 Watts. That clearly makes it the most overpowered 30 mph scooter.
And I know it doesn't really make much sense to say it's the "fastest" 30 mph scooter, but since we are grouping together scooters that have a top speed of around 30 mph, that is the case here. The top speed of 32 mph / 52 kmh means the Hiboy Titan Pro will be the fastest scooter on this list.
With 10-inch pneumatic self-healing offroad tires, huge dual motors, and the Li-ion 48V battery, the Hiboy Titan Pro is the best 30 mph offroad scooter, and by a healthy margin – pretty much no other 30 mph scooter can handle offroad rides at all.
The safety features of the Hiboy Titan Pro include front and rear disc brakes, LED headlights, rear light, plus a positional light strip on the deck, as well as an IP55 rating for protection from water sprays.
The scooter comes with an optional seat, which you can add or remove as you need.
And, again, this being a Hiboy scooter, it will come at a great price, much less than what you would expect. The Hiboy Titan Pro will usually cost around $1424, but you will often find nice discounts on its price.
Speedway Mini 4 Pro – most portable, lightest weight
This is a very interesting, maybe even somewhat mysterious scooter. Weighing just 35 lbs / 16 kg, it is the lightest 30 mph electric scooter, and that's really saying something, as most 30 mph scooters weigh around 53 lbs / 24 kg.
And the best part is, range is not sacrificed either. Able to cross 30 mi / 48 km on a single battery charge, this scooter will not let you down in terms of range neither.
So, how does this lightweight pull this off? I'd be lying if I said I know. It only has one 500 Watt motor, which doesn't sound like a lot, but it does give the hutzpah to this scooter without weighing it down. Even the other performance stats are great, like the climb angle of 15 degrees and the weight limit of 264 lbs / 120 kg, both of which are better than the average.
To make portability even better, the scooter folds down to a very compact little package, and it folds both at the stem and at the handlebars.
This wunderkind scooter will not even cost that much. Given everything it can do, the price of $1150 is more than a bargain.
Apollo Phantom – best for climbing hills
It feels kinda weird to describe the Apollo Phantom as the best climbing 30 mph scooter, because it is much more than that. The scooter is an excellent choice no matter what, but it just so happens that when compared with the other 30 mph scooters, its proven climb angle of 25 degrees stands out the most.
Coming from the proud Apollo line, the Apollo Phantom is a powerful performer that provides its owners with tons of value for its price (usually around $1999). Apollo scooters quickly became some of the most famous ones, mostly thanks to their superb quality levels. The fact that this is the second scooter from the brand on this list tells a lot about the brand's commitment to producing only top-quality scooters.
The top speed of 38 mph / 61 kmh, the range of 40 mi / 64 km, achieved by a scooter that weighs around 35 kg, leaves little to be desired.
The 52 V 1215 Wh Lithium battery is top-notch. It comes with protection from short circuits and overcurrent, as well as double protection from overcharging, temperature resistance, and undervoltage auto-sleep protection. The IP54 rating will protect your scooter on rainy days, and the quadruple suspension system along with the dual brakes is one of the best in the game.
In fact, I'd say that the brakes and the suspension are other areas where the Apollo Phantom shines in the 30 mph competition, probably outshining the other models. You can choose between disc or hydraulic, and you will also end up with one of the rare, if not the only scooter in this price range with quadruple suspension. This feature package is perfect for conquering hills.
See my detailed Apollo Phantom review if you wish to find out more about this great scooter.
Speedway Leger – great all-rounder
If you are looking for a 30 mph scooter, and you didn't find any of the scooters so far suitable, the Speedway Leger can be your ace in the hole.
This celebrated model is very popular, has great performance and specs, and very good quality and durability. It's always a great sign when a model is well adopted by scooter enthusiasts, and the Leger has that going for it.
Priced at $1100 like a true 30 mph scooter, it will come with a top speed of 30 mph / 48 kmh, a range of 34 mi / 55 km, and a BLDC hub motor with a peak power level of 1360 Watts. With a weight of 41 lbs / 19 kg, a weight limit of 265 lbs / 120 kg, and a spring and hydraulic suspension combo, this is one of the most well-balanced, most versatile scooters on this list.
You can customize the scooter as you like, like getting a seat, installing a basket or a trunk, and include pretty much all the other scooter accessories you can think of.
I guess the Speedway Leger has that X factor, that "je ne sais quoi" that's more than just mere specs and value. People just love it, and that's often the most important thing about a scooter.
You can read the full review of the Speedway Leger to learn more about it.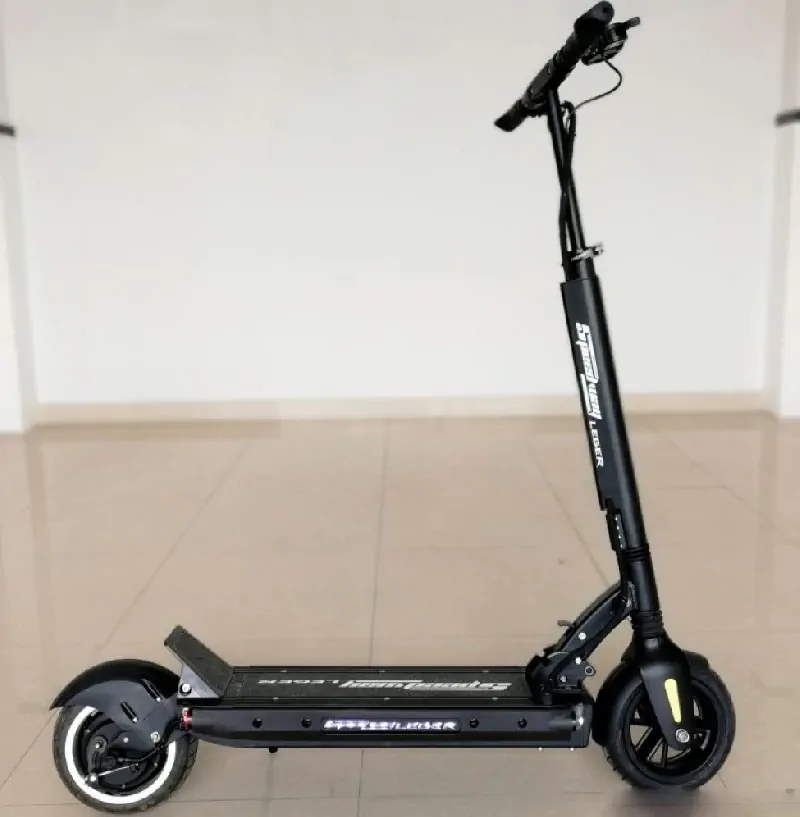 EVOLV Pro-R – best alternative
In the end, it's good to end this list with a nice, solid "wildcard" option for the hungry buyers who didn't find any one of the models above appropriate.
The EVOLV Pro-R is an instant favorite. In reality, there is hardly any reason not to buy this scooter. Even though it doesn't excel in either use case listed above, this scooter provides a great balanced performance, offering a solid middle ground in all specs.
Its range of 43 mi / 70 km is second only to our first pick on this list – the EMove Cruiser, but outshines all of the rest. The dual motors with a peak power of 3600 Watts often exceed 30 mph / 48 kmh, sometimes even reaching as high as 37 mph / 60 kmh. And due to its sturdy build, the EVOLV Pro-R can support riders weighing up to 330 lbs / 150 kg.
The only downside about this scooter is that it's on the pricier end. It is priced at about $2579, which is more than any other scooter in this category.
But still, you get a ton out of the money. Besides its enviable specs, the EVOLV Pro-R is also an all-terrain scooter, supporting rough off-road rides with its deep-threaded tires and dual suspension.
If this sounds like a scooter that finally checks all your requirements, I myself couldn't recommend it more.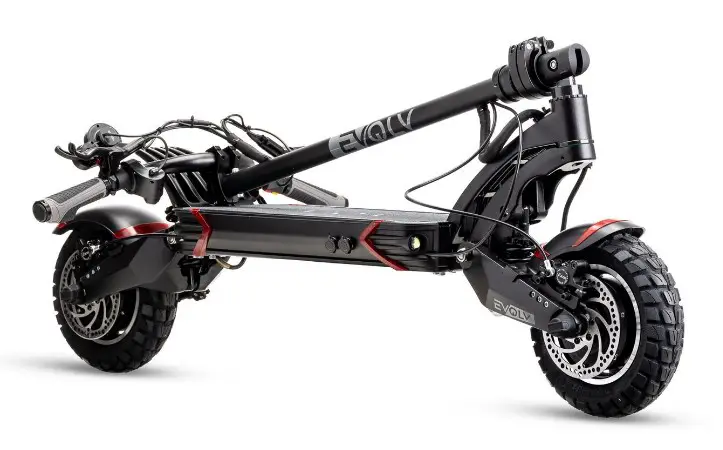 What to know before buying a 30 mph electric scooter
If you are thinking of getting yourself a 30 mph electric scooter, keep in mind that you will be buying a serious vehicle that is more powerful than the regular budget commuter scooter. Riding it will require some care and responsibility, and you should always wear a good electric scooter helmet when riding, even if you go slow.
How powerful are 30 mph scooters?
The 30 mph electric scooters are not the most powerful scooters, but they should still be taken very seriously. They will have a motor of at least 500 Watts, usually somewhere closer to the 1200 W – 1500 W range. Many of them will have two motors, and the peak power for those will even be more than 2000 W.
Are 30 mph scooters safe?
An accident at the speed of 30 mph / 50 kmh is fast enough to cause serious injury, or even death. That's why the scooters capable of reaching these speeds must be as safe as they can be, and are usually better tested for quality and more expensive. Wearing a helmet with these scooters is mandatory.
Are 30 mph scooters street-legal?
Technically, the 30 mph electric scooters will not be street-legal in some countries, although the laws on them are usually not that strictly enforced, and tickets because of the high motor power levels are not common. In many countries, scooters still live in a legal grey area.
Make sure to check out the full electric scooter legal guide if you want to find out the exact laws and regulations about your country or state.
How much do 30 mph electric scooters cost?
On average, 30 mph will cost around $1100, with prices ranging from just $600, all the way up to almost $2000, but those are the outliers, and most scooters will cost between $800 and $1200.
How much range do 30 mph electric scooters have?
30 mph scooters will typically have big and powerful batteries too, and they will have ranges around 35 miles / 56 kilometers on average. The smallest range on a 30 mph scooter will be 22 miles, while the largest will be 62 miles.
Are 30 mph scooters good for heavy adults?
The 30 mph electric scooters will have motors that are quite powerful, and will be able to pull more weight without much difficulty. Most of the scooters will have a weight limit of at least 265 lbs / 120 kg, and a few models will have even more than that.
Summary
Those were all the best 30 mph / 50 kmh electric scooters available today. For reference, here's a quick table summarizing the best models, along with their perfect use scenarios.
---
---
Liked this article? It really helps if you share it.
Follow @escooternerds on social media for more cool stuff
---