Electric scooters are an excellent gift idea in general, but they can be the absolutely perfect Christmas gift idea.
Why?
Well, let's see:
there are many choices that are affordable yet of high quality
the receiver will be both surprised and thrilled
there are tons of discounts and promotions on them around the holidays
We are here to examine the last point in depth.
Best electric scooter Christmas deals
The following electric scooters and brands offer the best deals and discounts for the Christmas 2022 holiday season:
biggest promotion – Inokim OXO + Inokim Mini2 for free ($800 value)
best deal – Inokim Light 2 ($300 value)
best budget – GoTrax GXL V2 Commuter ($50 value)
best deal in Europe – Ninebot ES2 ($365 value)
best deal for kids – Razor E100 (varies)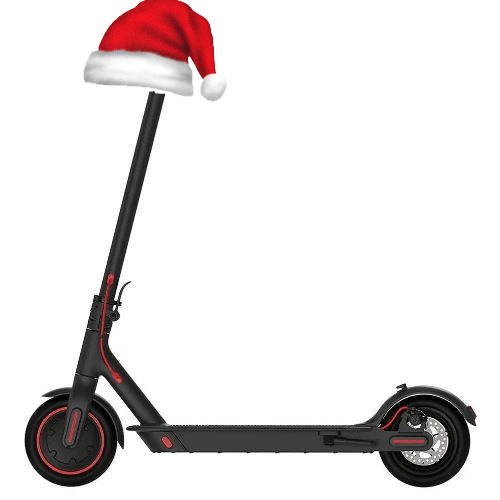 Let's take a deeper look into each of these promotions, and see if any one of them makes sense for you.
Biggest promotion – Inokim OXO + Inokim Mini2 for free
This is also the best combo deal for this Christmas.
For starters, you will get $200 off on the Inokim OXO, which is one of the best, most well-designed premium electric scooters ever made. Keep in mind, this is a no-joke scooter, probably closer to an all-terrain vehicle than the regular commuter scooter. It is both high in performance, but also very well made, with excellent attention to detail and impeccable craftsmanship. You can read the full review of the Inokim OXO here.
And then, you will get the Inokim Mini2 for free, which is another $600 of value. The Inokim Mini2 is great for both adults and children as well, so this is a very good package if you're buying for two people, especially an adult and a child. The Inokim Mini2 is closer to a regular, "civilian" scooter, and it's a great balance between quality and portability. Coming from the same premium brand, you get all the same guarantees.
If this sounds like a great deal to you, check out the Inokim OXO on FluidFreeRide here.
Best deal – Inokim Light 2
While the above package deal is great value, the price of a couple of thousand dollars will be too much for most of us, even when you get two high-quality scooters for it.
Personally, for a more affordable Christmas gift, I'd go with the Inokim Light 2. Using the coupon code LIGHT2 at checkout, you will get $300 off the regular price of $1199. And for an Inokim scooter, that price is a bargain.
This beautiful scooter has the same general level of quality, but also finishing touches, as other Inokim scooters. They are often a bit more expensive than scooters with similar specs and performance, and that's because they truly don't skimp on materials, and make sure customers get some of the most reliable scooters in the world.
With a 350 Watt motor, a range of 20 miles, and a top speed of 21 mph, the Inokim Light 2 is a true commuter scooter. It weighs only 30 lbs, so it's perfect for carrying around if you need to as well.
You can find the Inokim Light 2 on FluidFreeRide, don't forget the coupon code LIGHT2 for a total of $300 off the initial price.
Best budget – GoTrax GXL V2 Commuter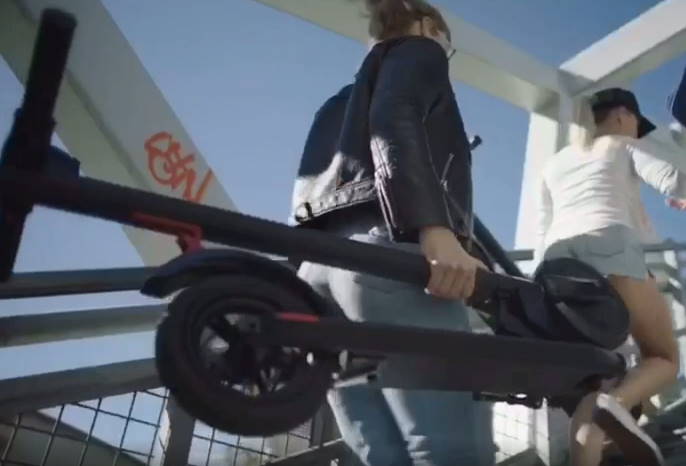 There is no bad time to consider the GoTrax GXL V2 Commuter. But for the Christmas shopping period, it's often a very wise decision.
This tried-and-tested model has proven its mettle in the hands of thousands upon thousands of riders, in millions of rides. It currently has a discount of around $50, and for a total price of $269, it is a great time to get it.
The GXL V2 is one of the best-value commuter scooters around. With a range of 12 miles, and a top speed of 15.5 mph, a solid climbing angle, and a carry weight of 220 lbs, it will be everything a regular commuter needs.
Of course, the best place to buy the GoTrax GXL V2 Commuter from is the official GoTrax store. You can read the full review of this scooter here.
Best deal in Europe – Ninebot ES2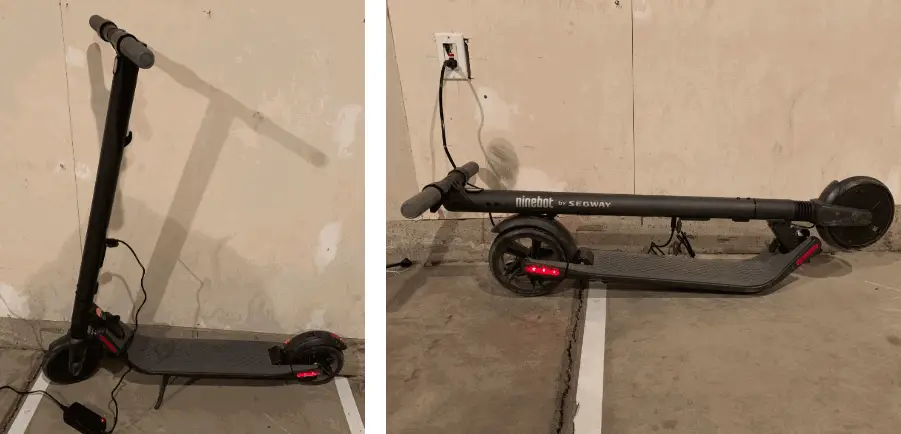 For shoppers in the UK, EU, or most other European countries, there is currently a great deal going on for one of the most popular electric scooter models of all time – the Ninebot ES2.
Since this scooter is available in many stores online, it's hard to say what its real price is. It's usually priced around $550.
Well, right now, Banggood sells this super-successful scooter for 44% OFF. You will need to use the coupon BGES2D1 at checkout for the discount. It's also worth checking if the scooter ships in the US, as these things can sometimes happen. And if that's the case, then this scooter is a great deal for the US as well.
I believe the Ninebot ES2 needs no reintroductions. Scooterists all over the world have talked plenty about it, ride-sharing companies have consistently chosen it as one of the main scooters in their fleets, and I've mentioned it several times on this blog already. You can read the full review of the Ninebot ES2 if you want a detailed, in-depth look into it, or you can check it out at Banggood to see if the discount is still going on.
Best Christmass deal for kids – Razor E100
If you're shopping for a child or a teenager, you will probably not find a better deal than the Razor E100. It is one of the best electric scooters for kids ever made.
This classic scooter has brought joy to the faces of countless kids throughout the years, as they've unwrapped the big package impatiently, only to have their hopes and wishes confirmed when they've discovered it's really a scooter.
The Razor E100 has been around for quite a while now, and it has proven itself to be a reliable, safe, and very fun scooter for kids. Its recommended age is 8+, although kids much older can, and do, ride it as well.
The scooter comes in several colors, suitable for both boys and girls. It's usually heavily discounted around Christmas.
You can find the Razor E100 on Amazon, both in the black or blue variants, or in pink.
How to choose an electric scooter as a gift
If you're thinking of giving someone an electric scooter as a gift, you're on the right track. People start to love electric scooters more and more, and very few gifts can have the same impact as an entire new mode of transport that a person can use for free.
It is important to consider a few things first. Most importantly:
the scooter's brand and quality (see the electric scooter reviews for that)
make sure the scooter is not too big or heavy for the person
the scooter fits the person's needs (their environment and needs)
See the electric scooter gifting guide to make sure you pick the perfect gift scooter.
---
Want to get cool tips, exclusive discounts and promotions, and unseen scooter hacks? Join
Scooter Secrets
.
---