Last Updated on September 17, 2023 by Matt
In this detailed Blade 10 GT+ review, we will go through all the good and bad sides of the model and see if it's the ideal choice for you.
Blade 10 GT+ Review
The Blade 10 GT+ electric scooter boasts impressive build quality and great performance. It has several features such as hydraulic brakes, adjustable front and rear suspensions and steering damper, 11" pneumatic self-sealing, tires, a comfortable deck, and a 3.4" display. This model also has a modern, aesthetically pleasing look and provides a fast and smooth ride, while being it's reasonably priced.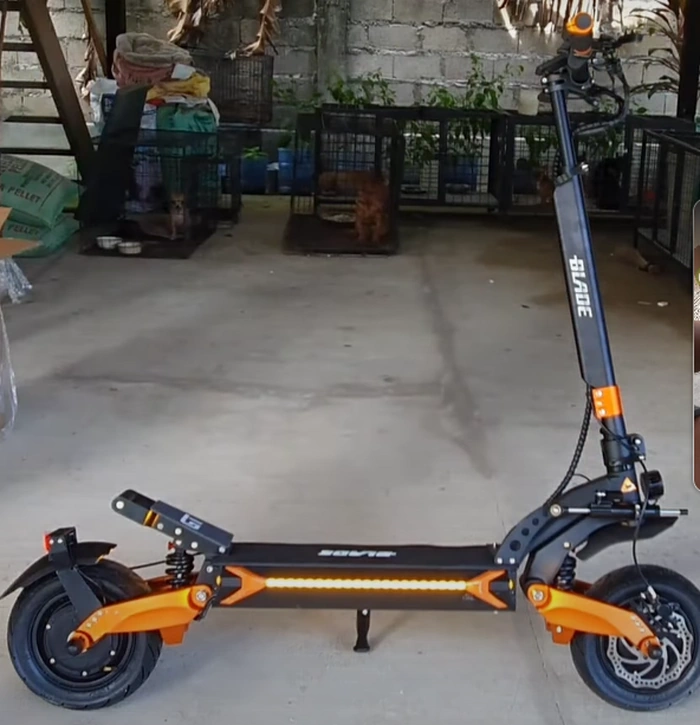 Should you buy the Blade 10 GT+ electric scooter?
You should buy the Blade 10 GT+ if you're looking for an e-scooter that boasts excellent range, high speed, and a great adjustable suspension system.
If you ask me, this model has features that can impress even the pickiest e-scooter enthusiasts.
I find the Blade 10 GT+ to be the perfect choice for one type of owner: if you're looking for a model that comes with a high-quality and practical design, excellent charging and braking system, and essential upgrades that any rider may want in one place, then you will find the Blade 10 GT+ to be perfect.
Also, if you appreciate aesthetically pleasing and stylish e-scooters, this model will definitely be the right fit.
Buying
I recommend buying this model from the highly reputable electric scooter retailer Rydology. The Rydology team is based out of Seattle and does online business solely. You can order the Blade 10 GT+ from the Rydology website.
Price and value for money
The Blade 10 GT+ costs $2,199.00.
It might not be too friendly on the budget for some. However, considering the amazing features it has and the top performance it delivers, I'd say this model is still great value for money.
Shipping
Rydology offers free shipping on all models in the continental US.
Shipping times depend on several factors, such as the shipping method, the model ordered, in-stock conditions, and the time needed for processing.
Customer support
If you have any questions about your scooter, need help to compare models, or are struggling to decide what model would be the perfect choice for you, the Rydology customer support team has got you covered. You can reach them through their contact page.
Warranty
This electric scooter retailer stands behind their products and services and provides a one-year warranty on all their scooters.
The warranty process is very simple as you only need to file a warranty claim along with photos or videos of the problem. Then, the Rydology engineers will diagnose the problem, send you detailed instructions on how to solve it, and deliver the necessary parts. The warranty period starts once the delivery has been confirmed.
The warranty covers electronic systems, controllers, the battery, and motors.
On the other hand, chargers and consumable components, such as bearings, brake pads, and tires, aren't covered by the warranty. Also, cases such as small scratches, misuse and fast charging of the battery, and damage caused by wet conditions and overstepping the published weight maximum aren't covered under the warranty either.
It's noteworthy that if the problem covered under warranty requires a repair at a local shop, the Rydology team will take care of the expenses.
Return and refund policy
If you find that your scooter doesn't work properly the day you receive it, you can contact the Rydology team and ask them to help you diagnose the problem or find an electric scooter repair service to get the problem fixed.
In case you wish to return the Blade 10 GT+ for a refund, you can do so within 10 days of receiving it. In order for the return to be accepted, the scooter mustn't be ridden and needs to be kept in its original packaging, unopened.
Also, keep in mind that you'll need to cover the return shipping costs, whereas the refund will be made once the Rydology team inspects it.
To return your scooter, you'll have to get an authorization first. You can do that by simply sending Rydology an email at [email protected].
Build quality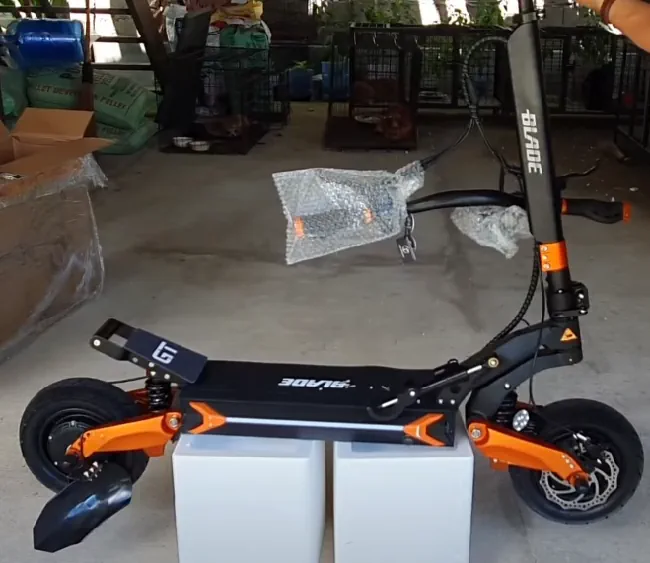 Besides being aesthetically pleasing and looking quite modern and sleek, the Blade 10 GT+ has great build quality. In my opinion, this feature can be attributed to the following factors:
The scooter's robust frame, which is built of high-quality aluminum
The high-grade materials the scooter is built of
The expertly integrated premium components
The well-protected electrical connections
The reliable braking system
Durability
If you're wondering about the lifespan of the Blade 10 GT+, I'd say that this model is definitely made to last. I didn't get to test the scooter for a very long time, but I still got the sense that this is one of those scooters that could easily last 5 years or more.
Known issues and problems
Based on the results of my tests, I can't say that this model has many downsides. However, I've found two small issues reported by a handful of owners, and those are the size of the washers on the suspension arms and the length of the brake cables.
Namely, the washers may be a bit too large in diameter and, as a result, bind the suspension. As for the brake cables, they may become short if you set the stem to a higher position. Personally, I don't think these are serious issues, considering the fact that you can get them fixed easily.
Now, although the scooter's weight isn't a commonly reported issue, I believe it may be a small issue at times. Being a bit heavy, carrying it up or down stairs can cause some trouble. I didn't really find this too difficult, but I assume some people might.
Also, while this e-scooter model allows you to fold it down, keep in mind that by doing so, there won't be a place where you could hook the stem. Moreover, the display will rub against your footrest and thus damage it.
So, unless you want to put your scooter on the backseat or in the trunk of your car, I don't recommend folding it down. And if you need to carry it up stairs, I suggest you do this without folding it.
Other rare issues might include poor quality of the orange color and speed wobble, although the latter is really rare.
Performance
In my opinion, the designers and mechanics responsible for making the Blade 10 GT+ e-scooter took that job seriously. They've managed to create a real powerhouse whose top performance puts it on par with other models that cost a bit more. So, let's see why this is so.
Motors, power, and climbing
The Blade 10 GT+ is designed with dual 1500W motors, which means it has fantastic power. You can ride it using one or two motors.
This set of motors grants this model the ability to climb hills of up to 21.8° and go uphill without any trouble as well. I tried out the scooter on a few moderate and a handful of steeper hills, and it performed without any hiccups.
Battery and range
Besides the two 1500W motors, the Blade 10 GT+ runs on a 60V 30AH LG battery, and these two features allow this model to give you up to 50 miles / 80 kilometers of range (I only did a few smaller range tests, but I'd say that half a battery charge resulted in getting almost exactly half the range).
This type of range makes this scooter model great for any trip you may want to take across town and back.
Speed and acceleration
The Blade 10 GT+ can reach 52 mph / 83.7 kmh, and this speed for an electric two-wheeler is more than enough if you ask me. I rarely test scooters at those speeds, but I can say that the scooter reached 40 mph / 64 kmh easily, and the ride was pretty smooth and stable.
Also, this model allows you to choose from 6 gears – eco and from 1 to 5. I recommend you use the third gear because then your scooter will use 60% of its total power and still reach nearly 32 mph / 50 kmh.
And here's some great news for all speed addicts: The scooter's massive dual motor, accompanied by the 40A sine-wave controllers, gives it a nice acceleration.
Charging
What I really like about the Blade 10 GT+ is that it comes with a double charging port. This means that instead of waiting for 14 hours for your scooter to get charged, you can do the full charge cycle in 7 hours.
However, keep in mind that this model comes with 1 charger only. So, if you decide you need a second one, you'll need to spend some extra money on it.
Weight limit
The weight limit of the Blade 10 GT+ is 265 lbs / 120 kg, which is the industry's standard.
Features
The Blade 10 GT+ is packed with many useful features.
Brakes
The Blade 10 GT+ comes with hydraulic brakes.
This model also has regenerative brakes, which activate the moment you begin pressing your brake handles. You can adjust the intensity of this type of braking for all 6 gears through the advanced settings.
I found the brakes to be pretty much flawless. They worked really well, very responsive while not being jerky.
Tires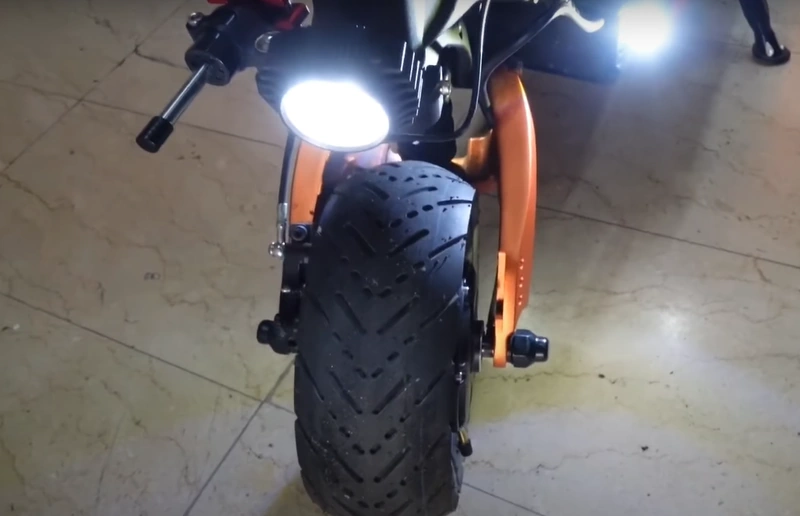 The Blade 10 GT+ comes with 11 x 3-inch pneumatic, self-sealing, tubeless tires, which make annoying bumps on the road look insignificant. So, whether you're riding your scooter on or off-road, you can be sure that you'll enjoy a fast, and yet smooth, comfortable ride.
Suspension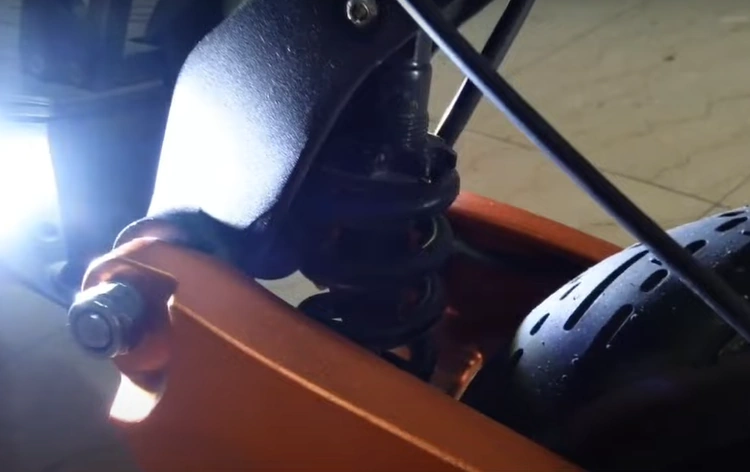 The Blade 10 GT + has adjustable hydraulic front and rear suspensions. This suspension system works wonders for decreasing road impact.
A useful tip: I've found that setting it up on the softer side allows me to enjoy a nice and smooth ride. However, when I want to take a high-speed ride, I prefer setting it up on the harder side to enjoy the extra stability.
Weight and portability
The Blade 10 GT+ weighs 77 lbs / 35 kg, which makes it a bit heavy. Of course, the scooter's weight doesn't interfere with its performance.
However, always keep in mind that if you need to carry it up stairs, it can be a bit difficult. This model wasn't made for carrying it around too much.
Deck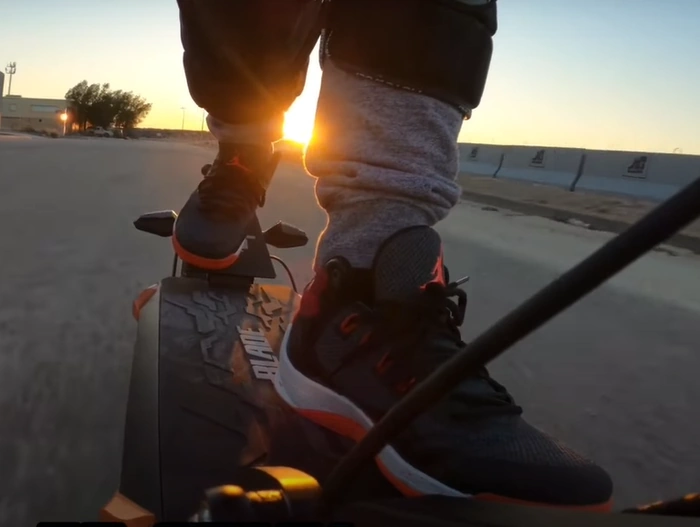 The deck has a nice foot rest, and it's pretty comfortable. It also has a rubber slip-resistant surface, which means you'll have no problem cleaning it and keeping your scooter nice-looking.
Cockpit and controls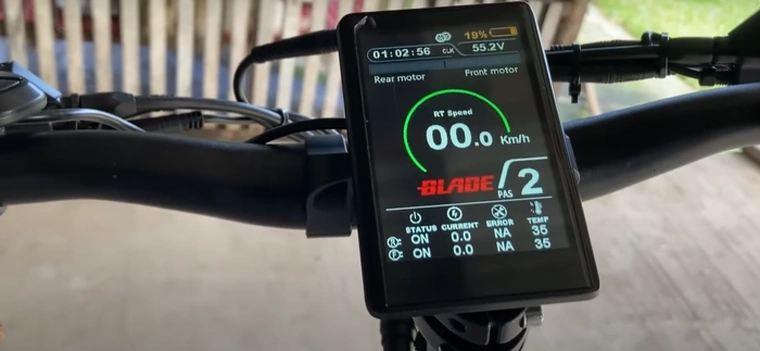 The handlebars of the Blade 10 GT+ have an ergonomic design, which grants you a comfortable grip.
The controls are laid out thoughtfully, with the throttle, acceleration, and braking levers, and horn button positioned within easy reach.
The cockpit of this model also features a centrally positioned, bright, 3.5–inch display. This high-resolution display makes settings and essential performance information, such as riding mode, speed, and battery level, visible to you.
Waterproofing
The Blade 10 GT+ electric scooter has an IP54 rating, which means riding your scooter in some rain won't damage it.
I didn't test the scooter in any wet environments.
Lights and night use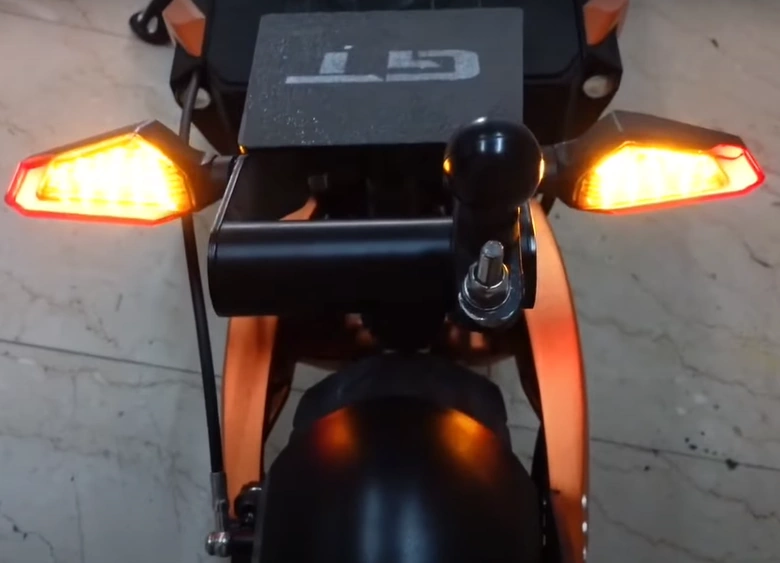 The Blade 10 GT+ comes with LED lights on the front, rear, and deck, which allows you to stay safe at night. If you ask me, this model may not have the best headlight out there, so if you plan to ride it in the dark, especially on longer distances, I recommend getting an extra LED light.
As for the side lights, not only do they give the scooter an aesthetic and stylish look, they also increase your visibility in the dark, and I found them to be quite a nice addition.
Adjustable steering damper
This feature does a great job of preventing the ugly wobble when you're riding your scooter at high speeds.
How does the Blade 10 GT+ compare against other popular e-scooters?
The Blade 10 GT+ is often compared to the Blade X Pro and the VSETT 10+. Let's take a look at how it differs from each in the following sections:
The Blade 10 GT+ vs Blade X Pro
Both models weigh the same and run on the same type of battery.
However, the Blade 10 GT+ model comes with larger tubeless tires and more customization options for the cockpit than the Blade X Pro one. It can also reach a higher speed than its counterpart.
On the other hand, the Blade X Pro costs a bit less than the Blade 10 GT+. Also, its weight limit is 331 lbs / 150kg, which means it's more suitable for heavier riders than the Blade 10 GT+.
The Blade 10 GT+ vs VSETT 10+
Both models have the same IP rating, which is IP54, and weigh nearly the same.
The VSETT 10+ comes with a higher weight limit, which is 284 lbs / 129 kg, compared to the 265 lbs / 120 kg weight limit of the Blade 10 GT+. So, heavier riders might prefer it more to the other model.
Also, the VSETT 10+ model can reach up to 70 mph / 113 kmh, whereas the Blade one reaches up to 50 mph / 80 kmh.
However, considering the type of battery, display, tires, and overall build quiality the Blade 10 GT+ comes with – all for $2199, I'd say it's better value than the VSETT 10+, which costs $400 more.
Who should not buy the Blade 10 GT+?
Although the Blade 10 GT+ is packed with excellent features and boasts impressive performance, it might not be the best fit for everyone.
If you're new to e-scooters, I personally don't recommend going for this model, as it might be a bit too much to handle for starters. The Blade 10 GT+ is more suited for experienced riders and speed addicts. I would recommend getting a more beginner-friendly scooter to test out the waters first and see if you're really into scooters.
Also, those who prioritize portability and compactness might find the large weight of this model a bit inconvenient for transportation. Check out my guide on the lightest electric scooters if that's what you need.
Last but not least, if the scooter's price of $2199 doesn't fit your budget, maybe you should consider buying a model that costs less than that. My guides on the best electric scooters under $1000 and the best scooters under $500 should help you in that decision.
Who should buy the Blade 10 GT+?
The Blade 10 GT+ electric scooter is a perfect choice for everyone who wants to enjoy a fast and yet safe and comfortable ride.
The long-lasting battery and powerful motor this model comes with contribute to a buttery smooth and efficient ride, making it ideal for both short and long trips.
Also, if you're someone who cares about your style, this nice-looking e-scooter is definitely the way to go. Its modern and sleek design will get you some attention in the streets, too, especially when you ride it at night with all the lights turned on.
Where to buy the Blade 10 GT+ from?
Worldwide
There are not many reputable online stores that sell the Blade brand. At the moment, the best place where you can find the Blade 10 GT+ scooter is
Rydology
.
Blade 10 GT + Specifications
Blade 10 GT+ Specifications
| | |
| --- | --- |
| Top speed | 83.7 kmh |
| Top speed | 52 mph |
| Range | 80 km |
| Range | 50 mi |
| Motors | dual hub motors |
| Power | 3000 W |
| Climb angle | 21.8 ° |
| Battery | 1800 Wh, 60 V |
| Ingress protection (IP) | IP54 |
| Weight | 35 kg |
| Weight | 77 lbs |
| Weight limit | 120 kg |
| Weight limit | 265 lbs |
| Tire size | 11 in |
| Tire type | pneumatic 3-inch wide |
| Foldable | yes |
| Foldable handlebars | no |
| Shock absorbers | front and rear adjustable spring suspensions + steering damper |
| Lights | LED lights front + rear + deck |
| Control | 3-inch display |
| Keys | NFC card reader and backup key lock |
| Warranty | 1 year |
---
Want to get
FREE SCOOTER
tips, exclusive discounts and promotions, and unseen scooter hacks? Join the
Scooter Secrets club
.
---
Liked this article? It really helps if you share it.
Follow @escooternerds on social media for more cool stuff
---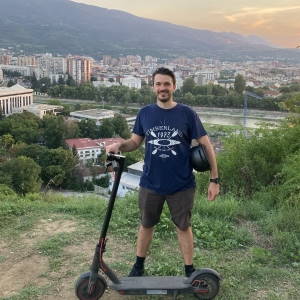 Where to buy the Blade 10 GT+
Worldwide: Rydology