Last Updated on August 27, 2023 by Matt
In this Nami Klima review, we will discuss all its good and bad sides in detail and see whether this scooter is right for you.
The Nami Klima electric scooter comes with a high-quality and practical design, a maximum speed of 42 mph, and a great suspension system. In my tests, it offered unparalleled acceleration and a smooth, safe ride in every terrain or weather.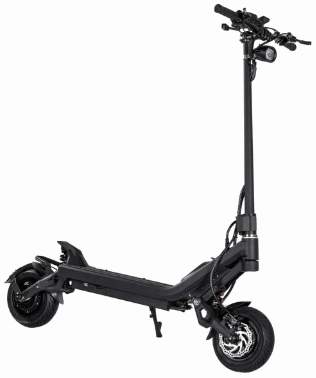 Should you buy the Nami Klima electric scooter?
You should buy the Nami Klima if you appreciate practical design, great power, adjustable suspension, and customizable settings.
In my opinion, the Nami Klima has something for all electric scooter enthusiasts.
However, I find this scooter to be perfect for one type of owner.
If you're looking for an electric scooter that is an all-terrain beast, has neck-snapping acceleration, and yet can offer you a smooth and stable ride and is budget-friendly, the Nami Klima e-scooter will be an ideal choice for you.
And in case you're a new rider, don't let the ferocious power of this scooter make it daunting for you. As I said, this e-scooter provides a buttery smooth ride thanks to its customizable controls and easy handling, which certainly makes it a great choice for you, too.
Buying
You can order the Nami Klima model from the number one electric scooter retailer Fluid Free Ride from their website or buy it at their showroom in Miami, Florida, or service centers in San Francisco and Brooklyn.
Price and value for money
The Nami Klima e-scooter costs $2,299.00.
To some, this may seem a bit expensive. However, if we consider the fact that this model has a better suspension system and accelerates faster than other models that are two times its price, I'd say this electric two-wheeler is great value for money.
Shipping
Fluid Free Ride offers free shipping on orders placed within the US.
If you're ordering outside of the US, you might be required to pay additional customs fees and taxes for your delivery.
This e-scooter retailer ships scooters the same or next business day you place the order, and the shipping can take from 2 to 5 business days.
Customer support
Whether you have a question or need a spare part, you can visit any of the 3 above-mentioned Fluid Free Ride's service centers or the service partners they have in other States.
Also, this retailer provides live support on their website. Whether you have any questions regarding your order placement, your delivery, or need help with spare parts or choosing accessories, or simply have any kind of problem with your scooter, you can always contact their self-service assistant and count on their help.
Warranty
Fluid Free Ride stands behind all their scooters by providing a one-year warranty. However, once your warranty runs out, as their customer, you can use their Lifetime Service Program, in which labor and parts are 50% off for as long as your scooter lasts.
Also, as is the case with most e-scooter warranties, the warranty of this model does not cover consumable parts, parts prone to wear and tear, as well as damage caused by environmental factors, collisions, improper use, or fire.
Return and refund policy
If you've just received your Nami Klima and realized it isn't the perfect fit for your preferences, needs, or style, you can return it for a refund within 15 days.
However, do keep in mind that you'll be required to return your scooter unused and in the same packaging you received it and cover the return shipping fees as well.
Build quality
Not only does this model look modern, elegant, and edgy, but it's also thoughtfully designed. All of its components are built of high-quality materials and combined in a way that offers a great, smooth, effortless riding experience.
Durability
Speaking of durability, this model is certainly made to last. The batteries it runs on are of high quality and nicely sealed.
Additionally, all of its components are well-made, and the design has been praised for its robustness by many owners.
So, if you're looking for an e-scooter that will offer you a fast and yet smooth and safe ride for longer, the Nami Klima is the model to go.
Engineering and design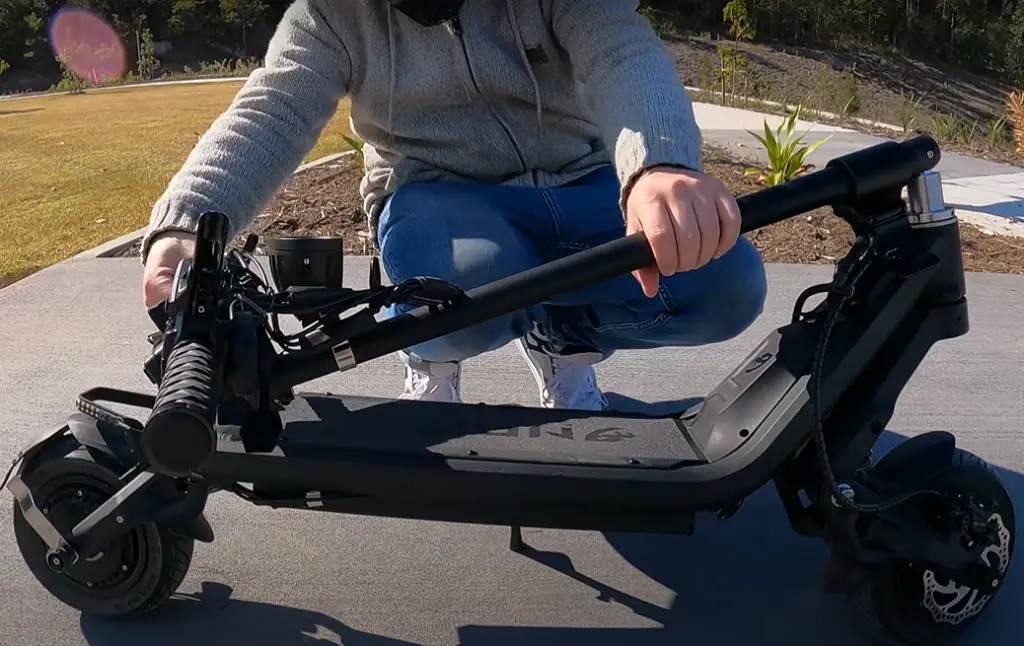 The Nami Klima e-scooter has been designed with a clamp locking mechanism, which allows you to fold and unfold the scooter quickly.
Another good side of this model is that the motor hub is designed with cooling fins, which helps disperse heat quicker, thereby letting you ride your e-scooter for longer without worrying that it might overheat.
Additionally, being stored inside the deck, the battery is water-proof, and the scooter also has great IP55 and IP65 water resistance ratings, which allows you to ride it during rainy weather.
Besides being thoughtfully engineered, the Nami Klima e-scooter also comes with an extremely convenient design that allows you to replace or upgrade parts easily.
Known issues and problems
As with any other electric scooter model, the Nami Klima one has its downsides too.
The most common issue reported regarding this scooter model is the brake sensor. A few owners have complained that the brake sensor began acting up during their ride, which prevented them from accelerating as the scooter thought they were holding the brakes. Luckily, those who've had this type of issue with their Nami Klima said it got fixed easily.
A small issue that can bother some people is the lights. Personally, I don't think this is an issue at all, but some may simply prefer the brake lights to be brighter.
Another downside of this model that some might find a bit of a deal is the scooter's portability. Namely, this Nami e-scooter hasn't been designed with a deck latch that you could use to keep the handlebars in place when the scooter is folded. So, walking up or down stairs with it or putting it into a car might cause you a bit of inconvenience.
Features
The Nami Klima is full of useful features, these are the most important ones.
Size and weight
The Nami Klima weighs 79 lbs / 35.8 kg.
It has the following dimensions:
Deck space: 9 in x 18 in / 22.8 cm x 45.7 cm
Unfolded: 52 x 27.5 x 54 in / 132 x 68.5 x 137 cm
Folded: 52 x 27.5 x 24 in / 132 x 68.5 x 61 cm
Battery
This e-scooter runs on a 60V 25Ah battery, which is more than enough for you to enjoy hours of continuous riding pleasure.
Also, being positioned inside the deck, the battery is thoroughly protected against water and damage.
Long range
No wonder the Nami Klima has a remarkable maximum range of 50 miles, considering the type of battery it is operated by.
With this range, your scooter will have enough power to offer you even a 7-day ride, and you won't need to worry that it might run out of juice.
Anyway, when you need to recharge your scooter, this will take you only 6 hours, provided that you have a fast charger.
Power and speed
Running on dual 1000W brushless hub motors and being designed with dual 40A sine wave controllers, I believe this model outshines many competitive and more expensive e-scooters when it comes to power and speed.
This scooter model has a top speed of 42 mph, which makes it a real beast. Also, considering the fact that it's designed with 10-inch tires and is able to reach this impressive speed, I don't think you'll ever want to go faster than this on this scooter.
And in case you're afraid that this might be more power than you can handle, don't worry. The Nami Klima provides 5 different riding modes, which means you can adjust the speed to your preferences. Also, it has a Turbo mode, which you can activate when you need an additional boost.
And I almost forgot – the Nami Klima has two powerful motors, but owners say these 1000W motors couldn't provide a more silent and smoother riding experience.
Acceleration
The acceleration rate of the Nami Klima is a feature I don't think many other modern e-scooters can rival.
This model has been reported to take 1.9 seconds to reach 0-15 mph and only 2.9 seconds to reach 0-25 mph. Probably this is my favorite feature – I mean, a scooter that can go this incredibly fast and is sold at such an affordable price – what else could you ask for?
Suspension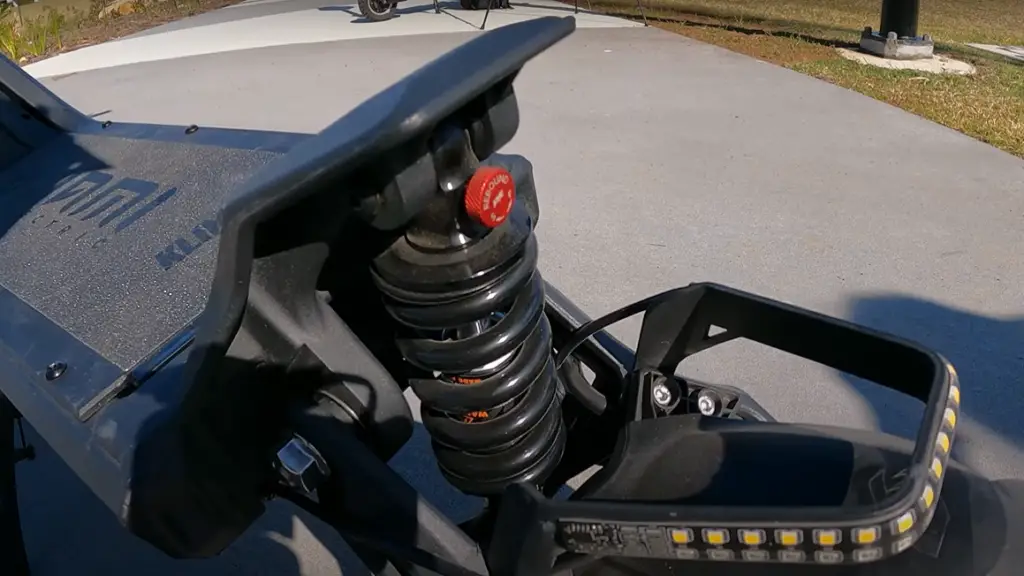 Nearly all Nami Klima owners praise this model thanks to the buttery smooth ride it offers due to the great dual hydraulic suspension system. By simply turning the red dial above each shock, you can adjust the rebound and fine-tune your ride, no matter if you're riding along roads or conquering off-road trails.
One cautionary tip: Since the brake sensor is a commonly reported issue with the Nami Klima e-scooter, I strongly recommend that you check the brakes and throttle before you take a ride with your scooter. You don't want your two-wheeler to slow abruptly when riding fast along a road or dirt track just because the brake sensor won't work properly.
Weight load
Here's some great news for heavier riders: The Nami Klima comes with a load capacity of 120 kg / 265 lbs.
A useful tip: One Nami Klima owner reported that the suspension can get a bit too cushioned if the springs aren't tightened enough. At the time of testing his scooter, this owner weighed 86 kg / 190 lbs. So, if you weigh more than that, it'd be best to set the shocks to the firmest setting.
Hill climbing
Thanks to its twin 1000W brushless hub motors, or more precisely, the impressive amounts of torque it delivers, this scooter model is an excellent hill climber.
An interesting note: The Nami Klima is reported to have climbed up a 200.0 ft / 60.9 m – high hill in only 7.7 seconds. With this performance, I doubt if other key competitive e-scooters can outperform this model.
Ride quality
If I could try to describe the riding experience this model offers in just a single word, that would be "impressive." And in more words, those would be "the most comfortable, the smoothest, the most powerful, and the most addicting" ride.
The hydraulic suspension system, the high quality of the frame and tires, and the great handling are the main factors the Nami Klima offers this type of ride.
Cockpit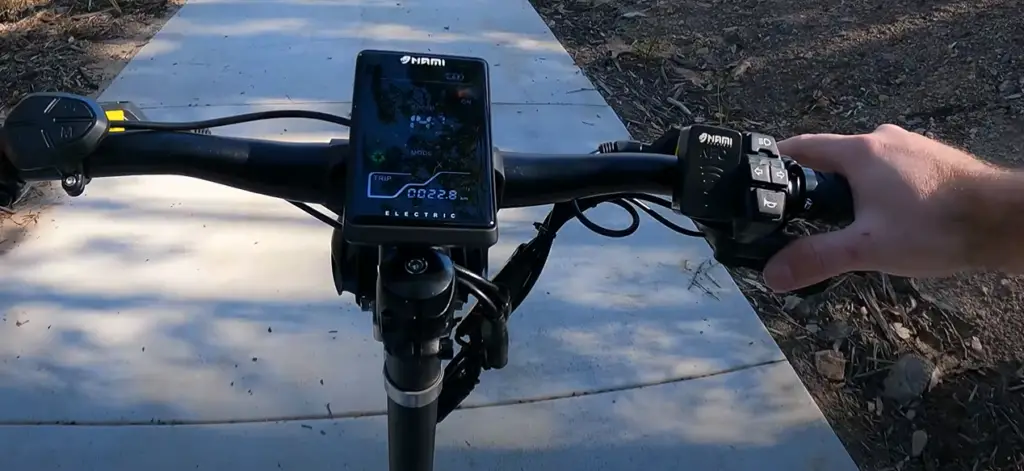 The cockpit is another feature I like the best about this model. It comes with an ergonomic design. The handlebars are 27 inch / 68 cm wide, which allows enough space for all the controls and a comfortable grip as well for better handling and balance.
Also, there is a big IP65-rated display positioned in the center of the cockpit, which keeps you informed of the mileage, battery life, speed, temperature of the motor, and etc.
Frame
The frame of the Nami Klima is one of the main features that makes this scooter stand out from the rest in its class and even those twice its price.
The frame is made of high-quality aluminum, and all of the components are custom-made for maximum protection from any type of damage.
Also, the high water-resistance rating and sturdy stem of this scooter make it a perfect fit for anyone looking for a fast and safe ride, regardless of the terrain and weather.
Deck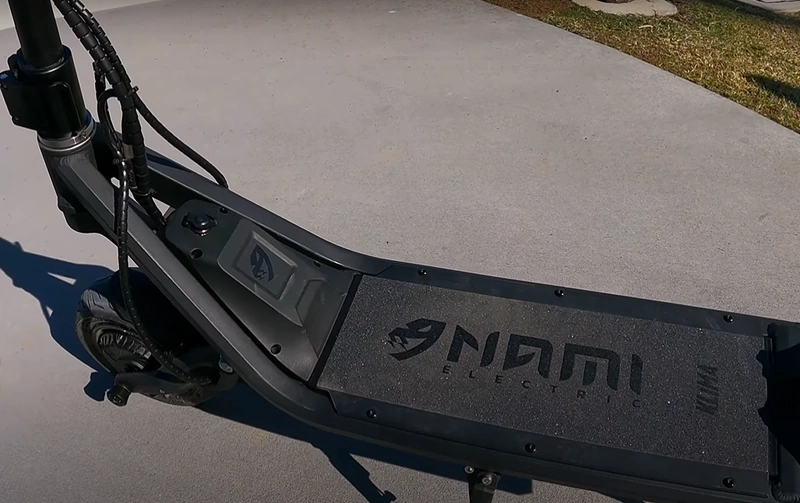 The deck might not be as large as that of other key competitive models, but its size is still great. It allows you to put both your feet for steady and comfortable riding and also shift your legs a bit for a better balance.
Tires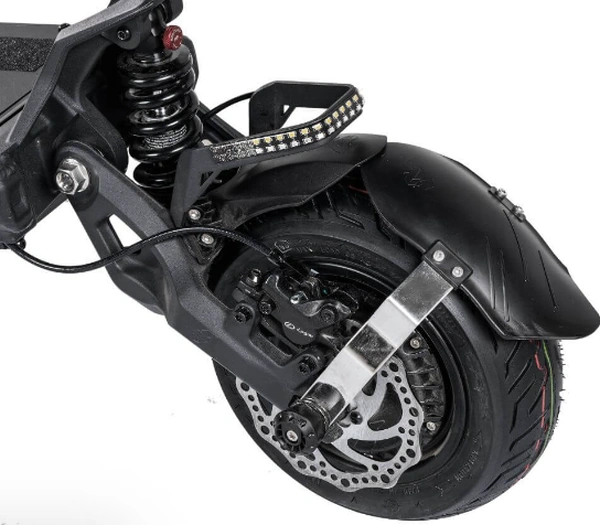 This model comes with 10-inch by 3-inch high-quality rubber pneumatic tires with a rounded profile, which makes controlling wheel spin, braking safely, and precise, stable cornering look like a piece of cake.
Also, such tires make the Nami Klima a perfect fit for riding on wet surfaces.
Lights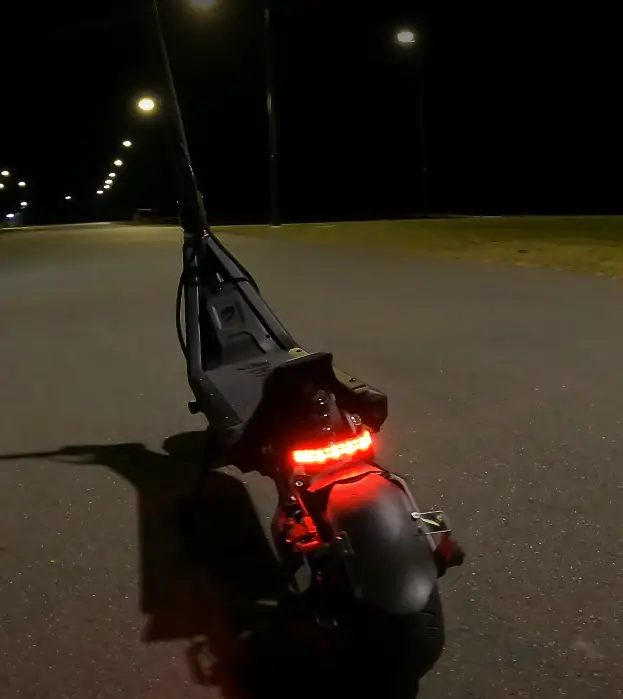 The Nami Klima electric scooter comes with a 2000-lumen front headlight positioned on the stem, which makes the way ahead incredibly bright.
But this isn't all that the lighting package of this model includes. This scooter also comes with rear LED strips, turn signals, and a rear brake light. So, whether you're riding your scooter along a road or on a dirt track, don't doubt you'll be easily seen at light.
Safety
The Nami Klima electric scooter has been designed with several safety features, which makes the whole riding experience even more enjoyable.
This scooter comes with a reliable braking system, a loud horn, and bright lights, all of which allow you to ride safely on crowded streets and at any time of day or night.
Also, the cables and battery are positioned and secured in a way that protects them from any water leakage, which could cause different electrical hazards.
And last but not least, thanks to the customizable controls of the scooter, you can adjust the ride according to your preferences and skill level, which ultimately contributes to your safety during the ride.
How does the Nami Klima compare against other popular e-scooters?
The Nami Klima is often compared to the Nami Klima MAX and the Mantis King GT. Let's take a look at how it differs from each:
Nami Klima vs Nami Klima MAX
Both models have the same load capacity and weight. However, the Nami Klima Max has a 10-mile longer range and higher quality battery than the Nami Klima one.
In my opinion, however, the Nami Klima has a more elegant and mysterious appearance. Also, I find it a better fit than its counterpart due to its excellent features and the fact that it costs less.
Nami Klima vs Mantis King GT
The Mantis King GT has been reported to be a more portable model than the Nami Klima one. It's also lighter and comes with hybrid off-road tires and turn signals positioned on the front.
However, I personally believe that the Nami Klima outperforms the Mantis King scooter as it has better suspension, offers faster acceleration, and allows you to customize the riding mode.
Nami Klima Specifications
Nami Klima Specifications
| | |
| --- | --- |
| Top speed | 67.59 kmh |
| Top speed | 42 mph |
| Range | 80.47 km |
| Range | 50 mi |
| Motors | dual hub motors |
| Power | 2000 W |
| Battery | 60 V |
| Charging time | 6 h |
| Ingress protection (IP) | IP55 |
| Weight | 35.83 kg |
| Weight | 79 lbs |
| Weight limit | 120 kg |
| Weight limit | 265 lbs |
| Tire size | 10 in |
| Tire type | pneumatic |
| Foldable | yes |
| Build material | aluminum |
| Brakes | 2 disc (LOGAN 2-piston full-hydraulic) |
| Shock absorbers | adjustable front & rear hydraulic coil-shock suspension |
| Warranty | 12 months |
| Return period | 15 days |
Who should not buy the Nami Klima e-scooter?
Don't buy the Nami Klima if you're not comfortable spending more than $2,000 on an electric scooter.
Although this model is not very expensive, there are still way cheaper alternatives to it available on the market. So, if $2299 is not a price you're happy to pay for an electric scooter, you might want to consider getting yourself a cheaper model.
Also, if this is the first time you're buying an electric two-wheeler and you have no prior experience in riding one, maybe you should consider buying a model that goes at a lower speed and offers slower acceleration than the Nami Klima does as a safety precaution.
Who should buy the Nami Klima?
People who are real e-scooter enthusiasts and are looking for a high-quality and high-performance model that offers a super fast and yet soft ride, all at a reasonable price, will find the Nami Klima to be just right.
Also, this will be a great model for those who love riding their scooter on off-road tracks since it offers a smooth, comfortable, and fun ride on any terrain. Besides, the Nami Klima has a high IP55 rating and comes with an excellent lighting package, which means you can ride it anywhere you want at any time of day or night and in rainy weather too.
And, of course, the modern ones who don't want their ride to compromise their style will also love the elegant matt black Nami Klima.
Where to buy the Nami Klima From from?
Worldwide
The only place that sells the the Nami Klima is
FluidFreeRide
. They are one of the most trusted names in the industry, so you will always get stellar customer support and great terms.
---
Want to get
FREE SCOOTER
tips, exclusive discounts and promotions, and unseen scooter hacks? Join the
Scooter Secrets club
.
---
Liked this article? It really helps if you share it.
Follow @escooternerds on social media for more cool stuff
---