Last Updated on April 5, 2023 by Matt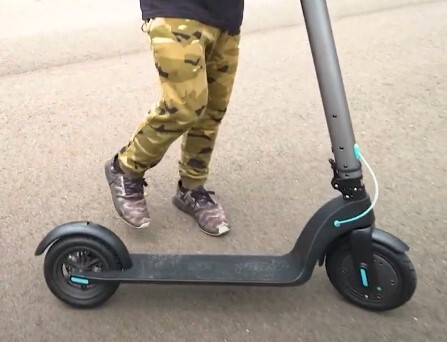 Welcome to my hands-on, detailed review of the Levy Plus, the upgrade version of the classic scooter from the Levy brand.
Levy Plus Review
The Levy Plus is a lightweight urban commuter with one of the sleekest designs in its price range. It offers a lot of functionalities, portability, and range, coming with a 350 single hub front-wheel motor and two removable fast-charging batteries. It has a top speed of 18 mph / 29 kmh and a range of 20 mi / 32 km with the original battery, and double that with the extra Levy Plus Extended Range battery.
Levy Plus pros and cons
PROS
Good design and quality
Great for commuters and students
Removable battery
You can choose tire type
Pretty good ride comfort (especially with pneumatic tires)
Great brakes
Good water resistance
Great portability
CONS
Mediocre range (could be improved with a spare battery though)
Good climber but not great
Average top speed
Handlebars might be wobbly
Levy Plus electric scooter overview
The Levy Plus is the upgraded model from the Levy electric scooters brand. The company advertises it as an improved and more complete version of its predecessor, the Levy electric scooter.
Its biggest advantages include the small weight, great portability, removable batteries, and the large array of tires you can choose to order it with. Very few scooter brands can proud themselves in building a budget-priced product that holds all of these features.
Aside from that, the Levy Plus has one of the most elegant layouts found on scooters in this price range, which is especially refreshing in an industry that has gotten overwhelmed with inept-looking designs.
Buying
The best place to buy the scooter is the Levy Electric online store. This is the official website of the Levy brand and is currently the only place where you can order the product.
The scooter is usually priced at $750. It's a good price for the best electric scooter with not one, but two removable batteries.
Ordering and shipping
At the moment, Levy doesn't accept orders worldwide and ships only to the USA, UK, and Canada.
If you order from the USA, the shipping will be free, with an estimated delivery time of 5 to 7 business days.
Shipping in the UK will cost you an additional $200-$250, and around $50 in Canada.
Warranty, return policy, and customer support
Levy has a 14-days free return policy on all products, as long as they are returned in the same condition and with all of the pieces intact. This policy applies to orders that are delivered damaged, or if you simply changed your mind and no longer want the product.
The Levy plus comes with 6 months of warranty, which covers any defects that happened as a result of a manufacturer's fault.
You also have to option to buy an extended warranty when ordering the scooter, or in the first 30 days after purchase. The warranty will be extended for up to a few years, depending on what option you choose. You can read all the details on the Levy warranty page.
This company has the utmost care and diligence for all its customers. Their support team is constantly available on many channels, including the chatbox found on their website, a contact form on the support webpage, the resources at the Levy Repair Center, as well as an e-mail, and e phone number available Mon – Fri, from 9 am to 6 pm.
Basics
The Levy Plus is a lightweight city commuter, with a sturdy and seamless build. These are all of the basics you know to know about it.
Unboxing and assembly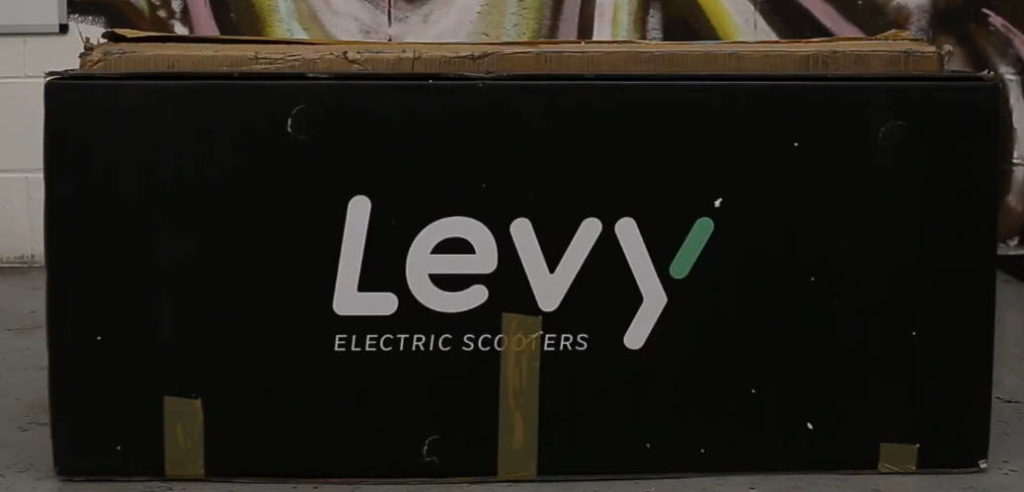 The scooter arrived in a big cardboard box, neatly packed with lots of styrofoam and packaging protection, and no room for wiggling.
Inside, there were the following items:
folded scooter
user's manual
handlebars
charger
extender for a tire air compressor
wrench tool
There was some assembling required before the scooter was ready to ride. The handles came unattached, so I had to mount them on the frame. I also had to screw in the brake levers, bell horn, and throttle on them.
However, the process didn't take more than a few minutes and was easy to get done with the help of the wrench tool Levy provided in the box.
When assembling this scooter, don't forget to make sure that the brakes are functional, the tires are inflated, and the battery is fully charged before riding for the first time.
Folding and unfolding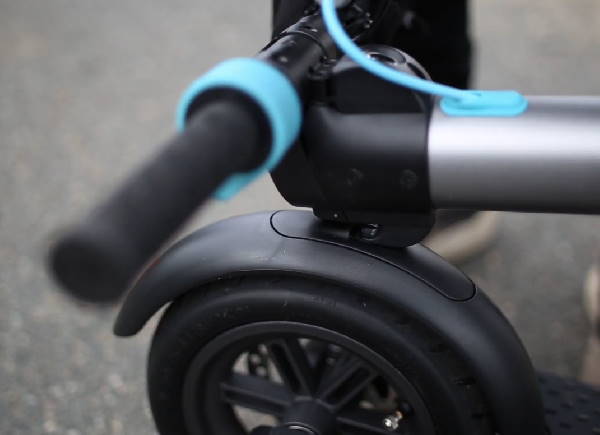 The Levy Plus has an easy folding mechanism that folds the stem onto the deck, enabling you to carry the scooter wherever you need to.
Unfortunately, the handlebars don't fold and they will stick out a bit when you carry the scooter. However, this shouldn't be a problem as they aren't too big and won't cause too much inconvenience.
Before riding, make sure to also check whether the handles and brake levers are safely attached and whether the right cruise mode is set. The scooter has 3 speed modes which can be set on the LCD display in front of the rider's view, with all 3 offering different maximum speeds.
Ride experience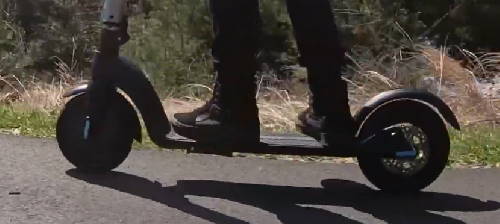 The first thing I noticed once I hopped onto the Levy Plus is how smoothly it accelerated and how well it handled the road.
The ride was seamless, and the experience was pretty great for a scooter without any suspension. The lack of shock absorption was compensated by the large and wide tires the scooter comes with. The option to choose which type of tire you want for it also adds you some choice in the matter.
Sharp turns and sudden stops didn't cause any issues as well, since the deck is fully covered by a rubber surface that provides a lot of grip. I practically stayed glued on it and without fear of losing balance.
Additionally, the scooter has the cruise control feature, which was quite convenient for long and carefree rides on straight and smooth roads.
Build quality
This is the second scooter from the Levy brand, and an improvement to the previous model released a few years ago.
To me, it seemed like the company has taken care of most of the downsides in the last model and has made quite a longstanding scooter. The aluminum build is pretty strong and surprisingly durable for a vehicle without any suspension. In general, build quality is definitely a strong side of this scooter in my opinion.
Everyday use and lifespan
When it comes to daily usage, I believe the scooter has some room for improvement, especially when it comes to its battery life. The ride quality was good enough, but it burned the battery too quickly. I practically charged it every day, and that will likely be the case for you as well.
However, the removable batteries and the option to charge them wherever you want helped a lot. It made the scooter a pretty great, reliable, and comfortable urban commuter.
Since the scooter has been available on the market for just around two years, it's too early to tell what its lifespan will be.
Still, its overall build quality and a lot of its features suggest to me that this is a product that can easily last for over a decade. Its build is strong and durable, and the only vulnerable part is its batteries, which can be easily replaced.
Design and materials
The Levy brand has one of the most robust designs and build qualities when it comes to electric scooters in this price range. The scooter has a classy design, great finishes, and a very elegant look overall.
They've used aviation-grade aluminum alloy for the frame and handles, along with steel and plastic covers for the shaft and the electronic parts.
Colors, look and feel
The Levy Plus is available in 3 different color designs:
black and red
black and green
black and grey
However, these options don't differ much as all the main parts of the scooter, like the deck, stem, and wheels, are black. Only the controls and the wires hanging in the front are colored differently. I would still recommend going with the grey option, as it complements the black parts quite nicely.
Overall it looks like your average lightweight scooter with a simple, yet sturdy build, and a clean, smooth design. The deck is thin, the stem is neat, and there are no hanging parts cluttering the exterior of the scooter.
Performance
The performance of the Levy Plus is quite balanced, and somewhat on par with most other models in this price range.
Speed and acceleration
Officially, the Levy Plus can reach a top speed of 18 mph / 28.9 kmh. I was always able to reach this speed on a full battery charge, but it wasn't so easy to reach it on half a battery or less.
The Levy Plus is definitely not a racing-type of a scooter. It does have great acceleration though, going 0 to 15 mph in about 6 seconds.
The scooter has 3 speed modes with different speed limits that you can set for your ride:
beginner mode – top speed of 6 mph / 9.6 kmh
eco mode – top speed of 12 mph / 19.3 kmh
sport mode – top speed of 18 mph / 28.9 kmh
This feature allows you to control the amount of battery usage when riding the scooter in different environments. You can set the eco mode when commuting through a busy street, and then switch back to sport mode for a faster ride when the crowd is gone.
Motor, power, torque, and climbing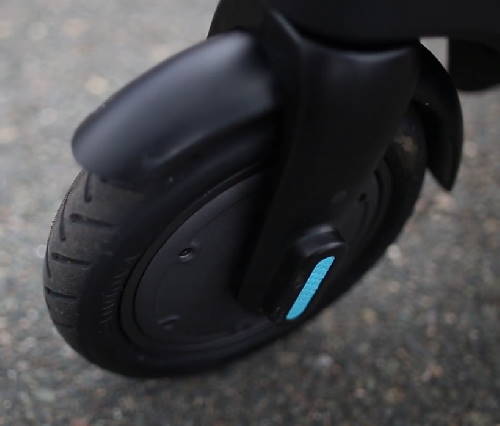 The Levy Plus is a typical urban commuter prioritizing portability and efficiency over power.
It has a single-hub 350W motor mounted in the front wheel, with a peak power of 700W. This kind of power is enough to provide a smooth ride and take you to your destination in time.
The climbing angle ranges from 5 to 15 degrees, depending on the rider's weight. It's not the best scooter when it comes to steep inclines, and it will have some difficulties handling them. You may have to occasionally help it with a little push when climbing.
Weight limit and usage by heavy adults
The Levy Plus electric scooter has a weight limit of 220 lbs / 100 kg.
It's not the best scooter for heavy adults, as some of its competitors with similar prices can carry up to 300 lbs / 136 kg. The scooter's performance will also be sufficiently limited if the rider is closer to the weight limit.
However, for most people under the weight limit, riding the scooter and getting the expected performance from it will be no problem.
Range and commuting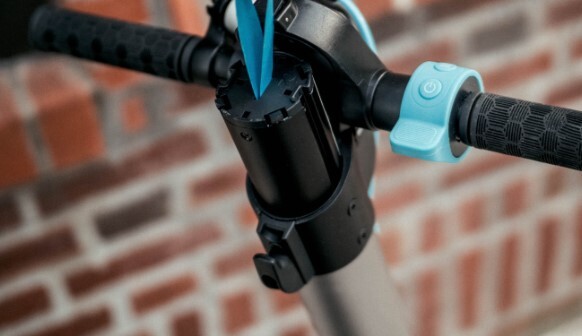 The Levy Plus has an official range of up to 20 mi / 32 km on a single charge, which I was able to confirm in several range tests. Additionally, the scooter supports mounting a second battery, and if you go with the Levy Plus Extended battery, you will get double the original range.
For most people looking to use their scooter on their way to work and back, or when commuting around the city to run some errands, even the original range will be more than enough, but the extra range will be a great upgrade as well.
Things such as outside temperature, max speed, and current battery level will also significantly impact the scooter's range.
You can use the Levy range calculator on their website and check how much range will you get according to your riding style. There, you can type in all the outside factors you'll meet on your daily rides and get a more accurate calculation of the range you can expect from a single charge.
Batteries and charging
The battery setup is one of the most innovative and useful parts of the Levy Plus scooter. The scooter features a removable Panasonic battery, and can also support a second battery as well.
The battery is a 36 V, 12.8 Ah Li-ion one with a capacity of 460 Watt-hours, and a charging time of around 3.5 hours.
The primary battery is stored in the stem of the scooter, safely covered inside the bar. It can be easily removed by unscrewing the cover in a matter of seconds. This feature allows you to take the battery out and charge it battery independently, even when you can't take the scooter inside. You can simply leave the scooter locked outside and charge the battery in your office if you need more range for the day.
The second battery is mounted on the stem. You can get the additional battery aftermarket at the Levy store.
Features
Technically, the Levy Plus can be considered a budget-friendly scooter, but that doesn't mean that the scooter lacks features. In fact, this is one of the most feature-complete, and even innovative electric scooters in its price range.
Weight, dimensions and portability
We mentioned how Levy largely prioritized portability over power when designing the Levy Plus scooter. They designed this model in accordance with the needs of someone that spends most of their day in the urban areas and constantly uses public transport.
Having these things in mind, the first thing you'll notice is how light the Levy Plus feels when you take it out of the box. The scooter weighs just around 30 lbs / 13.6 kg. It's not the lightest scooter ever made, but it is among the lightest ones, and it can still be carried by the average adult in just one hand with ease.
When unfolded, the dimensions of the scooter are 42.5 x 16.5 x 46.6 in / 108.3 x 42 x 118.6 cm (L x W x H). When folded, they come down to 42.5 x 16.5 x 18.1 in / 108.3 x 42 x 46 cm.
Overall, it has the size of your average scooter that most people will be able to carry around for a few minutes. Taking it upstairs might be the biggest challenge, and even that will still be easy for almost anyone.
Waterproofing and riding in the rain or snow
The Levy Plus has an IP54 waterproof rating, meaning it's protected from splashes and dust intake from any direction.
It's not exactly waterproof but will be able to take some light water sprays without the electronic parts suffering any damage. Both of the batteries and the motor are sealed, and the aluminum alloy covering them should take care of splashes from a wet road surface.
Can I ride the Levy Plus in the rain or snow?
With a waterproof rating of IP54, the Levy Plus can be safely ridden through puddles not deeper than 3 in / 8 cm. Using it on streets wetter than that will result in some damage to the electronic parts, and maybe even the scooter's build.
Still, you'll want to avoid riding it in heavy rain or snow. You might be able to ride it home safely if you occasionally get stuck outside and it's still raining, but try to avoid going over bigger bodies of water.
Brakes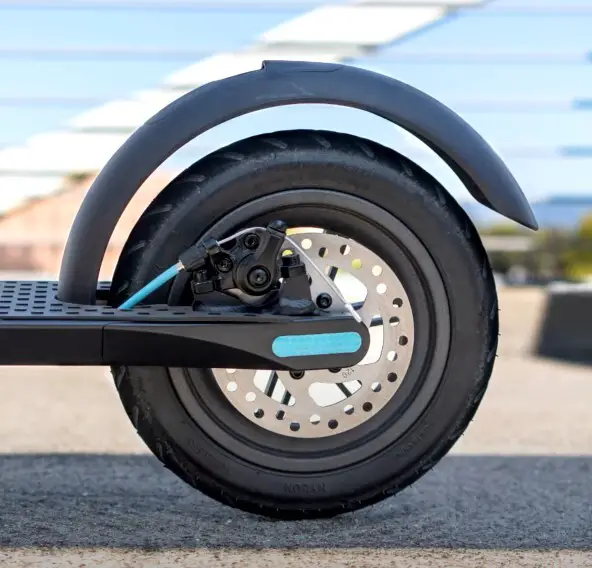 The brakes were one of my favorite feature of the Levy Plus.
The scooter has a disc brake on the rear wheel, an e-brake at the front, and a fender brake at the back of the deck. It is one of the best-equipped products when it comes to braking.
All these provide pretty smooth braking in less than 23 ft / 7 m when you are going with a top speed.
Overall, it's a great braking system and a big improvement on the previous Levy model which only used double brakes. With this one, you get much bigger ride safety and especially better commuting through crowded places in urban areas.
Tires, wheels, terrains, and environments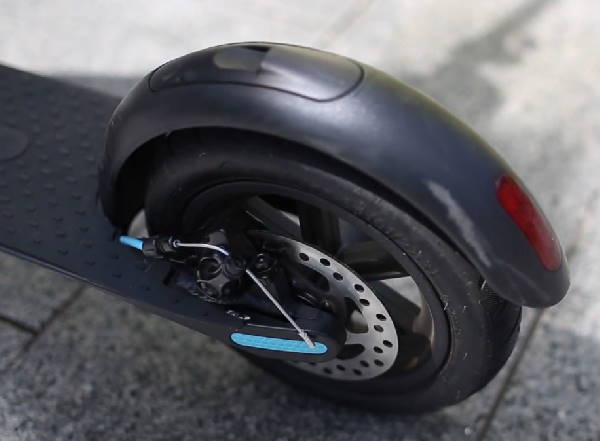 Levy have decided not to limit the user to a single tire choice, and have given you the option to select which type of tire you want on your scooter.
For the Levy Plus, you have three tire options to choose from:
tubed 10" tire
tubeless 10" tire
solid rubber 10" tire
Each of the three offers different perks and comes with its own downsides, so there is no clear choice here. It's up to you, your personal preference, and the style you want to ride this scooter in.
Here are the major perks and downsides of each tire type.
| Tire type | Pros | Cons |
| --- | --- | --- |
| Tubed | Cheaper maintenance, as you only have to buy a new inner tube after puncture | Harder to repair, as you have to remove the whole wheel to change the tire |
| Tubeless | Easier to repair, as you don't have to remove the whole wheel | You need to carry a high-pressure air compressor in order to repair the tire after a puncture |
| Solid rubber | Puncture-proof | Worst ride quality, as solid rubbers provide the least shock absorption |
Suspension
In my opinion, one of the biggest downsides overall to the Levy Plus is its lack of suspension.
The scooter doesn't use any kind of suspension at all, which might become a problem if you expect to ride it on bumpy roads or uneven surfaces.
If you live in such areas where the road maintenance is not at the highest level, then you'll want to choose your tires more carefully, as they will be the only thing easing out the ride.
A tubed or a tubeless tire might be the way to go here, as solid rubber tires will offer much worse ride quality and shock absorption (although in that case, you will want to ride more carefully, as punctures are more common on roads in poor conditions).
Lights and night use
With a bright front LED light and two taillights at the back of the deck, you can ride the Levy Plus during the night with zero concerns.
The visibility of the front light, which is mounted on top of the stem, is really great. It will brighten the road ahead even when there are no street lights around.
Screen, handlebars, and controls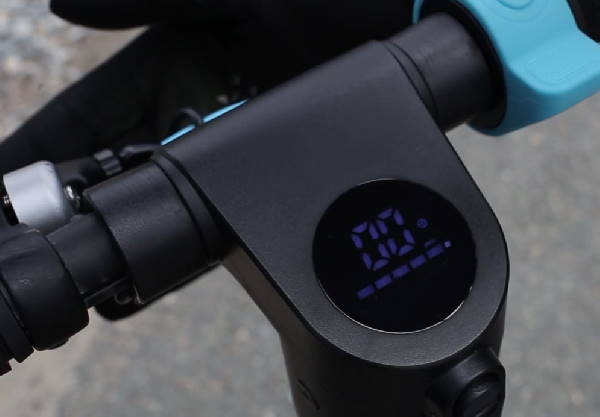 It is fairly rare to find a scooter with a bright and multifunctional display that is conveniently placed. However, that's not the case with the Levy Plus.
The scooter has its LCD screen embedded into the center of the handlebars, right in the middle of the cockpit. It's a bright and visible display that shows all the useful information, such as:
speed
current mode
fault meter
gear position
battery level
Additionally, the screen has the option to switch the units in which you want the information to be shown.
On the left handlebar, you'll find the brake lever for the electronic and disc brake, as well as the horn button. On the right handlebar, there is the throttle lever and the mode switch buttons right next to each other.
All of the controls are placed in handy positions, easily reachable to you at all times.
Deck and standing surface
The deck of the Levy Plus has a surface area of 6 x 18 in / 15 x 46 cm, big enough to hold both of your feet in place. It has a ground clearance of 4.5 in / 11.5 cm.
Additionally, the deck features a fully rubberized grip surface, offering a stable ride in various road conditions. You won't experience any gliding or sliding off from it, even when making sharp turns or sudden stops.
Maintenance
When it comes to light e-scooters designed for the urban environment, there are no major maintenance issues to worry about.
The IP54 rating makes cleaning the scooter somewhat easier, although I wouldn't recommend washing it with a lot of water – try to use a dry cloth, and maybe use a wet cloth with some soapy water for stains that are harder to remove
Aside from cleaning, the only other thing you have to check once in a while are the handles and the stem, which can become somewhat loose after a few rides. I would recommend checking and tightening them up once every two weeks, although you could do this more often if you feel it's necessary. Even though the brakes and the tires are of very solid quality, I still recommend checking them as part of your regular maintenance routine.
Accessories and customizations
Although the brand currently offers just the two Levy and Levy Plus models, their store is filled with functional accessories specifically designed for these two models.
The first and most important extra part you should consider getting aftermarket is the spare battery. For around $250 extra, you can get a second 12.8 aH battery which will double the range of your scooter.
Safety should be one of your primary concerns, even on a scooter with less torque power such as the Levy Plus. You should always have a helmet on when riding, and even some extra protective gear such as knee pads, shins, and gloves. Levy offers a nice basecamp helmet in their store for just $35. It's a matte black helmet that has a functional LED light on the back of it, and comes with an extra battery for longer durability.
In case you don't like it, you can check out my guide on the best electric scooter helmets.
Aside from your wellbeing, you should also look to secure your scooter as well. Nobody wants to leave their scooter out on the street unlocked. That's why Levy has come up with their own folding scooter lock, an all-metal foldable lock that can be mounted on the stem and tied up to a bike stand or a bar secured to the ground.
If the lock from Levy doesn't seem like a good fit to you, see my guide on the best electric scooter locks for more options.
And finally, another useful accessory to add to your scooter's cockpit is the Levy phone holder.
Levy offers such a holder for a fairly cheap price of around $15. It's elastic and fully flexible, supporting all kinds of devices with screens sized from 4" to 6".
Finally, the Levy Plus comes with a fairly standard design and build, so it will fit a lot of the generic electric scooter accessories without issues.
Problems and what to know
The Levy Plus is a budget-friendly city commuter that offers much better portability at the cost of some power. Since it's not really an expensive scooter, a lot of people might expect a ton of issues with it.
However, so far I've only managed to identify two particular issues.
The most notable one is the scooter's battery life. Although Levy has advertised it to have a 20 miles range on just the original battery, a lot of users have reported never reaching this number unless they drove on beginner mode the whole time.
Additionally, the scooter can hardly reach its top speed when on a low battery level. The lower it goes, the slower the vehicle gets. This is especially so when riding uphill, with some users reporting that climbing even on small slopes of around 5 degrees is impossible if your battery is below 40%.
The second major problem is with the stability of the scooter's build. This issue is usually found on the handlebars and other parts which are screwed onto the stem. These parts often seem to loosen up and unscrew themselves after just a few weeks of usage, and become too wiggly to ride safely.
It's not an unfixable problem, since you only need to tighten them up with a wrench tool once in a while, but is still not something you'd expect from a higher-end new product.
Reviews and user satisfaction
Generally, The Levy Plus is fairly positively rated and deemed useful by almost all of its owners.
Anyone who has bought it to ride it around town has been very satisfied and has loved the approach Levy has taken for this model. Most of all, users love its design, as it's pretty straightforward and without too many colors and intrusive details.
It doesn't have any deal-breaking issues, and all of the problems reported are something you would expect from a scooter in this price range.
Levy vs Levy Plus
The major difference between the standard version of the Levy and the Levy plus version is that the Plus version comes with a battery that has double the capacity, and, of course, double the range.
Naturally, the Levy Plus will be a bit heavier as a result, but that is to be expected.
Pretty much everything else about these two versions is the same.
Price and value
The Levy Plus has been on the market for around two years now, and almost all the time it has been priced at $750.
It's well worth its price, and I'd say it's pretty good value for money.
I wouldn't go so far to say it's the best budget-friendly scooter, but it does have some unique features and functionalities which aren't found on most other models with a similar price tag.
The swappable battery and elegant design alone provide enough value for you to consider it as your next scooter.
When should you not get the Levy Plus Electric Scooter?
Some people will not find this scooter useful and should probably go for some of the other choices in this price range.
One of these types is offroad riders and people looking to take their scooter on an adventure outside the city. The Levy Plus can't really handle these kinds of rides and will soon be damaged if you force ride it on a dirt road and rough terrains. Check out my guide on the best off-road electric scooters if that's what you're looking for.
This is also not the greatest choice for people who live uphill. The scooter doesn't have a great climbing angle and will hardly handle anything above 15 degrees of incline. When you ride with a low battery level, you might end up pushing it all the way instead of riding it. See my guide on the best electric scooters for climbing if you live in a hilly area.
My verdict – should you buy the Levy Plus?
In my opinion, several types of people can be the next perfect owners of the Levy Plus.
If you want an elegant scooter with a simple design, no flashy details, and is easy to use, then this is the perfect choice for you. The Levy Plus looks like your typical scooter, with an all-black surface and a few minor colorful details.
It's a great choice if you need it for commuting around the city, especially if you plan to use it to go to work and back. Anyone looking to ride their scooter for around 15 miles a day (or double that if you go with the spare battery) is a potential owner of this stylish and portable urban commuter.
People working in an office will also appreciate a lot of the features of this scooter. The removable battery, which they can charge inside their office, without taking the scooter upstairs, will be a godsend.
And finally, I can easily see the Levy Plus as the perfect scooter for students. It's great for riding around campus, taking you effortlessly and on time to any lectures or meetings. The best features students will appreciate here are the scooter's portability and the fact that you'll always have a place to charge it.
Where to buy the Levy Plus from?
US, Canada
The Levy Plus scooter is only available in the US and Canada for now. The only place to buy it from is the official
Levy store
. They will provide free shipping in the US, and can also ship to Canada and the UK.
Frequently asked questions
Below are some of the most common questions buyers have about this scooter.
Is the Levy Plus scooter waterproof?
With an IP54 waterproof rating, the Levy Plus has much better water protection than almost any other scooter in its price range. This will protect the scooter on rides under light rain, but I would still be cautious when riding during heavy rainfall, or riding through deep puddles that can splash water into the electronic parts.
Can I use two batteries on my Levy Plus scooter?
The main feature of the Levy Plus is its removable battery. The battery is locked into the stem, and once drained out, you can remove it and swap it with another, spare one. This will double the range of the scooter to about 40 mi / 64 km, for an extra cost of around $250. You can find a spare battery pack on Levy's online shop.
Specifications
Levy Plus Specifications
| | |
| --- | --- |
| Top speed | 29 kmh |
| Top speed | 18 mph |
| Range | 32 km |
| Range | 20 mi |
| Motors | front wheel hub |
| Power | 350 W real, 700 W peak |
| Climb angle | 15 ° |
| Battery | 460 Wh, 36 V |
| Charging time | 3.5 h |
| Ingress protection (IP) | IP54 |
| Weight | 13.6 kg |
| Weight | 30 lbs |
| Weight limit | 100 kg |
| Weight limit | 220 lbs |
| Tire size | 10 in |
| Tire type | customizable (tubed, tubeless, solid) |
| Tire pressure | 50-60 psi |
| Foldable | yes |
| Foldable handlebars | no |
| Seat | no |
| Trunk or basket | no (customization possible) |
| Build material | aviation aluminum alloy |
| Terrains | urban |
| Brakes | regenerative front + mechanical rear brakes |
| Shock absorbers | no |
| Lights | headlight + brake light |
| Speed modes | beginner, eco, sport |
| Cruise control | yes |
| Keys | no |
| Warranty | 6 months |
| Folded dimensions (L * W * H) | 108.3 cm * 42 cm * 43 cm |
| Folded dimensions (L * W * H) | 43 in * 17 in * 17 in |
| Unfolded dimensions (L * W * H) | 108.3 cm * 42 cm * 118.6 cm |
| Unfolded dimensions (L * W * H) | 43 in * 17 in * 47 in |
| Deck to handlebar height | 104 cm (est) |
| Deck to handlebar height | 41 in (est) |
| Adjustable handlebar | no |
| Notes | 8.5 inch tires available; removable battery; LG or Panasonic battery; can switch tire type; |
---
Want to get
FREE SCOOTER
tips, exclusive discounts and promotions, and unseen scooter hacks? Join the
Scooter Secrets club
.
---
Liked this article? It really helps if you share it.
Follow @escooternerds on social media for more cool stuff
---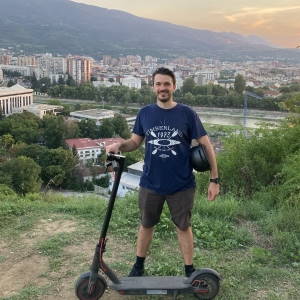 Where to buy the Levy Plus
US, Canada, UK: Levy Store