EMove Touring Review
$902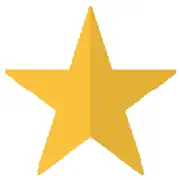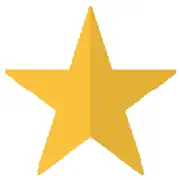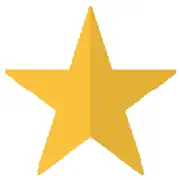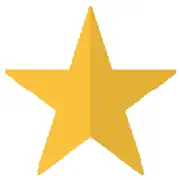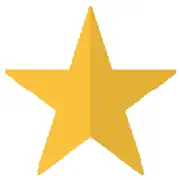 Best place to buy
DISCOUNT COUPON
Enter code at checkout for
Quick summary:
The EMove Touring is a great entry-level scooter, ideal for both beginners and experienced riders. Packed with a top speed of 25 mph / 40 kmh, a 25 mi / 40 km range, a 750-watt motor, a 48 Volt LG battery, an impressive climb angle, a generous weight limit, full spring suspension, and IP54 rating, it is the complete scooter.
Scores, Tests, Measurements
Overall score
Ranked #1 in price range $801 – $900
81
Pros
great quality
makes the ride fun
good brakes
good suspension
good portability
CONS
not the cheapest
low range
medium speed
When to buy
The EMove Touring is not only a great entry-level scooter but also an enticing upgrade for those accustomed to budget or commuter models with less performance. Ideal for both beginners and experienced riders, it caters to commuters seeking reliability and quality, as well as casual riders craving an exhilarating experience. Packed with a top speed of 25 mph / 40 kmh, a 25 mi / 40 km range, a 750-watt motor, a 48 Volt LG battery, good climb angle, a generous weight limit, full spring suspension, and IP54 rating. The EMove Touring stands out as a well-rounded and top-tier mid-price scooter.
When not to buy
You should avoid buying the EMove Touring because is a relatively expensive scooter, costing around $800. There are many other great scooters available for less money. However, the top speed isn't the best and if you're looking for a scooter that can go really fast, there are other options available. The EMove Touring has a weight capacity of 265 pounds. If you weigh more than that, you may want to consider a scooter with a higher weight capacity,
In this EMove Touring review, we'll explore why this scooter has garnered immense popularity, striking a rare balance of smooth rides, quality, optimal performance, and great value for money.
EMove Touring specifications
Emove Touring Specifications
| | |
| --- | --- |
| Top speed | 40.2 kmh |
| Top speed | 25 mph |
| Range | 50 km |
| Range | 31 mi |
| Motors | brushless DC hub motor in rear wheel |
| Power | 500 W real, 750 W peak |
| Climb angle | 20 ° |
| Battery | 624 Wh, 48 V |
| Battery type | LG 13 Ah |
| Charging time | 4 h |
| Ingress protection (IP) | IP54 |
| Weight | 17 kg |
| Weight | 37.5 lbs |
| Weight limit | 140 kg |
| Weight limit | 309 lbs |
| Tire size | 8 in |
| Tire type | pneumatic front, solid rubber rear |
| Foldable | yes |
| Foldable handlebars | yes |
| Seat | available |
| Trunk or basket | no (customization possible) |
| Build material | aluminum alloy |
| Terrains | urban |
| Brakes | rear electronic and drum brakes |
| Shock absorbers | triple suspension, front dual spring, front stem, rear dual spring |
| Lights | front head + front side + rear brake |
| Control | LCD display |
| Warranty | 12 months |
| Folded dimensions (L * W * H) | 109.22 cm * 20.32 cm * 29.21 cm |
| Folded dimensions (L * W * H) | 43 in * 8 in * 12 in |
| Unfolded dimensions (L * W * H) | 99.82 cm * 55.88 cm * 119.88 cm |
| Unfolded dimensions (L * W * H) | 39 in * 22 in * 47 in |
| Deck dimensions (L * W) | 55.9 cm * 20 cm |
| Deck dimensions (L * W) | 22 in * 8 in |
| Deck to handlebar height | 100 cm (est) |
| Deck to handlebar height | 39 in (est) |
| Adjustable handlebar | yes |
Basics
The EMove Touring is key-operated for a secure start. It offers an intuitive riding experience, easy for beginners to grasp within 3 minutes.
Controls are straightforward, use the index throttle to accelerate and the brake lever to stop. You have the option to choose immediate throttle start or kick-start mode.
I recommend always using the kick-start, as you may be carrying or pushing your scooter and hit the throttle by accident, which will set your scooter flying and cause mayhem.
Unboxing and assembly
The package of the EMove Touring includes:
EMove Touring scooter
charger
toolkit
user manual
P-settings manual
warranty card
replacement plastic cap for the charger port
tire pump
The EMove Touring arrives fully assembled. All you have to do is make sure that:
the battery is fully charged
there are no loose screws
the brakes are functional
the handlebars are properly adjusted for your height and reach
the handlebar folds properly (you may need to loosen the screw in the handlebar a bit)
User manual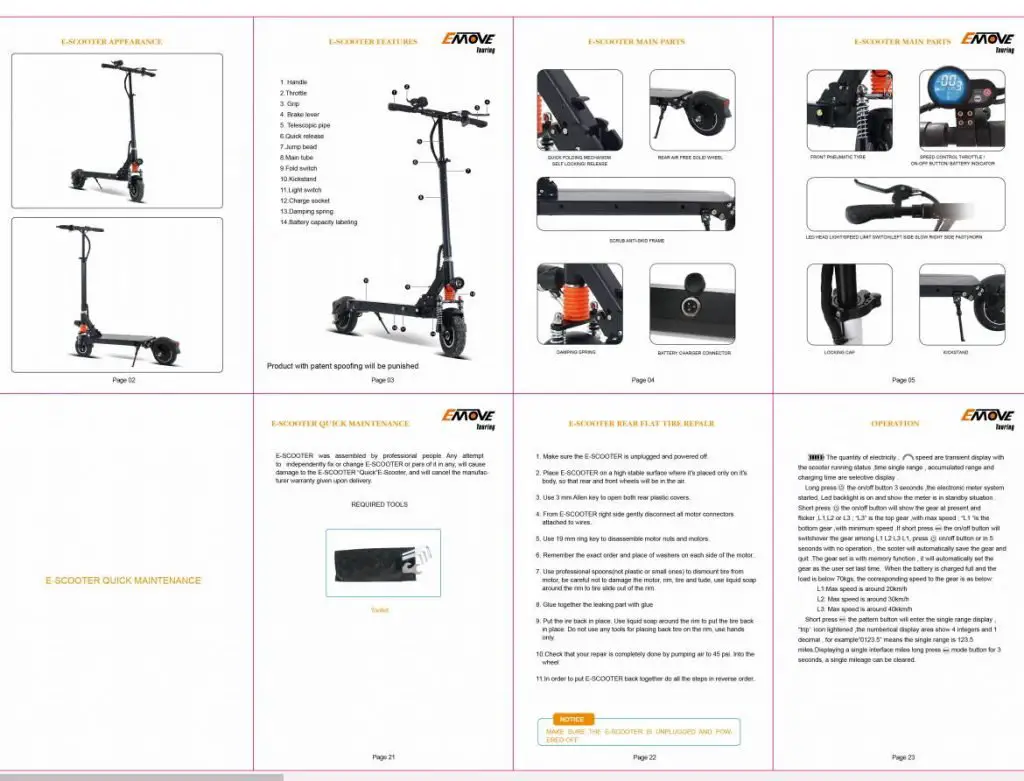 If you're into manuals like me, you'll appreciate the EMove Touring's concise yet useful illustrated user manual.
Voromotors goes the extra mile with online resources on their website and YouTube channel, setting their customer support apart from most scooter brands.
Folding and unfolding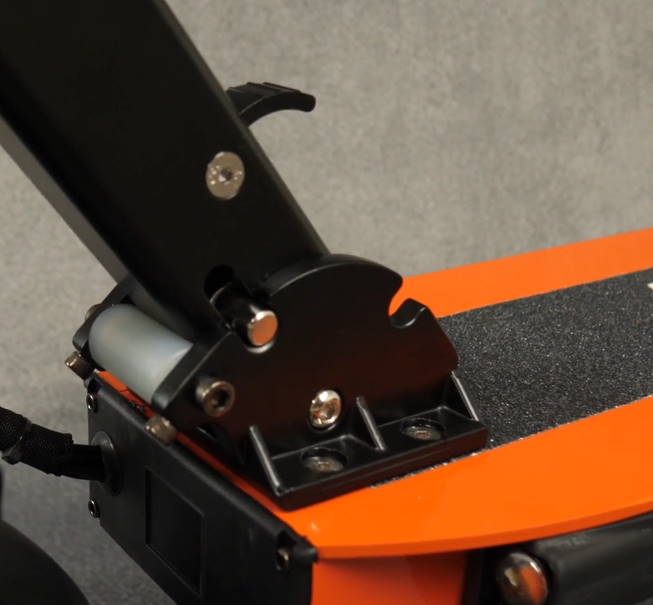 Folding the EMove Touring is quick and straightforward, taking about 3 seconds with the classic lock lever. The mechanism is secure, minimizing shaking and vibration during rides.
The scooter features folding handlebars, enhancing portability by reducing the folded width in half and doubling its overall compactness, which is a valuable feature for easy storage and transport.
Performance
Here are some of the performance aspects of the EMove Touring.
Motor
The scooter features a robust 500W real power and 750W peak power brushless DC hub motor in the rear wheel, offering nearly double the power of typical commuter scooters.
Despite being a rear-drive scooter, it surprisingly delivers impressive torque.
Speed and speed test
The EMove Touring features 3-speed modes.
While the official top speed is no longer specified, user reports suggest speeds around 23 mph / 37 kmh (the same as I reached when I was testing it), with some reaching up to 26 mph / 42 kmh.
The scooter accelerates gradually by default, reaching the top speed in about 7-8 seconds, and you can customize the acceleration rate to your preference.
This is not a slow scooter, but if you want a scooter with more speed, you will probably want to check out my guide on the fastest electric scooters.
Range and range test
The EMove Touring boasts an official range of 25 mi / 40 km, and surprisingly, it sometimes exceeds this figure!
Ranging from 24 mi / 38 km to 28 mi / 45 km, the scooter's accurate or even underreported range is a rare find in the electric scooter market.
When I was testing this scooter I was able to get a range of 26.7 mi / 43 km with only driving on a flat surface.
With its impressive range, portability, and ride comfort, the EMove Touring stands out as an excellent choice for commuters.
Now, while the range of the scooter is pretty good, it's nowhere near the ridiculous ranges that modern premium scooters have today. If you prefer scooters with longer ranges, check out my guide on electric scooters with the longest range.
Climbing and climb test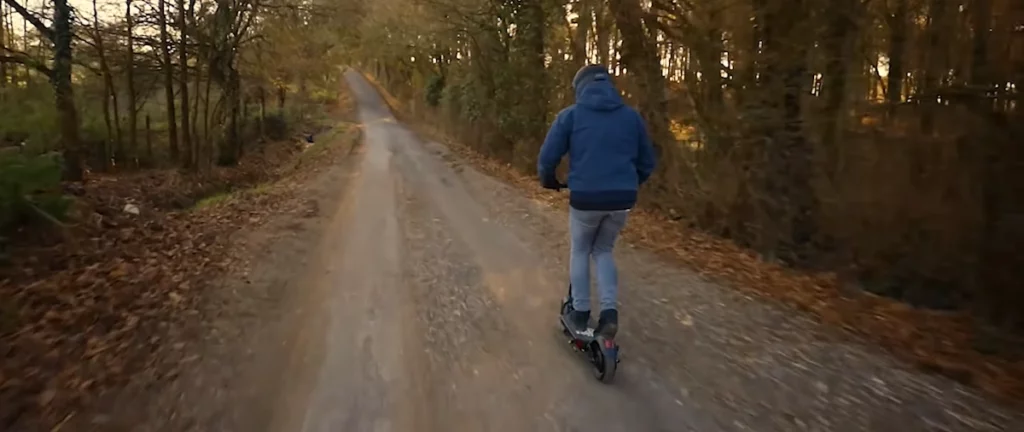 The EMove Touring has a 20-degree climb angle, making it adept at conquering hills.
Owners, including lighter riders, report ascending steep inclines effortlessly, with no issues reported about the scooter's climbing capability.
I was able to climb a 20-degree hill with ease. After that, I tried a 25-degree hill but after struggling for some time it completely stopped.
If you need a scooter with a better climbing angle check out my guide on the best electric scooters for climbing.
Ride experience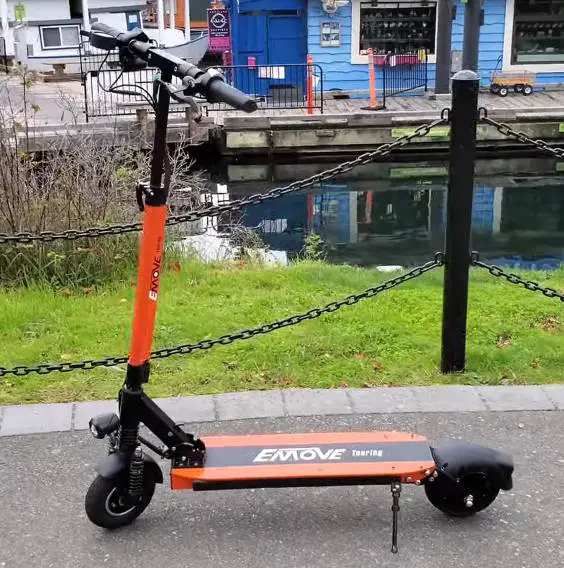 The EMove Touring is a stylish and stable scooter, that boasts a robust and elegant look at the same time.
The scooter boasts a robust yet elegant design, striking a balance between toughness and sophistication.
The scooter outperforms typical commuter scooters with ease.
While riding it, I enjoyed a natural body posture facilitated by the ergonomic build, spacious standing surface, and adjustable handlebar height.
The stem is reinforced with an additional cover, concealing the majority of brake and electronic cables. Its impressive specs and features seamlessly translate into an enjoyable real-world experience.
Additionally, it offers a cruise control feature that can be easily toggled on or off based on your preference.
I can say with confidence that the scooter is excellent and definitely will get it for myself.
EMove Touring vs other scooters
Let's see how the EMove Touring compares against other similar (or different) scooters.
EMove Touring vs EMove Cruiser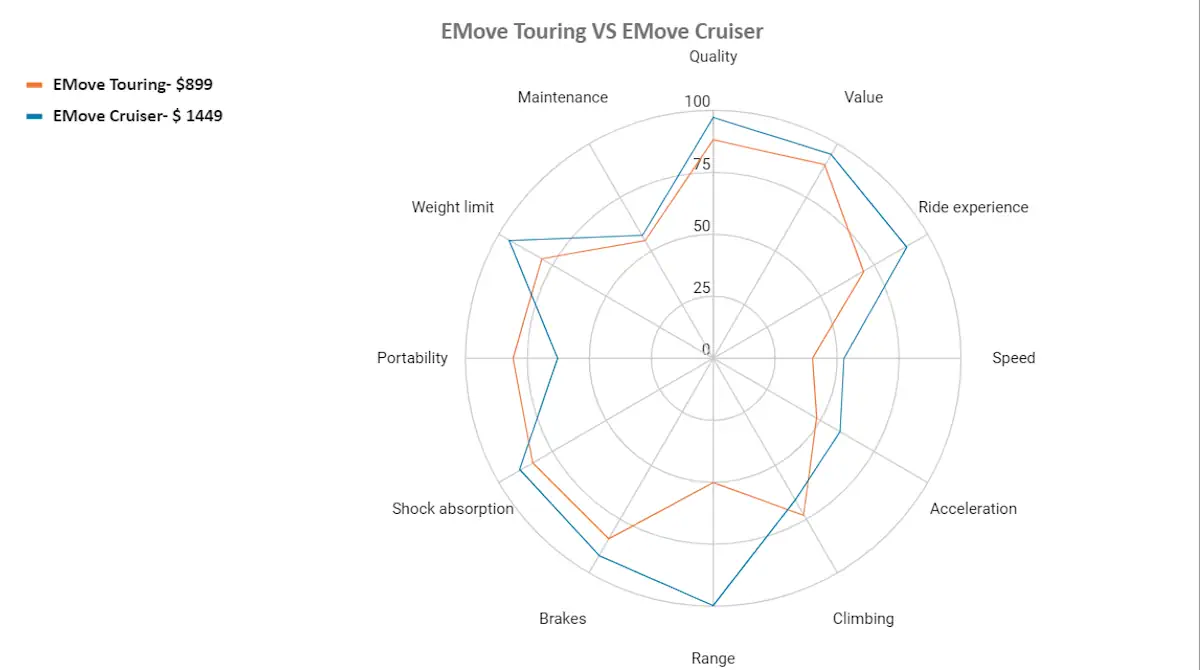 The two popular EMove models, Touring and Cruiser, are not in competition with each other, as they both serve different audiences.
The Touring is a budget-friendly, beginner-friendly scooter. The Cruiser stands out with top-tier waterproofing, impressive performance, and an extended range.
If that sounds closer to what you're looking for, then check out the EMove Cruiser review.
EMove Touring vs Ninebot Max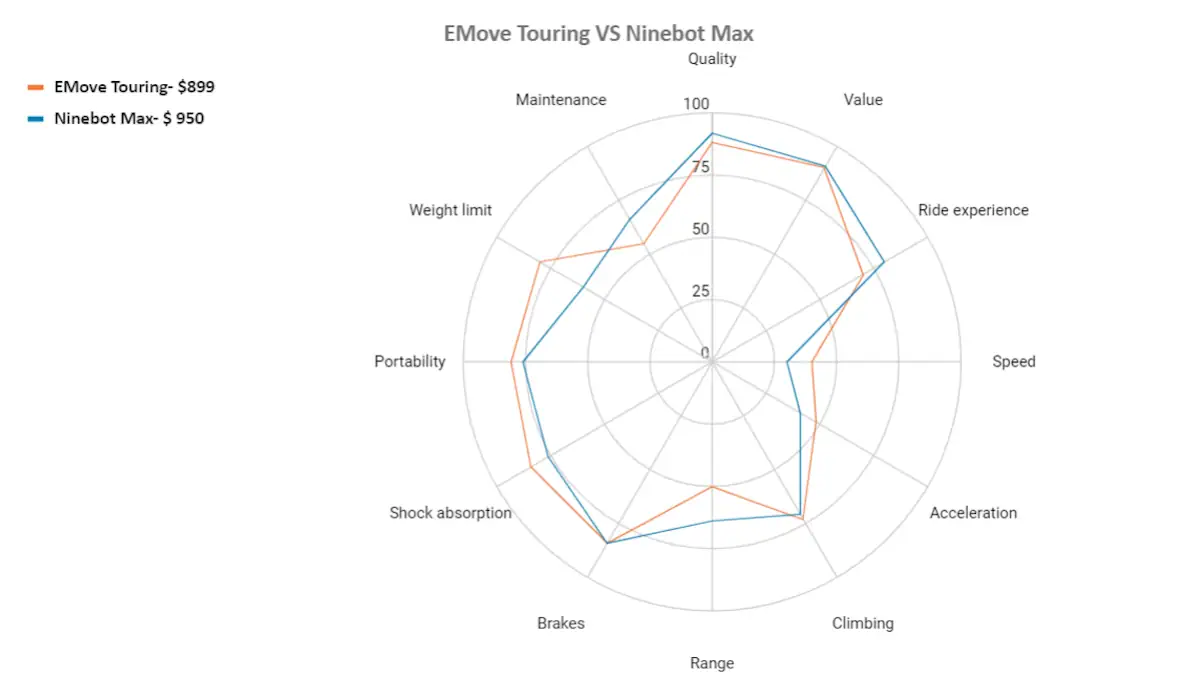 The EMove Touring, though slightly pricier, offers numerous advantages over the Ninebot Max.
It has a superior top speed, acceleration, climbing ability, a more potent motor, full suspension (absent in the Ninebot Max), and a higher weight limit while being lighter.
On the other hand, the Ninebot Max boasts an impressive range, larger 10-inch tires compensating for the absence of suspension, and better water protection with an IPX5 rating.
If those are the things you prefer, you can see the complete Ninebot Max review.
EMove Touring vs Apollo City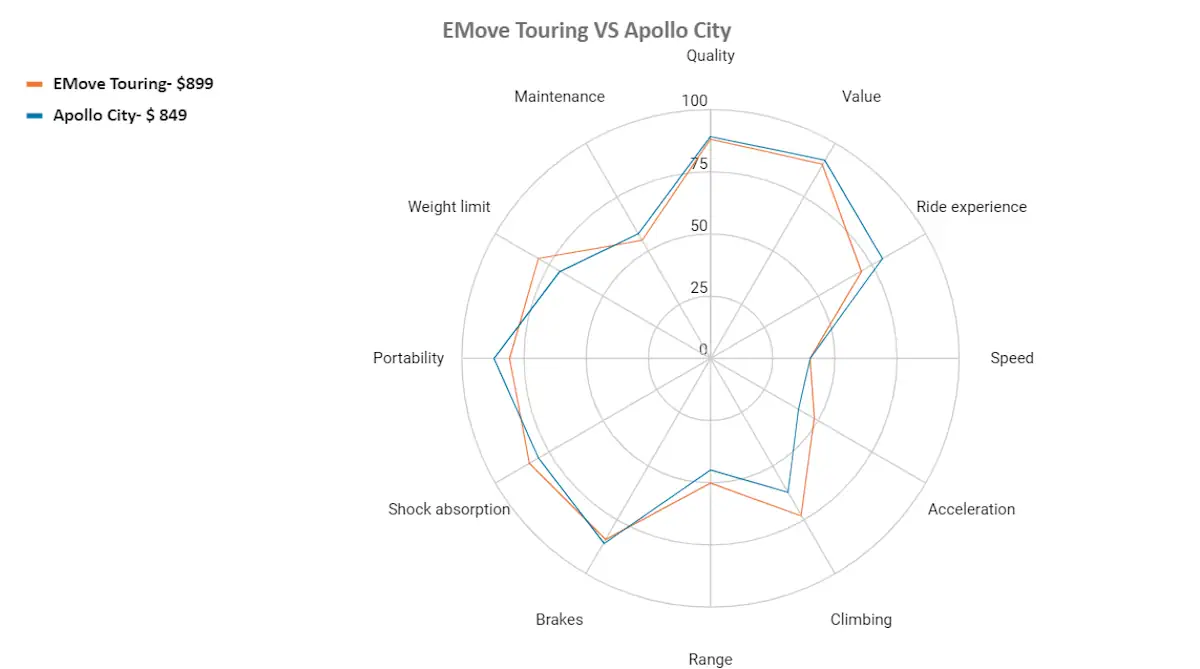 The EMove Touring and Apollo City share similar specs, including battery and motor powers, comparable performance, and equivalent water protection.
However, the EMove Touring holds advantages in terms of size, folding to a more compact package, superior suspension, higher weight capacity, and a lower price point, making it a compelling choice in various scenarios.
If you need a bit more power and a longer warranty period, see my full Apollo City review.
EMove Touring vs E-TWOW GT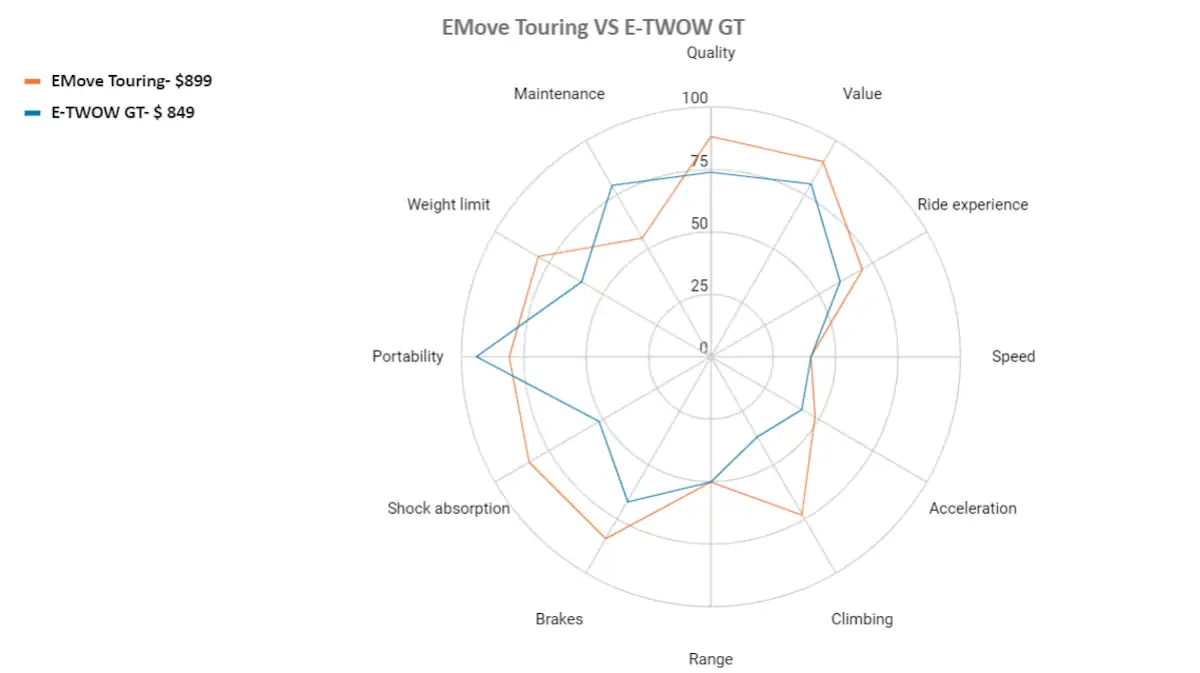 Despite a few advantages of the E-TWOW GT, the EMove Touring stands out with superior features and performance, all while being approximately $300 more affordable.
The E-TWOW GT boasts a longer range and lighter weight, but the EMove Touring excels with a better motor, superior climbing ability, higher weight capacity, an IP54 rating for water resistance.
I believe the EMove Touring is a better option, all things considered.
EMove Touring vs FFR Horizon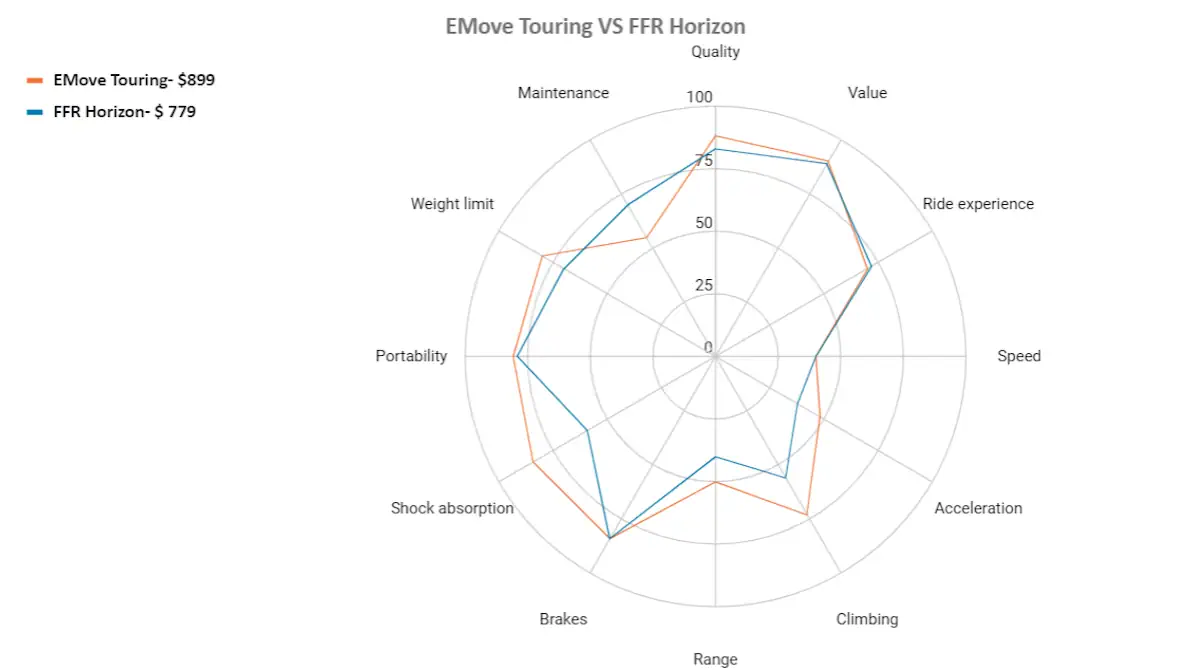 The EMove Touring and FFR Horizon share many similarities in terms of cost, specs, top speed, range, weight, and batteries.
However, the EMove Touring outperforms with a superior motor, resulting in a better climb angle and a higher weight limit.
The EMove Touring offers better water protection. The only notable advantage of the Horizon is slightly larger 8.5-inch tires, a marginal difference.
I believe the Touring wins this one as well.
Build quality and lifespan
This meticulously designed and extensively tested scooter showcases exceptional quality with low defect rates. Owners commonly report a trouble-free experience for at least a year, often longer.
Although the scooter has been available for several years now, the lack of major defect reports is a promising indicator of its durability.
Features
Here are some of the features that you should know about for the EMove Touring.
Battery and charger

The EMove Touring houses an outstanding LG-manufactured battery with 48V voltage and 624Wh capacity. Equipped with a smart battery management system, it safeguards against overheating, overcharging, and short circuits.
The scooter boasts a rapid charger, achieving a full battery charge in under 4 hours(that in my opinion is very fast for a battery with that Wh capacity).
This is notably faster than many scooters with smaller batteries, some taking 6 to 8 hours. The charger port is conveniently located on the side of the deck and protected by a plastic cap.
How much does it cost to charge the EMove Touring?
Charging the EMove Touring during off-peak hours costs around 3 cents in the US, 6 pennies in Canada, 15 pence in the UK, and an average of 10 cents in most EU countries.
During peak hours, it costs 10 cents in the US, 7 pennies in Canada, 19 pence in the UK, and 15 cents in the EU.
Brakes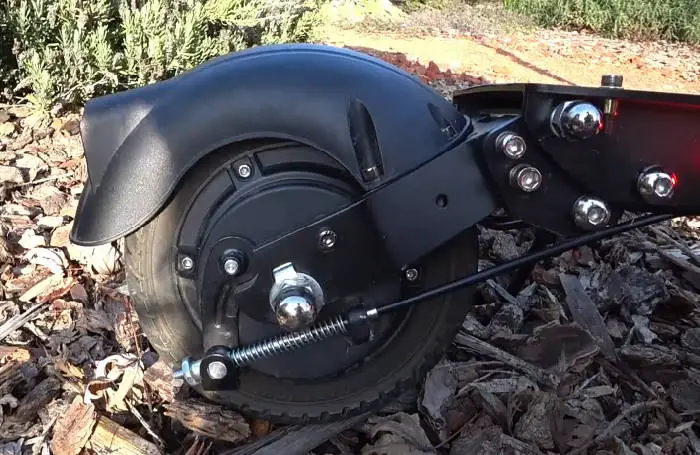 The scooter features both a drum brake and an electronic brake on the rear wheel, both engaged through the left handlebar brake lever.
Achieving a braking distance of approximately 4.5 meters / 15 feet at top speed, combined with excellent suspension, the scooter is highly secure.
The rear drum brake offers easy adjustment using the multitool, allowing for simple tightening or loosening of screws and fine-tuning of bolt sensitivity to match your preference.
Suspension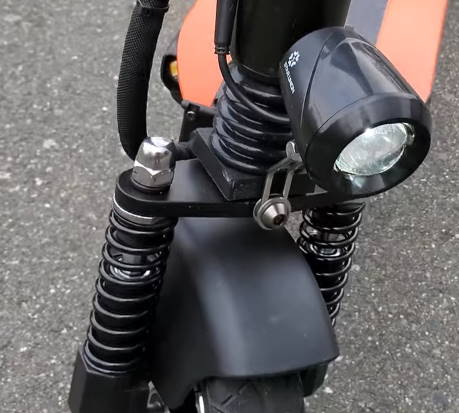 The EMove Touring boasts one of the best suspension systems and I can confirm that. It features dual spring suspension on both front and rear wheels, along with a substantial spring suspension between the stem and front wheel.
This makes it one of the most comfortable, smooth, and potentially safest electric scooters under $1000. I had nothing but smooth rides with it, even on terrains and surfaces that were not quite hospitable.
Expect minimal vibrations and a barely noticeable impact from larger holes or bumps during your ride.
If you prefer scooters with better suspension check out my guide on the best electric scooter suspension.
Tires and wheels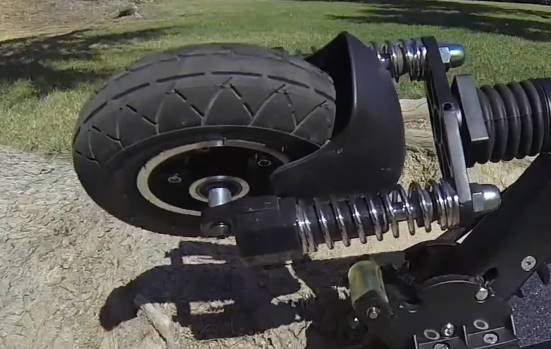 The EMove Touring features 8-inch tires, a somewhat unexpected size for a scooter of its caliber. Notably, it adopts a unique approach with mixed tires—pneumatic for the front and solid rubber for the rear.
This setup strikes an excellent balance between durability (minimizing flat risks) and ride comfort. The choice of a pneumatic front tire is particularly beneficial, reducing stem vibrations.
This tire configuration is uncommon but offers a compelling balance between key aspects of the scooter experience.
Screen and controls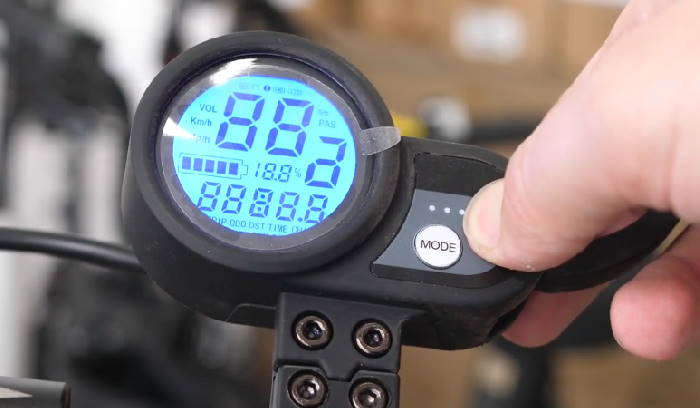 The left handlebar houses the brake lever, electronic horn and bell buttons, and light controls.
On the right, you'll find the finger-throttle, round LCD display with control buttons, voltmeter, and ignition lock.
The digital screen is somewhat bright, although not too bright. It can show:
current speed (you can select your unit system)
speed mode
battery level
ride time
trip distance
total distance
battery voltage
USB status
The screen and throttle of the EMove Touring are easily replaceable. It comes with a finger throttle, but you can switch to a thumb throttle or twist throttle, both designed specifically for the scooter and available from Voromotors.
Deck and frame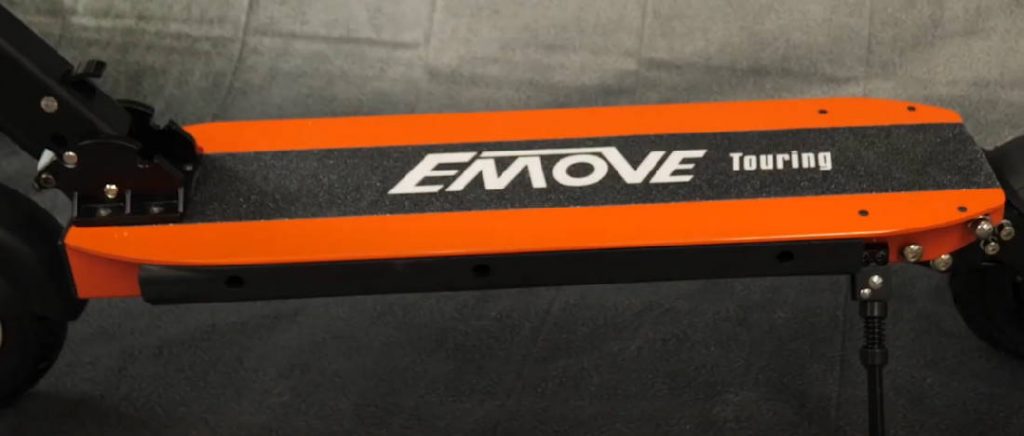 The EMove Touring features an aluminum alloy frame. The spacious deck, measuring 22 x 8 inches / 56 x 20 cm, provides comfort and slip resistance with sandpaper tape that I was pleasantly surprised with and it also has the EMove logo.
The robust kickstand ensures stability, virtually preventing the scooter from tipping over.
Night riding and lighting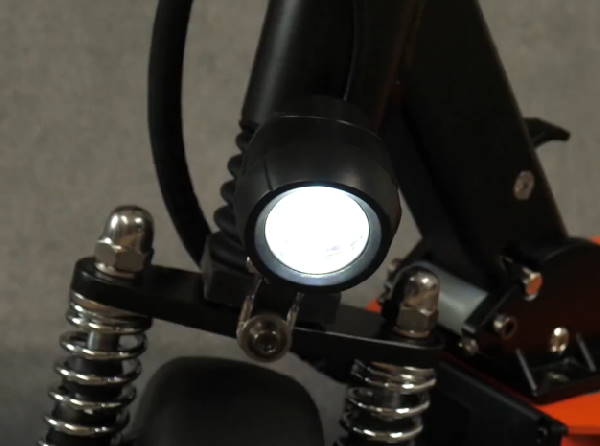 The front includes two deck lights and a main headlight at the stem's bottom. The rear fender has a brake light, and the deck features two red lights.
A button on the deck controls the deck lights. With a total of six lights, the EMove Touring is exceptionally well-lit for night riding, eliminating the need for aftermarket lights.
If you like driving at night like me, you will enjoy your ride even more because you can see every hole in the ground and avoid it.
IP rating, water resistance, and riding in the rain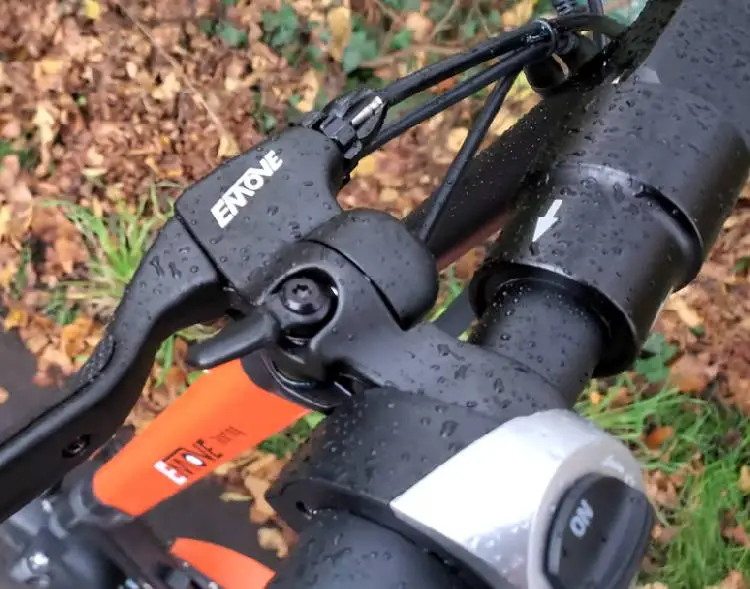 The EMove Touring boasts an IP54 rating, safeguarding it from water splashes at any angle.
While water-resistant, it's not fully waterproof, so riding in the rain should be avoided when possible.
While I wouldn't recommend riding in the rain, I didn't really have any problems when trying it out on wet surfaces a few times. Still, if you need a scooter that's as waterproof as possible, check out my guide on the best waterproof electric scooters.
Weight, dimensions, and portability
The EMove Touring weighs 39 lbs / 17.6 kg, placing it in the middleweight category among scooters.
Even if you have to carry it for long distances (like me, because I often forget to charge my scooter for days), you won't get much fatigued.
Its compact fold, attributed to the foldable handlebars, offsets the weight, making it highly portable and compact when folded.
For me personally, this proved to be a fairly lightweight and portable scooter. However, there are a few other models that are even more portable, and if that's what you're after, check out my guide on most portable electric scooters.
Weight limit and usage by heavy people
The EMove Touring supports up to 330 lbs / 150 kg, making it one of the best electric scooters for heavy adults.
Unlike many scooters with lower weight limits, it maintains performance even with heavier riders.
Key and security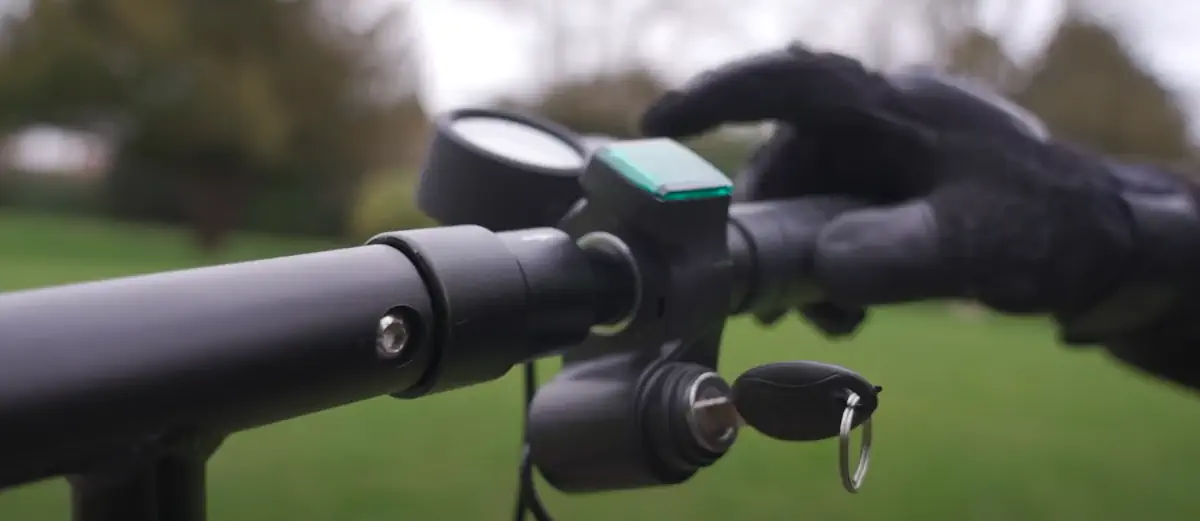 The EMove Touring can't be started without the key, which is excellent news for security.
The scooter can still be carried away if left on its own though, so a good scooter lock is still necessary, but having a key ignition is also a great security feature.
As the scooter is not exactly cheap, I would recommend also getting an alarm as another layer of protection. I gotta say, having one more key to manage wasn't exactly my preference, but I definitely respected the extra security when compared to other scooters without keys.
If you want an extra layer of safety check out my guide on the best electric scooter locks.
App
There is still no app for EMove scooters.
You can take a look at the Universal Scooter Helper App by EScooterNerds for a general-purpose helper app in the meantime.
It won't connect to the EMove Touring (the scooter doesn't have bluetooth), but it will offer you some helpful guides, checklists, calculators, and other useful tools and resources.
You can find it available for both iOS and Android.
Customizations, accessories, and after-market parts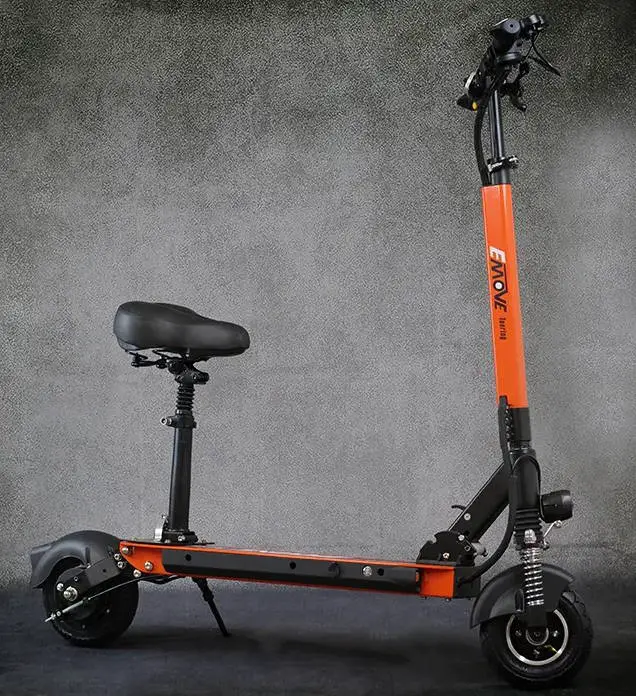 There are a lot of accessories available for the EMove Touring.
I would recommend getting the rear storage case, or the front storage bag for a smaller alternative, as it's the most useful scooter accessory ever in my opinion and it turns your scooter into a serious transport vehicle.
Other useful customizations may be the phone mount for EMove, and the rotatable mirror for EMove. The scooter comes with a framework and screw holes that can optionally support the EMove Touring seat.
As someone with a busy routine, customizing my scooter brings me joy. The original seat, equipped with its spring suspension, is easily installable and removable.
Find it at Voromotors, and it's foldable too. Check out the best electric scooter accessories guide for more ideas, although generic accessories should fit the EMove Touring due to its standard build.
Also, don't forget a good scooter helmet – I recommend a half-face helmet for this moderately fast scooter.
Problems and tradeoffs
The EMove Touring makes some bold design and engineering choices, adding value to the rider, but not without tradeoffs. The main tradeoff in my eyes is the small 8-inch wheels, larger wheels could enhance the ride despite its excellent suspension.
Some users report wobbly parts like mudguards and suspension after a few months, so regular checks are advisable. Another tradeoff is the mix of solid and pneumatic tires, with pneumatic tires generally preferred.
The EMove Touring opts for a solid rear tire for durability, offset by its outstanding suspension, resulting in a net positive.
Pretty much everything else about the EMove Touring is solid and well designed.
Verdict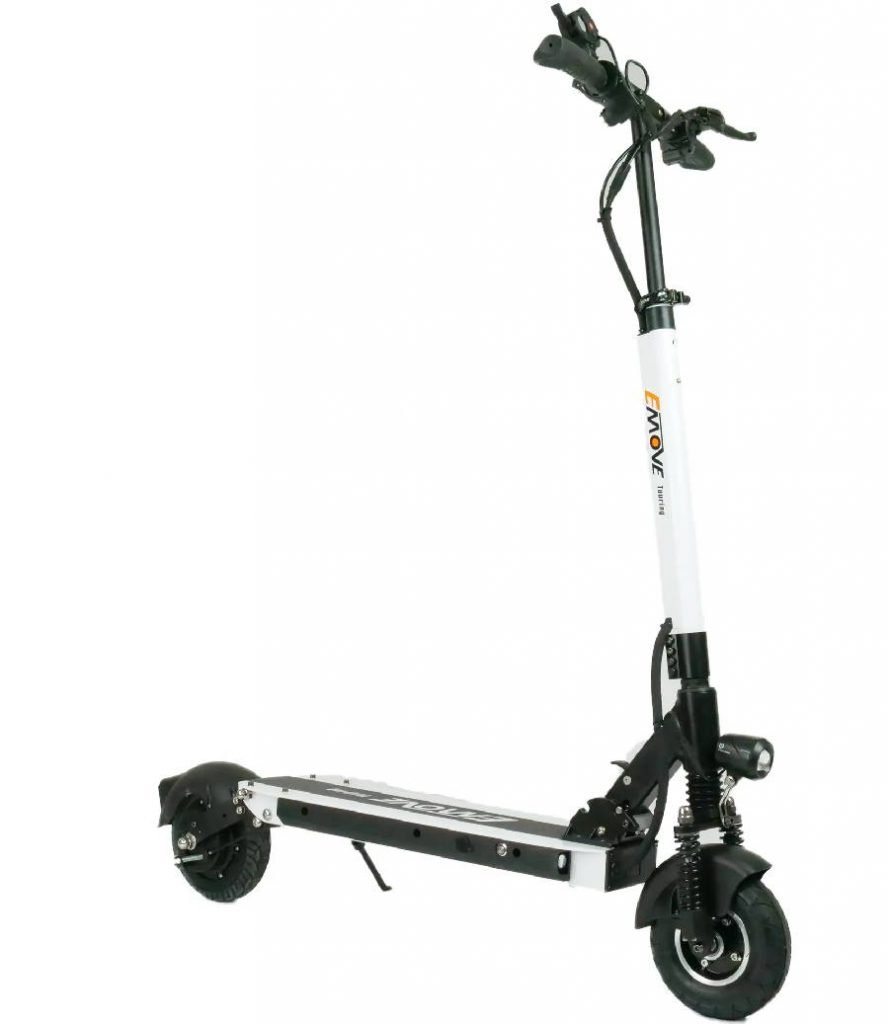 The EMove Touring stands out as a top electric scooter under $1,000, prioritizing ride comfort, performance, and safety.
It delivers a fun and rich experience comparable to pricier models.
The way I see it, it is ideal for beginners, commuters, younger riders, and those seeking a high-quality and exhilarating scooter. If you belong in any of those groups and your budget is under $1,000, go for the EMove Touring – you will not be making a mistake!
---
Want to get
FREE SCOOTER
tips, exclusive discounts and promotions, and unseen scooter hacks? Join the
Scooter Secrets club
.
---
Liked this article? It really helps if you share it.
Follow @escooternerds on social media for more cool stuff
---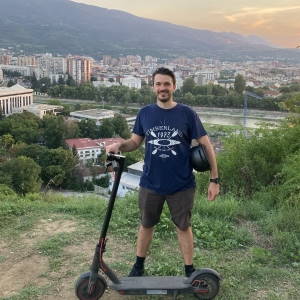 Where to buy the EMove Touring
Worldwide: Voromotors (discount code: escooternerds for $50 off)