Last Updated on May 17, 2023 by Matt
One of the defining features of an electric scooter is its tire type, whether they're pneumatic or solid. While not as common as pneumatic, solid tire electric scooters are very frequent today.
There's a good reason for that. A strong argument can be made that if you've gotten more than three flats in a year, your next scooter should have solid tires. Or at the very least, try to replace your existing scooter's pneumatic tires with solid ones.
With plenty of reasons for getting solid tires, the question then becomes: what are the best solid tire electric scooters?
Best solid tire electric scooters
Let's see why these scooters in particular are the best choice, and why you may consider some of them for your specific scenario.
In case you'd like to see the video version of this guide, check out our Youtube video on the best solid tire electric scooters.
Best Overall: Glion Dolly
All things considered, the Glion Dolly is the best value electric scooter with solid wheels on the market.
Why?
It's simple. Its dozens of thousands of units sold have one of the highest ratings, the biggest number of satisfied customers, and the lowest number of reported defects, especially in the first year.
The Glion Dolly is simply an excellent scooter. It is often the go-to solution to people that have struggled with lots of flats (I'm looking at you Xiaomi M365!), or simply live in a city where the streets are so bad that a pneumatic-tire scooter would be unreasonable.
Without a doubt, this reliable, durable model ticks a lot of checkboxes, making it one of the most versatile yet affordable electric scooters ever.
If you want to get the best solid-tire electric scooter today, the Glion Dolly will be a great choice. If you want to learn exactly why the Glion Dolly is one of the most reliable scooters ever, you can check out our guide on how long scooters last, or see the full review of the Glion Dolly to discover more.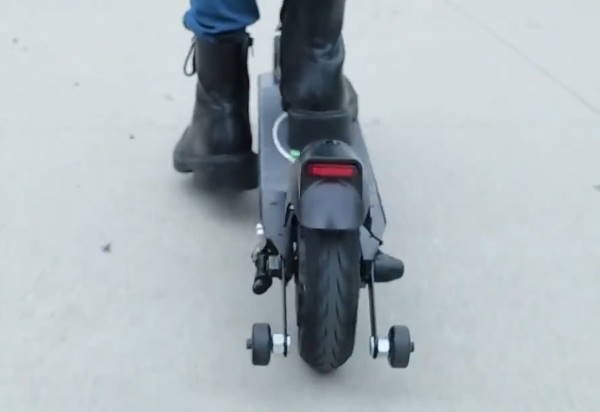 Best Commuter: Ninebot ES4
The best solid-tire commuter has been a long time coming, the final iteration in the celebrated solid-tire Ninebot ES series.
What makes the Ninebot ES4 the best commuter ever?
Well, for starters, it is an improvement over one of its predecessors, the Ninebot ES2. That model was also a great commuting scooter, although it suffered from a rather small range. The Ninebot ES4 nips that issue in the bud, coming with an almost double range of 28 mi / 45 km on a single charge.
But that's not the main reason.
The fact that both Lime and Bird have depended heavily on the Ninebot ES2, and have been used to cover millions upon millions of miles worldwide, is the real kingmaker here. The entire line of scooters has basically been made for commuting, from the ground up!
And remember, the ES4 improves upon the ES2!
The Ninebot ES is probably the best solid-tire scooter series (excluding the Ninebot Max which has pneumatic tires). Coming from a long line of solid-tire commuters, the Ninebot ES4 will include all the hard-learned lessons from its ancestors.
If you need a solid-tire electric scooter for commuting, your best, safest bet would be the Ninebot ES4. You can read the full review here.
Best Lightweight: Unagi Model One
A solid-tire, lightweight scooter is a very popular and in-demand combination. The solid tires that never go flat, coupled with the portability and small mass and volume, make these scooters very attractive to the busy professionals, that often need to carry their scooter in and out of public transport, buildings, elevator doors, etc.
And when it comes to solid-tire lightweights, nothing beats the Unagi Model One.
Needless to say, this is the lightest scooter on this list. It's also the one with the smallest space occupancy, both when folded and unfolded.
In fact, it is one of the most lightweight scooters ever created in general, and also the least space-occupying one. Very few other electric scooters in the world are as portable as the Unagi Model One.
The fact that it comes with solid tires is just a bonus for all of us that have struggled with flats.
Weighing at just 26 lbs / 12 kg, this carbon-fiber model is the lightest there is. There may even be lighter electric scooters, but very few of them have weight capacities over 130 lbs / 60 kg, which makes them unsuitable for adults.
There's no doubt about it – if you need a light, portable, solid-tire scooter, you should get the Unagi Model One. It usually costs around $949.
If you wish to see how the Unagi Model One compares to other lightweight scooters, check out our articles on the lightest electric scooters and most portable electric scooters.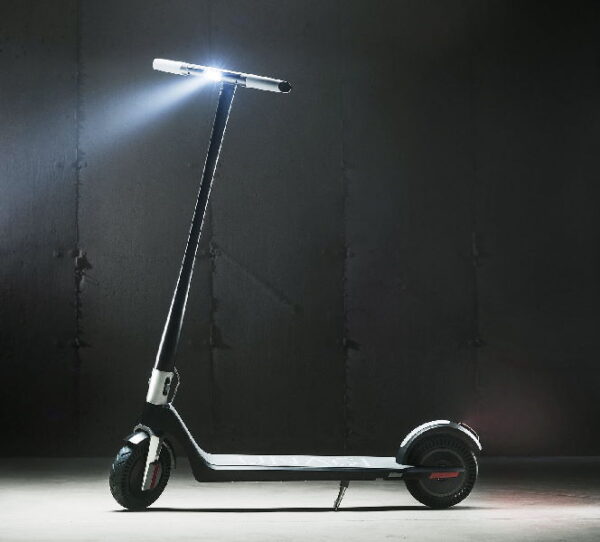 Best For Heavy Adults: NanRobot Lightning 2.0
NanRobot scooters are built to serve many different rider categories, including heavy adults, and they have one of the electric scooters with the biggest weight capacity overall.
The NanRobot Lightning 2.0 has a lot less weight capacity than its cousins, and it still has the biggest weight limit of every solid-tire electric scooter. It can carry loads of up to 280 lbs / 127 kg without any issues.
No other solid-tire comes even close to these types of weight limits. In fact, most solid-tire electric scooters have weight limits of 220 lbs / 100 kg.
That may be enough for a 180 lbs / 80 kg person. But if you're closer to 200 lbs / 90 kg, or you are like me and your weight often fluctuates, sometimes well above 220 lbs / 100 kg, then you will need a specialized scooter. Otherwise, your scooter will struggle, and you will get degraded performance.
And if this sounds similar to your situation, then the choice for you is clear. It is the NanRobot Lightning 2.0.
Best High-End (and great value): Mercane Widewheel Pro
Value means different things to different people, but if you're asking me, I'd say that the Mercane Widewheel Pro is the best quality, best bang-for-buck solid tire scooter today.
Usually priced around $1219, it is right on the line between an expensive and a medium-priced scooter. Top speed of 26 mph / 42 kmh, a solid range of 22 mi / 35 km, a 720 Wh li-ion top-of-the-line battery, great climbing capabilities, and wide foam-filled tires. With an awesome suspension system, hydraulic disc brakes, and advanced security features with a key and alarm system, it is a truly versatile all-rounder.
The Mercane Widewheel Pro has almost no weak points. Its world-class suspension system will make you forget you're riding a solid tire scooter.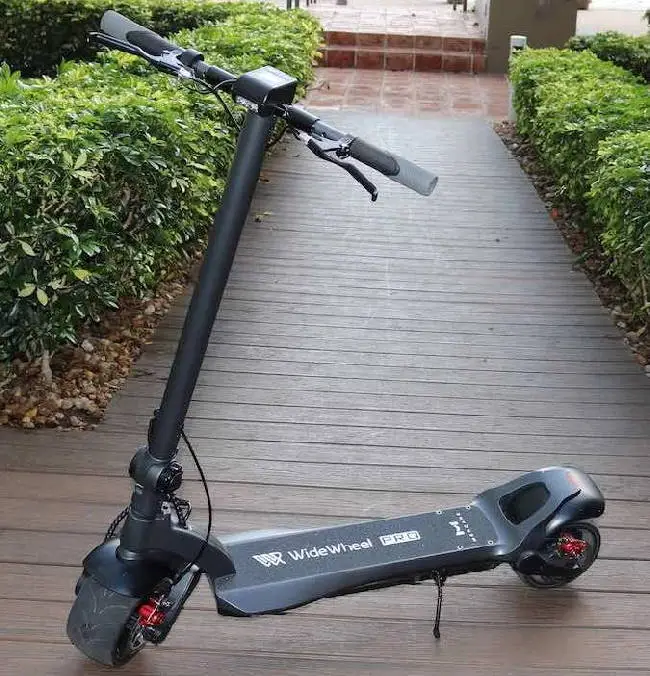 Best Performance: Dualtron Compact
The Dualtron Compact is almost a miracle. No other solid-tire scooters can perform at the level at which the Dualtron Compact does. It's not even close.
From all the solid-tire electric scooters, the Dualtron is the best in:
top speed – 50 mph / 80 kmh, while most other options are at one third to one half of that
range – 50 mi / 80 km, more than double than most solid-tire models
climbing angles – 25 degrees, other scooters have half of that
Solid tires are usually an option in less expensive scooters. They are the ones that will have smaller, weaker tires, more prone to punctures, and it makes sense to replace their tires with solid ones.
That's why most solid-tire models are not very strong performers.
Well, that doesn't apply to the Dualtron Compact. It's almost as if the Dualtron brand can't help but build powerful scooters.
Best Budget: HiBoy Max
The cheapest electric scooter with solid wheels, which is still a good scooter and not just another piece of junk, is the HiBoy Max.
This scooter is one of the best-selling scooters on Amazon, having sold around 100.000 units. More importantly, it has around 4 stars overall, from over 600 reviews. That is almost unheard of for any popular product over $100.
For a true budget price, you will get a pretty solid, tried-and-tested scooter, with performances stronger than its price may suggest. With a top speed of 19 mph / 30 kmh and a range of 17 mi / 27 km, this scooter will leave you wanting for nothing.
If you are looking for a budget option in the solid-tire category, the Hiboy Max is the most inexpensive, yet still a high-quality choice.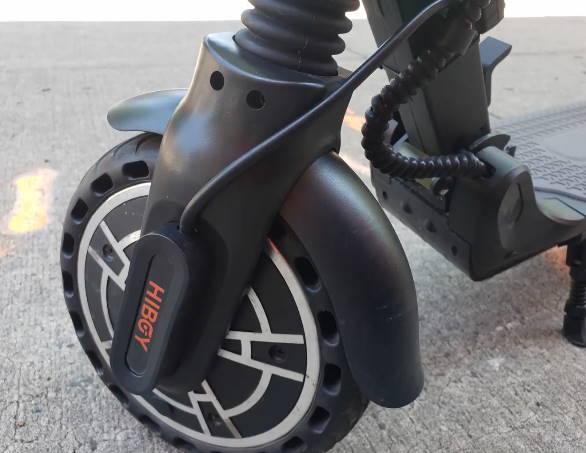 Can You Put Solid Tires On Xiaomi M365?
Replacing the default pneumatic tires on the Xiaomi M365 with solid tires is a popular option that many owners choose.
The reason, of course, is the infamous flat tire problem that Xiaomi scooters have. Not only are flats very common in this scooter (it is the number one reason for 1-star reviews on Amazon), it is also very hard to deal with. Replacing the tires is described as "impossible", "a nightmare", and even "a Herculean task". It is literally Xiaomi's Achilles' heel.
When Xiaomi owners replace the air-filled tires with solid tires, their scooters become much more resilient, and the annoying flat tire problem disappears.
You will need a high-quality, 8.5-inch solid tire, made especially for the Xiaomi M365. I would recommend the OTTBA honeycomb tires on Amazon, they have proven to be the best quality and value so far.
While replacing the tires yourself is entirely possible, you may want to take your scooter to a professional for this. If you want to tinker with this yourself, the video below is by far the most detailed, most clear tutorial on how to do it correctly.
Should You Get an Electric Scooter With Solid Tires?
This is a decision you should carefully consider. While solid tires never get flat, they still do get worn out over time. They have a few other disadvantages as well (learn about the differences between pneumatic and solid tires here).
I would recommend getting an electric scooter with solid tires in the following two scenarios:
you live in a city with bad streets and infrastructure, or a lot of garbage
you've had a budget scooter with pneumatic tires and you've had 3 or more flats in a year
If your city has a strong bicycle culture, with lots of bike lanes and favorable road conditions, or it simply has very well-maintained streets, then the chances of a flat will be minimal. This is typical for many big modern cities, especially in the Nordic countries, Germany, and the Netherlands, where bikes are ubiquitous.
To find out about the scooter conditions of your city, you should talk to scooter owners you know in your city. They will tell you whether they're getting flats a lot.
If you've already had an inexpensive scooter and you've had three or more flats in the last year, consider either getting a scooter with solid tires, or trying to replace your existing pneumatic tires.
You can check out the flat tire guide to learn how to prevent or deal with a flat.
Should You Replace Your Pneumatic Tires With Solid Tires?
This is an even more complicated question.
Personally, while I love tweaking and customizing my scooters, I'm reluctant to do any heavy changes.
Manufacturers design and build their models as they do for a reason. If they've intended for the scooter to only use pneumatic tires, it's usually not wise to try and reverse that decision.
I'm not saying never do that, just know that you may be going against the flow.
Also, be aware that this may not always be practical, or even possible. The example we mentioned above, the Xiaomi M365, is literally the most popular scooter ever, and replacing its tires is already an established process that many people go for. Replacing the tires on a generic no-name Chinese scooter that nobody has ever heard of before will be a riskier, more difficult task.
Still, I'd say the same rule as above applies, with maybe a bit more wiggle room. Meaning, if you've had more than 4 flats in the last year, consider replacing your existing pneumatic tires with solid ones.
How long do solid tires last?
Usually, a solid rubber tire will last anywhere from four to five years, or about three times longer than an air-filled tire.
Summary
We looked at all the best solid-tire electric scooters for every budget and situation, and a few other useful things you should know about them. For reference, the following table summarizes the scooters one more time.
---
---
Liked this article? It really helps if you share it.
Follow @escooternerds on social media for more cool stuff
---