We've all started there. Watching all the fun a friend or a family member has with their electric scooter. Or just observing random people downtown, as they elegantly breeze through the busy streets.
Well, after admiring electric scooters from a distance for some time, you will probably want to get one for yourself. And naturally, the question will pop up in your mind.
What is the best electric scooter for a beginner?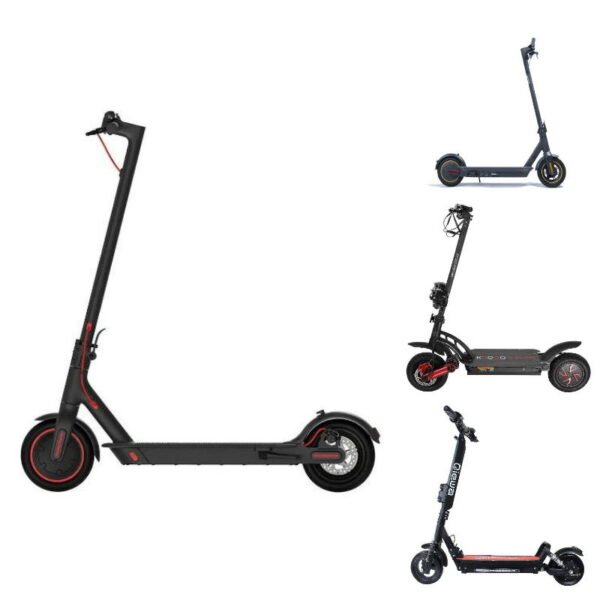 Choosing your first scooter is not an easy task. You probably still don't know that much about them, and you probably have tons of questions.
We're here to help with that.
Read on to learn what to look for in your first scooter to perfectly fit your current situation and needs, and then exactly what model you should get.
How to choose my first electric scooter?
There are many great scooters for beginners. We have the luxury to pick a model that will fit like a glove our every need.
Start there.
You have a brutal commute? Check the best beginner commuter below.
Are you on the heavier side? The best beginner scooter for heavy adults is a great choice.
You live in a rainy area? Consider the beginner-friendly waterproof models.
But what about if you have more than one need?
Well, start with your most important need, and then look at the list of other features and capabilities the scooter has. If it doesn't fit your needs, look for other models with those features. The most common features and use-cases are neatly compiled into simple lists for your convenience.
Finally, if you're not sure, or you don't really have any demands in particular, simply go with the best overall or high-end models.
Now, let's check the best electric scooters for beginners, and help you find which one is the right model for you.
Best electric scooters for beginners
The market for beginner scooters is the biggest, most competitive one by far. This is great news for new scooter owners, as they will have plenty of options, and will be able to choose based on many of their preferences and needs.
These are the best electric scooters for beginners, based on your needs.
Apollo Air – best beginner electric scooter overall
It has been said before, and it will be said again. The Apollo Air is a legendary electric scooter. All things considered, there is no better choice for a beginner.
Many people went for this model as their first electric scooter, and all of them got hugely satisfied.
It has some of the lowest defect rates, the longest lifespan, and some of the best reviews out of all the massively popular electric scooters today.
The Apollo Air is one of the bestselling mid-priced electric scooters of all time. Most of its buyers are first-time scooter owners. Even though it is on the pricier side of budget scooters, costing around $999, it is a great option for beginners regardless.
Awesome build quality and ride stability are included in the price, as well as a full feature package consisting of an IP54 waterproofing rating, large 10-inch tires, next-gen battery protected from overcurrent, overcharging, and short circuits, and a dual front suspension for bigger comfort.
With the Apollo Air, you will definitely be getting a high-quality, durable, reliable scooter that's perfect for beginners.
I would recommend this scooter to anyone who isn't sure what they need, and doesn't want to mess up with a cheap awful first-time scooter.
Inokim Quick 4 – best high-end
I was hesitant about whether to include the Inokim Quick 4 in this list. Not because it might not be good enough. Quite the opposite in fact – it might be too good.
Somewhere between the inexpensive, novice scooters, and the higher-end, more powerful scooters, lives the Inokim Quick 4. It is still a great choice for beginners, although it does border with the intermediate models.
But that's one definition of a high-end scooter. The Inokim Quick 4 comes from an established line of high-quality, blue-ribbon scooters, with all the perks and benefits. Although the price of $1399 might throw some of you off, wait to see what can you get for it.
As a beginner, you will enjoy the best of both worlds – great safety features and comfortable rides, simple maintenance, and solid performance. And still, not priced as an expensive scooter.
The scooter comes with a stylish modern design, a peak 900 Watt gearless motor, a comprehensive lightning system, and an intuitive one-hand riding method. Besides its features, the scooter is equipped for comfortable rides with great damper suspension.
With a range of up to 34 mi / 55 km, and a top speed of 25 mph / 40 kmh, this high-end scooter will satisfy anyone's heart, let alone beginners.
If you are brave enough to risk going for a slightly more expensive scooter on your first try, the Inokim Quick 4 might as well be the best option out there.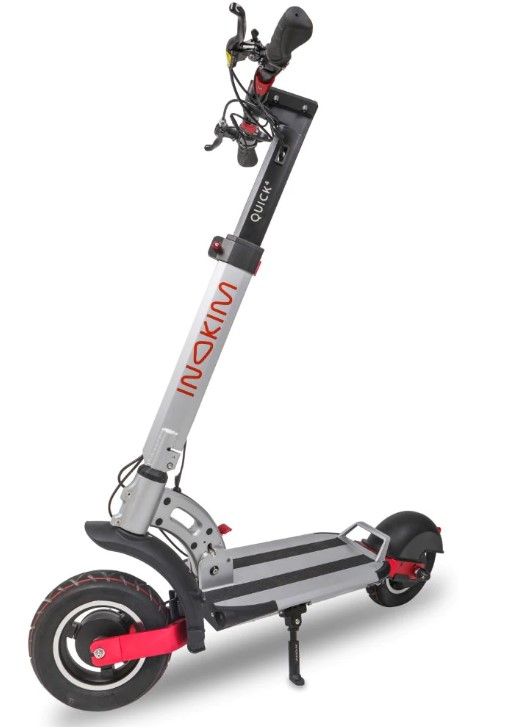 Hiboy Max – best bang-for-buck
Why is the Hiboy Max the best bang-for-buck beginner scooter?
It's simple. It is a popular, inexpensive, novice-friendly scooter, that has everything a first-time owner would need.
Even though the Hiboy Max is a relative newcomer to the scooter world, it has been the choice of thousands upon thousands of users. The fact that it has hundreds of 5-star reviews speaks volumes for its quality. And the fact that it has a very, very affordable price says a lot about its value.
Built to last, the Hiboy Max is a superb commuter, equipped with dual brakes, front fork suspension, and solid honeycomb tires that will never go flat.
You will charge it fully in 6 hours, and fold it in under 3 seconds. Weighing just 34 lbs / 15.4 kg, and folding to a very small volume, it is one of the most portable electric scooters ever.
The value that the Hiboy Max provides is enormous. Besides that, it's also great because of:
great water protection
great portability
strong performance
decent climbing
In summary, the Hiboy Max is a great choice for pretty much every beginner. See my full Hiboy Max review to find out more.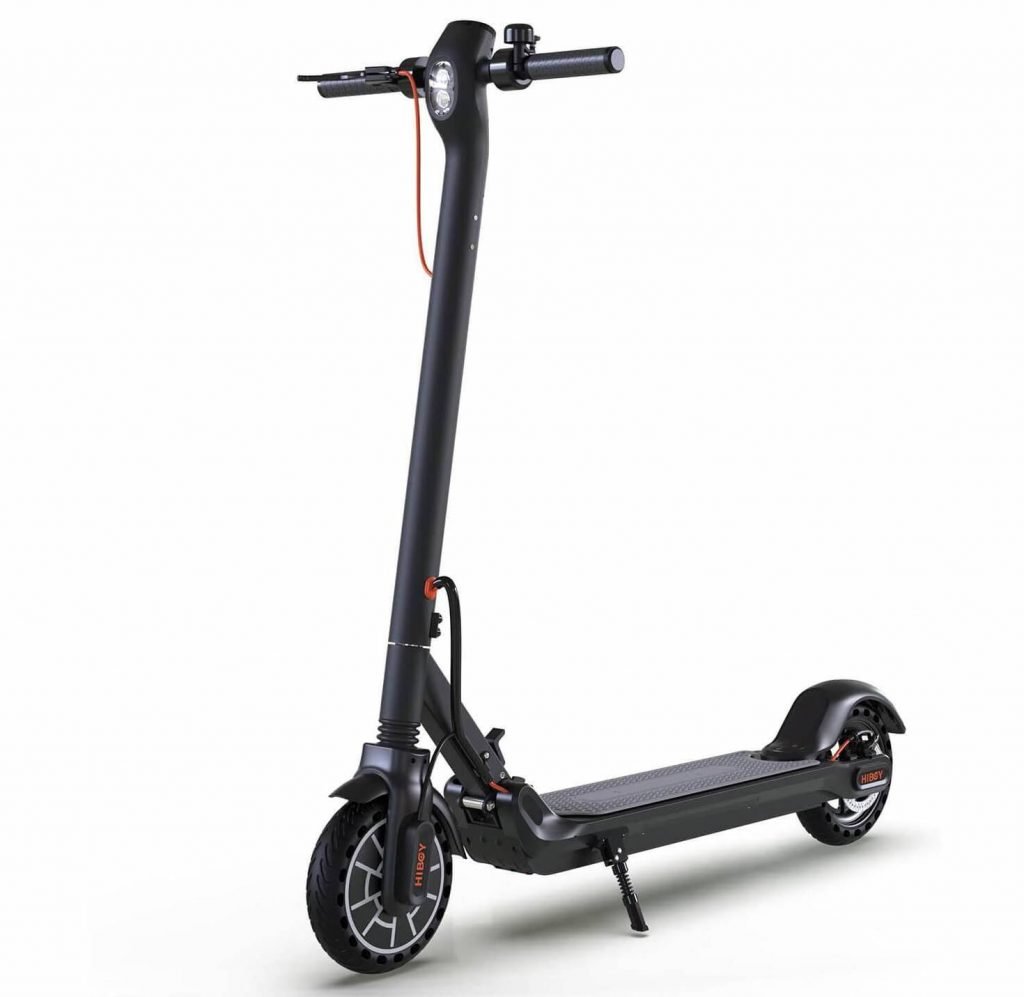 Hover 1 Alpha – best budget
The true art of budget shopping lies in finding the most inexpensive product that is still great.
For beginner scooters, that is the Hover 1 Alpha.
Here's the deal – while it's the cheapest scooter on this list at $379, it is still among the top models in terms of quality and performance. A 216 Watt-hour battery, a range of 12 mi / 19 km, and a top speed of 29 kmh / 18 mph, might easily cost you twice as much.
Not to mention that the verified climb angle of 15 degrees is something that scooters even three times the price often lack.
There is no better budget option for beginners than the Hover 1 Alpha. And besides that, you also get a scooter that is great for heavy adults, with a weight limit of 265 lbs / 120 kg.
If this sounds like something you are interested in, check out the full review of the Hover 1 Alpha.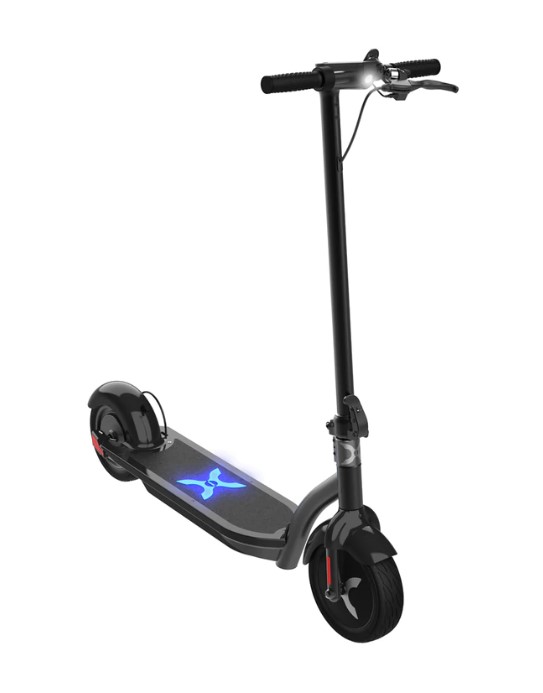 Ninebot Max – best for commuters
The final iteration of the celebrated Ninebot line, the Ninebot Max, is the perfect beginner scooter for commuters.
The perfect balance between great range, proven quality, affordable price, and good portability, makes this scooter the commuter's dream.
Its range of 40 mi / 64 km on a single charge is literally double the range of the typical scooter in this price range! Double!
That kind of range is provided by the proprietary Smart Battery Management System, which not only extends the battery life on a single charge, but the total battery lifespan in general. This means that you will go longer than usual before having to buy a new battery.
This is one of the best electric scooters of our time. Mechanical and electrical anti-lock braking systems, front and rear shock absorbers, 10-inch tubeless pneumatic tires almost impossible to go flat, cruise control… the Ninebot Max has it all.
No wonder it has been the choice of not only millions of owners worldwide, but also a staple in the fleets of ride-sharing companies.
You will be joining a club of very satisfied commuters, that grows stronger every day. Its other upsides will include:
awesome value
amazing range
solid performance
great waterproofing
good portability
very cool look
The Ninebot Max is one of the most beloved electric scooters ever. It's really hard to make a mistake by choosing it. Check out the complete review of the Ninebot Max to see if it would be a good fit for you.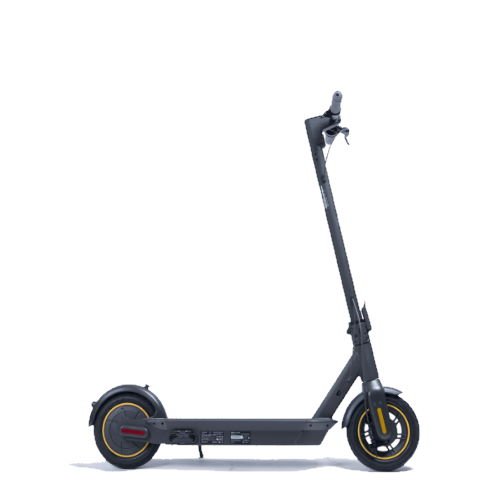 Kugoo G-Booster – best for climbing
San Francisco, Seattle, New York, Bristol, Liverpool, Edinburgh, Brussels, Athens, Rome, Barcelona, Madrid, Lisbon, Prague, Istanbul, Mumbai, Brisbane…
Besides all being beautiful cities, they have one more thing in common. They are full of hills and valleys.
If you live in a hilly city, you will not want to get a scooter built for flat terrain.
With a climbing angle of 35 degrees, the Kugoo G-Booster is the best electric scooter that is great at climbing hills, and still doesn't cost an arm and a leg.
Of course, the price tag of $1070 puts it a bit above the beginner level.
But for a climbing angle of 35 degrees, you usually have to pay at least twice that.
Plus, you will be getting a top speed of 34 mph / 55 kmh, an incredible range of 53 mi / 85 km on a single charge, and a 2400 Watts peak-power motor.
True, more performant than almost any beginner scooter.
But trust me, you will need that power for those steep hills. Anything less powerful, and your scooter will struggle, or simply stop, when going over a tough hill.
If you need an absolutely amazing climber, that still isn't that expensive and can't really be considered an advanced scooter, consider the Kugoo G-Booster. I believe it will be a choice you will not regret. Other benefits this scooter has are:
great water protection
very portable and lightweight
awesome range
great performance
If you need a great climbing scooter for beginners, and a scooter that can do a lot for you in general, check out the full review of the Kugoo G-Booster.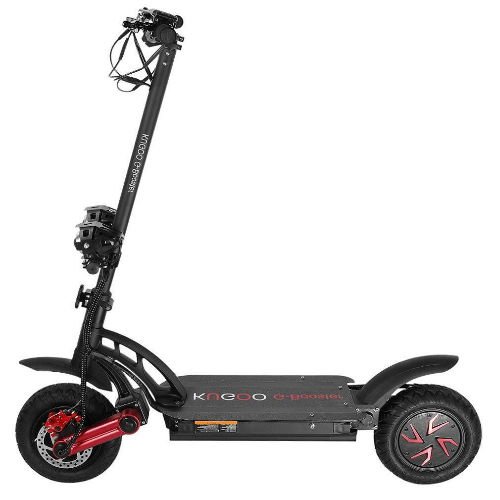 Apollo City 2022 – best performing
Typically, beginners don't need powerful scooters. In fact, some would recommend against getting a powerful scooter as your first one.
But that's a blanket statement that serves little purpose.
Many people are simply performance-first shoppers, and their decision will be performance-oriented.
Some potential owners are confident they will need a strong performer soon, and don't want to get a second scooter when that time comes.
Others have been riding weaker scooters through ride-sharing apps, and want something with more of a kick.
And some are simply adrenaline junkies, born to be wild and ride fast. Maybe they already have a motorcycle or some other fast vehicle, and are curious about electric scooters as well.
If you want to buy your first scooter and you fall into any of the categories above, then you will make the right choice with the Apollo City 2022.
Apollo is known for building solid and powerful scooters, you basically cannot go wrong with any of their models. The Apollo City 2022 is one of their beginner-friendly models, but it still packs a lot of punch.
For the price of $1299, you will get a phenomenally capable scooter.
Peak power of 500 Watts, a top speed of around 27 mph / 43 kmh, a range of 30 mi / 48 km, and a climb angle of 10 degrees, all make the Apollo City 2022 the best power scooter for beginners.
Aside from pure power, the Apollo City 2022 also provides great waterproofing of IP66, puncture-proof tires, and bright headlights for rides anytime, in any weather, and in all environments. See my detailed Apollo City review if you're curious.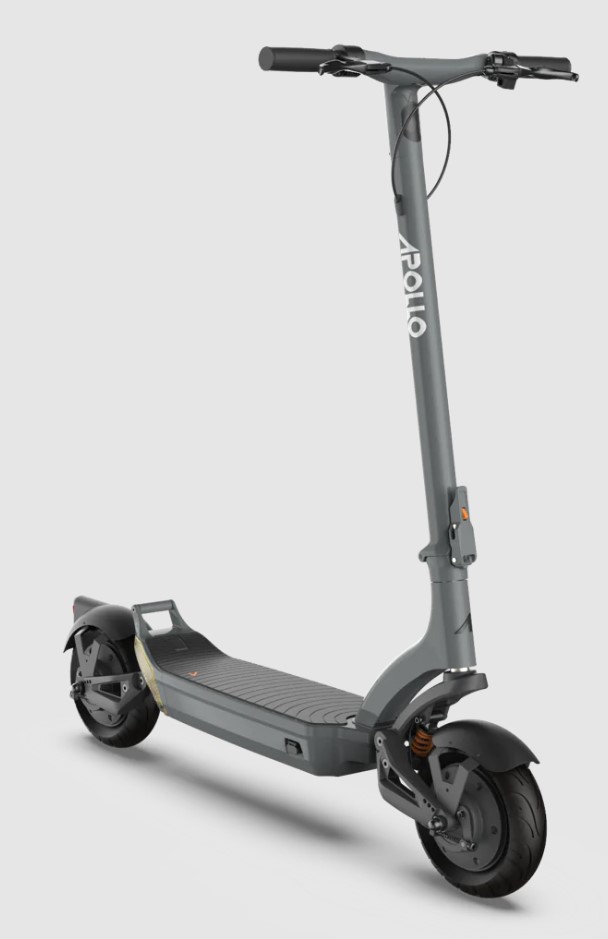 Hiboy Titan – best for heavy adults
The most common buying mistake I see first-time scooter owners make, over and over again, is not buying for their own needs. They make impulse decisions, based on a bombastic advertisement, with little research to back up their choice.
Often that involves not taking the scooter's weight capacity into account, and whether it would support the rider's body weight.
And I would advise that you take this even a step further. What I do is consider my possible weight fluctuations as well.
For example, typically, I weigh about 194 lbs / 88 kg. But often, I gain weight and go close to 220 lbs / 100 kg. And when that happens, I notice a degraded performance of my scooter. Not by a lot, but it's still noticeable.
So, if you are on the heavier side, or if you tend to gain weight at times, get yourself a scooter built for that.
The best beginner choice for heavy adults, without a shadow of a doubt, is the Hiboy Titan. Its 286 lbs / 130 kg of weight capacity, about a third more than standard beginner-level scooters.
If you need the best beginner scooter for heavy adults, there isn't much of a choice besides the Hiboy Titan. Its other strong points include:
self-healing off-road tires
good performance
very cool bulky look
Unagi Model One – best lightweight
Lightweight electric scooters are one of the most in-demand category ever.
This is especially true for:
commuters
people with a last-mile transport situation
people who (like me at one time) live on a higher floor, in a building with no elevator
people who can't, or don't want to carry heavy loads
And it goes beyond beginners as well. Many owners choose a lightweight, portable scooter as their second, or even their additional scooter.
The Unagi Model One is:
one of the lightest electric scooter for adults ever, weighing only 26 lbs / 12 kg
the least space-occupying scooter when folded
a very affordable, very practical model
All of that makes it the best lightweight electric scooter for beginners. Made out of carbon fiber, it is both light and tough.
And for the price of just $949, it is a pretty low-risk investment for your first scooter.
If you are looking for a portable beginner scooter, you will likely get the Unagi Model One. Other advantages include:
slick, modern look
fast charging times
decent performance
Take a look at my complete Unagi Model One review if you want to find out more about this scooter.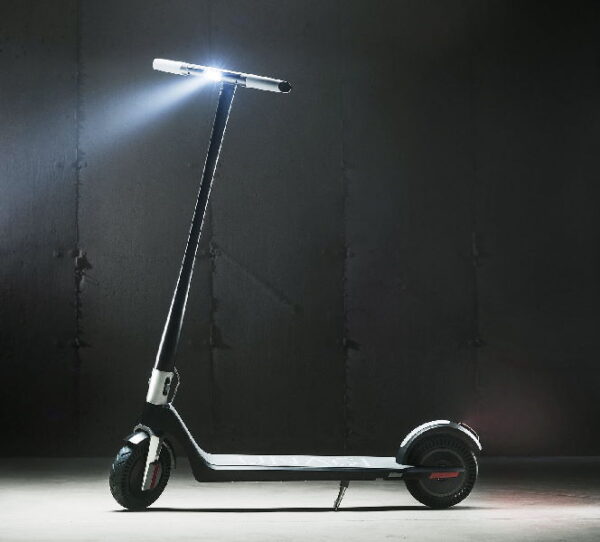 Levy Plus – best design
For most people, it's never about the value, the specs, the performances, or the utility. It's simply the fact that electric scooters are cool and fun.
The Levy Plus model is the Marlon Brando of beginner electric scooters. Smooth, cool, tough, handsome, oozing with style and confidence.
It is not all looks. 22 mi / 35 km of range, double braking system with rear disc brake and E-ABS front brake, a six-month warranty, all for just $699, make it a true bargain.
Not to mention this is the only electric scooter with a removable battery. That increases the ways you can use this scooter – you can take the battery with you to discourage theft, or to charge it easily, or replace it with a full one for a long ride. A brilliant move by Levy, no doubt.
For the beginners looking for the coolest, smartest, best-looking electric scooter, I can only recommend the Levy Plus. It will also shine at:
great value
strong range, great for commuting
very portable
great waterproofing
If you like what you've seen so far, check out my complete review of the Levy Plus to find out more.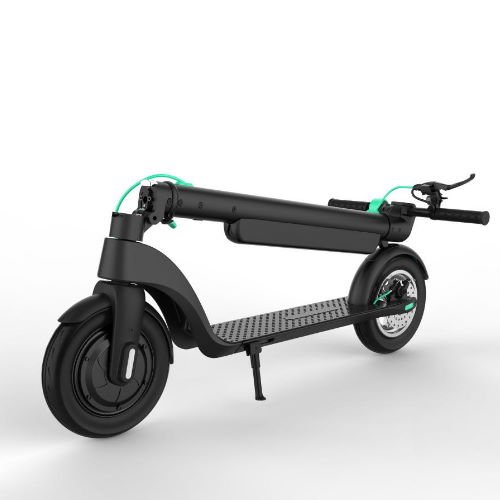 Aovo Pro – best waterproofing
This is paramount for would-be scooterists in Florida, some of the rainy Southern States, the UK, Ireland, Northern Europe, Canada, the Philippines, or any place with frequent rain or snow. Many first-time owners have failed to take this into account, and made easily avoidable mistakes with their first scooters.
If you live in a rainy area, you will want a water-resistant scooter.
Manufacturers, brands, the electric scooter community, the electric scooter owners I know, and myself, all recommend against riding in the rain.
And still… we all do it sometimes. It just happens that sometimes you have no better choice. And if you live in a rainy area, this will happen more often.
From all the affordable, high-quality, beginner-suited scooters today, the Aovo Pro shines through the clouds on those rainy days.
With a water-resistance rating of IP65, it is the most well-protected electric scooter against water infiltration and ingress. All kinds of water splashes, and even weak streams of water, will do no damage to it.
In terms of price and performance, the Aovo Pro perfectly fits the "beginner" label. It is priced at $399, about as much as you would be willing to pay for your first model.
How to ride an electric scooter?
Naturally, as a beginner, you may not know how to ride yet.
If riding an electric scooter seems weird, mysterious, or scary, fear not – it's much easier than it may seem.
To learn how to ride an electric scooter like a pro in under three minutes, check out our full guide on the topic here.
Summary
We went through all the best electric scooters for beginners, and the following table summarizes them one more time for reference.
---
---
Liked this article? It really helps if you share it.
Follow @escooternerds on social media for more cool stuff
---