Last Updated on October 16, 2022 by Matt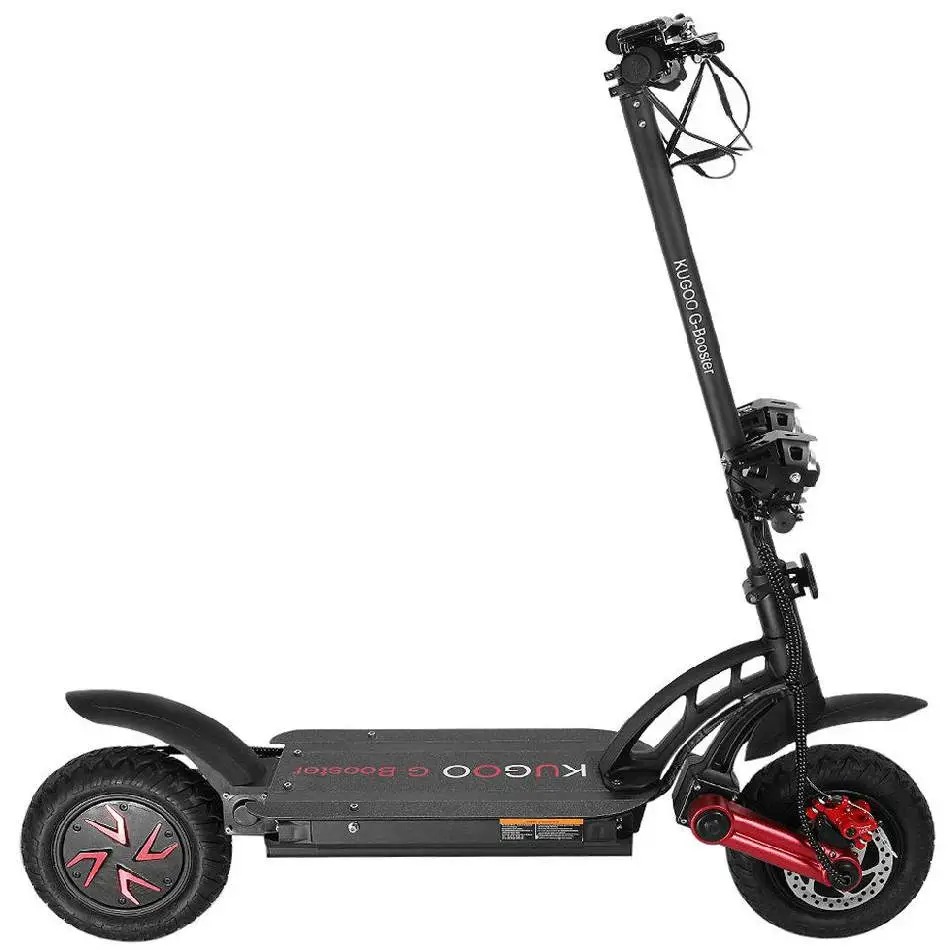 The Kugoo G-Booster is one of the most exciting scooters today. Not only because of its amazing power, but also because of what it represents – a real offroad, monstrous, superpowered scooter, that does not cost thousands of dollars.
The Kugoo G-Booster is one of the most powerful scooters in the $1200 price range, and it is the best in some important categories, like long range, climb angle, motor power, and torque. It is also the best offroad scooter under $1200, and one of the best value-for-money scooters ever.
Where to buy the Kugoo G-Booster from?
UK, EU
The best place to get the Kugoo G-Booster from in the UK and in most European countries is
GeekBuying
. You will probably get free shipping, and little to no additional taxes and fees.
Lots of accolades, all well deserved. Let's see what makes the Kugoo G-Booster all that great, and what is it all about.
Kugoo electric scooter line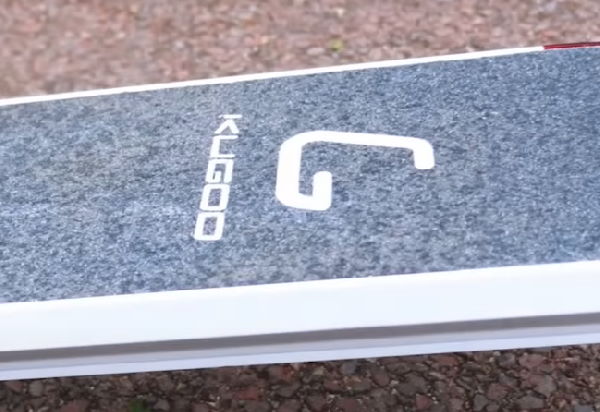 When I first got into electric scooters, Kugoo was this little-known scooter line with just a few budget models. Although they seemed to have a good value proposition and provide good quality for the prices, it seemed like they were destined to forever remain in the shadow of Xiaomi and Ninebot, which ruled the cheap and budget categories with an iron fist.
Today, I believe we can confidently say that Kugoo has managed to turn the table and position itself as one of the most serious challengers for the throne of best value electric scooter brand. While still not as popular as Xiaomi or Ninebot or the other established brands, each new model they release gives all of the popular manufacturers something to think about. They have established a very strong foothold in the European market especially, and I wouldn't be surprised at all if in 2020 we say "Xiaomi and Ninebot", but in 2021 we say "Xiaomi, Ninebot, and Kugoo".
I don't know if the official mission of Kugoo is to lower the prices of scooters that are still reasonably good in quality, but it might as well be. During the time I've been authoring this blog, I've watched Kugoo entrench their position as a good value brand, and they are getting more popular every day.
Ordering, shipping, and price match
As usual, the best place to order the Kugoo G-Booster, as well as any other Kugoo model, is GeekBuying. Currently, they ship to the UK and most of the European countries.
The shipping is free, and it usually takes 3-10 business days. Since the warehouses are already in the EU, there should be no additional taxes and customs fees. Make sure you select a warehouse that is geographically closer to your address for faster shipping.
Typically for GeekBuying, if you find this scooter at a lower price in an authorized store that delivers to the same location, you can get a price match and pay the same price.
Warranty and return policy
The warranty on most of the important electronic parts in the scooter, like the motor, the controller, the lights, and the screen, but also the critical mechanical systems like the brakes, the folding mechanism, the frame, and everything else that is not a wearing part (like the seat or the wheels or the bumpers for example), will come with a 12-month warranty. The exceptions here are, as usual, the battery and the charger, and the warranty for them is 6 months.
If the scooter happens to be dead-on-arrival (pretty rare but it can happen), or if you simply want to return the scooter, you can do so within 7-14 days, although the shipping fee for that process will not be covered.
Unboxing and manual
The scooter will arrive in a quite large product box (124 x 30 x 65 cm, 38 kilograms). The package will contain:
fully assembled scooter
charger (charger + cable)
user manual
warranty
remote controller
multikey
bell
seat kit
After you remove all the protective covers, there will be no need to do any assembly yourself except for setting the handlebar in position and optionally adding the seat or the bell if you choose so (all of which are very easy to install). Also, it is strongly recommended to complete a few basic steps:
use the multikey and make sure there are no loose bolts or screws
check that the brakes work
make sure the tires are sufficiently inflated before riding
adjust the height and position of the lights
You may even be able to immediately ride it, as the battery will probably have at least 50% juice in it.
Design, build materials, quality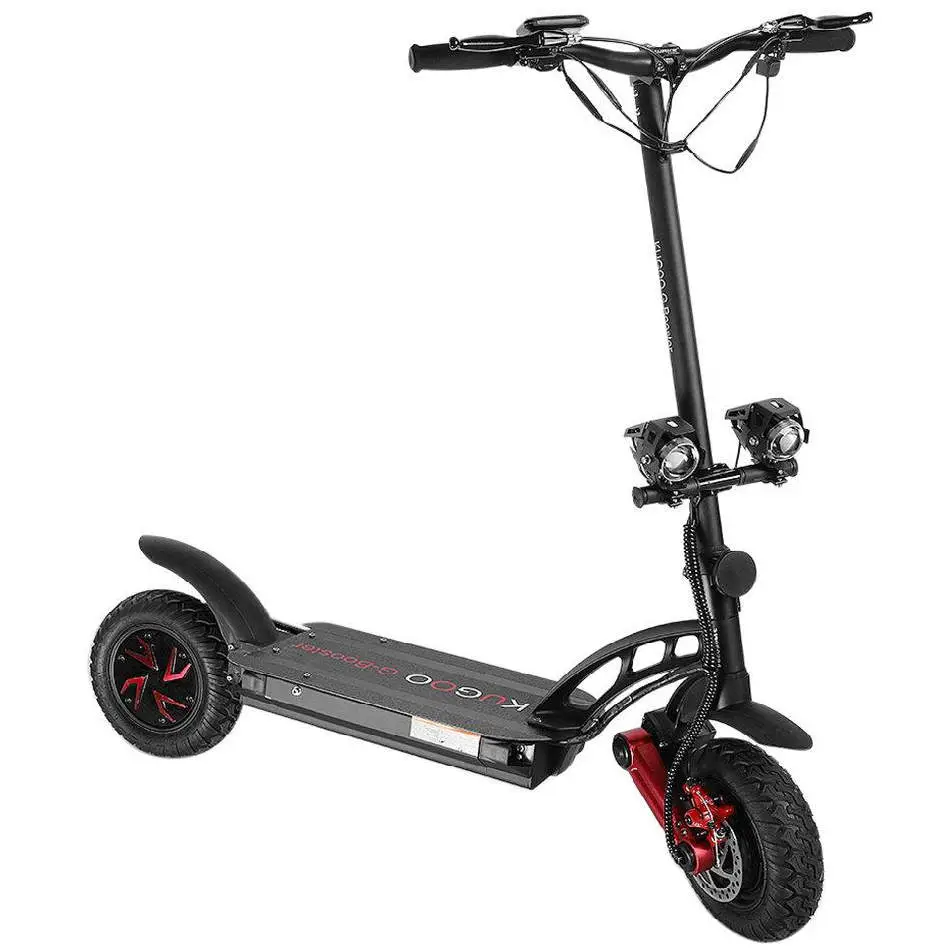 The Kugoo G-Booster is one tough cookie. It has a bulletproof look and feel, and feels very substantial and robust. It manages to achieve extraordinary product quality and sturdiness that many scooters priced twice as much lack.
Those metallic red details on the wheels and on the suspension give it all the extra color touches it needs.
With the tough stem and handlebars, the big deck, and the standard mean look that only a few offroad scooters can truly pull off, the Kugoo G-Booster has something even better than looks, and that's character. It is, indeed, a strong, tough scooter that you can rely on.
Kugoo G-Booster Basics
Use the remote control to unlock the scooter, and press the middle button on the right handlebar right next to the screen to power it on.
Choose the appropriate gear (start with the slowest one first, this thing has a kick!). Also, it's probably best if you start in the single motor mode at first and ride that way until you get a better feel for the scooter's capabilities.
You don't need to kick to start, just press the throttle.
Folding and unfolding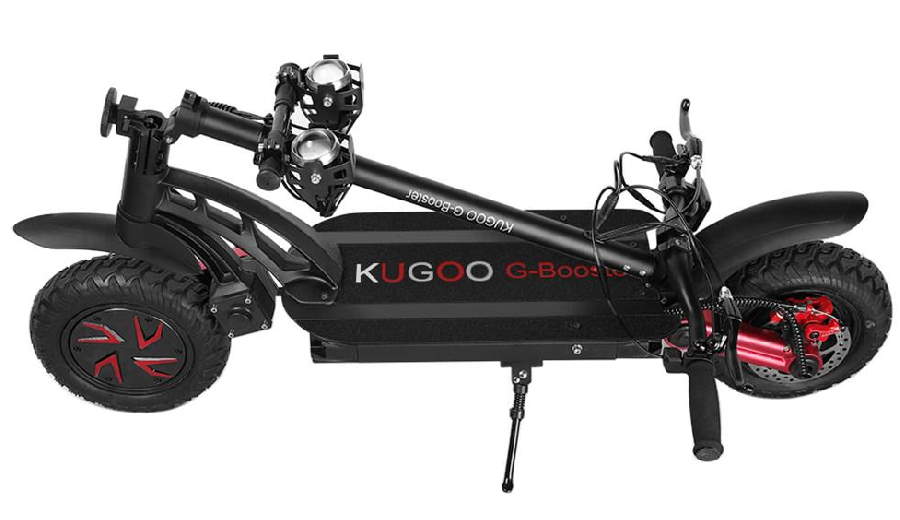 The folding mechanism of this scooter is a bit unusual, and in my opinion a lot safer. Instead of the common types of mechanisms like latches, levers, or pins, the Kugoo G-Booster has a folding mechanism that is secured by turning a large screw on the front of the stem right above the wheel. It looks almost like a vent, and the fact that you can really tighten it and secure it adds a lot of safety points.
Sure, it does add a few extra seconds to the folding procedure, but considering the power and performance of this scooter, and the dangers that come with high speeds, you really don't want to risk your scooter's stem suddenly unfolding while flying at 50 kmh (which, unfortunately, is the case for some cheaper scooters).
The handlebars are not foldable.
When unfolding, you can use the kickstand to lean the scooter on.
Riding
There are several factors that contribute to making the ride very stable. The robust build, the quite large weight, and the great suspension, are the three main factors that give owners of the Kugoo G-Booster a safe and fun everyday experience.
The Kugoo G-Booster does not include the cruise control feature.
As it is an offroad scooter primarily, it was designed to handle the worst possible road conditions, so riding around town and getting somewhere will be an absolute joy. Steering and controlling the scooter will be effortless.
Speed, motors, power, and torque
I believe these features make the Kugoo G-Booster shine and stand out from the competition in its price range.
The dual hub motors have a combined peak power of 2400 Watts. Two things here:
that is, on its own, insane
scooters with that much power often cost 3 times as much
The Kugoo G-Booster is the most powerful electric scooter for under $1200. No model comes even close.
The official top speed of the Kugoo G-Booster is 55 kmh / 34 mph. That is also what users report in their real-world tests.
Since the scooter has two powerful motors, its torque is simply out of this world. The climbing capabilities are spectacular. The acceleration is powerful but gradual, so you will not fall off your scooter if you hit the throttle hard.
Range and battery
Officially, the range of the Kugoo G-Booster is 85 kilometers / 53 miles on a single charge. Unofficially, users report similar ranges, with the average reported range being a bit lower than 85 kilometers, probably closer to 75.
That makes it the electric scooter with the longest range under $1200. Usually, you would have to pay $2000 or more for that kind of range.
That kind of range is all thanks to the big 18650 lithium-ion battery, with 960 Watt-hours of energy storage capacity, 48 Volts of voltage, and 23 Ampere-hours of electric capacity.
One potential range hack: the Kugoo G-Booster has pretty strong lights, that may have a significant impact on the battery level, and thus on the range. Make sure they are turned off while riding in the day (always keep them on during the night).
Charging
Charging the battery fully, from 0 to 100%, will take 10 hours at most.
The charging port is located on the front of the deck, neatly hidden and protected by a plastic cap.
If you plug the charger in the wall without plugging it into the scooter, the indicator light will be green if the charger works correctly. Once you plug it into the scooter, it will turn red to indicate that the charging takes place. When the battery is full, the light will turn green again.
Climbing and going uphill
Since the Kugoo G-Booster has two powerful motors, and insane torque, it will climb very well. The official climb angle is 35°.
With that, the Kugoo G-Booster is the best climbing electric scooter for under $1200.
Waterproofing and IP rating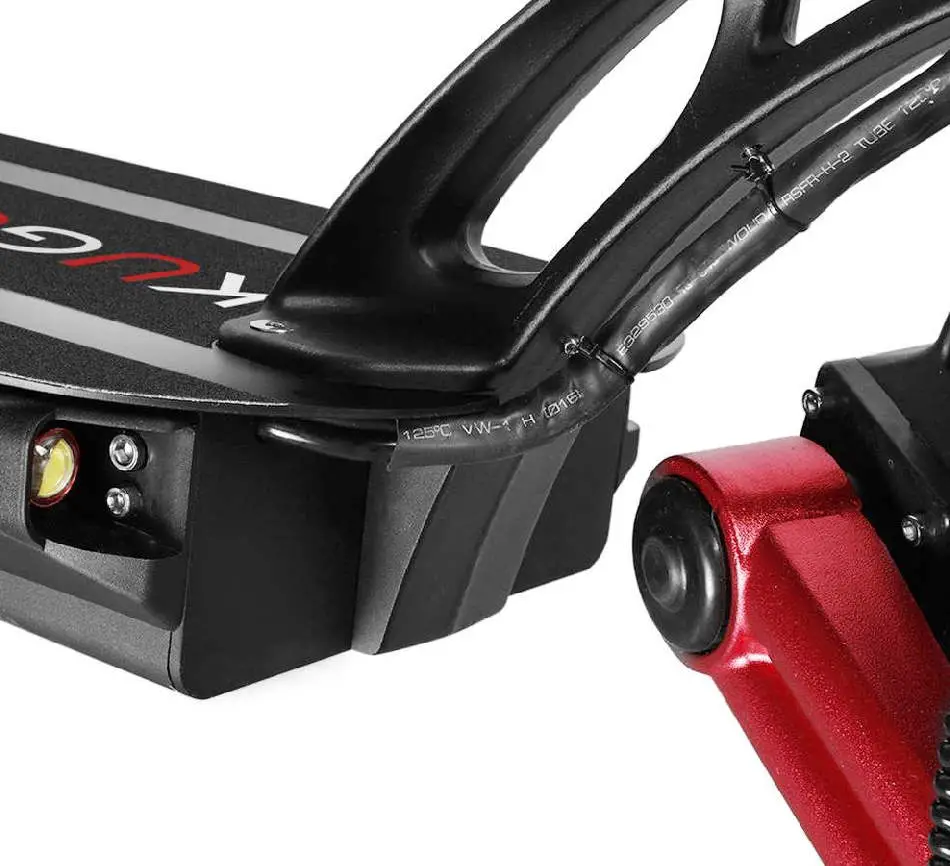 As any true offroad scooter, the Kugoo G-Booster is build to withstand some serious punishment in many forms.
While not fully waterproof, it comes with an IP54 rating, which means it will be water-resistant to a good degree, but you should not expose it to rain or strong streams of water.
IP54 is a pretty standard water resistance level in most of the good scooters (low-quality scooters have no IP ratings at all). So a few drops of water should not make it explode. That said, the golden rule of electric scooters still applies – avoid riding in the rain. The manual advises to not ride in puddles of water deeper than 2cm, which may suggest that riding in some shallower water may not damage the scooter. Still, I would advise trying to stay out of the rain as much as possible.
Weight
The Kugoo G-Booster weighs 30 kg / 66 lbs.
That is quite heavy for a scooter. There are much heavier scooters, but still, for the regular person, that kind of weight is not trivial. While probably not a dealbreaker to most, it may definitely be to some.
Portability
Well, we can't have it both ways. If we want a powerful scooter, it must carry a lot of motor and battery weight. The Kugoo G-Booster sacrifices a lot of portability for power, and it cannot be classified as a portable scooter.
There are two dimensions in which this scooter is not exactly portable. The weight, as we mentioned, is simply too big, but the length of the scooter at 120 cm is also a bit longer than the usual 105 – 110 cm.
Weight limit
The Kugoo G-Booster has an official weight limit of 120 kg / 264 lbs. There are no user reports and tests on whether this is the absolute maximum, although one user weighing 115 kg / 253 lbs has reported riding the scooter without any issues at all.
Personally, I find that number kind of low, given the rest of the specs of this scooter. A 2400 Watt scooter should easily be able to carry 150 kg / 330 lbs. In fact, on an older version of the Kugoo G-Booster, that was exactly the weight limit. Still, it's always best to stick to the manufacturer's recommendation, so for all intents and purposes, the weight limit should be considered to be 120 kg / 264 lbs.
Brakes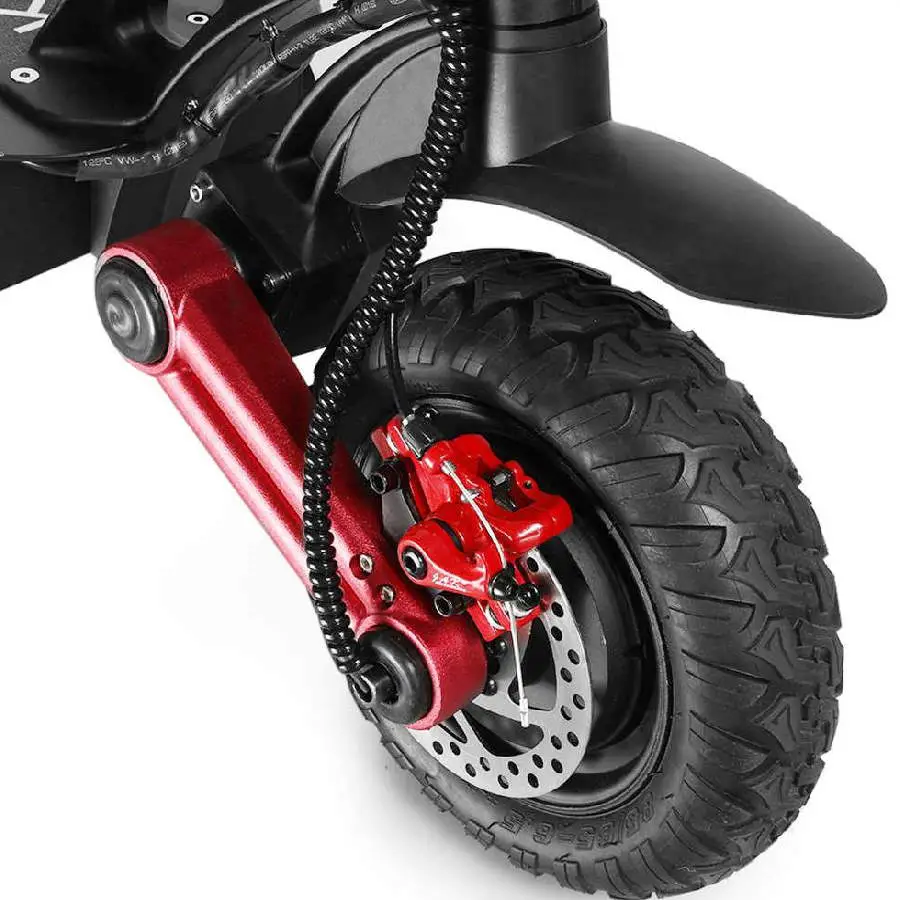 With dual independent front and rear 140 mm single-disc mechanical brakes, the Kugoo G-Booster has very formidable stopping power. The brakes are activated by the brake levers.
I strongly recommend always trying to brake smoothly, and with the rear brake (left lever) first, and only use the front brake (right lever) as a last resort. The scooter is not too light in weight and the risk of tipping over is low, but the motor does pack a lot of power so you don't want to risk it.
Tires
One of the strongest sides of this scooter is its tires. Coming with 10-inch, deeply-patterned, water-resistant, offroad, vacuum tires, designed for extra grip, they are very well integrated with the rest of the scooter and make it a great value proposition for offroad scenarios.
Both tires have mudguards above them, which you will greatly appreciate if you ride offroad.
Suspension
Another strong point of this scooter is its suspension.
As any offroad scooter worth its salt, the Kugoo G-Booster sports a great shock absorption system, in the form of arm suspensions on both the front and the rear wheel.
The high-quality suspension is what provides great comfort during regular and urban rides, and what makes all the offroad adventures possible without the scooter (or you) breaking in half.
Lights
On the front of the stem, the Kugoo G-Booster sports dual 10-Watt LED headlights. Unlike most other scooters that come with poor lights out-of-the-box, these lights are actually useful and shine pretty bright.
The front of the deck will also feature 2 additional lights, one on each side of the stem.
On the rear of the deck, there will be two orange-red brake lights, one on each side of the wheel. They are activated when you engage the brakes.
Controls and handlebars
The throttle is located on the right handlebar, right under the screen. You accelerate by pressing it with your right thumb.
The left handlebar has two buttons:
red button for the motor usage mode (dual when pressed, just the rear one when not pressed)
yellow button for the lights (you can choose between extra bright, regular, and blinking modes)
Other than the brake levers, the handlebars also hold the two display screens. Older models may have the ignition keyhole on the left handlebar right next to the buttons, which will be missing in newer models because they come with a remote controller instead of a key.
Screens and speed modes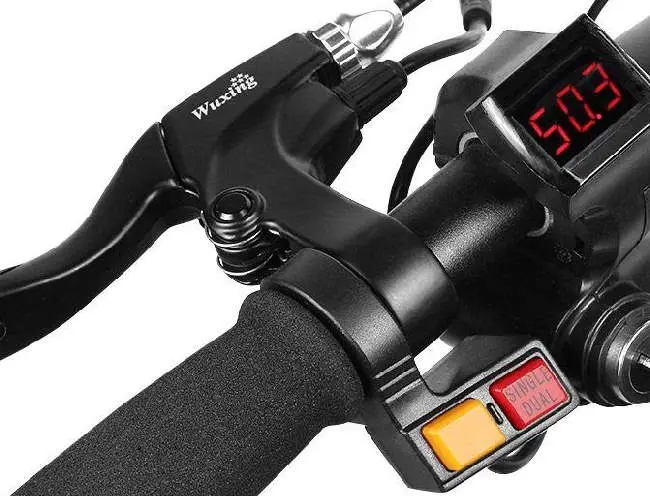 There are two display screens on this scooter.
The left one only shows the battery voltage (which, by the way, should always be at least 47V, and preferably above 48V).
The right screen, along with the buttons, is the control dashboard, where you will monitor and set all the different features of the Kugoo G-Booster:
battery status
current speed
speed mode
battery voltage
settings
The panel has three buttons stacked one under another. Logically, the top button is used for the plus/increase function, and the bottom one for minus/decrease.
You can choose between three speed modes:
20 kmh / 12 mph
40 kmh / 25 mph
maximum speed, 55 kmh / 34 mph
When coupled with the single/dual motor mode, you get a combination of 6 riding modes, and you can choose from a whole specter between riding for maximum power and saving the most battery.
Stem, deck, and build materials
The deck is covered with anti-slip tape, featuring the logo of the scooter on it (the colors may vary depending on your choice). It is wider than the usual deck you would find in the average commuter model.
The frame of the Kugoo G-Booster is made from 7005 aluminum alloy, while the details and finishes are made from plastic and polished steel.
Remote control, locking, and alarm
The Kugoo G-Booster comes with a small remote control that you will use to lock your scooter and toggle the alarm (older models had a key). It can't be unlocked and used without it, so that's a great safety feature. The alarm is also a great finishing touch that further protects your investment.
Still, if you plan on leaving your scooter outside, you will need an additional lock, because without it, someone can simply pick your scooter up and carry it away. A medium-strong U-lock should be more than enough protection (see my complete guide on the best scooter locks for the ideal choices for each scenario).
Seat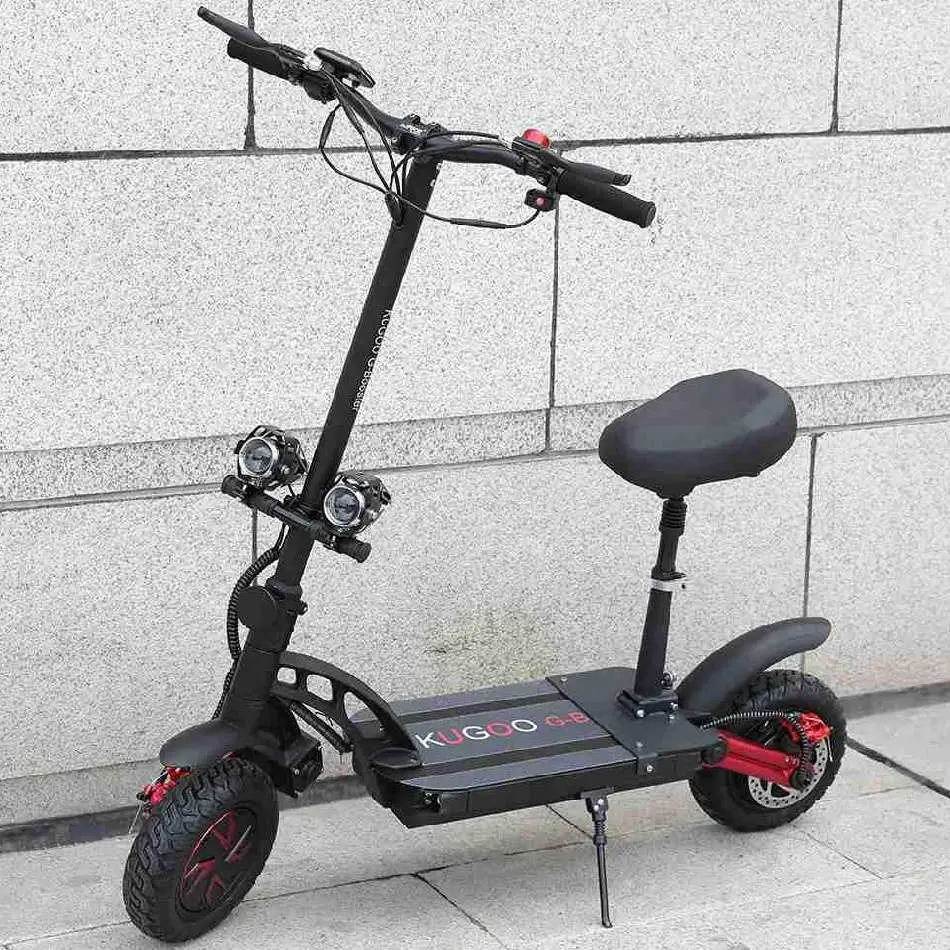 The way the Kugoo G-Booster is usually sold is in combination with the seat. The seat is optional and it can be installed or removed at any time, using the tools that arrived in the package.
Since the seat tends to make the scooter harder to carry, and folding is out of the question too, some people may decide not to use it. However, given the scooter's weight, I don't believe you will be doing much carrying, so the seat is a net win.
Accessories
There are two accessories that I personally believe are a must for this scooter. Those are the trunk on the front stem or the basket on the seat (or maybe even both), and of course, the phone holder on the handlebar. The scooter is very robust and customizable and can support a lot of different features. Check out the full guide on electric scooter accessories to see some other interesting ideas.
Use cases, offroad, terrains, and environments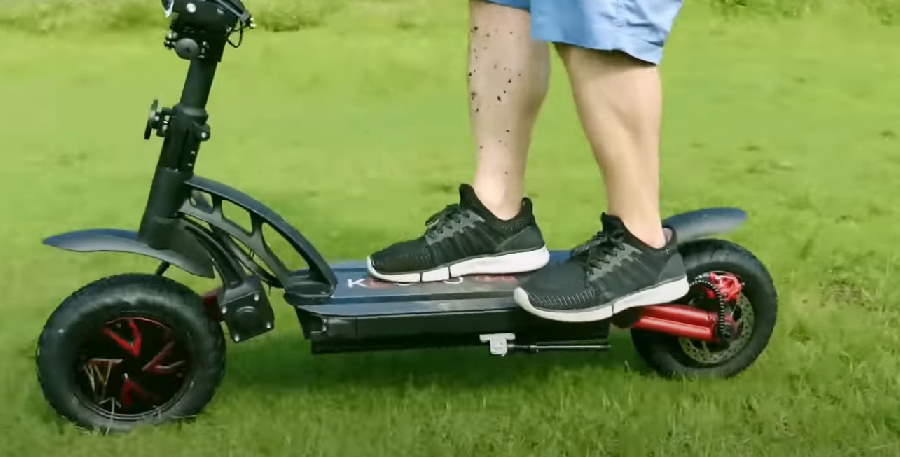 With the excellent suspension, 10-inch offroad tires, an IP54 rating with solid protection against dirt and ingress, and dual motors, the Kugoo G-Booster is a true all-terrain vehicle. It will handle anything you throw at it. It will go through dirt, grass, gravel, tarmac, sand, pebbles, rocky roads, and mud, like through butter. Given all of that, bad urban roads, cobblestones, bumps, cracks, sidewalks, and pretty much the worse any city can offer, will be a joke for this scooter.
On top of that, this is one of the most affordable offroad electric scooters today. In fact, it is the single best offroad electric scooter in the $1000 price range.
Safety equipment
As with any electric scooter, the helmet is non-negotiable and critical. This is especially true for this scooter, as it is quite powerful. I recommend at least an open-face helmet, as bicycle helmets may not suffice. Check out the guide on electric scooter helmets to figure out which helmet would go along with this scooter.
A full-body motorcycle armor wouldn't hurt, but unless you push the speed to the limit a lot, it may be overkill.
Reliability and lifespan
It may be too soon to tell exactly how long will this scooter serve you. There is one promising fact in play – every owner that has bought this scooter when it first came out (around June 2019) has left a 5-star review and hasn't changed it ever since. We can't really be sure that translates to absolutely no major defects from that point onward, but it sure is a very good sign.
Maintenance and troubleshooting
You really don't need to do that much to keep this scooter healthy.
Besides the standard scooter cleaning and maintenance procedure, all you need to do is make sure:
the battery is never fully discharged or in contact with water
the tires are inflated
make sure the brakes are not worn out
While defects are rare, they can happen. The best course of action is to check out the manual, it will have some troubleshooting steps and offer either a complete solution or point you in the right direction.
Rising popularity
This is just my gut feeling, but I do deal with electric scooters quite a lot, so it may have at least some merit. Personally, I believe the Kugoo brand will get much more popular if they continue doing what they are doing right now.
Seems like they still haven't established a strong presence in the North American market, but in Europe, especially Eastern Europe where scooters are huge, Kugoo may already be a household name. All of that happened in just a few short years, and their popularity seems to still be on the rise.
And I am quite happy about that. They do us, consumers, a big favor by driving the prices down, while at the same time raising the standards for quality and performance.
A year ago, if someone had asked me for a recommendation about a good, regular, affordable scooter, I would have said Xiaomi M365 Pro (that's what I got, too). Today, I would have to stop and think about some of the Kugoo budget models as well. If someone asks me today for an offroad, performance, or best value suggestion around the $1000 mark, I would probably say the Kugoo G-Booster.
Kugoo G-Booster specifications
Kugoo G-Booster Specifications
| | |
| --- | --- |
| Top speed | 55 kmh |
| Top speed | 34 mph |
| Range | 85 km |
| Range | 53 mi |
| Motors | dual motors |
| Power | 1200 W real, 2400 W peak |
| Climb angle | 35 ° |
| Battery | 960 Wh, 48 V |
| Battery type | 18650 |
| Charging time | 10 h |
| Ingress protection (IP) | IP54 |
| Weight | 30 kg |
| Weight | 66 lbs |
| Weight limit | 120 kg |
| Weight limit | 265 lbs |
| Tire size | 10 in |
| Tire type | pneumatic, vacuum, offroad |
| Foldable | yes |
| Foldable handlebars | no |
| Seat | yes (removable) |
| Trunk or basket | no (customization possible) |
| Build material | aluminum alloy 7005 |
| Terrains | all terrain |
| Brakes | front + rear disc and electronic brakes |
| Shock absorbers | front + rear arm |
| Lights | dual 10W headlights + deck + rear brake |
| Control | multifunction LCD + voltage display |
| Speed modes | 3 |
| Cruise control | no |
| Keys | remote control |
| Alarm | yes |
| App | yes |
| Warranty | 12 months, 6 on battery |
| Return period | 7/14 days |
| Certificates | CE, FCC, RoHS |
| Folded dimensions (L * W * H) | 120 cm * 26 cm * 52 cm |
| Folded dimensions (L * W * H) | 47 in * 10 in * 20 in |
| Unfolded dimensions (L * W * H) | 120 cm * 26 cm * 115 cm |
| Unfolded dimensions (L * W * H) | 47 in * 10 in * 45 in |
| Deck to handlebar height | 97 cm (est) |
| Deck to handlebar height | 38 in (est) |
| Adjustable handlebar | no |
Reviews, problems, and downsides
Almost every review of the Kugoo G-Booster online is very positive, and the only negative experiences are about some missing screws or other small parts on delivery, which the support team from Kugoo HQ handles quickly and professionally.
Interestingly, there are no reports of duds, lemons, or dead-on-arrival scooters from this model. That doesn't mean they have never happened, but there is a strong possibility they are quite rare.
The weight of this scooter is quite big, but we can't really consider that an issue, since all high-performing scooters are heavy.
While I can't think of any major problems in the design decisions or the way this scooter works, there are a few small tweaks I would add to make this scooter perfect.
First, the handlebar height is not adjustable. The height of the scooter is around 115 cm, but the deck-to-handlebar height is around 97-100 cm. That is perfectly fine for the majority of riders, but people over 192 cm / 6'4 may find the handlebars a bit low.
The weight limit of 120 kg / 264 will, again, accommodate most people, but may be too little for heavier adults. As I mentioned before, I believe this spec is a bit underreported by Kugoo, since that kind of build quality and motor power should support a lot more (and a previous version of the model did support 150 kg / 330 lbs). Anyway, as it turns out, the Kugoo G-Booster may not be a good fit for anyone over 120 kg / 264 lbs.
This is probably pushing it, but maybe a cruise control would be nice for some people (personally I don't really use it that much).
As you can see, for the vast majority of the population, these will be non-issues, and the Kugoo G-Booster will be approaching what can be considered the perfect power scooter with an unprecedented price tag.
Price and value
Typical for Kugoo scooters, this model provides unbelievable value for money as well. In fact, this scooter may be one of the best value-for-money scooters ever.
It's usually priced around $1200, although flash sales and discounts are somewhat common on GeekBuying, and I've seen this scooter priced as low as $1050. There will be no shipping or duty costs, so all in all, you can expect to pay around $1200 in total.
Now, the value you will get, I would describe at least twice the price.
This is the reasoning behind that statement – the most important indicator of both performance, but often quality as well, is the motor, and specifically motor power. Just for comparison, these are the prices of other scooters with motors of comparative power.
| Electric scooter | Price $ | Peak power |
| --- | --- | --- |
| Kugoo G-Booster | 1200 | 2400 W |
| Turbowheel Hornet | 1349 | 2400 W |
| NanRobot D5+ | 1380 | 2000 W |
| Kaabo Skywalker 10S+ | 1399 | 2000 W |
| Zero 8X | 1485 | 2300 W |
| FLJ T113 | 1500 | 3200 W |
| Zero 10X | 1900 | 3200 W |
| EVOLV Pro | 1932 | 2600 W |
| Dualtron Raptor | 1950 | 3200 W |
| Dualtron 2 | 1990 | 1800 W |
| Techlife X7S | 2000 | 3200 W |
| Qiewa Q Power | 2099 | 3200 W |
| Kaabo Mantis | 2299 | 2000 W |
| NanRobot RS6 | 2349 | 3200 W |
| Inokim OXO | 2490 | 2600 W |
| NanRobot RS7 | 2799 | 3200 W |
| Average | $1883 | 2656 W |
The Kugoo G-Booster is not only the most affordable scooter in this power category, but it also outperforms several models that are twice as expensive.
Simply put, the value this scooter provides is insane.
Who should not get the Kugoo G-Booster?
With a weight of 30 kg / 66 lbs, and a pretty big size even when folded, the Kugoo G-Booster is not the ideal choice for the typical hobby rider or commuter that needs to carry the scooter in and out a lot. Honestly, I don't want to discourage anyone, since I've seen people manage even heavier scooters, but if portability is important to you, the Kugoo G-Booster is not the best choice. Check out the full guide on portable electric scooters if that's your priority.
Also, with 2400 Watts of power, I wouldn't recommend this scooter to beginners or people looking to buy their first scooter. If you are after your first scooter, consider something less powerful, cheaper, and more famous, like maybe the Kugoo S1 Pro (full review) or the Xiaomi M365 Pro (full review) for example.
Who should consider the Kugoo G-Booster?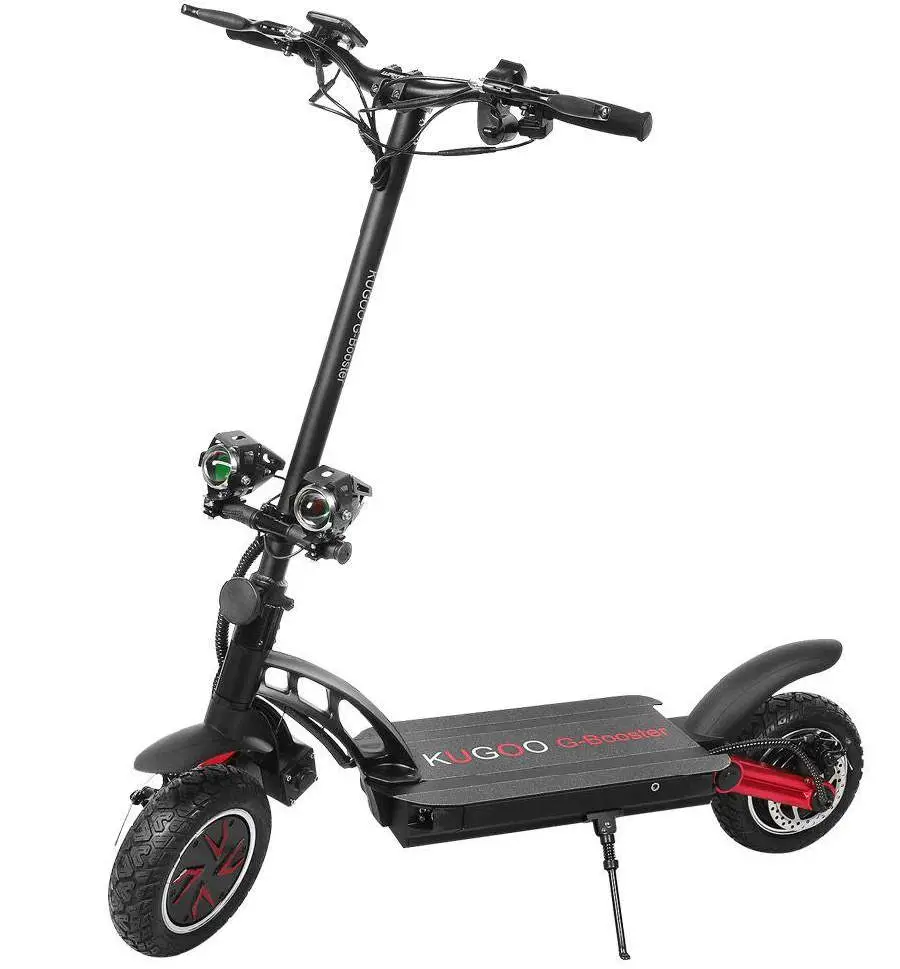 There is one person I have in mind that would absolutely love the Kugoo G-Booster, and that's the person looking for as much power as a budget around $1000 – $1200 can get. I have been trying to find a more powerful scooter in this price range, and there simply isn't one. That is the biggest value proposition of the Kugoo G-Booster, you will pay around $1100 – $1200, and get a scooter similar to the ones priced at $3000 – $4000.
The same applies to offroad features. Budget models are simply too weak to persevere through the trials of the offroad. Most budget scooters are well above $1500. Well, not the Kugoo G-Booster.
This scooter is simply amazing value for money. I don't like talking in absolutes, but I'm 100% sure you can't find a more powerful, more robust, more performant scooter under $1200.
So, if your budget is around $1200, and you want the rawest power, the longest range and best climbing angles you can get, the most torque and speed, or simply the meanest, toughest offroad bad boy available, then the Kugoo G-Booster is perfect for you.
Where to buy the Kugoo G-Booster from?
UK, EU
The best place to get the Kugoo G-Booster from in the UK and in most European countries is
GeekBuying
. You will probably get free shipping, and little to no additional taxes and fees.
Where to buy the Kugoo G-Booster
Europe: GeekBuying
---
Want to get
FREE SCOOTER
tips, exclusive discounts and promotions, and unseen scooter hacks? Join the
Scooter Secrets club
.
---
Liked this article? It really helps if you share it.
Follow @escooternerds on social media for more cool stuff
---