Last Updated on November 15, 2022 by Matt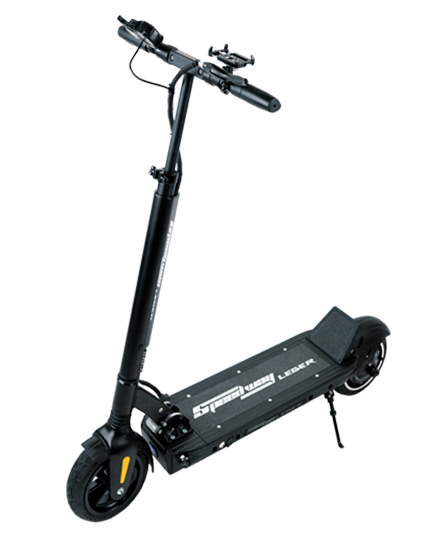 In this post, I will do a full 360° review of the Speedway Leger. This is, personally, one of the best electric scooters in the middle to high-end price range I've reviewed so far. I will take an in-depth look at what makes this scooter perfect for a lot of scooterists, what are its pros and cons, its features and its issues, and when it may be a great choice for you.
Speedway Leger Review
The Speedway Leger is a higher-end, great quality, all-round scooter. Powerful enough for most riders, it will be the perfect upgrade or second scooter after you've grown tired of all the Xiaomis and the Ninebots. The great range, coupled with good portability and great safety features, make it a great choice for commuters, but also for hobby riders and anyone looking for a scooter that is a blast to ride.
Where to buy the Speedway Leger from?
Worldwide
The best place to buy the Speedway Leger from is from
Minimotors USA
. They will ship for no additional cost in the US, and a flat fee of just $20 for other countries, not including taxes.
Minimotors electric scooters
The Speedway Leger comes from Minimotors, one of the most iconic, almost legendary scooter brands. They are the same brand behind the Dualtron scooter line, which is arguably the most powerful but also the highest-quality line of electric scooters ever made. Started back in 1991 in Busan, South Korea, Minimotors are very likely the best electric scooter brand in the world at the moment, especially when it comes to high-end scooters.
The Speedway line, and the Speedway Leger, in particular, comes with all of the benefits and experience the brand has to offer. Unlike most of the Dualtron scooters, which are clearly over-powered for most of us, the Speedway Leger is a more citizen-friendly scooter, suitable for anyone looking for a fun, powerful yet safe riding or commuting experience.
Ordering, shipping, warranty, return policy
The best place to order the Speedway Leger from is MinimotorsUSA. You will get the original scooter from a reputable scooter brand, for the price of $1100. They also offer price matching, although you will probably not find a lower price than that.
The shipping will be free of charge in the continental USA, and interestingly, it's just a flat fee of an additional $20 for pretty much everywhere else in the world! That fee doesn't include taxes, but it's still pretty unconventional and generous from a scooter brand, especially given that the scooter will arrive in a matter of days.
You get a warranty of 6 months included, and you can extend it to a full year for an additional $100. The warranty will cover the electronics (controller, motor, throttle, battery), but it will be void in case of physical damage, modification, or disassembly.
You can return the product within 7 days of purchasing, as long as it's not damaged or modified. You can also get a return or an exchange if you have received a faulty item, although with Speedway scooters that is a very rare occurrence.
During the entire process, you will get starling customer support from the Minimotors support team.
Unboxing the Speedway Leger

The scooter will usually arrive partially charged to around 50-75%, and you will likely be able to ride it immediately after unboxing.
The package will include:
the scooter, with its battery installed
default battery charger (2A)
small Allen key
user manual
There will be no need for assembling, although it's highly recommended to make sure all the screws and bolts are tightened. Also, you should adjust the brake lever to fit your hand.
Speedway Leger manual
The package will include a detailed, illustrated manual for the Speedway Leger. Read it entirely to make sure you are 100% familiar with your scooter. Read it even if you think you know everything about the Speedway Leger model, as some details can change between different versions of the same scooter.
Design, quality, and build
In my opinion, the overall build quality is where the Speedway Leger shines. It has many other strong suits, including being great value for money and pretty strong performance all around, but its robustness, its sturdiness and stability, even the way the scooter looks, all scream reliability and quality.
Many parts, including the stem, are made from 6061 aluminum alloy, and the deck has anti-slip surface tape over it. The handlebars are extra grippy as well.
Even after months of riding, the Speedway Leger will not budge, and there will be no loose screws or squeaky parts or anything like that.
It's obvious that a lot of attention to detail has gone into the design of this scooter. With great finishes, high quality overall, and very aesthetically pleasing, the Speedway Leger is the complete package.
Folding and unfolding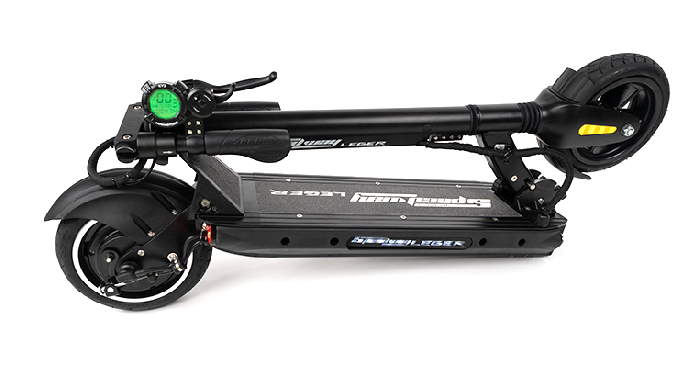 This scooter is one of those models that are built with portability in mind.
The main folding mechanism is very simple, it's just one very simple quick-release latch between the stem and the deck, and the folding and unfolding are done in 3 seconds.
The mechanism makes sure the stem is locked firmly, both when folded and unfolded. There is no wiggle or unexpected shaking while riding, thanks to the high overall quality and attention to detail. With that, the Speedway Leger is probably one of the safest electric scooters in its price range.
One of my favorite smaller features is the folding handlebars. They may not be a big deal to someone that doesn't need to carry the scooter through narrow places like doors or entrances. But if you need to move the scooter, this small feature makes a big difference.
For example, at one time, I had to put the scooter on my balcony, which meant carrying it from the street, through the building entrance, through the elevator door, through the narrow hallway, through my apartment's door, through my apartment's hallway, through my living room, through the balcony door. Quite a trip, right? Well, I can tell you that non-foldable handlebars will cost you at least one scratch on your door, several broken glasses and other objects, and damaged furniture.
Also, folding handlebars do wonders for fitting the scooter in a car trunk easily. It's simply a very neat little feature to have.
The scooter comes with a secure and sufficiently long kickstand on the left side of the deck.
Learning the ropes
Riding the Speedway Leger is as easy as riding any other scooter.
After your scooter is unpacked, all the screws are tightened, and you've unfolded it, all you need to do to ride is the following:
turn it on with a 2-second press on the power button
make sure you have enough battery
choose the riding mode
set the settings for the brake strength, the ABS, cruise control, etc
press the throttle with your right index finger
off you go
To brake, just use the brake lever. Be careful not to brake too sharply if going at high speeds.
Everyday use and user experience
Riding the Speedway Leger is a wonderful experience. The sturdy build and high quality, the ample suspension, and the formidable power of the scooter, will give you fun, safe, comfortable rides, with very little shaking and vibrating.
Since the Speedway Leger has plenty of range, it will be perfect for exploration and fun cruises around your city. The comfort and the safety it provides, coupled with the good climb angle, make it a good choice for almost any type of urban ride, but also quite useful for getting things done.
You can optionally turn on cruise control, so that you don't have to press the throttle during longer rides.
Speed and acceleration
The official top speed of the Speedway Leger is 28 mph / 45 kmh. However, the scooter is actually capable of a bit more than that, sometimes even exceeding 31 mph / 50 kmh.
There are three speed modes available:
mode 1 – up to 9 mph / 15 kmh
mode 2 – up to 18 mph / 30 kmh
mode 3 – maximum speed
The Speedway Leger accelerates pretty fast, but not as fast as the monster scooters. It will take about 4-6 seconds to develop full speed. There will be a small kickback if you try to go from 0 to 100, but you will not quite go into warp drive.
Motor, power and torque
The Speedway Leger comes with a single hub BLDC Continuous 1360W ΜΑΧ motor, integrated into the rear wheel. Its peak power is at 1360 Watts, and its real power is 500 Watts. The motor has unusually high torque for its power levels, giving the Speedway Leger solid climbing abilities and good carry loads.
Climbing angle
With an official climbing angle of 15°, and a higher unofficial one of about 20°, the Speedway Leger will conquer pretty much every hill possible. That is quite a feat for a scooter with one motor.
It will be capable of climbing anything but the steepest hills, climb them from a dead start, and at some points will even accelerate when going uphill! Of course, the rider's weight will be a factor here, and riders weighing closer to the Speedway Leger's weight limit (264 lbs / 120 kg) will see diminished performance when climbing.
Many novice scooter owners that live somewhere with lots of ups and downs are rightfully worried if their scooter of choice will be capable of handling the slopes. With the Speedway Leger, its motor power and torque will be enough for most riders in most situations.
Battery and charging
In the electric scooter world, the battery manufacturer is one of the key specs of every model. Since the Speedway Leger comes with an LG 18650 battery, that base is more than covered, as LG is one of the best battery manufacturers for scooters.
The battery energy storage capacity is 748 Watt-hours, with a voltage of 48 Volts, and a capacity of 15.6 Ampere-hours.
Charging the Speedway Leger fully takes about 8 hours using the charger that came with it, although that time can range anywhere from 6 to 10 hours depending on the battery state, charging conditions, etc.
How much does it cost to charge the Speedway Leger?
It costs around 3 cents to charge the Speedway Leger during off-peak hours in the US, and around 6 pennies in Canada. During peak hours, those prices will be 10 cents in the US, and 8 pennies in Canada.
Range
The official range of the Speedway Leger is 34 miles / 55 kilometers on a single battery charge. That range is obtained in "lab conditions", which means a flat road, ideal temperature of around 25°, and a rider weighing 120 lbs / 60 kg.
Interestingly, even heavier riders report similar ranges in real-world conditions. Range is quite important for many of us, but it's entirely possible for even two same scooters to have different ranges, as there are many factors in play. Still, I believe Speedway has decided on playing it safe here and underreporting the range a little bit. Which is great news, and means you will probably get somewhere close or above the advertised range.
Water resistance
The Speedway Leger is not waterproof, and it has no official IP rating against water protection. It is best to not ride in the rain or any other wet weather, and avoid contact with water in general.
Portability, weight, and dimensions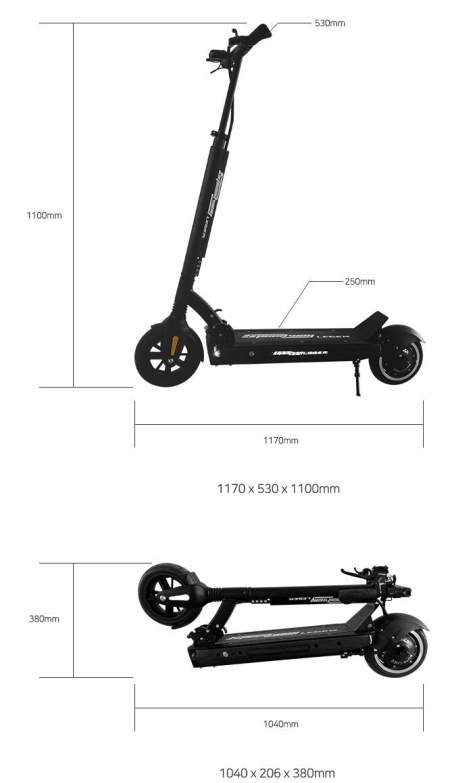 The scooter weighs 41 lbs / 18.6 kg, which makes it fairly portable for most people, although not ultra-portable. In research I've done, the upper limit for very portable scooters seems to be 31 lbs / 14 kg for the majority of people. While the Speedway Leger is not too far from that, it can't really be classified as a super-portable model.
Despite that, it does have some things going for it in terms of portability.
Personally, I love the folding handlebars feature, even though they are an additional dimension of complexity and another moving part that can go wrong. They will reduce the width of the scooter while folded greatly, which is simply amazing for maneuvering and placing the scooter.
While the weight of the Speedway Leger is still manageable for most people, its shape and form when folded will take away some of its portability points.
This is an issue with most scooters, but with the Speedway Leger, in particular, you will not have an ideal place where you can grab the scooter to carry it for long. The stem diameter can be wide for many people, and the center of gravity is not exactly in the middle of the folded scooter. You can still lift it, maneuver it, and place it, with relative ease, as it has no weird sticking parts, and the foldable handlebars are pure gold here. I recommend getting a very cheap carry handle to make carrying the Speedway Leger a lot simpler.
Terrains
This scooter is meant for use on city roads and urban environments. Since it has amazing suspension, it will handle pretty much any road, no matter how bad. Pavements, asphalt, marble, pavement blocks with little empty spaces between them, anything that you will encounter in a city, will not be a problem.
The scooter is not meant for offroad riding. Short rides through grass, dirt, and pebbles, will not be so bad, again, thanks to the great suspension. Still, they should be avoided, and any harsher off-road surfaces will already start to push the scooter's limits.
Since the scooter is not waterproof, riding on wet surfaces, in snow, on ice, through mud, or puddles, should all be avoided. But that's true for almost every scooter anyway.
Weight load
The official weight limit of the Speedway Leger is 264 lbs / 120 kg. Users have reported overloading it to as much as 300 lbs / 136 kg, without a drop in performance. So Speedway has played it safe here and possibly under-reported the weight limit a bit. In any case, anyone weighing up to 264 lbs / 120 kg will have absolutely no problem with the Speedway Leger.
Brakes and ABS
The Speedway Leger comes with a single electronic drum brake on the rear wheel. You can adjust the strength of your brake to one of five different levels, with 5 being the strongest. In the strongest mode, the braking distance should be no more than 4-5 meters.
The brake has the regenerative braking feature, which means that every time you use it, the battery gets replenished a little.
The scooter has the ABS braking feature (Anti-lock Braking System). In short, this prevents the wheel from locking when you brake, giving you more control over your scooter when you brake, but also shorter braking distance. The ABS is optional and you can turn it on or off. Some riders don't like it and they turn it off. Personally, I suggest giving it a shot, it may take some getting used to, but you slowly learn to love it, and then you can't live without it.
Tires and wheels
The Speedway Leger comes with 8.5-inch tires. The pneumatic tubed tires are meant for standard road conditions. The recommended tire pressure for them is 50 psi.
They seem quite wide, at least for their diameter, even though their official width is 2 inches. They will not be tough or large enough for offroad, but they will certainly provide great balance and control. In fact, the tires are the main reason why the Speedway Leger has unusually high traction and torque.
Suspension
The suspension and shock absorption features of the Speedway Leger are very strong, even amazing maybe.
Sporting a front spring suspension installed between the stem and the wheel, and a hydraulic arm suspension on the rear wheel, this scooter probably has one of the best shock absorbing system out of all the $1000 scooters.
You will have very few issues on most roads and in most cities, even if you live in a place with poor infrastructure. You will barely feel the small and medium bumps and cracks in the road, and only the biggest and deepest holes in the road may cause you problems. The ride comfort this scooter provides will hardly be matched in this price category.
Lights and riding at night
The Speedway Leger has no shortage of lights.
On the front, it has dual LED headlights on the deck.
The sides of the deck are decorated by LED strips illuminating the logo.
On the rear, there is a brake light, which flashes and rotates when activated, to make sure whoever is behind you is alert.
Controls and screen
Naturally, the Speedway Leger will come with the iconic EY3 LCD display, proprietary and typical for all Minimotors scooters. The green-lit, Matrix-style multi-function instrument panel shows the information clearly, even on the sunniest of days, and lets you see the stats and adjust all the features:
voltage
current speed
battery level
odometer
start mode
speed mode
cruise mode
brake strength
ABS setting
acceleration
stopwatch
Stem and handlebars
This is one of the sturdiest, toughest parts of the scooter, and that's great news because it is exactly where many scooters, especially cheaper ones, have subtle but serious problems.
The stem of the Speedway Leger is very strong and reliable, and not only that, but it's also very secure after locking. There will be no nasty surprises with it. The locking mechanism is very safe and secure, and the handlebars will not rotate like on some cheaper scooters.
The handlebars are adjustable for height, and riders over 6 feet / 180 cm tall have reported comfortable rides. As I mentioned before, the handlebars are foldable.
Deck
A signature move from Speedway Leger is the raised rear deck, which is a very smart design decision. It almost gives you extra deck space beyond what you would normally get, and a convenient place to rest your feet and achieve better balance while riding. Just be careful not to press on it too hard.
Other than that, the deck is spacious enough for any adult, and comes with sandpaper tape on the top for extra grip.
Fingerprint and locking
Newer models come with a thumbprint scanner that you can use as a lock. The scooter will not be started without your fingerprint.
Couple that with a strong scooter lock (Kryptonite on Amazon is a great investment to protect a scooter of this caliber), and you will have very little to worry about (still, it's a precious possession so try not to leave it outside).
Equipment and accessories
The Speedway Leger is capable of developing serious speeds, so safety is paramount. I recommend getting a full-face helmet like the Bell Qualifier (Amazon), or at least an open-face helmet like the HJC CL-JET (Amazon). A plain old bicycle helmet is not enough for 30 mph / 50 kmh.
If you plan on riding at those speeds often, consider getting yourself a full-body motorcycle armor as well, as it may literally save your life (HEROBIKER on Amazon is awesome).
Check out the post on electric scooter helmets or accessories if you want to learn more about what equipment to get, many of the accessories like the trunk and the phone holder will fit the Speedway Leger perfectly.
Reliability and maintenance
Realistically, you can expect at least two years of riding with the Speedway Leger without many issues, and while it's hard to say for sure, I'm confident this scooter can last you well over 5 years. The battery is the biggest unknown here, as battery lifespan is still somewhat unpredictable. The good news is, this scooter has an LG battery, and that's as good as it can get.
Your job in maintaining the Speedway Leger will be the regular scooter checklist: do a visual inspection, charge it regularly, clean it every once in a while, make sure the tires are inflated, make sure everything runs like a smooth machine, etc. A few extra steps are nice to add for the Speedway Leger specifically:
periodically make sure there are no loose screws
make sure the brakes are well-adjusted
Speedway Leger specifications
Speedway Leger Specifications
| | |
| --- | --- |
| Top speed | 45 kmh |
| Top speed | 28 mph |
| Range | 55 km |
| Range | 34 mi |
| Motors | single hub BLDC Continuous 1360WΜΑΧ |
| Power | 500 W real, 1360 W peak |
| Climb angle | 15 ° |
| Battery | 748 Wh, 48 V |
| Battery type | LG 18650 |
| Charging time | 8 h |
| Weight | 18.6 kg |
| Weight | 41 lbs |
| Weight limit | 120 kg |
| Weight limit | 265 lbs |
| Tire size | 8.5 in |
| Tire type | pneumatic tubed |
| Tire pressure | 50 psi |
| Foldable | yes |
| Foldable handlebars | yes |
| Seat | no (customization possible) |
| Trunk or basket | no (customization possible) |
| Build material | aluminum alloy 6061 |
| Terrains | urban |
| Brakes | regenerative electric rear drum brake |
| ABS | yes |
| Shock absorbers | front spring + rear hydraulic |
| Lights | dual front LED + brake + side |
| Control | EY3 LCD |
| Speed modes | 3 |
| Cruise control | yes |
| Keys | thumb print scanner |
| Warranty | 6 months |
| Folded dimensions (L * W * H) | 104 cm * 21 cm * 38 cm |
| Folded dimensions (L * W * H) | 41 in * 8 in * 15 in |
| Unfolded dimensions (L * W * H) | 110 cm * 53 cm * 110 cm |
| Unfolded dimensions (L * W * H) | 43 in * 21 in * 43 in |
| Deck to handlebar height | 90 cm (est) |
| Deck to handlebar height | 35 in (est) |
| Adjustable handlebar | yes |
| Notes | top notch suspension, signature raised rear deck |
Speedway Leger vs other scooters
There are a few scooters that are frequently compared against the Speedway Leger.
Speedway Leger vs Speedway Leger Pro
In 2022, Minimotors introduced the new upgraded model of this scooter – the Speedway Leger Pro.
This new version comes at an added $200 cost, rounding up to around $1300. For that price, you get an extra 15 mi / 24 km of range due to the more powerful battery of 52V.
The Speedway Leger Pro also has an improved climbing ability, now handling hills with inclines of up to 27 degrees. This version is also faster than the previous one, but not by much. And since there are basically no differences in design between the two scooters, it is an easy upgrade to a much better range for just a couple of hundred bucks.
Speedway Leger vs Zero 9
Zero 9 is probably the biggest competitor to the Speedway Leger. They are often compared as very similar scooters with a very similar price.
Personally, I don't see how the Zero 9 can win this comparison except for a few fringe use cases. The Zero 9 is a great scooter too, but the Speedway Leger is not only better made, but it's also more powerful on pretty much every specification and feature, and it's definitely more performant.
Speedway Leger vs Dualtron Mini
Another frequent comparison is done between the Speedway Leger and the Dualtron Mini.
I don't think this is a good comparison to make. The Dualtron Mini is more powerful, heavier, and it costs about $400 – $500 more, which is not a trivial amount of money.
Still, if we compare the two, it's clear that the Dualtron Mini is more powerful, maybe slightly faster and possibly with a bit more range, but it's also heavier, larger (despite the name), less portable, and ultimately, less versatile than the Speedway Leger. I don't think the slight performance advantages are enough to justify the extra 8 lbs / 4 kg of weight in the Dualtron Mini.
They are simply in different scooter categories. And still, I'm not sure I quite see the value proposition of the Dualtron Mini. If you're already spending $1500 on what seems to be a heavy-duty scooter, why not spend $500 more and get something like the Dualtron 2, which is already a true power scooter?
For me, this one would be a no-brainer. I believe the Speedway Leger would make much more sense for most people.
Speedway Leger vs Ninebot Max
This is another unfair comparison in my opinion.
First of all, the Speedway Leger is on a whole other level than the Ninebot Max. While the Ninebot Max is massively popular, it can't even come close to the performance capabilities of the Speedway Leger. I mean, just look at those motors – the Speedway Leger has twice the motor!
That's not to say the Ninebot Max doesn't have its uses. For about $800, it is a great scooter for its price, and it deserves its popularity. Sure, it fades away when compared to the Speedway Leger, but I don't think it's its job to compete with it.
I'd suggest going with the Ninebot Max if you're after a more regular type of scooter.
Ratings, reviews, and popularity
The Speedway Leger is a fairly popular scooter model. Given its price, it can't be as popular as more budget-friendly options. Of course, its quality is certainly much, much higher than the ones of budget models. That's why users around the world love their Legers.
Online reviews show that the scooter has very low defect rates, a long lifespan, and overall it's very fun to ride and use. Of course, things will probably not be perfect, but I have yet to see a complaint about the Speedway Leger in online scooter communities, which is not something a lot of scooter models can claim.
Speedway Leger problems and issues
Overall, the Speedway Leger has very few issues compared to most scooters. It is sometimes advertised as a luxury scooter, and it certainly is high-quality, so it doesn't suffer that much from many of the common issues that plague budget models.
The only factory defect I've seen with a couple of Speedway Legers is a complete shutdown at 50% battery. It seems that if you ride the scooter in the highest gear, the battery can't send enough power to the motor for proper acceleration once it gets below 50%, so it shuts down completely. If it happens during the first year, you're fine as the scooter is still under warranty. But if it happens in the later years after the warranty is expired, the solution is you lower to 2nd gear and ride the scooter at limited speed when the battery isn't at least half full.
One of its biggest weak points is the lack of water protection. There is plenty you can do to waterproof your scooter, but it will be something you will have to do yourself. If you really need something like the Speedway Leger in terms of quality and performance, but that's also waterproof, something like the EMove Cruiser may be a better choice.
While the brake is of high quality and does its job well, I believe it wouldn't hurt if a scooter like this had two brakes. Personally, I avoid using the front brake in scooters as it often almost tips me over, and the Speedway Leger only has a rear brake, so that's a pretty good design choice. Still, an additional front brake to the front would have been nice.
A common complaint about the Speedway Leger is the underwhelming front lights, which are not nearly as strong as the rest of the scooter. Luckily, this one is very easily solvable with affordable customization in the form of additional light. A super-bright 400 Lumen USB rechargeable light on Amazon will cost just around $15, and it fixes the problem immediately.
I really can't think of any other weak points of the Speedway Leger.
Price and value for money
The price of the Speedway Leger is $1100, although sometimes it can be less than that. That price still qualifies it to be compared against other $1000 scooters, although quality and the performances make it punch way above its weight, and more similar to $1300 – $1500 scooters. So it's really good value for money.
Frequently asked questions
Here is what people most often ask about this scooter.
Who makes the Speedway scooters?
The Speedway scooters are designed and manufactured by Minimotors, a high-end e-scooter company with a USA branch based in San Francisco.
They are arguably the most popular companies in the e-scooter market and are behind one of the best-selling scooter brands in the world – Dualtron. Speedway is sort of their mid-level product, offered to relatively new riders or those who want a modest, yet durable electric scooter.
Can you overcharge the Speedway Leger?
As is the case with most Li-ion cell batteries, you should be careful not to forget the scooter on a charger for too long.
However, the worst case scenario, if you forget your cooter on the charger over a whole day or two, would be a lowered battery life. And this can only happen if you forget it multiple times. Doing it once shouldn't create any problems.
Who is the Speedway Leger for?
The Speedway Leger can fit a lot of scenarios, in fact it fits most scenarios for anyone with a budget of $1000 – $1200.
It is advertised as a higher-end, luxury scooter, and that's more than deserved, even though the price doesn't really reflect that too much.
Personally, even though it's obviously high-quality, I would describe the Speedway Leger more as a versatile, all-round scooter that can wear many hats. It is feature-rich, strong in performance, great quality, and yet pretty affordable compared to other similar scooters.
It can be a faithful commute companion, as it provides both great range and ok portability. Since the real-world range will be the same as the advertised one, you will get a great long-range scooter if you need one.
The Speedway Leger is a decent choice for a novice scooter owner, but it's the perfect choice for an upgrade, or your second scooter. The power levels are right in the middle between unsatisfactory and dangerous, and that's what most experienced electric scooter owners are looking for.
Finally, anyone looking for a great hobby scooter, for fun cruises and tours, a scooter that will not ruin the joy by breaking down in the first week, can be confident that the Speedway Leger is a great choice.
Where to buy the Speedway Leger from?
Worldwide
The best place to buy the Speedway Leger from is from
Minimotors USA
. They will ship for no additional cost in the US, and a flat fee of just $20 for other countries, not including taxes.
---
Want to get
FREE SCOOTER
tips, exclusive discounts and promotions, and unseen scooter hacks? Join the
Scooter Secrets club
.
---
Liked this article? It really helps if you share it.
Follow @escooternerds on social media for more cool stuff
---