Last Updated on October 16, 2022 by Matt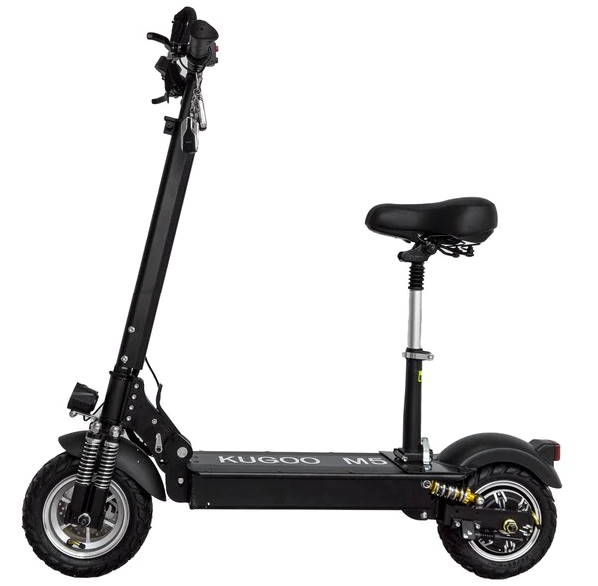 This will be a complete review of the Kugoo M5, another big and powerful scooter from the famous Kugoo M series. Like some of its Kugoo cousins, this scooter is a power monster prepared for all terrains, and costs around one-third of what the offroad scooters from other brands cost, and still its quality exceeds its price.
Is the Kugoo M5 the right scooter for you?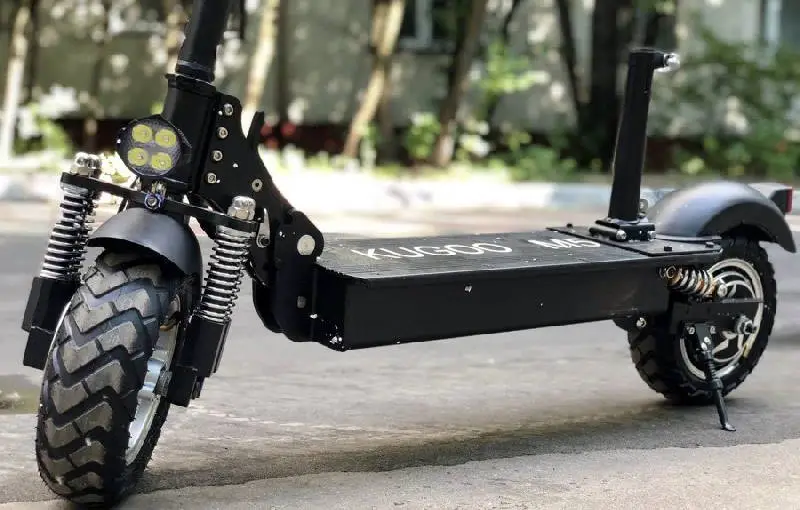 The Kugoo M5 is a powerful, durable value scooter, prepared for all types of terrains, and while I greatly admire what it can do for the price, I would generally only recommend it to offroad enthusiasts, as otherwise, I believe it might be too much for the casual commuter or hobby rider (if that's you, you'll find the other Kugoo models like the Kugoo M2 Pro, or the Kugoo M4 Pro, to be a better fit).
The scooter does remind a bit of the famous Speedway Leger, especially in the way it looks, but in some aspects of the performance, and they are also priced similarly as well. Since Kugoo scooters are only available in Europe for the time being, I recommend the Speedway Leger if you live in the US or Canada (see the full Speedway Leger review to find out more).
The Kugoo brand
Kugoo is starting to get known as the best value scooter brand in Europe (maybe even expanding their reach in Asia lately as well). I don't think they have a single model that costs above $1000, and still, I'd say that pretty much all of their scooters provide much more value than what their price might suggest. That is the case for the Kugoo M5 as well.
Ordering, shipping, warranty, returns
The Kugoo M5 is available on AliExpress, usually for around $650 – $700. However, it can often be out of stock, which is another good reason to check out other Kugoo scooters.
Delivery will be free, although it will take the usual AliExpress shipping time of 15 to 45 days, unless you are willing to pay extra for the premium shipping and get the scooter shipped to you in 7 to 15 days. The scooter should have a full year of warranty with 6 months on the battery, but make sure to check the merchant's listing as this can be subject to change. There should also be a 15-day return policy.
Unboxing and assembly
There will only be some minimal assembly required when you get the scooter. You will also have to install the seat if you plan on using it, but the good news is that it's simple to install and remove, so in a way, you can have both a regular and a seated scooter available.
The box will contain:
the scooter
charger
screws and toolkit
seat
user manual
warranty card
Before riding, make sure that the tires are inflated, the brakes are operational, and that there are no loose screws, as they can get loosened up on delivery. Also, make sure that the suspension is not damaged, as that has been known to happen at times.
How to use the Kugoo M5
The Kugoo M5 is started with a key, and that's one of my favorite features in a scooter, as it greatly increases the security and deters theft (you should still see a scooter lock to fully prevent theft). You also need to turn the scooter on with the power button as well.
The ignition, along with the dashboard, are situated on the left handlebar. The dashboard is a no-frills digital display screen, with just the power button and the plus and minus buttons for controlling the settings.
The screen shows:
current speed
battery level
battery voltage
speed mode
mileage
There is another smaller dashboard right under the main screen, with 4 additional buttons for the main light on the front, the left and the right lights on the front, and the horn, which is medium-loud.
The scooter accelerates with a thumb throttle. As the scooter is quite powerful and accelerates quickly, the throttle is relatively sensitive to user input.
Folding and unfolding
The scooter folds at the stem. Unlocking the folding mechanism only requires pulling the safety pin down and then pulling the small lever on the side to fold it. The seat can also be folded as well to make the scooter more compact.
The handlebars are foldable as well, which is something that I always love seeing in scooters. Still, this is not a portable scooter by any stretch of the imagination, so the small win of the foldable handlebars doesn't really add that many portability points.
Build quality and user experience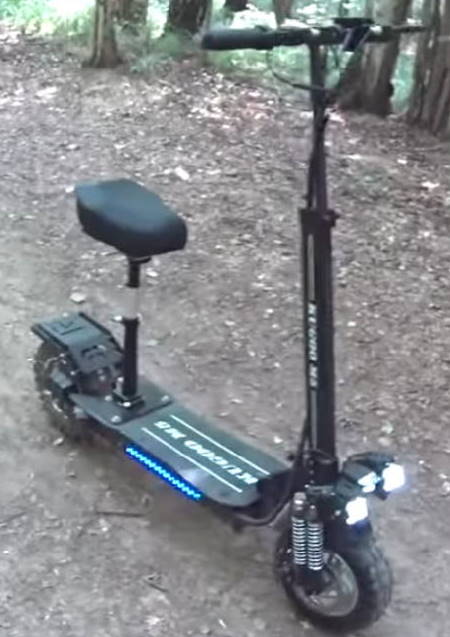 The entire scooter has a very tough look about it, and it fact it is very sturdy and robust overall.
The body of the scooter is made from aluminum alloy, and the scooter has a surprisingly small amount of "chinesium" in its build (low-quality materials with poor finishing). The fenders and some other parts are harder and made from steel. Since it's made to withstand all types of rides, the scooter can handle a lot of punishment and not even budge.
Since the tires are large, the suspension is excellent (more on that below), and the frame is strong and stable, the Kugoo M5 provides a very smooth ride experience, and barely shakes even when riding over larger potholes. Also, the scooter is practically built for offroad primarily, and that's its natural habitat, as it takes on all the challenges of the offroad rides without flinching. So, nothing will stop this scooter basically – dirt, grass, gravel, pebbles, smaller rocks, cobblestone, it can handle everything.
Motor and power
The Kugoo M5 comes with a single hub motor of 1000 Watts (real power), integrated into the rear wheel. That kind of power makes it one of the most powerful electric scooters in its price category, if not the most powerful, and gives it a lot of acceleration, torque, climbing power, and most importantly, speed.
Speed and acceleration
The official top speed of the Kugoo M5 is 55 kmh. The scooter is more than capable of reaching that speed, and it's very likely that there's some limitation built into it. Owners report reaching the maximum speed without an issue.
The scooter also has a powerful acceleration, which may even be described as a bit jerky if you're not used to a scooter of this type. The top speed is usually reached in a matter of seconds.
Battery and charging
The lithium-ion battery of the Kugoo M5 has a voltage of 54 Volts, and a capacity of 21 Amp-hours. The battery is actually the biggest contributor to this scooter's large weight, but it's also what gives it its great range and power as well.
The scooter comes with a relatively fast charger, and it needs between 5 and 6 hours to charge fully.
Range
Officially, the Kugoo M5 promises a range of 50 km. Unofficially, the scooter fully delivers on that promise, and according to owner reports, the scooter has often been able to hit 50 km in one trip and still have some battery left for a few extra km.
Good job on the range by Kugoo, I must say.
Climbing and torque
Climbing is definitely a strong side of the Kugoo M5, even though it's a single-drive scooter (the fact that it's a rear-drive rather than a front-drive scooter helps a bit here, as rear-drive scooters have a somewhat better torque). The official climb angle of the scooter is 25 degrees.
There are only a handful of hill tests for this scooter reported, but they all confirm that the scooter climbs even somewhat steeper hills without too much issue, (although it needs some acceleration to conquer the steepest hills, and it can't do much from a dead start).
Brakes
The brakes are both strong and sensitive, and achieve a short braking distance of just a few meters, but still don't stop the scooter too suddenly. There are two brake levers, one on each side, and they engage the front and the rear brake respectively, both of which are disk brakes.
Tires and suspension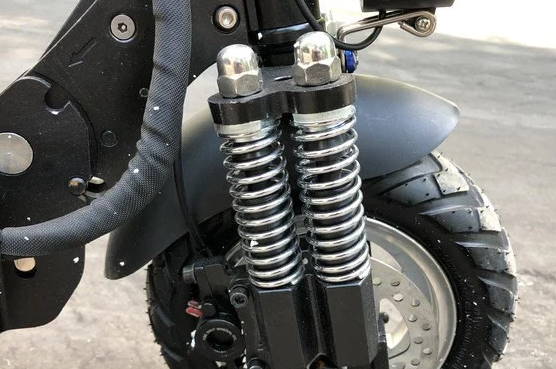 The rear tire is covered by a large and stable rectangular fender, and if the seat is not installed, it can be used as a footrest.
The tires are made for offroad rides, and they will come with all the deep treads and patterns needed to ride on rough terrain. Their size is 10 inches in diameter, and that gives the scooter a lot of suspension to start with, but the scooter also has a dual shock-absorption system on both wheels, with 4 springs on the front wheel and 2 arm suspensions on the rear wheel. I believe the Kugoo M5 has one of the best suspension systems in the scooter world, and provides one of the most comfortable rides.
Water resistance
The scooter doesn't seem to have an official IP rating, although my personal view here is that this scooter looks like it has at least an IP54 and it's just not well advertised. I could be wrong, but scooters with much less sealing and water protection claim to have an IP54 rating, and also, almost all of the other, cheaper Kugoo models typically have an IP54 rating as well, which leads me to believe that this scooter has that as well.
Anyway, officially, the Kugoo M5 doesn't have an IP rating, which means riding in the rain is best avoided.
Lights and night rides
With not one, but three large LED lights in the front, the Kugoo M5 achieves excellent visibility during night rides. The lights shine brightly and light up the road ahead even up to 10 meters possibly.
The scooter also has red brake lights on the rear which are turned on when any of the brakes are engaged, and also has LED strips along the deck, not just for extra visibility during night rides, but also some extra cool points as well. You will definitely not need any after-market lights with this scooter.
Weight, dimensions, portability
The Kugoo M5 is not a portable scooter.
For starters, it weighs 34 kg! While some people will be able to carry it, many others will not, and it will be a hassle for pretty much everyone trying to carry it over a longer distance.
Also, the scooter's dimensions are quite large as well, even when folded the scooter is too long to fit in most of the common place where you might usually put your scooter, like a car trunk or under a bus seat.
Weight limit
With an official weight limit of 120 kg, the Kugoo M5 is a great choice for the vast majority of body shapes and sizes. It's no wonder, given how powerful its motor is, and how sturdy its construction is overall. In fact, even though I would not recommend it for people over the weight limit, I wouldn't be surprised if a 135 kg person rides it without a noticeable drop in performance. Again, not something I recommend, but still, the scooter looks like it could take it (see the guide on scooters for heavy adults if you need a bigger weight limit).
Gear and accessories
Since the Kugoo M5 is capable of some seriously fast speeds, you will definitely want a safe scooter helmet to go with it. I recommend either a half-face helmet if you want something lighter and more comfortable, or a full-face helmet if you want to stay as safe as possible.
All of the other accessories and equipment for this scooter will be optional. Since there are not that many items that are specifically made for the Kugoo M5, I recommend checking out my complete guide on the best scooter accessories. The good news is, the seat will ship together with the scooter, and you will only have to buy some smaller after-market upgrades if you need them, like a trunk or a phone mount or a carry handle, for example.
Specifications
Kugoo M5 Specifications
| | |
| --- | --- |
| Top speed | 55 kmh |
| Top speed | 34 mph |
| Range | 50 km |
| Range | 31 mi |
| Motors | rear hub |
| Power | 1000 W |
| Climb angle | 25 ° |
| Battery | 1120 Wh, 54 V |
| Battery type | lithium-ion |
| Charging time | 6 h |
| Weight | 34 kg |
| Weight | 75 lbs |
| Weight limit | 120 kg |
| Weight limit | 265 lbs |
| Tire size | 10 in |
| Tire type | pneumatic offroad |
| Foldable | yes |
| Foldable handlebars | yes |
| Seat | yes |
| Build material | aluminum alloy + steel |
| Terrains | all terrains, offroad |
| Brakes | dual disc brakes |
| Shock absorbers | 4 front springs + 2 rear arms |
| Lights | 3 head + rear + LED deck |
| Control | LCD display |
| Keys | yes |
| Warranty | 12 months (6 on battery) |
Kugoo M5 vs Kugoo M4 Pro
The M5 and the M4 Pro models are often compared against one another, and even though I believe they serve slightly different audiences, this is still a fair comparison, as both cost about the same most of the time.
Honestly, I think I would recommend the Kugoo M4 Pro for the majority of people. It's just a more versatile model overall, it's not as overpowered as the M5, yet it has more range (and I'm always on the side of the range in the range vs speed debate), while also being significantly lighter in weight.
Verdict
In my opinion, the Kugoo M4 Pro will simply be a much better choice for most people. The only exception here is if you're planning on going heavy on the offroad rides.
In that case, you will find the Kugoo M5 to be a perfect fit, and maybe one of the best offroad scooters available in Europe currently.
Where to buy the Kugoo M5 from?
Europe (or international)
The best place to buy the Kugoo M5 from is usually
AliExpress
. Mostly the listing doesn't have the scooter available for the US and Canada, and in that case you will probably want to see something like the
Speedway Leger
.
---
Want to get
FREE SCOOTER
tips, exclusive discounts and promotions, and unseen scooter hacks? Join the
Scooter Secrets club
.
---
Liked this article? It really helps if you share it.
Follow @escooternerds on social media for more cool stuff
---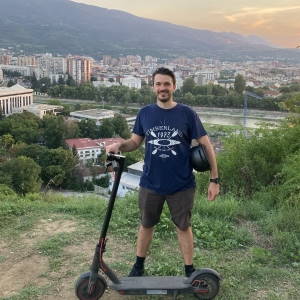 Where to buy the Kugoo M5