The Techlife X9 is the most powerful electric scooter from Techlife, and one of the most powerful electric scooters in general.
It is one of the very few models today that has it all – quality achieved through tons of testing, powerful performance proven over and over again, and still with lots of safety and comfort features.
In some ways, this is the same scooter as the legendary Zero 11X, but meant for the European market. We will cover their differences as well.
The Techlife X9 has a very strong claim to the title of the best electric scooter ever. It can go the distance with any other scooter today, blow for blow.
This is a full Techlife X9 review. Let's explore what makes this scooter one of the best ones there is.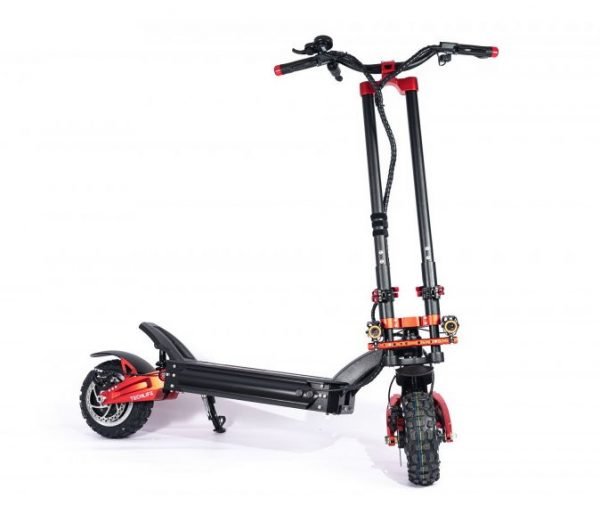 Short Summary
The Techlife X9 is an awesome, awesome scooter. It is, without a shred of a doubt, one of the best electric scooters ever made.
Its price completely reflects that, as it's quite expensive. It usually costs around $3600.
This is not a beginner scooter! I would only recommend this scooter after at least one year of scooter experience, and preferably some experience with faster scooters.
Also, this is not your average commuter scooter, which you can easily ride for a few miles and then carry if you have to.
The Techlife is a monster, power, uber scooter. It's only meant for the most devoted, most passionate scooterists.
You can find this scooter on the Techlife website.
If you live outside of Europe, you can still get pretty much the same scooter, but it will be called Zero 11X. You can find the Zero 11X on the RevRides website.
Techlife
Outside of Europe, probably not a lot of people have heard of Techlife.
But in there, they reign supreme as the ultimate electric scooter brand, especially when it comes to high-end power models.
They are involved in many other types of electronic devices and vehicles, but scooters are where they shine especially.
Headquartered in Zabrze, they quickly spread out to all of Poland, and later, Europe. They have established themselves as providing great quality power scooters at very competitive, even value prices.
Ordering and delivery
Naturally, the best place to get the Techlife X9 from is the Techlife website.
They ship anywhere in Europe without any issues. If you are outside of Europe, you can contact them to find out if they ship in your country.
For a scooter like the Techlife X9, you will have to wait between 6 and 8 weeks for it to be built and delivered.
Basics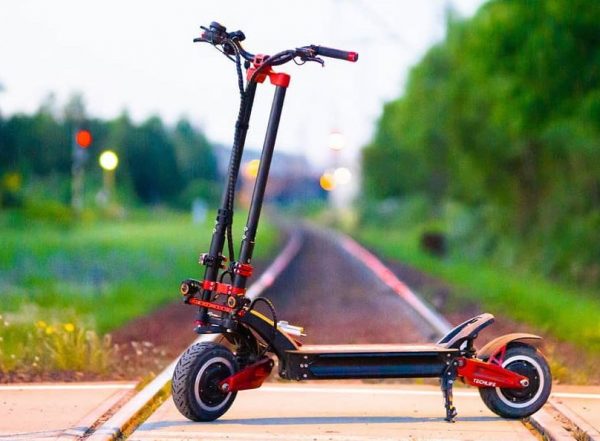 The Techlife X9 is a power scooter in the truest sense of the word.
It comes fully assembled, with every little screw and nut and blot tightened and secured. As soon as you charge it, you can start playing with it.
You start it with a key and a kick. You will feel the power and acceleration immediately. Be very careful when riding it, as it develops great speeds in very short intervals, and always wear all of your safety equipment.
The scooter has 3 types of settings:
3 different gears
eco mode or turbo mode
single motor or dual-motor drive
They make up 12 different combinations and power modes in which you can ride, from gear 1 + single motor + eco mode for the slowest, to the gear 3 + dual motor + turbo mode for the fastest.
Out of the box, the scooter is locked at 25 kmh / 15 mph. You can unlock it to its full potential speed.
You can choose to have your scooter come with a GPS monitor for increased security.
Folding
Naturally, as you would expect from any decent power scooter, portability will be out of the question.
The only feature is folding the stem. It is done by unlocking the two latches on the two stem bars, which are very sturdy and secure. I can't picture this scooter folding mid-ride, like some cheap scooters have been known to do. Even if one of the safety locks fails, you still have an extra one.
When folded, the scooter has no lock-in mechanism.
Also, the handlebars themselves are not foldable.
All of that, plus the scooter's great mass and volume, make this scooter not portable at all.
In all honesty, that's not in its job description. We don't need, or even want, scooters of this type to be portable. We want something else from them.
Warranty
Techlife provides the best warranty I've ever seen in the electric scooter world.
24 months on all parts, and 12 months on the battery. Yes, two whole years on the entire scooter!
I don't think there's a better signal of high quality than a company standing behind its products this much. I expect a lot of other brands that consider themselves on the high-end side to start following this example very soon.
Manual
Well, no electric scooter manual has ever been, nor will ever be, a pageturner. But if you're getting the Techlife X9 it's important you at least skim through it, since it has a lot of useful things you need to know about your scooter.
One of the interesting things you'll find in there is that the scooter is not recommended for persons under the age of 15.
If you need to adjust your brake sensitivity, or learn more about fixing your tires in case of a defect, you will want to look at the manual.
Riding the Techlife X9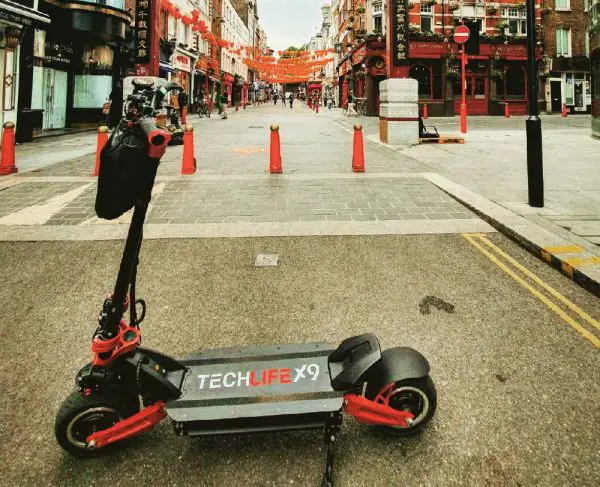 The Techlife X9 is a state-of-the-art scooter, a perfectly designed and crafted engineering artwork. Riding it reflects that.
It has been thoroughly tested throughout all kinds of conditions, thousands upon thousands of times. In a way, that's why people pay its price without thinking twice – this scooter is a true masterpiece.
The secret behind the dreamlike experience of riding the Techlife X9 is two-fold – the performance and the suspension.
One of the most powerful motors in electric scooters, together with one of the best suspension systems, provide a gliding, creamy, silky-smooth ride on almost any surface, with almost any speed. Even riding it with about 40 kmh / 25 mph on a medium-rough terrain like grass or dirt doesn't make it budge.
Once you step on it, you will not want to step off.
Design and build quality
Just by looking and touching the scooter, you can immediately tell that it's very high quality and well made.
One of the best crafted personal electric vehicles ever, this high-end model is almost all metal, very sturdy and safe, with no cheap parts.
The always classic red-on-black color scheme, along with its signature double-bar stem and robust build, make everyone around stop and stare. All eyes will be on you when you ride this thing, that's for sure.
Display and control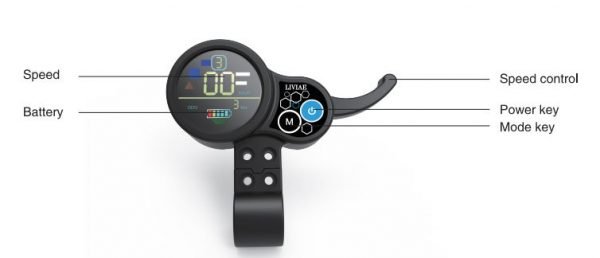 This scooter comes with a somewhat common control system, which includes the round display on the right, with the power and mode keys, plus the throttle lever right next to it. This system is also found in a few other scooters, and it is well tested and reliable.
The screen displays:
current gear
current speed
odometer
battery level
riding modes
On top of that, it can be set to display other parameters through the use of the buttons. You can adjust pretty much everything through it, including top speed, acceleration, torque, etc.
The key lock, together with a small screen displaying the operating voltage, is right below the screen.
Motor and speed
The Techlife X9 is literally built for speed. Its specifications are off the charts.
The dual brushless motors, each with 1600 Watts of real power, and more than 3500 Watts of peak power, provide a combined peak power of over 7000 Watts.
With that kind of power, this thing is almost an aircraft carrier, so it's no wonder it can reach insane speeds.
Its official top speed is 100 kmh / 62 mph.
However, user reports about the top speed vary. While some report maxing the speed out at 95 kmh / 60 mph, others claim they have reached as much as 103 kmh / 64 mph. Crazy, right?
The acceleration of the Techlife X9 will be amazing, of course.
It will reach:
20 km/h in just one second
30 km/h in 2 seconds
50 km/h in 5 seconds
60 km/h in 6 seconds
Again, wear your safety gear at all times when riding the Techlife X9. I also recommend wearing goggles, since the wind resistance can be huge at this speed and interfere with your vision.
Going uphill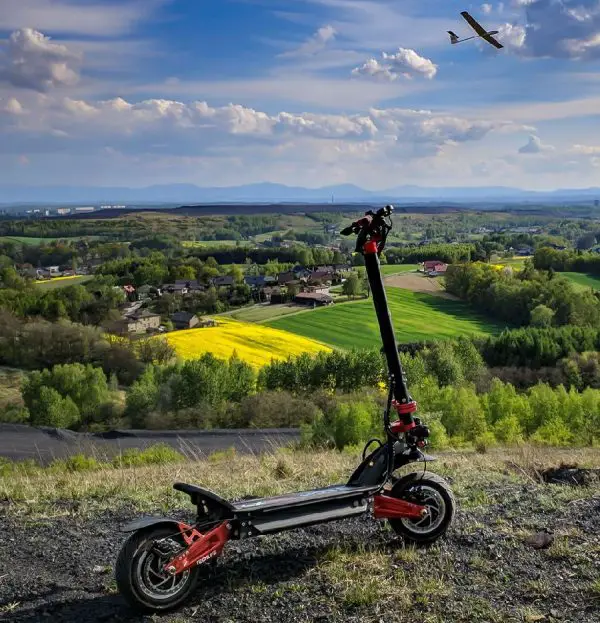 As you may already know, a scooter's climbing power depends mostly on motor power and torque. Since this scooter shines in both those areas, it will be amazing at climbing.
Its official climbing angle is 35 degrees. Users have reported that the scooter eats up those kinds of slopes without a hitch, even from a dead start, and can probably handle even steeper angles.
Battery and range
This scooter will come with the excellent LG MH1 battery cells, operating at 72 Volts and 32 Ampere-hours, for a total capacity of 2300 Watt-hours.
That kind of battery only means one thing – unbelievable range!
With 120 kilometers on a single charge, this is one of the longest range electric scooters ever made. There are maybe only one or two other scooters capable of this.
User tests confirm this. While riding in more regular modes results in ranges closer to 90 km / 56 mi, riding only in the eco mode will result in ranges to about 115 km / 71 mi at least.
And keep in mind, even the eco mode for this scooter goes as fast as 50 kmh / 31 mph.
The battery takes somewhat more than 20 hours to fully charge, or about 11 hours if both charging ports are used. The scooter still doesn't have a fast charging mode. It will cost you around half a pound to charge the scooter in the UK during off-peak hours, and a bit more during peak hours. In the rest of Europe, the price will depend on the country, but on average it will cost around 40 Euro-cent during off-peak hours, and 60 cents during peak hours.
Offroad and suspension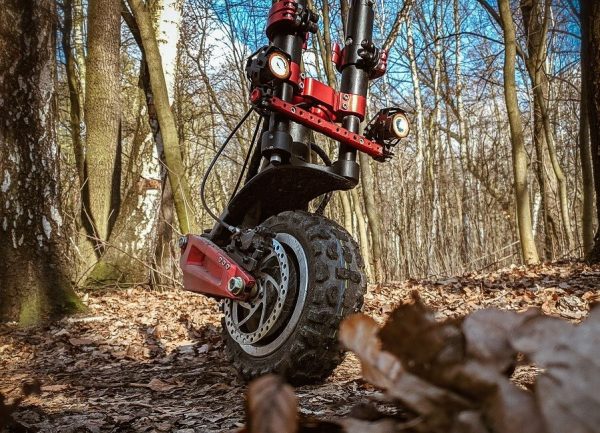 By default, the Techlife X9 comes with standard road tires that provide smooth rides in urban environments.
For about 65 €, you can get the additional offroad, deeply patterned, extra-tough tires, that will make this tank handle literally all kinds of terrains.
Coupled with the adjustable dual spring suspension system on both wheels, and a very high ground-to-deck distance and ground clearance, the result is one of the best offroad electric scooters ever.
Dirt, ground, pavements, cracks, bad streets, grass, trails… the Techlife handles everything you throw at it. It's almost as it was made for bad streets. You barely feel a bump, even when going rather fast. You can even go down some stairs with it!
The scooter comes with a water protection rating of IP35, making it almost waterproof.
Brakes and tires
Naturally, with that kind of power and top speed, the Techlife X9 must have an impeccable braking system.
The dual hydraulic 160 mm disk brakes, from the Zoom line, give this scooter a very short braking distance. Larger disks usually provide more radiating surface, and 160 mm is among the largest ones scooters have these days. The brakes are activated by the brake levers on each handlebar.
You can see the brake cables go from the handlebar, along the stem, down to the wheels. While personally I don't like when cables are sticking out, it is clear that this design choice works perfectly and makes the braking procedure safe, timely, and sensitive.
As mentioned, the scooter comes equipped with the standard road tires, 11 inches in diameter and perfect for fast rides. You can get the offroad tires as an extra if you plan to go offroad, but keep in mind that the standard tires are faster and more efficient.
Lights
The dual SMD LED headlights provide sufficiently strong, focused beams of lights, up to several meters in front even in the darkest hours.
The Techlife X9 also has position lights on the sides, and four rear lights that serve as brake lights.
Weight, dimensions and load capacity
This scooter is extra heavy, weighing 52 kg / 115 lbs. That weight is actually necessary to provide the best stability when riding very fast.
It is 153 cm / 60 in long. That makes it one of the largest electric scooters ever, both in terms of weight and volume.
The scooter has an official weight capacity of 120 kg / 265 lbs. It has a very long, very wide deck, and it can support pretty much every different body type and size.
Gear and accessories
Wearing a helmet is a must when riding this scooter. Given its power and top speed, anything less than a full-face motorcycle helmet like the Shoei RF-SR would be unsafe. You can take a look at my full guide on the best scooter helmets for all the possible options, but, again, I wouldn't recommend a half-helmet for this scooter, and certainly not a bike helmet. Plus, a full-face motorcycle helmet is the only type of helmet that doesn't make you look like a complete dork, and with the Techlife X9, you will have all the justifications you need to wear a proper motorcycle helmet instead of one of those goofy bike helmets.
You should also consider additional safety gear as well, like motorcycle armor and gloves (which will also add you some extra cool points). My guide on the best scooter accessories goes through all of the best safety gear, but also some other useful items that this scooter will fit, like a trunk or a storage bag, for example.
Finally, since the Techlife X9 costs a mini fortune, you will need to make sure you secure it as best as you can when leaving it outside. My guide on the best scooter locks covers all the best options for every budget, but for the Techlife X9, I would recommend going with the most secure lock you can find (the Master Cuff Locks and the Kryptonite New York Fahgettaboudit 14 mm are both some of the strongest locks ever made).
Deficiencies
Well, if any scooter can be considered perfect, this one would certainly qualify.
Some minor additions would be helpful.
The scooter has no rearview mirror, which may be helpful when riding extra fast. Also, a honk would be very helpful as well.
Another issue that some users have complained about has been the rear mudguard. They say it's not doing a good enough job of keeping the mud away when riding at very fast speeds.
Techlife X9 vs Zero 11X
The Techlife X9 and Zero 11X are almost the same scooter.
The Zero 11X targets the US and Asian markets, while the Techlife X9 is meant for the European market.
Besides the slightly different handlebar design, and some other details, there's not much separating these two giants.
There is one possible difference in the specs – the Zero 11X claims to have even more range than the Techlife X9. But that's the only noticeable difference.
Techlife X9 vs Dualtron Thunder
The only real competition for the Techlife X9 is the Dualtron Thunder.
Sure, the Dualtron X2 is even more powerful, but it costs almost twice as much, and it's not even close to being twice as powerful (can you even imagine 200 kmh on an electric scooter?).
Between Dualtron Thunder and Techlife X9, my money is on Techlife X9.
It has a better motor (although not by a lot), with a far greater top speed and climbing angle. The battery of the Techlife is also better.
Plus, you will save a few hundred dollars.
Specifications
Techlife X9 Specifications
| | |
| --- | --- |
| Top speed | 100 kmh |
| Top speed | 62 mph |
| Range | 120 km |
| Range | 75 mi |
| Motors | dual BLDC |
| Power | 3200 W real, 5600 W peak |
| Climb angle | 35 ° |
| Battery | 2300 Wh, 72 V |
| Charging time | 20 h |
| Ingress protection (IP) | IP35 |
| Weight | 52 kg |
| Weight | 115 lbs |
| Weight limit | 120 kg |
| Weight limit | 265 lbs |
| Tire size | 11 in |
| Tire type | pneumatic road (supports offroad too) |
| Foldable | yes |
| Foldable handlebars | no |
| Seat | no (customization possible) |
| Trunk or basket | no (customization possible) |
| Terrains | all |
| Brakes | dual brakes |
| Shock absorbers | front + rear |
| Speed modes | 3 gears, 2 modes |
| Keys | yes |
| Warranty | 24 months (12 months on battery) |
| Folded dimensions (L * W * H) | 153 cm * 33 cm * 42 cm |
| Folded dimensions (L * W * H) | 60 in * 13 in * 17 in |
Verdict
The Techlife X9 is meant for the biggest scooter lovers out there.
It is one of the most powerful scooters ever made, and it is of the highest possible quality. It is obvious that a lot of testing, though, and attention to detail has gone into its creation.
You have probably heeded the warnings already, but it's fair to repeat them one final time – this is a really, really fast scooter! Only get this scooter if you're absolutely certain you want the fastest, best, highest-profile scooter ever.
If you're based in Europe, this is probably as good, as powerful, as mean of a scooter as you can get.
If you are interested, check it out at the Techlife store.
If you you are in the USA or in Asia, take a look at the Zero 11X instead, they are practically the same scooter.
---
Want to get
FREE SCOOTER
tips, exclusive discounts and promotions, and unseen scooter hacks? Join the
Scooter Secrets club
.
---
Liked this article? It really helps if you share it.
Follow @escooternerds on social media for more cool stuff
---