Last Updated on December 7, 2022 by Matt
1000W electric scooters are right in the middle between ordinary scooters, and the ones that start to get a bit too powerful. They will have great top speed and acceleration, a big range on a single charge, great ability to climb hills, and nice, smooth stability of the ride.
Best 1000W electric scooters
These are the best 1000W electric scooters on the market right now.
What is the best 1000W electric scooter?
There are several potential candidates for this crown.
This is a very in-demand power level. That's why many medium to high-end manufacturers have put out models with around 1000 Watts of power.
Depending on your use case and scenario, there will be different best choices for you. These are the best 1000 W electric scooters for every scenario.
VSETT 9+ – best overall
VSETT is a relatively new brand on the scooter scene, but it's an official successor of the Zero line, which means it is not exactly a newcomer, but rather, a continuation of the excellence.
The VSETT 9+ is one of their first scooters that became widely popular.
Able to go 45 mi / 72.4 km on a single charge, with a top speed of 34 mph / 51.5 kmh, it is a very capable scooter. That kind of range makes it one of the longest-range 1000 W electric scooters, and arguably the best 1000 W scooter overall.
Since VSETT is arguably one of the best brands around, all of the scooters in their lineup are great. The VSETT 9+ is one of their more affordable scooters, even though it is priced at $1626.
It still is a very good value for money, you always get a great deal with this brand.
Kugoo G-Booster – best value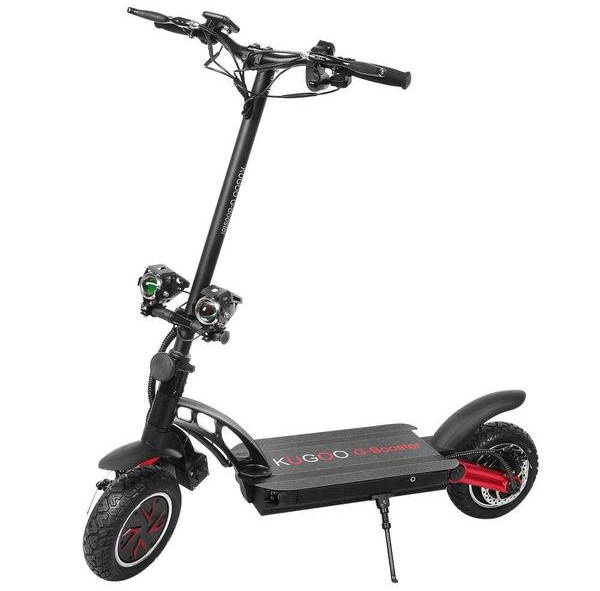 Putting the Kugoo G-Booster on this list may be cheating, since its real motor power level is 1200 Watts. That is the highest on this list.
But it still is very close to the mark.
And the great thing about it is that it is a very remarkable scooter. For just $1095, you get a high-quality, high-performance, water-resistant machine. It can go as fast as a car (and almost as long as one too).
The powerful stats make it an excellent climber. All in all, it's one of the best scooters both around 1000 Watts and the $1000 mark.
Simply an amazing piece of transportation vehicle. Amazing value for money without a doubt. You can see a complete review of the Kugoo G-Booster here.
Zero 10 – fastest
The Zero 10 is a brilliant scooter. Easily one of the best scooters for under $1500.
Priced at $1349, it is a fast scooter able to go as fast as 40 mph / 65 kmh. That makes it the fastest 1000W electric scooter today.
Its range is not the best in the world, but it is still a very decent 30 mi / 48 km. This is a true 1000 Watt scooter, with a peak power of 1600 Watts.
Great climber as well, able to conquer hills as steep as 35 degrees.
Kaabo Mantis – best for climbing hills
We can't really be sure that the Kaabo Mantis has a real motor power of around 1000 Watts. All we know is that it has a peak power of 2000 Watts. Usually, those types of motors have real power levels of around 1000 – 1200 Watts.
In any case, the Kaabo brand has been producing excellent scooters for a while now. The Mantis model is their best medium-powered offering.
Its cost of $2299 might mean we are wrong about its real power level. It is a sign that it might be a lot bigger in fact. Until they release this information, this is all we know.
The Kaabo Mantis is a very strong scooter overall.
Its hill-climbing abilities are where it shines. The motor is powerful enough to handle all hills of up to 35 degrees. Therefore, it will be a great choice if you live in a hilly area. See my full Kaabo Mantis Pro review if you're interested in this scooter.
Inokim OX Hero – best for heavy adults, longest range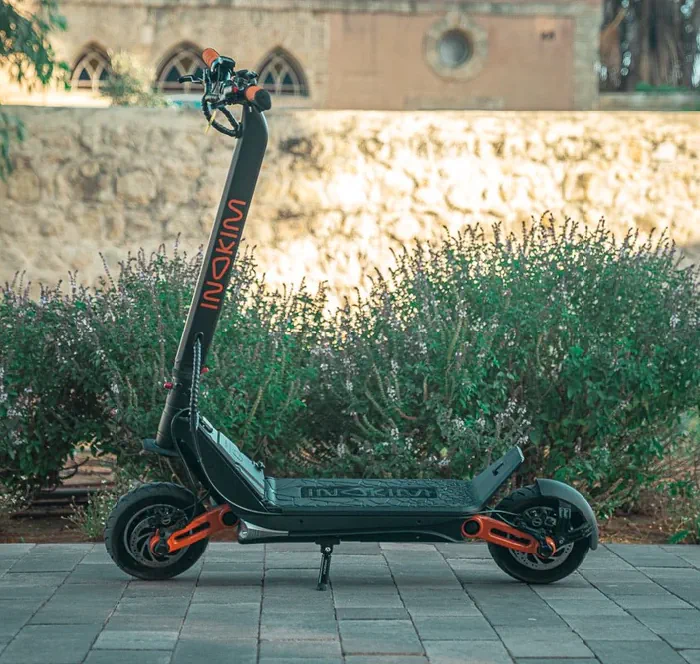 When it comes to electric scooters for heavy adults, Inokim are often one of the best brands, if not the best. Most of their models are well-suited to carry great loads, and the Inokim OX Hero is no exception. That's why it's the best 1000W electric scooter for heavy adults.
It can carry loads of up to 350 lbs / 159 kg on its deck. That's one of the best weight limits for electric scooters in the world.
On top of that, this scooter is an amazing value. For the price of $1399, this scooter provides a top speed of 31 mph / 50 kmh, while being fairly portable for a scooter with this kind of performance.
Mercane Widewheel Pro – best with solid wheels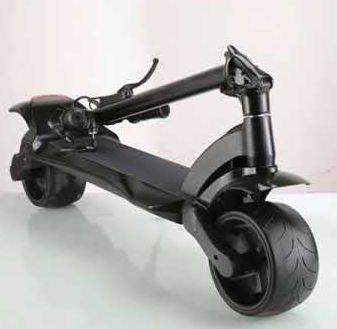 The Mercane Widewheel Pro gets its name because of its trademark solid wide wheels. It makes it great for bad roads and it doesn't suffer from flats.
It is priced at $1149, which makes it great value for money. This scooter has a range of 35 mi / 56 km on a single charge, and a top speed of 26 mi / 42 kmh. Those are more than enough for every possible ride and commute out there.
There are a few weak points. They include its low-ish climb angle of 18 degrees, and an IP rating that is not specified.
Still, coming from one of the most popular brands out there, its strong points are enough to overcome the weak points. Check the full review of the Mercane Widewheel Pro to find out more about this unique scooter.
Apollo Explore – best waterproof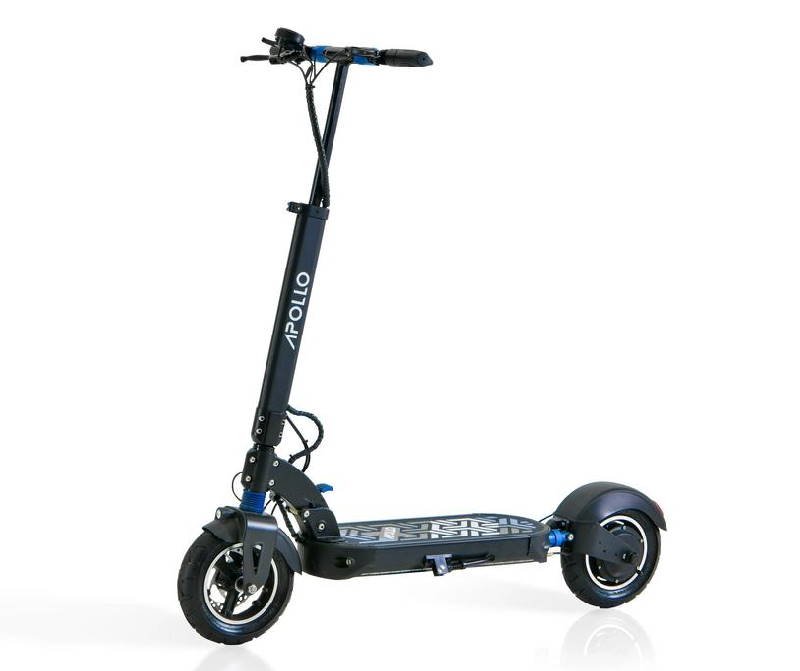 I'm starting to like the Apollo brand more and more lately, as literally every single one of their models are on-point.
The Apollo Explore is a 1000-Watt electric scooter with a waterproof protection rating of IP54. While other 1000-Watt scooters have similar or the same IP standard, none of them come with the same build quality and additional features that further improve water resistance.
This scooter has very strong front and rear disc brakes, high-traction 10-inch pneumatic tires, and is prepared to tackle a lot of different terrains and environments. Simply put, it's a tough, durable scooter.
Its performance is also very solid, a 31 mph / 50 kmh top speed and a range of 34 mi / 55 km is more than enough for pretty much any type of regular scooterist, and perfect for the commuter. See my complete Apollo Explore review to find out more.
Uberscoot 1000W – best budget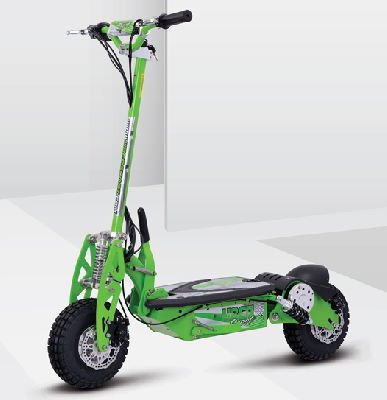 I was hesitant whether to include the UberScoot 1000W on this list. Mostly because it is not entirely clear whether the 1000W label in its name describes its real or peak power.
Given its performance stats, it looks like that is its peak power levels. Its real power level would be somewhere closer to 500 Watts then.
However, given its low price of $479, it is still very performant. It is the cheapest scooter on this list.
Plus, it is a very popular option. Many scooter enthusiasts have made it their scooter of choice.
So if you are on a tighter budget, the UberScoot 1000W is still a great option.
Inokim OX – best high-end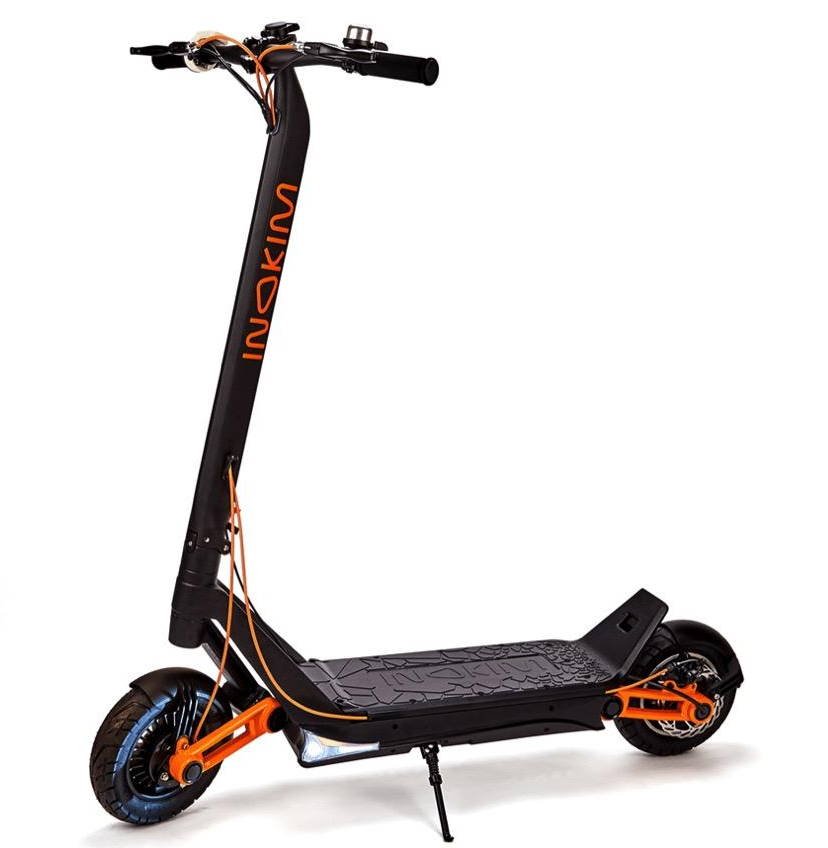 The Inokim brand is one of the best ones out there, especially when it comes to premium, almost luxury models.
The Inokim OX is a costly scooter, priced at $1970. According to its users, it is worth every cent (or penny, as they say over there). The quality and attention to detail in its design are unmatched.
This is a true 1000 Watt scooter. The peak power of 1300 Watts provides it with a top speed of 28 mi / 45 kmh. It has an amazing range of no less than 62 mi / 100 km. That makes it the longest range 1000 W scooter in the world.
If you need to travel great distances with your scooter, there is no better choice on this list than the Inokim OX. Check out my detailed Inokim OX review if you want to find out more.
What to know before buying a 1000W electric scooter
There are a few things you may want to be aware of before buying this type of scooter.
How powerful is a 1000W motor?
A scooter with a motor of 1000 Watts will be able to develop top speeds of 25 mph / 40 kmh or more with ease.
The scooter will usually have a good range, but this will vary a lot.
Some 1000 W electric scooters have a range of 62 mi / 100 km on a single charge, and some have as little as 16. The average will be around 40-50, which is very solid.
A 1000 Watts scooter will be able to climb regular hills without issues.
Some models will struggle with some hills, but they will be in the minority. Expect climbing angles between 15 and 40 degrees. That makes them very good climbers.
How much do 1000W electric scooters cost?
The average price of a 1000W electric scooter is around $1420. The cheapest 1000W electric scooter costs only $478, but the most expensive one costs $2299, so there's a huge variance in this power category.
How fast are 1000W electric scooters?
On average, 1000W electric scooters will have a top speed of around 32 mph / 52 kmh. Their speeds can go from 20 mph / 32 kmh, all the way up to 40 mph / 65 kmh. About half of the scooters in this category will be faster than 31 mph / 50 kmh.
Are 1000W electric scooters safe?
While 1000W scooters can go pretty fast, they are built to handle those speeds well. These scooters usually weigh around 66 lbs / 30 kg and will provide sufficient stability and safety when riding them. Still, it's highly recommended you wear protective gear at all times and not riding too fast.
Who should get a 1000W electric scooter?
1000W scooters can make the perfect next-level scooters. While some models may be beginner-friendly, I believe there are better scooters for first-time owners. However, after you've been bored with the Xiaomis and the Ninebots, it may be the perfect time for you to consider this power category.
Thrill-seekers will also find some of these models very enjoyable. While there are faster scooters than these, some of the 1000W models provide very high top speeds of more than 37 mph / 60 kmh, which should be enough for exciting rides.
Finally, anyone looking for a more powerful, higher-quality scooter, can find great value in this category, without having to get a second mortgage to buy a scooter. You can get excellent performance, low defect rates, amazing speed, range, climb angles, and not pay more than $1500.
Who should not get a 1000W electric scooter?
The 1000W electric scooters are more powerful than what most people would need, and for most casual riders something like a 500W scooter would be a better choice.
Of course, for some people, even the 1000 Watt scooters will not be powerful enough, and they will likely want to check out some 2000W scooters.
However, if you only need a commuter scooter for getting to and from work, or you want to see if you'd like the scooter lifestyle, your better option may be more budget-friendly scooters, which is what I would recommend for beginners.
Summary
Those are all the best 1000W electric scooters and a few other things you should be aware of when thinking of getting one. Here's a table summarizing the best models one more time for reference.
---
---
Liked this article? It really helps if you share it.
Follow @escooternerds on social media for more cool stuff
---