Last Updated on December 7, 2022 by Matt
Most 500W electric scooters are amazing value scooters. They are powerful enough to provide strong performance, but they're not so powerful that they are unusable by the regular commuter.
They offer a great balance between quality and price. That's why we see them as a frequent choice for both novice and more experienced scooterists.
Let's see what makes them great, what are the best use-cases for them, and what exact model you may consider for your scenario.
Best 500W electric scooters
There are quite a few good options when it comes to the 500 Watt electric scooters. Depending on your needs and scenario, some will be a better choice for you than others.
These are the best 500 Watt electric scooters.
1. EMove Cruiser – best 500W scooter overall, longest range, best for heavy adults, truly waterproof
The EMove Cruiser is a true outlier in the 500 Watt category (technically, its real motor power is 600W, but it's close enough to be compared with the other 500W scooters).
It simply ticks too many boxes.
For starters, it has the longest range in this power category, with 62 mi / 100 km on a single charge. That is double, or even triple, than what the other 500W scooters have.
Its 25 mph / 45 kmh top speed is no joke either, and it's only a bit less than the fastest 500W scooter.
With 352 lbs / 160 kg of weight loads, it is the champion for heavy adults, as most of the other 500W scooters only provide 220 lbs / 100 kg of capacity.
Finally, one of its unique characteristics, and the reason why it has seen a massive surge in popularity, is its waterproof capabilities. It is the only electric scooter in the world currently with a proven IPX6 rating, making it the only practically waterproof electric scooter!
All of those amazing feats make it the best 500W electric scooter without a shadow of a doubt. It is the perfect choice for many. You can check a full review of the EMove Cruiser to find out more.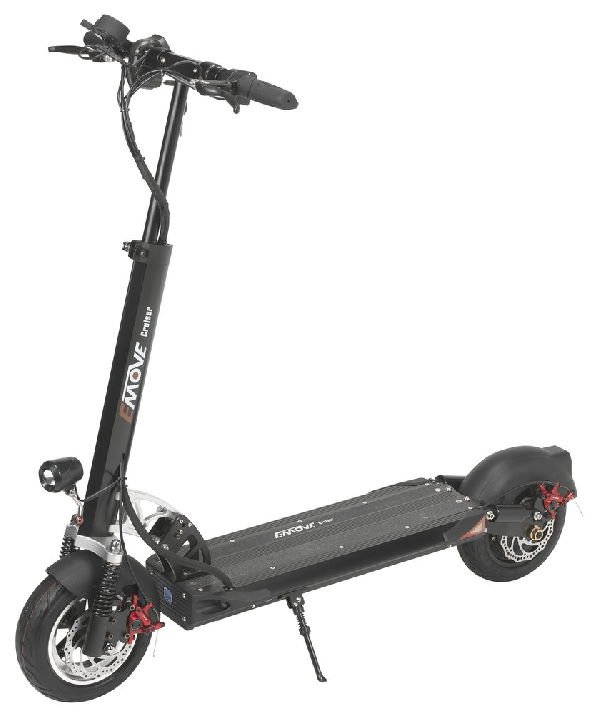 2. Apollo City – best value 500W scooter
The real power of Apollo City is not known. Its peak power is exactly 500 Watts.
It will give you a very strong range of 30 mi / 48 km on a single charge, with top speeds of up to 27 mph / 43 kmh. With a charge time of around 4.5 hours, it is one of the fastest-charging scooters in this category, and even has a solid waterproof rating of IP56.
Given all of that, plus its price being around $1299, it is clearly the best value scooter in the 500W category.
Apollo is building its brand slowly but surely. They provide several great scooters in many categories. Quality is their main focus, and they already have thousands of satisfied users.
Apollo City is their top seller, and it is truly a great scooter. Its growing popularity is only proof of that. You really get a lot for $1299.
Check out my detailed Apollo City review if you're interested in this scooter.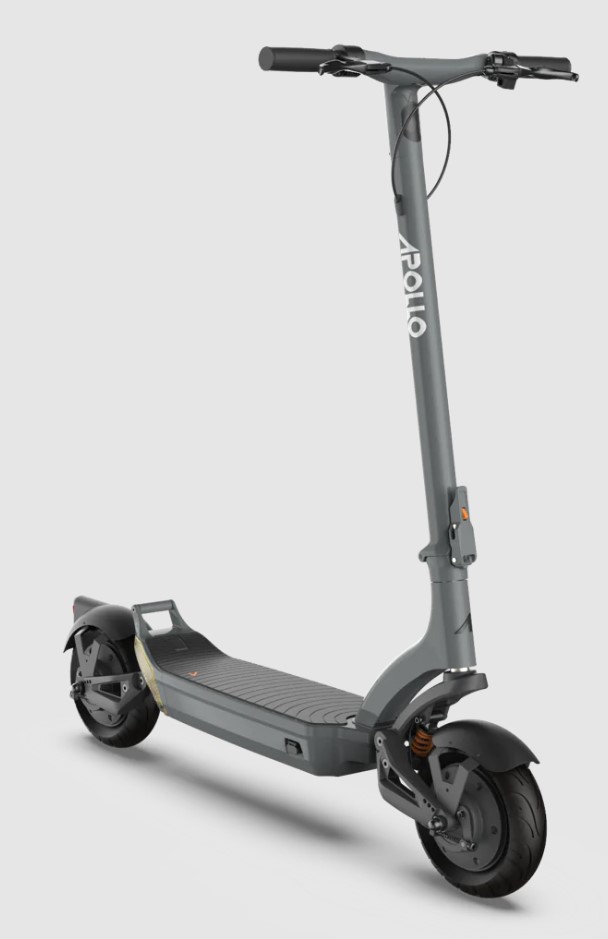 3. Speedway Leger – highest top speed
The Speedway brand is manufactured by Minimotors USA. That is the same manufacturer of the Dualtron series. This means one thing – fast scooters!
Many consider Dualtron to be the best manufacturer in the game currently. We can count on their products to be of the highest quality.
The Speedway Leger is the only 500W scooter capable of reaching speeds of 31 mph / 50 kmh, and is the fastest scooter in this category.
In some regards, the Speedways are the budget version of the Dualtron. It costs $1055, cheaper than any Dualtron model.
The Speedway Leger has a great motor. Its real power is 500 Watts, but its peak power is above 1300 Watts.
That is the highest peak power level from all the scooters here. If you have a need for speed, or you are after as much power as you can get, take a look at the Speedway Leger (you can read the full review here).
4. Zero 8 – best for climbing, best torque
The Zero brand is probably one of the best electric scooter brands today. They have offers for almost every budget and price range in the scooter world.
For the price of $749, the Zero 8 is a real bargain.
With an unmatched climb angle of 30 degrees, the Zero 8 is the best climber in the 500W category. It also has the most torque.
Its peak power is unknown. Since its real power is 500 Watts, we can expect peak power anywhere between 800 and 1200 Watts.
The Zero 8 is a really powerful scooter for its price. Its range is 22 mi / 35 km on a single charge, and the top speed is 28 mph / 45 kmh.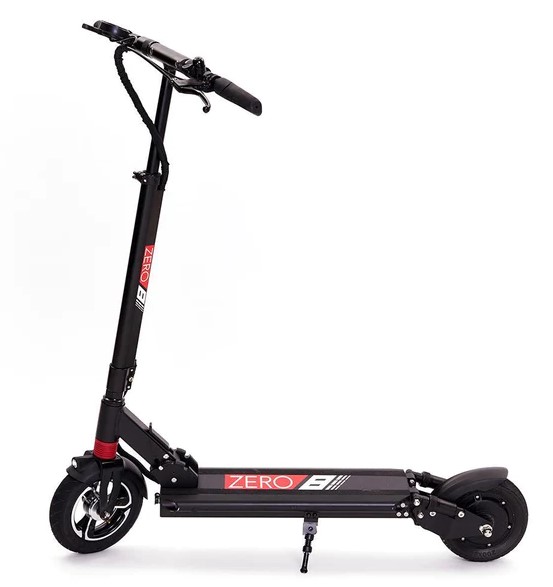 5. Mercane Widewheel Single – best with solid tires
Mercane is gaining recognition as a reputable brand in the electric scooter world. Thus, we get to learn more and more about their scooters.
The Mercane Widewheel is their only 500 Watt option. That's because it is the only model with just one motor. All their other scooters have two.
The signature wide wheels are solid and will never get punctured. If you've had your share of struggles with flats (I'm looking at you Xiaomi!), then the Mercane Widewheel may be your perfect choice. You can also check the full guide on the best electric scooters with solid tires if that's what you're after.
Also, because of the wider wheels, you will get a much better balance.
Its single motor provides an OK range of 20 mi / 32 km, and a somewhat slow top speed of 15 mph / 24 kmh. But this scooter shines is its higher quality and great design. It costs $899.
6. Inokim Quick 3 Super+ – best high-end 500W electric scooter
Inokim doesn't build the fastest scooters, and its scooters don't have the most range, most powerful motors, or the highest torque.
That's because the brand's focus is on quality. Every Inokim scooter is well designed and manufactured for perfection.
For the specs and performances it offers, the Inokim Quick 3 Super+ will seem like an expensive scooter. However, you will get a scooter that will serve you for years, will not break down, you will not hear a squeak or a peep or a bang. That is why Inokim scooters are an investment. This model costs $1440.
Read the full review of the Inokim Quick 3 Super+ to learn more about this scooter.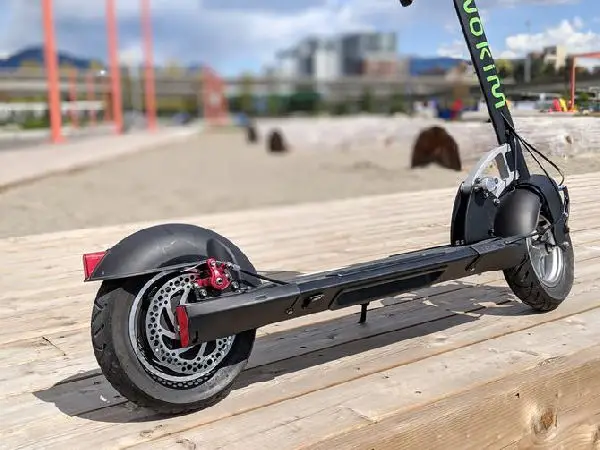 7. Hover 1 Alpha – best 500W budget electric scooter
If you are looking for a budget 500W scooter, the Hover 1 Alpha will be your best option without a doubt.
The top speed of 18 mph / 29 kmh and the range of 12 mi / 19 km are not the biggest ones out there.
But nothing can beat its price of only $379. Getting a 500 Watt motor for that price is a true bargain.
What I don't like about this scooter is that there are some obvious factory flaws upon delivery, like a wobbly stem, missing parts, or dead-on-arrival events, but that's to be expected from such an affordable product. At least it's good to see that the brand is open to feedback and is addressing all these problems, while providing very good customer support as well.
How powerful are 500W electric scooters?
A scooter with a real motor power of 500 Watts will be powerful enough for any type of medium commute.
500W electric scooters typically have top speeds between 18-31 mph / 30-50 kmh (average is 23.6 mph / 38 kmh). Their ranges are around 25 mi / 40 km, and they have strong climbing capabilities and torque. Their motors will have real power of around 500W, but their peak power can be much more than 1000W.
Most of the normal hills you encounter will not be a problem. Some models may struggle with the steepest hills, but they will certainly outperform budget scooters.
How fast are 500W electric scooters?
On average, 500W electric scooters will have a top speed of 24 mph / 38 kmh. The fastest of them is the Speedway Leger, and it can reach speeds of 31 mph / 50 kmh. The slowest 500 W electric scooter is the Mercane Widewheel Single, and it has a top speed of 15 mph / 24 kmh.
How much do 500W electric scooters weigh?
500W electric scooters will still provide good portability, weighing 42.7 lbs / 19.4 kg on average. Most of the scooters weigh between 37 and 42 lbs / 17 and 19 kg. The heaviest 500W model is the X-Treme City Rider with 73 lbs / 33 kg, and the lightest one is the Voltion SX2, weighing just 28.4 lbs / 12.9 kg.
How much do 500W electric scooters cost?
The average price of 500W electric scooters is $988. The most expensive 500W electric scooter is the Inokim Quick 3 Super+ and it costs $1440, while the cheapest one is the X-Treme City Rider and it costs just $489.
What is the best 500W electric scooter?
EMove Cruiser is the best 500W electric scooter today. It holds many records in this category, including longest range (62 mi / 100 km), great torque and peak motor power (1600 W), biggest weight capacity (350 lbs / 160 kg), and is the only truly waterproof scooter in the world, with an IP67 rating.
Who should get a 500W electric scooter?
An electric scooter with a motor power of around 500 Watts is perfect for anyone looking for great quality on a limited budget. Scooters in this category will meet your needs, while getting you as much bang for buck as possible.
They are perfect for:
students with short or medium commutes from their schools
young professionals that need a last-mile solution
anyone who just needs a vehicle for their entire trip to work
anyone looking to save money on transport in the long run
As these models are not that heavy (usually weighing around 37-42 lbs / 17-19 kg), they will be still fairly portable and good for anyone that needs an easily carryable scooter.
What to know before buying a 500W electric scooter?
You should be aware of a few things if you're considering buying a 500W electric scooter.
Value
These scooters are not the most expensive ones by far, but they are not exactly cheap neither. With the exception of one model, all of them cost at least $750, and their average price is around $1000.
If your budget can't handle that, you can still find great scooters that are less powerful but also less expensive.
But still, keep in mind that this power level is probably the starting point for higher-end, more powerful scooters. Less powerful scooters will already have lesser performances, and they may not be enough for certain scenarios, like for heavier adults, or people living in areas with lots of hills.
All in all, if you want to save a few dollars, you can find decent choices with less power and for less money, but the 500W scooters are true value, and usually very much worth the upgrade over the common budget scooters.
Performance
500 Watts may seem like a lot, but it's really only the start. There are many scooters that are much more powerful than these, and will provide higher speeds, more range, better torque and climbing, and bigger load capacities. I suggest taking a look at the 1000 W scooters or the 2000 W scooters if you need some of those features.
When to not get a 500W electric scooter?
Since they are right in the middle between price and performance, there are a few scenarios where there will probably be better choices than a 500W scooter.
These scooters have top speeds of around 25 mph / 40 kmh, and sometimes more. For some people, that may be too much (it's around the limit for me personally). If you want a more casual scooter, you will be better off looking at budget scooters.
Another group of scooterists that will not find a 500W model suitable are probably electric scooter veterans or speed demons. If you want the fastest scooters, you will have to look at models capable of developing more than 40 km/h.
Are 500W electric scooters legal?
Most countries will not legally put a limit on motor power, so 500 Watt scooters will be perfectly fine. However, in some countries, the motor power will be required to be below certain Wattage by law, and these scooters may not be road-legal.
Further, in some countries, scooters not only have a speed limit of 15 mph / 25 kmh or less, but they should also not be capable of developing higher speeds. Luckily, these countries are not that many.
You can check the complete scooter legal guide to find out if a 500 W scooter is road-legal in your country.
Summary
We saw all the best 500 Watt electric scooters available today, and the following table summarizes them for reference.
---
---
Liked this article? It really helps if you share it.
Follow @escooternerds on social media for more cool stuff
---