Last Updated on May 17, 2023 by Matt
It is a good idea to look at the most popular electric scooters if you want to get one but you don't know much about scooters.
The market is almost always right. A scooter that has sold millions of units must have something behind it, something that draws masses of people to keep buying it and recommending it.
This case study contains data from the biggest, most popular online electric scooter stores, both publicly available and one obtained by cooperating with some of them.
The research will provide you with the answer to the question of which electric scooters are the true best-sellers, trusted and loved by the public the most.
Some of them will surprise you. Many of them will be budget options, as that's what most of us need, but some will be surprisingly expensive.
Xiaomi M365
The Xiaomi M365 is very likely the most popular electric scooter of all time.
Between the hundreds of thousands of units sold through the biggest online shops like Amazon, Target, Walmart, and AliExpress, the vast numbers of rental scooters in the fleets of Bird and Lime, and who knows how many sold in brick-and-mortar shops, it is the most well-known, best-selling electric scooter ever.
And it's no wonder. It is a great budget scooter, with the quality, specifications, and performances of a scooter twice its price. If you're curious about this classic model, check out my detailed Xiaomi M365 review.
Xiaomi M365 Pro
The successor to the most popular scooter ever, the Xiaomi M365 Pro addresses many of the faults and imperfections of the original model.
The updated version comes with drastically improved range, better battery and motor power, and improvements around the tires, which were the number one complaint about the original model.
I personally own this scooter, and I have nothing but great things to say about it.
You can check out my full review here.
Ninebot ES 2 / Ninebot ES 4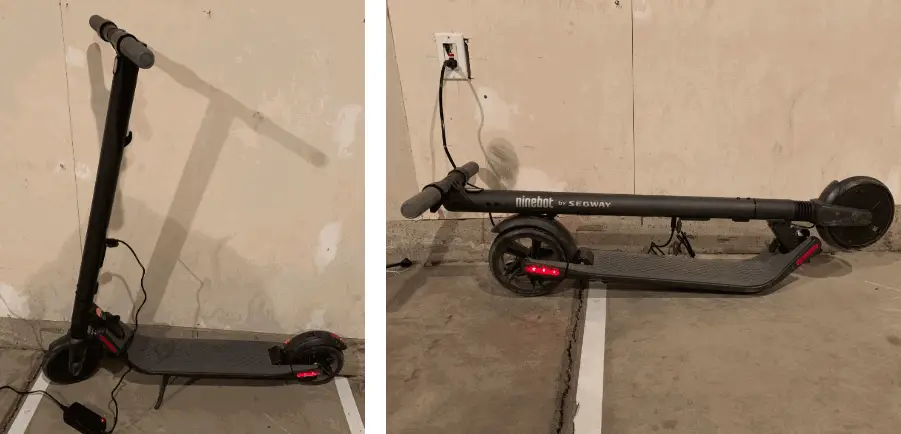 Probably the biggest contender for the title, and the biggest challenger to the Xiaomi dominance, would be the Ninebot ES series.
It is entirely possible that this scooter line may be even more popular than the Xiaomi line, since the Xiaomi M365 Pro has been absent from the US market for a long time.
On top of that, the Ninebot ES series shines exactly where the Xiaomis fall short – flat tires. Ninebot ES 2 and ES 4 models are immune to them, since they come with solid tires.
The other part of the Ninebot ES family includes the ES 1 and ES 3 models. They are not as popular, since the ES 1 was the first and least performing model, and the ES 3 was basically just the ES 2 + the extra battery, and in many ways was just the transition model between the ES 2 and the ES 4.
You can see reviews of both the Ninebot ES2 and Ninebot ES4 to find out more.
The Ninebot ES 4 is available on Amazon.
Ninebot Max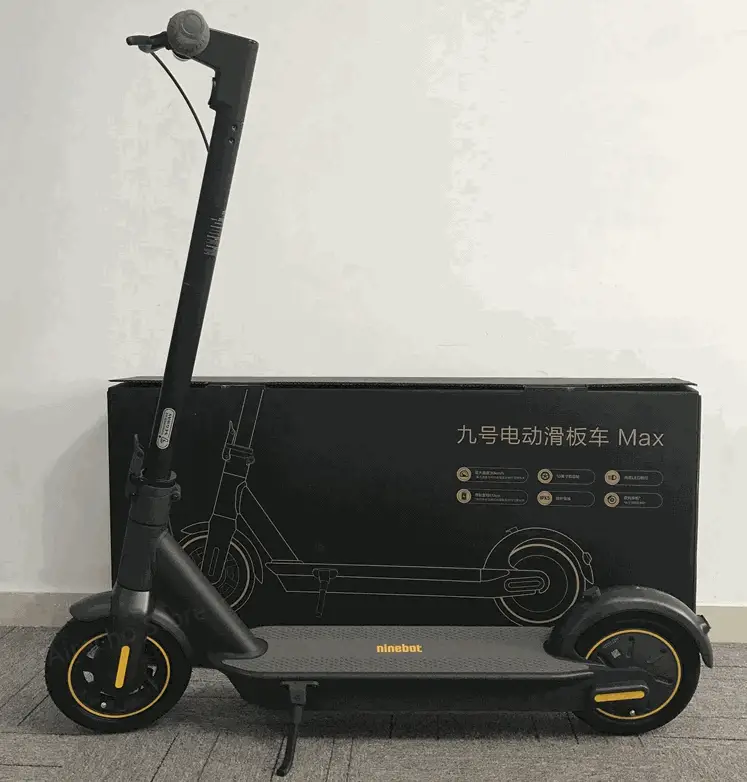 While the Ninebot Max is not part of the ES series, it feels like it has learned a lot of the lessons from that line. In a way, it is the final, ultimate iteration in the Ninebot line.
And the market verifies that – it is already the best-selling, most well-accepted Ninebot model.
With a massive range and great motor power for a scooter in the almost budget category, it's no wonder. It has been one of the favorite commuting scooters ever made. You can read the full review of the Ninebot Max to see why.
Kugoo S1 Pro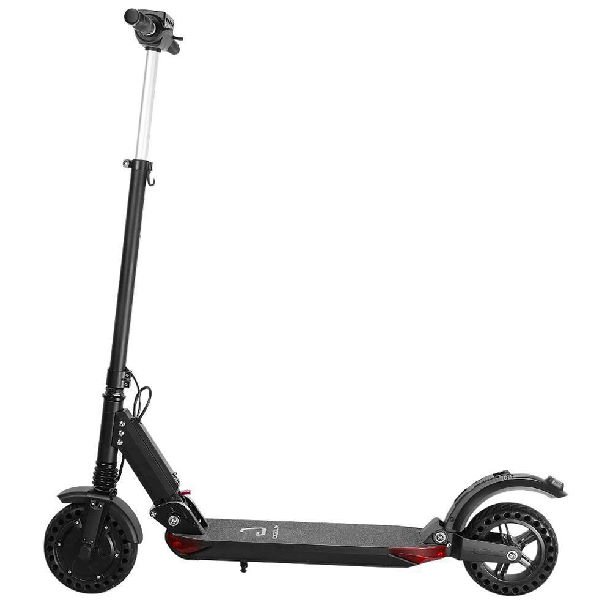 Many of you may hear about this scooter for the first time. This may be especially true if you live in the US.
But this scooter has been gaining some serious momentum. It is a truly affordable, great performing scooter, coming from the large family of Kugoo models. It is especially popular in Europe, where it originates from.
There are many Kugoo models, both from the S series, the M series, and the Kirin series. They are built for various needs and come with great feature sets.
The Kugoo S1 Pro has managed to become the best-selling model from this brand, likely selling at least 50.000 units in Europe.
For a price of $349, this budget option will provide you with all the features and performances you may ever need for your daily commutes or pleasure rides. You can read a full review of the Kugoo S1 Pro to see why this scooter has exploded in popularity.
Glion Dolly
Note: it is very likely that the Glion Dolly is discontinued at this time, and is no longer available in online stores. I recommend the Hiboy Max as a similar scooter and a great alternative to the Glion Dolly.
No surprises here, right?
The reason why the Glion Dolly has been so successful and sold as many units, is because it has consistently proven to be one of the most reliable, most long-lasting electric scooters for years now.
It will come with decent performances, although nothing out of the ordinary. You will not be winning drag races with this scooter.
But you can be sure that it will last you for years, without many defects or problems.
And that's exactly why the market has responded to it the way it has. Check out the full review of the Glion Dolly if you are interested.
Razor E300
Razor is definitely one of the top 5 most well-known and trusted names in the electric scooter world.
The Razor E series has had a lot of home runs.
The Razor Power Core E90 is the most popular electric scooter for kids ever made.
And Razor kind of makes scooters with smaller weight capacities, targeted mostly at either older kids, teens, or adults that don't weigh much.
But they do have a great presence in that market.
The Razor E300 is their most popular choice for adults. It is one of the cheapest electric scooters for adults ever made.
While some of its specs will reflect the lower price, the quality will be surprisingly good. Read the complete review of the Razor E300 to find out more.
Razor EcoSmart
This iconic scooter is the most well-known seat and trunk electric scooter ever.
For some unknown reason to me, not that many brands and manufacturers provide the option for you to install a seat and a trunk on their scooters. It may be a bit harder to design and pull off, but I believe it would be of great use, especially to real-world adults that do lots of commuting, shopping, have back or leg pains, or all three.
This true adult scooter has sold in massive numbers, and owners love its practicality and how it makes their lives easier. See my detailed Razor EcoSmart review if you want to find out more.
GoTrax GXL Commuter V1 / V2
The GoTrax GXL Commuter 1, and its updated V2 version, have sold probably millions of units worldwide.
Veteran scooter experts will not be surprised in the least – this budget option surpasses every expectation you might have from a cheap scooter.
A top speed of 15 mph / 25 kmh, a range of 12 mi / 19 km, but only weighing 26 lbs / 12 kilograms, this scooter is the best when it comes to short to medium commutes and last-mile transport scenarios, which is what most of us need.
It also has one of the best waterproof capabilities, with an IP rating of IP54. Very rare for a scooter usually costing under $250. You can find out more in the complete reviews of the GoTrax GXL Commuter and the GoTrax GXL V2 Commuter.
Swagtron Swagger 5 / Elite
While the Swagtron brand, and the entire Swagger series, are quite popular, the Swagtron Swagger 5 Elite model stands out. It has been their best-selling, most popular scooter, and budget users all over the world haven't regretted making it their choice.
This is a truly great scooter, that combines a few specialties in a very affordable package, in a way that way more expensive scooters fail to achieve.
It is water-resistant with an IPX4 rating, has a 20 degrees climb angle, and can carry up to 320 lbs / 145 kilograms of load on its deck. Almost unheard of for a scooter that usually costs under $350.
You can find the Swagtron Swagger 5 on Amazon.
Hiboy Max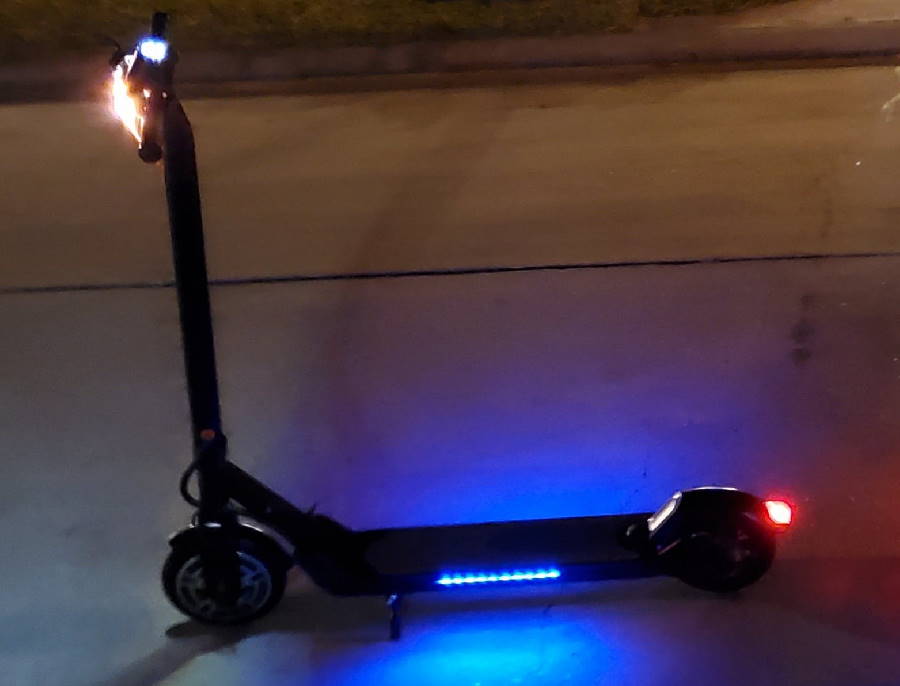 Sometimes I meet scooter enthusiasts that have never heard of the Hiboy Max, and that surprises me a lot.
This scooter is one of those rare models that are very affordable, extremely popular, and selling tons of units, and all of that while still keeping a very high rating.
For a scooter selling that much, such a low number of complaints, defect reports, and one-star reviews is a true achievement.
Besides the high quality, the performances of the Hiboy are very strong for a budget scooter, with a top speed of 18.6 mph / 30 kmh, and a range of 17 mi / 27 km. See the detailed Hiboy Max review to find out more.
Turbowheel Dart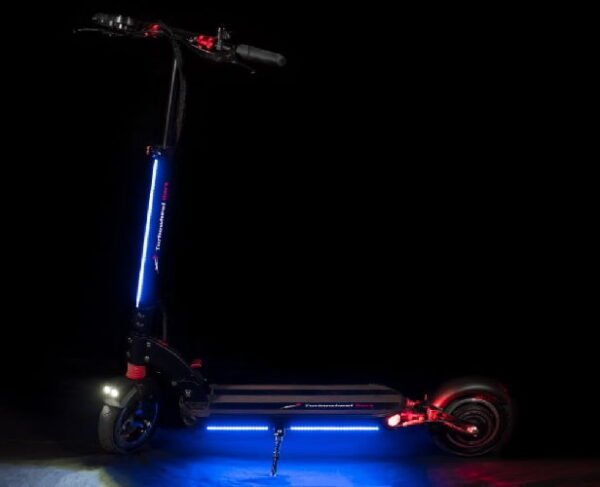 Lately, the Turbowheel Dart has become one of my favorite scooters.
The great build and quality, together with specs you get for that price are almost incredible. It is almost like a high-end scooter, priced as a medium one.
Top speed of 28 mph / 45 kmh, range of 30 mi / 48 km, a 600 Watt motor, a 15-degree climb angle, are only some of the goodies you will get from this scooter.
For under $1000, you will be able to get this mini-beast from the EWheels store.
Turbowheel Swift
Turbowheel Dart's younger brother, the Turbowheel Swift, is Turbowheel's response to the Xiaomi M365 and the Ninebot ES2. It has been carving out its territory for years now, and it has already sold thousands of units to satisfied customers globally.
For the price of around $875, you can find this scooter at the EWheels store.
Turbowheel Lightning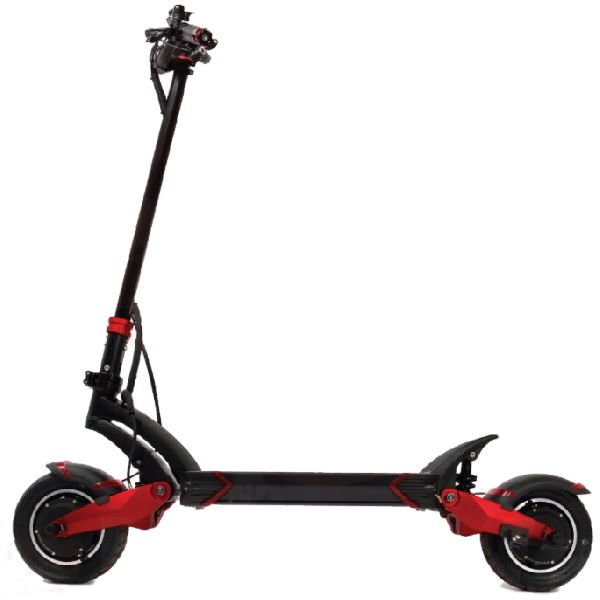 The big poppa of the Turbowheel series, this is one of the most powerful scooters that is still massively popular.
It is on the more expensive side, costing around $1690. But its price is more than justified – 40 mph / 65 kmh top speed, 45 mi / 72 km of range, and a monster 3600 Watt peak power dual motor.
It is especially great for heavier adults, able to carry up to 330 lbs / 150 kilograms.
As with all Turbowheel models, the best place to get it from for the best price and support, is the EWheels store, or you can see my Turbowheel Lightning / Lightning+ review.
FFR Horizon
The Horizon is one of the most popular affordable commuters today, offering great quality, and tried-and-tested performance, for a very reasonable price of around $750.
This classic model has a very nice top speed of 25 mph / 40 kmh, coupled with 25 mi / 40 km of range on a single charge. A great all-rounder, great value for many.
No wonder it is one of the most popular commuters ever.
Mercane Widewheel / Mercane Widewheel Pro
There is no quite other scooter series as the Widewheel.
The signature solid, wide yet not very tall wheels, make this tough scooter look like Batman's bike.
The community has responded very well to this model, and it has become one of the most intriguing, most widely used scooters in the middle price range. If you want to find out more, check the review of the Mercane Widewheel Pro.
Kaabo Wolf Warrior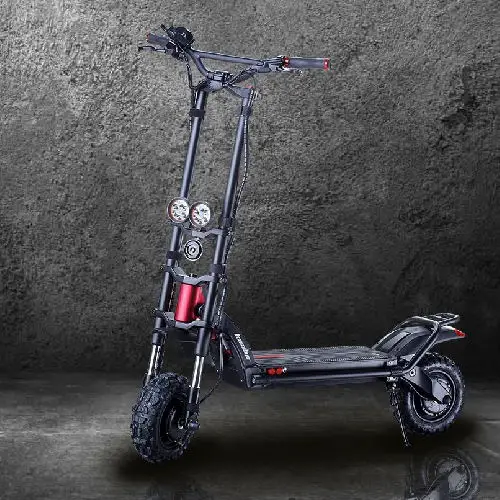 The Kaabo Wolf Warrior is the most popular power scooters of our day. It was one of the first offroad scooters, and it's still one of the best offroad scooters ever made, without a doubt.
Its top speed of 50 mph / 80 kmh, and its range of 70 mi / 112 km, are a proof of that. Besides being the most powerful popular scooter, it is also one of the most powerful scooters, period.
There are not that many expensive scooters that are popular, but this scooter is an exception. It is usually priced at around $3195. You can find out more in my full Kaabo Wolf Warrior review.
Kaabo Mantis
Another very well-received scooter by Kaabo.
The Kaabo Wolf Warrior's kid brother, the Kaabo Mantis, is a lighter, more portable version of the power scooter, that specializes in climbing.
While its performances are also amazing, at 39 mph / 63 kmh top speeds and a 29 mi / 47 km range, where this popular scooter shines is its climbing angle, which is 35 degrees. That clearly makes it the best climber of all the popular scooters, and a great choice for a power scooter in general. See my full review of the Kaabo Mantis Pro if you're interested in this scooter.
Levy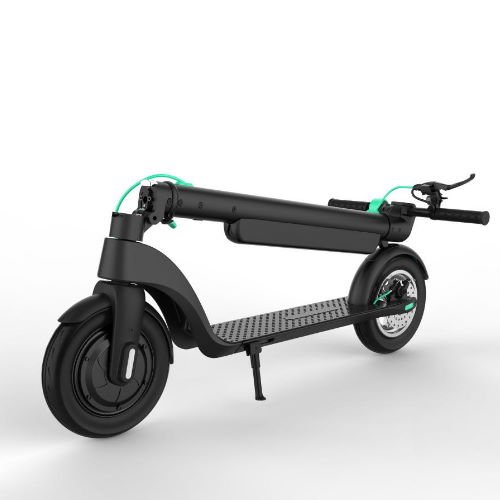 Levy may not yet be as popular as some of the other scooters on this list, but it is surely getting there.
Coming from the Levy Electric brand, it is a very strong budget option with some unique design and features. They are the only scooter right now that comes with a removable battery, which can be very useful if you're leaving or storing your scooter somewhere.
The Levy brand offers two models at the moment – the Levy standard model, and the Levy Plus. While Levy Plus is better value for money in my opinion, the standard model is more popular and has sold more units.
For a price of $499, the Levy standard model will come with a top speed of 18.6 mph / 30 kmh, a range of 15 mi / 24 km, an IP54 water protection standard, while only weighing 22 lbs / 10 kg. Very good balance of features.
Macwheel MX1 / MX2 / MX3 / MX Pro
The Macwheel line is a very popular, established line of budget electric scoters. Sold in many big online retail stores, but through their own dedicated store as well, they have probably sold dozens of thousands of units.
Their models come at a very competitive price, while still offering great value for the money you pay. Check out the Maxwheel MX Pro review to learn more.
---
---
Liked this article? It really helps if you share it.
Follow @escooternerds on social media for more cool stuff
---