Last Updated on May 17, 2023 by Matt
The GoTrax Gmax Ultra is one of the longest-range scooters in its price bracket. In many ways, it would be the one to dethrone the current long-range champion priced below $1000 – the Ninebot Max.
Read on to find out all of the features and performance details, as well as the pros and cons of this scooter, and to see how it fares aginst its strongest competitors.
GoTrax GMax Ultra Review
The GoTrax GMax Ultra is a light, portable, long-range scooter designed for long rides under city lights. With a top speed of 20 mph / 32 kmh, and an excellent range of 45 mi / 72 km, this scooter can provide a safe, yet lengthy ride to anyone looking to use their scooter as much and as cautiously as they can. It also comes with dual brakes, a bright headlight, air-filled tires, and rubber gripped deck that keeps your feet in place. Rides will be seamless, filled with thrill and joy, as this scooter has one of the most intuitive cockpits coupled with wide rubber-covered handlebars for easy handling.
Should you buy the GoTrax GMax Ultra?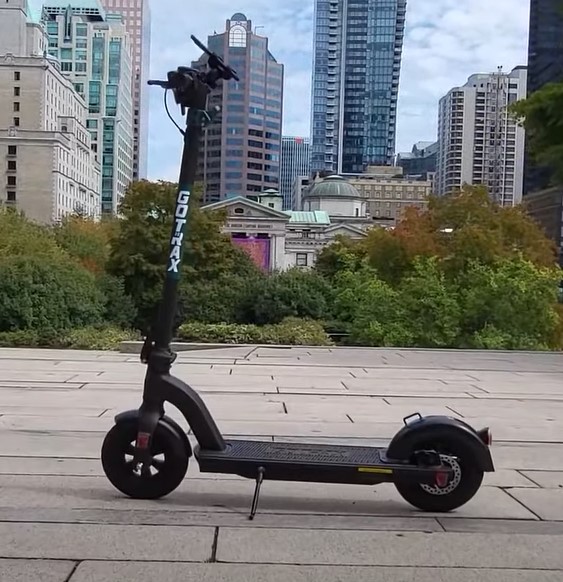 Do you live in a busy city and commute a dozen miles from home to work and back every single day? Oh, how good would it feel to have a reliable and cost-effective scooter to take you to your office every day without having to recharge it every two hours.
Well, long no more, I believe we've found the perfect solution for the daily urban-life commuter – the GoTrax GMax Ultra.
Released as an upgraded version of its predecessor, the GoTrax GMax, this "Ultra" model comes with a larger battery, a built-in lock, a quick one-step folding system, and a fine, elegant look. Range, security, portability, and style – all in one.
With a battery that could very well last a whole day or two, the GoTrax GMax Ultra is perfect for people that want to use their scooter for every commute throughout the day. Even if you do manage to drain the battery faster than anticipated, its quick charging time will always make your life easier.
Buying
You can purchase the GoTrax GMax Ultra through the official GoTrax store and Amazon. These are the best options for two main reasons: both sites provide free shipping for their orders, and both are a direct link to the GoTrax brand for support and assistance, in case something goes south.
The scooter will cost you around $849 – $899, depending on the time and place of order. The GoTrax web store has the cheapest offer, but the downside is that they only ship inside the continental US.
If you want more shipping options or are an Amazon Prime user, then I suggest checking the purchasing options on Amazon as well.
Also, during the holiday season, I recommend the GoTrax store as the better option, as they offer discounts (you can get $100 off currently by using the coupon code BlackFriday).
Ordering and shipping
If you order from the US., you can get the GoTrax GMax Ultra with free shipping both from the brand's official web store and through Amazon.
The scooter will be delivered to your doorstep in up to a week after placing the order. Orders placed during holidays might take an extra couple of days to arrive.
Warranty and return policy
The GoTrax GMax Ultra scooter comes with a standard 1-year warranty that covers damages on the frame and other non-electronic parts. All electronic parts, like the battery, brakes, and throttle, come with a 180-day warranty instead.
Components that can be subjected to wear have a warranty of 90 days, thanks to their exposable nature, but this only includes minor parts like handlebar grips and rubber covers.
The return policy will vary based on the place of purchase. The official GoTrax web store provides a 14-day free return period, applied from the day of delivery. Amazon, on the other hand, provides a full refund in the first 30 days after the order is completed.
Basics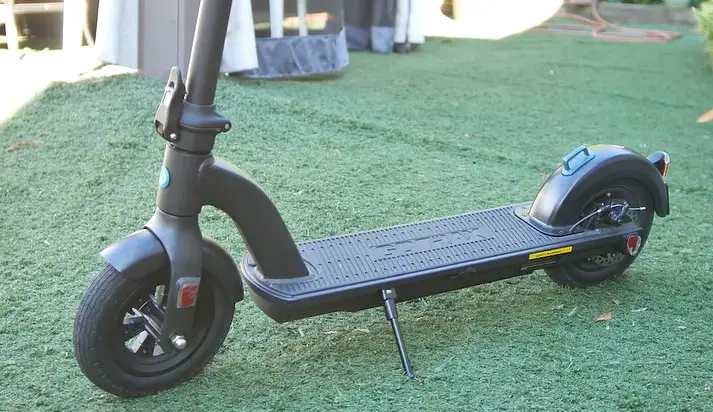 Safety, convenience, and long battery life are the main selling points of the GoTrax GMax Ultra scooter. It comes with all the standard features you can find on scooters in this price range but with a much higher range than the industry's average, and a built-in combination lock integrated into the stem.
Unpacking
The scooter ships folded and semi-assembled in a cardboard box. Inside the box you will also find:
4 screws
3mm Allen Wrench
Charging unit
Tire pump extender
Once you remove all contents from the box, it's time to assemble the scooter. First, you'll need to unfold the stem and press the folding lever to lock it.
Proceed with inserting the hanging cable inside the stem, so it's not exposed, and securing it to the steering wheel. Use the wrench tool and extra screws provided in the box for this step.
Once this is all done, it's time to charge the scooter. You will find the charging port on the right side of the deck, covered by a rubber cover. The charger will have a red light while it's charging, and a green light once the battery is full. Watch out so you don't overcharge and overheat the battery.
Check one more time whether everything is tight and secure, check the tires as well, and you are finally ready to go and test out the scooter.
Folding and unfolding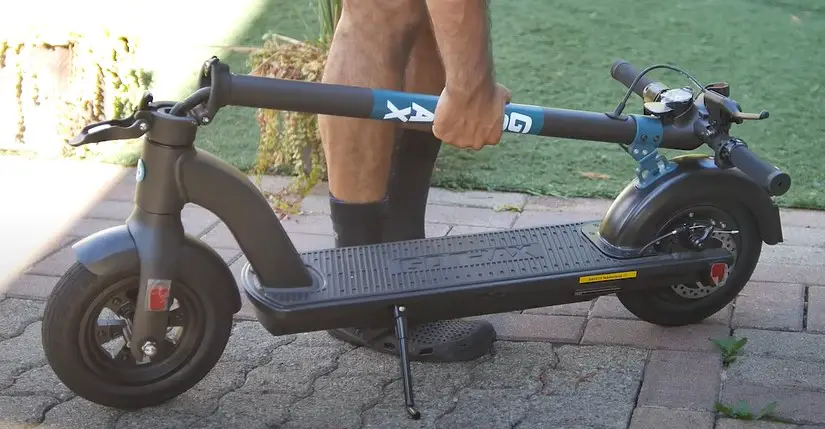 Just like most budget and mid-range priced electric scooters released in the past couple of years, this one too uses a simple one-step folding system.
The scooter folds only at the stem and uses a latch clamp mechanism to fold the whole bar onto the deck. The latch can be handled even with one hand, so the whole folding process is quick and easy.
Intended use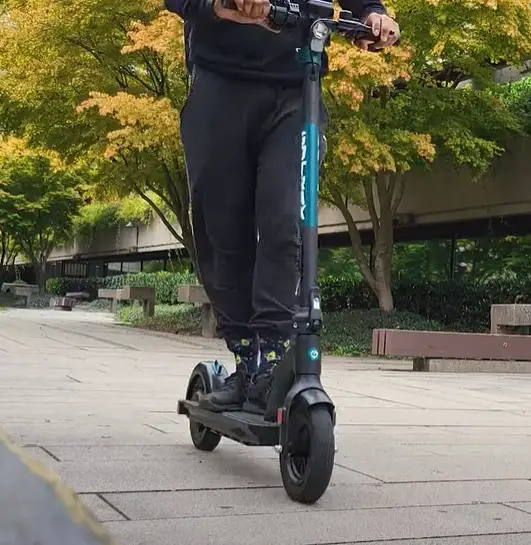 Even though it deserves the nickname "Ultra", this version of the GoTrax GMax series is still only a light commuter designed for urban use. While its craftsmanship is strong and durable, you will notice that the scooter still lacks some features necessary for any tougher rides.
The scooter lacks a proper suspension and has fairly narrow tires which will quickly succumb to the pressure of off-road rides. Its use should be strictly urban, and should only be ridden on streets, paved roads, and bike lanes.
Build quality
GoTrax GMax Ultra's frame quality is quite sturdy when compared to other similar mid-range commuters. This shouldn't really come as a surprise, as the scooter does cost a decent amount of money, but is a nice assurance that you've bought a fine product from the moment you open the box.
The scooter is pretty much a standard urban commuter, and it provides a smooth and steady ride. It can handle occasional curb jumps very well, and shows no signs of wobbly parts even after months of usage.
Design and colors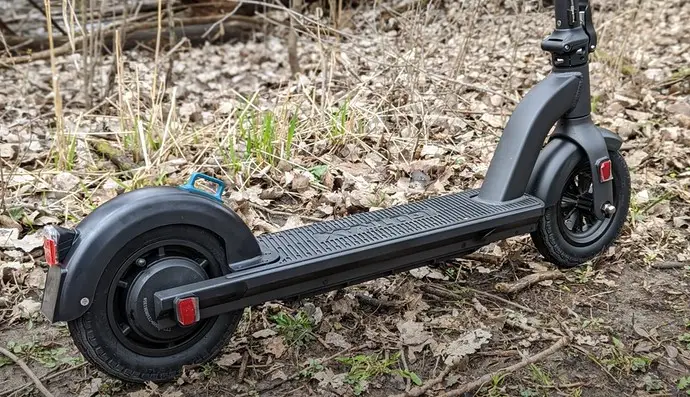 The GoTrax GMax Ultra comes only in one, gunmetal gray color design, with everything – from its steering wheel down to the rear bender – colored in the same darkish metallic tone. The only detail standing out from this almost monochromatic design is the pink-and-white GoTrax logo placed on the stem bar, right below the cockpit.
When viewed from the side, the scooter glows in an intensely sleek and elegant outlook. This is mainly thanks to the deep metallic color and the clean, simple design that comes without any flashing details, miscellaneous pieces, or hanging wires. Everything is put in its own place or neatly tucked into the frame.
Materials
Aluminum alloy A6061 is the main material comprising the frame of the GoTrax Gmax Ultra scooter. It is an alloy that's lately been used for many high-end scooters, mainly due to its strength and corrosion resistance.
The biggest upside of this material is that it's almost completely resistant to atmospheric corrosion during the winter period, so you can safely store the scooter in your basement or in the garage when it's cold. When spring comes, the frame of the scooter will be as good as new.
Performance
When compared to some of the best electric scooters under $1000 available right now, the GoTrax Gmax Ultra has some of the highest performance levels, especially looking at its battery and range.
Speed and acceleration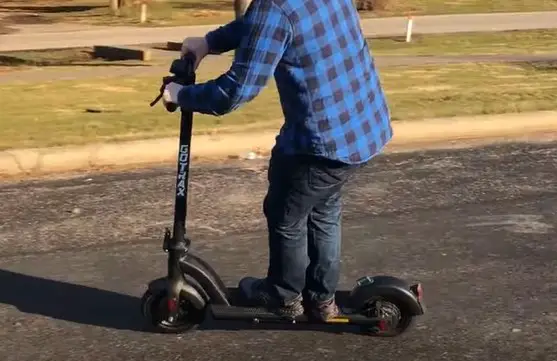 Officially, the GoTrax Gmax Ultra has a top speed of 20 mph / 32 kmh. This is on par with most of the mid-range priced scooters and is largely accepted as the industry standard for urban commuters. Even if you want to, it's hard to ride above this threshold on busy streets crowded with traffic.
It takes around 5 seconds for the scooter to reach the 15 mph / 25 kmh mark, and a couple of seconds more for it to reach its top speed. It's a great level of acceleration with an insanely responsive throttle, something you will notice the moment you hop on the scooter.
You can further control the riding speed by switching between the two gears the scooter has to offer:
first gear – limits it up to 15.5 mph / 25 kmh
second gear – lets the scooter run at full speed
Motor, power, and climbing
The GoTrax Gmax Ultra is powered by a single 350W motor placed at the rear wheel.
While a rear motor is a great feature for acceleration and power, its drawback is a much lower climbing angle. The scooter can still handle minor inclines found throughout the city, albeit with a significantly lower speed, but will have to be pushed on steep streets and long steep ramps.
The motor requires a kick to start the ride and uses a standard thumb throttle to accelerate once it gets going. Holding the throttle for longer than 7 seconds activates the cruise control, letting you ride without holding the button all of the time.
Weight limit and usage by heavy adults
The GoTrax Gmax Ultra can handle a load of up to 220 lbs / 100 kg, as do most scooters today.
It is advised to never exceed this limit as it will impact its performance and riding power. Exceeding the weight limit by a significant amount may also damage or break some of the parts.
Batteries and charging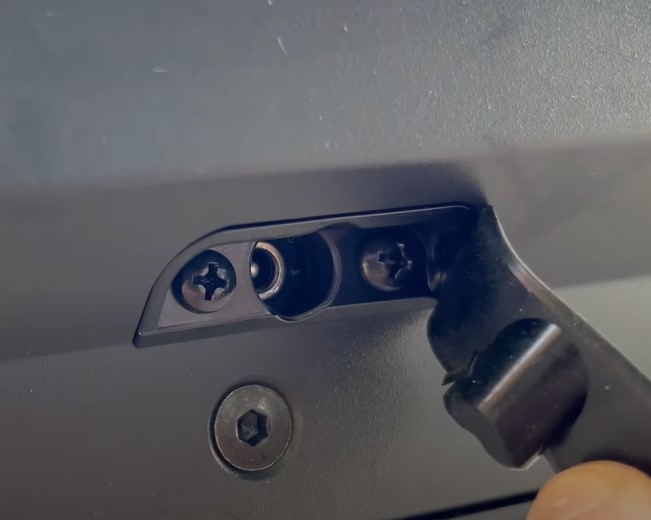 The battery is the focal point of the GoTrax Gmax Ultra and the one feature that truly makes the scooter stand out from the rest.
It comes with a 36V 17.5aH LG Lithium-ion battery stored below the deck, and a 42V 3.0A charger that takes around 6 hours to fully recharge the battery. The charger is plugged on the right side of the deck, and the scooter must be stationary and turned off while charging.
Additionally, you should never charge the scooter overnight, and always watch out so you don't overcharge it for more than 6 hours, as it may damage the battery in the long run.
Range and commuting
With its great battery, the GoTrax Gmax Ultra has an advertised max range of 45 mi / 72 km.
However, it has to be noted that this range will only be feasible if you are a lighter rider (~ 150 lbs / 68 kg) and only ride at the lowest, battery-saving setting which doesn't exceed 15.5 mph.
If you ride at top speed and through traffic, you will probably get around 20 mi / 32 km range with a single charge.
Features
The feature package of the GoTrax Gmax Ultra includes all one might ask from a mid-priced urban commuter:
quick folding
low weight and portable design
sufficient waterproofing
dual brakes
bright headlight
big display
safe locking mechanism
Weight, dimensions, and portability
Mainly designed as a portable city scooter, the GoTrax Gmax Ultra comes with a weight of just 46 lbs / 21 kg. Granted, it's not the leanest scooter out there, but still, any average person can pick it up and carry it on a flight of stairs.
The dimensions of the scooter are as follows:
45 x 18.5 x 48.9 in / 114 x 47 x 124 cm (L x W x H) when unfolded
45 x 20 x 18 in / 114 x 50.8 x 45.7 cm (L x W x H) when folded
Waterproofing and riding in the rain or snow
The aluminum frame is coated with an external layer that adds an IPX4 waterproof rating to the GoTrax Gmax Ultra scooter. This type of rating protects it from smaller splashes coming from any side, typically ones you encounter on the street after a rainy day.
Riding out in the rain is not advised, as the waterproofing is not sufficient enough to protect the scooter from heavy rainfall. Additionally, most of the electronic parts are exposed and will be damaged if they come in contact with a lot of water. The same goes for riding in the snow, especially since the scooter does not have the proper equipment for handling icy roads.
Brakes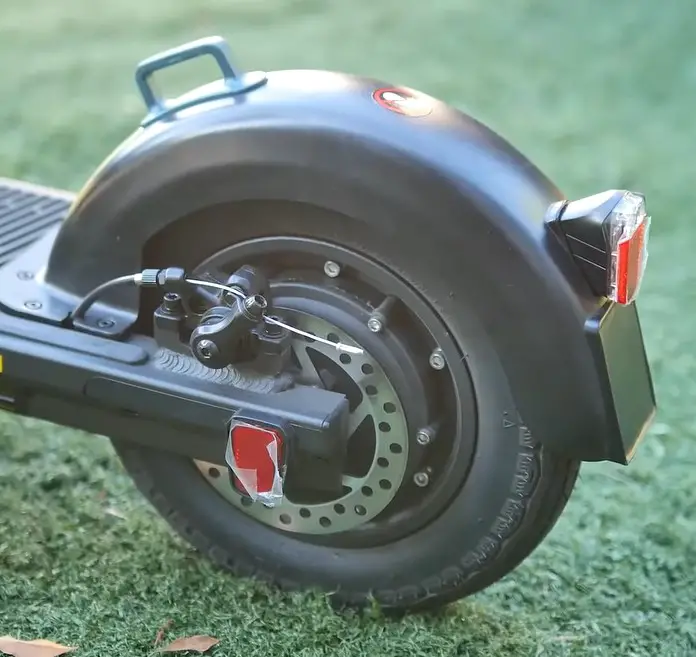 The GoTrax Gmax Ultra uses two types of breaks:
a front, electromagnetic brake equipped with an anti-lock braking system (ABS)
a rear disc brake
Both brakes are activated with a single lever mounted on the left handlebar. Using a single lever has two major upsides: it stops the scooter swiftly and smoothly, but it also aids in keeping a balance between the front and the rear side while stopping so you don't turn over when making a sudden stop.
Tires, wheels, terrains, and environments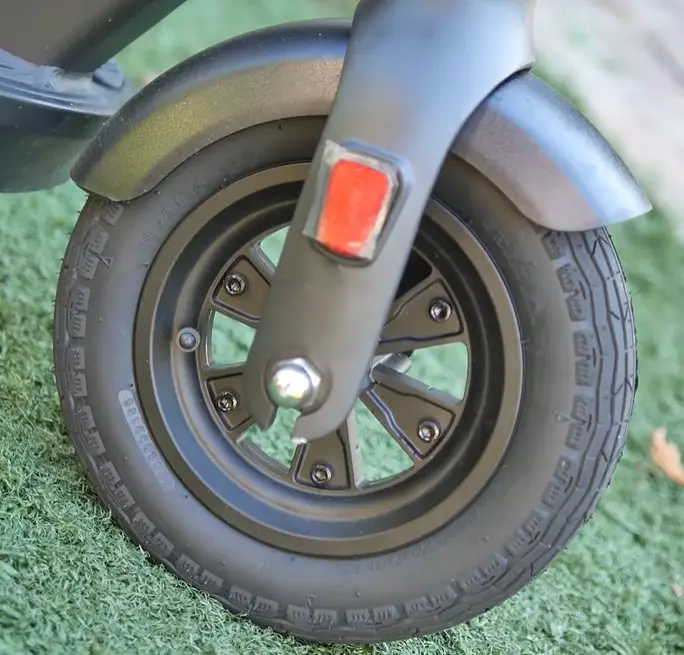 This urban commuter comes with pneumatic 10-inch tires with inner tubes. Thanks to the air-filled tires, the scooter provides a nice cushioning effect when you encounter the occasional bump on the road.
The downside here is that you'll be dealing with flats, unlike solid tires which are practically puncture-proof. However, swapping a flat tire is made easy as both wheels are attached to the frame with two screws that can easily be removed.
The tires have nice, somewhat deep threads, providing solid friction on all types of roads. Dirt tracks and off-road rides are still mostly out of reach for the GoTrax Gmax Ultra, mainly because the scooter does not have the proper features (like suspension springs) to handle such adventures.
Suspension
As we mentioned above, the one major drawback of the GoTrac Gmax Ultra is its lack of suspension. The scooter relies solely on its air-filled tires for shock absorption.
The design of the scooter also doesn't allow you to add a custom suspension as well. So, if you ride through areas with lots of bumps, holes, and unmaintained roads, I suggest you plan your route accordingly and avoid undesirable terrain as much as possible.
Lights and night use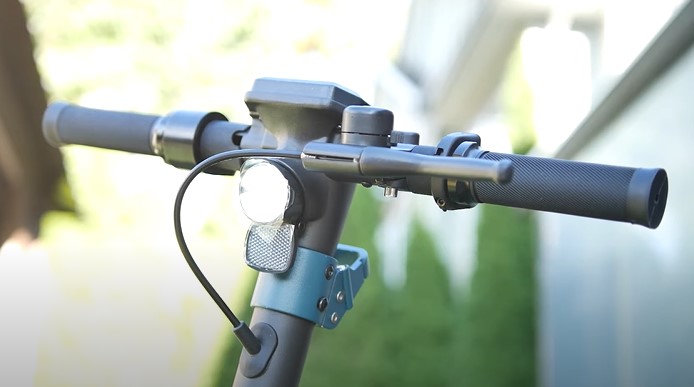 Equipped with two types of lights, a front, and rear tail light, the GoTrac Gmax Ultra has a great setup for a comfortable night ride.
On the front, you will find the bright LED headlight placed right at the top of the stem. At the back, there is a reactive tail light that flashes up whenever you press on the brakes. The scooter also has four side reflectors, two on each side, that reflect light from nearby sources.
Screen, handlebars, and controls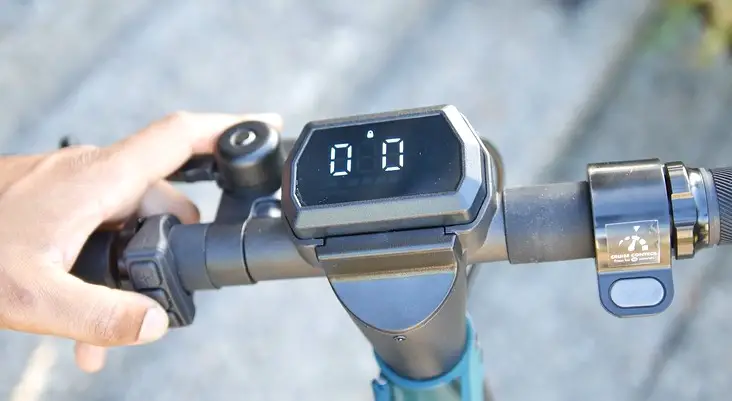 GoTrax uses one of the most unique and practical displays on their GMax series scooters. The GoTrax Gmax Ultra has a wide horizontally placed LED display, found right in the middle of the cockpit.
The screen shows the most important info, like your current speed, mileage, and battery life, and is controlled via three buttons on the left: a power button, a plus, and a minus button. These buttons can be used to:
power the scooter on and off, by pressing and holding the power button
navigate the display menu
lock the scooter with a digital code, which can later be typed using the plus and minus button
activate "walking mode", by pressing the minus button and holding it down for three seconds
change gears, by using the plus and minus buttons while riding
Besides the display, you will also find the throttle placed on the right-hand side, with the brake lever, and a ring bell placed on the left. The cockpit is designed very conveniently, as everything is right in front of you and easy to operate. The handlebars are also covered in nice rubber grips which make the steering wheel very easy to handle.
Built-in locks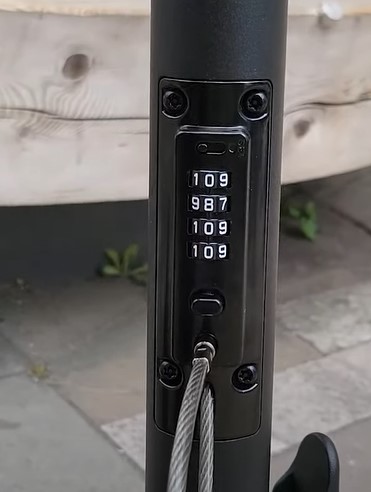 The most unique feature found on the GoTrax Gmax Ultra is the built-in locking system. The scooter has two types of locks on it, a digital and a physical lock.
The digital lock is activated via the screen menu and only allows you to ride the scooter after you've typed a three digits code that you've chosen yourself.
The physical lock, on the other hand, consists of a four-digit combination padlock and a 2.5 ft / 76 cm cable that is built into the stem. With this double-lock anti-theft system, the GoTrax Gmax Ultra is probably the safest, most theft-resistant scooter you can find in this price range. It also spares you some extra cash that you would've spent on buying a chain lock yourself.
Price and value
Costing around $849, the GoTrax GMax Ultra electric scooter is in a bit of a weird spot. It can't truly be considered a budget option, as it's twice more expensive than some of the cheaper scooters out there, but is definitely not a premium option either. But when you take into account its complete feature package and all of the things it offers, I would say that it is rightly priced and well worth its money.
The GoTrax GMax Ultra has one of the highest ranges out of all other scooters priced below $1000 and has one of the sturdiest, top-quality builds in that price range. It also comes with a unique set of features, namely its built-in double locking system, which can't be found on any other model priced this cheaply.
If you are looking for a portable and ultra-safe city commuter that you can use for years to come, yet still save a couple of hundred bucks, I would say this is your best bet.
How does the GoTrax GMax Ultra compare to other electric scooters?
The GoTrax GMax Ultra has quite a lot of competition. There are many scooters out there that are not only priced similarly but also provide some similar benefits that you might want to check out as well.
Here are some of the biggest rivals of the GoTrax GMax Ultra, along with the main advantages and drawbacks they offer.
GoTrax GMax Ultra vs Joyor LR8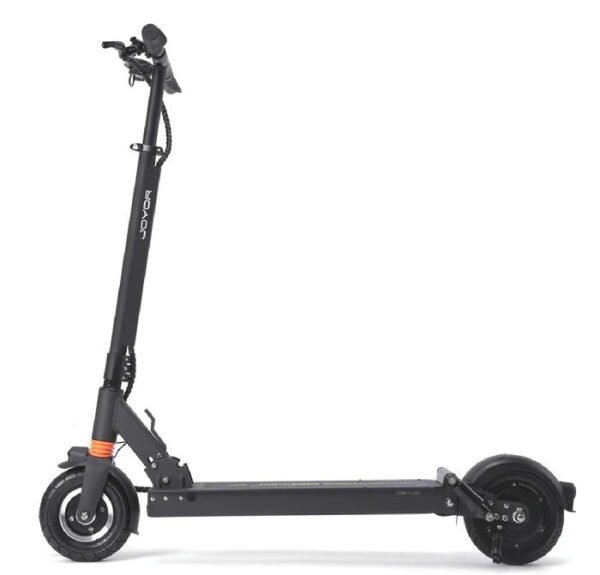 Joyor LR8 is a powerful alternative for the thrill riders out there. This less-known scooter model comes with an astonishing top speed of 28 mph / 45 kmh (!!!) for the same price as the GoTrax GMax Ultra.
Of course, this all comes at its own costs. The Joyor LR8 is, what I like to call, "all power – no game".
The scooter offers roughly the same range as the GoTrax GMax Ultra, but with a twice longer charging time of around 10 hours. It also has a fairly weak feature package, with a small screen placed far to the right, shorter and less comfortable handlebars, a weak headlight mounted at the bottom of the stem, and an overall poor cockpit design.
This is not to say that all these are huge dealbreakers. I would still recommend the Joyor LR8 to those who love a faster and more thrilling ride. But be prepared to deal with some inconvenient sacrifices in terms of comfort.
GoTrax GMax Ultra vs Ninebot Max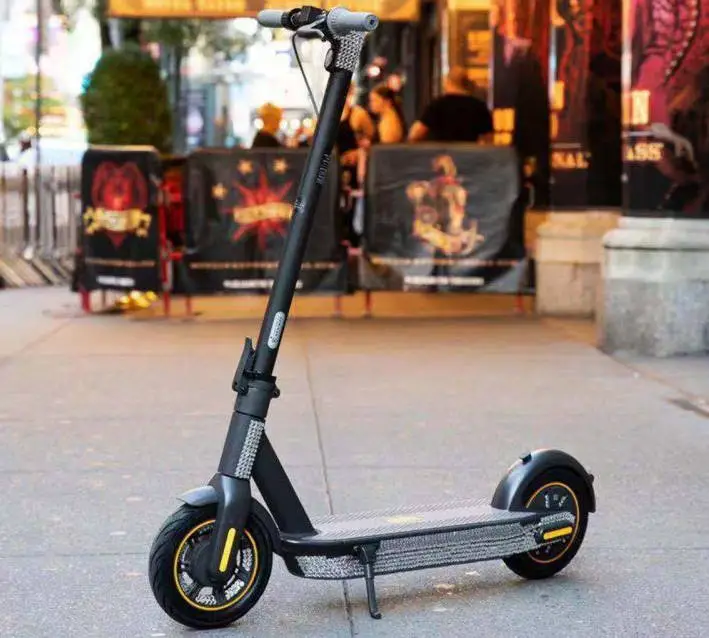 Released almost three years ago, the Ninebot Max has steadily been one of the best-performing scooters in the $500 – $1000 price range. When I did my detailed review of the Ninebot Max, I labeled it the most beloved scooter ever. Three years later, my opinion still hasn't changed.
This scooter is priced at around $800 and is equipped with some great features one might only wish to have in their electric vehicle.
Its performance levels are on par with the GoTrax GMax Ultra, with a top speed of 19 mph / 30.5 kmh, and a 40 mi / 64 km range. But on top of that, the Ninebot Max comes with an IPX5 rating, much better water protection of all its parts, a regenerative electric brake, a mobile app connection, and most importantly – self-healing tires.
If you are tired of flats and constant tire changes but are also worried about riding in the rain and being able to properly wash your scooter, I highly suggest checking out the Ninebot Max scooter.
Who should not get the GoTrax GMax Ultra Electric Scooter?
Without a suspension mechanism and inflatable tires, bumpy streets and potholes are the biggest enemies of the GoTrax GMax Ultra scooter. If you live in an area with pothole-filled roads, I don't think going for this, or any other similar scooter would be a smart choice.
The GoTrax GMax Ultra is not one for children too. Anyone above 13 years should be able to handle a scooter like this one, but it is recommended that only adults or teenagers with adult permission ride this vehicle. If you're buying a scooter for a child, see my guide on the best electric scooters for kids.
If you want to have higher control of your ride and a more detailed display, the GoTrax GMax Ultra scooter won't do you any good. The screen it uses shows only a few information points, like speed, battery, and distance, and it doesn't support any mobile app or Bluetooth connection.
Who should get the GoTrax GMax Ultra Electric Scooter?
The GoTrax GMax Ultra is a perfect choice for people working in the city center, commuting to work and back through crowded streets every day.
It has the proper range and speed to beat city traffic and will always be safe thanks to its double-locking system. You can park it near the office and not worry about it throughout the day.
It is also a great scooter for people who would ride it multiple times a day and need to charge it often. The 6-hour charging time is quite low compared to any other scooter that provides a similar range. You can recharge it while working, or right when you get back home, and then have it ready for a ride again in the evening after.
Finally, I would recommend the GoTrax GMax Ultra to any casual rider looking for a smooth and stable scooter for calm rides during spare time. This scooter is neither extremely fast nor dangerous, has a solid build, and has a very convenient, easy-to-use design.
Whether you ride throughout the day or night, in urban areas or calm empty parks, the GoTrax GMax Ultra will always deliver a sort of therapeutic experience for all types of riders.
Where to buy the GoTrax GMax Ultrafrom?
Worldwide
GoTrax scooters are best bought through either the
official GoTrax store
or
Amazon
. During the holiday season, the GoTrax store will typically be a better option, as it will often have some discounts available (you can get $100 off right now if you use the coupon code
BlackFriday
).
GoTrax GMax Ultra Specifications
GoTrax GMax Ultra Specifications
| | |
| --- | --- |
| Top speed | 32 kmh |
| Top speed | 20 mph |
| Range | 72.42 km |
| Range | 45 mi |
| Power | 350 W |
| Battery | 630 Wh, 36 V |
| Battery type | LG |
| Charging time | 5 h |
| Ingress protection (IP) | IPX4 |
| Weight | 21 kg |
| Weight | 46 lbs |
| Weight limit | 100 kg |
| Weight limit | 220 lbs |
| Tire size | 10.5 in |
| Tire type | pneumatic |
| Foldable | yes |
| Lights | headlight |
| Cruise control | yes |
| Keys | built-in cable and digital lock |
| Warranty | 12 months |
| Return period | 14 days |
| Unfolded dimensions (L * W * H) | 107.44 cm * 45.46 cm * 120.39 cm |
| Unfolded dimensions (L * W * H) | 42 in * 18 in * 47 in |
---
Want to get
FREE SCOOTER
tips, exclusive discounts and promotions, and unseen scooter hacks? Join the
Scooter Secrets club
.
---
Liked this article? It really helps if you share it.
Follow @escooternerds on social media for more cool stuff
---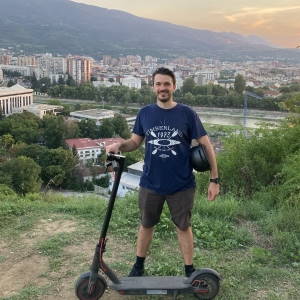 Where to buy the GoTrax GMax Ultra