Last Updated on May 17, 2023 by Matt
It's really hard to define in what category the EMove RoadRunner belongs. It's advertised as an e-scooter but really looks more like an e-moped or some variation in between. But whatever it is, one thing was for sure – I liked it the moment I first saw it.
Welcome to the detailed review of the EMove RoadRunner, Voromotors' all-in-one seated scooter.
EMove RoadRunner Review
The EMove RoadRunner is a short-sized, non-foldable, seated electric scooter. Built with a fixed open frame and a built-in seat, this scooter acts as an electric-powered alternative to the popular "moped" type of motorcycle. The scooter has two motors, a front and a rear one, with a total real power of 850W, providing a top speed of 34 mph / 55 kmh. Additionally, it comes with a removable battery that provides around 53 mi / 85 km of range with a single charge, which you can double if you buy a second battery to swap the drained one with. The EMove RoadRunner also comes with hydraulic disc brakes, adjustable dual fork suspensions, foldable and adjustable handlebars, and many other features for a comfortable and exciting ride.
EMove RoadRunner Overview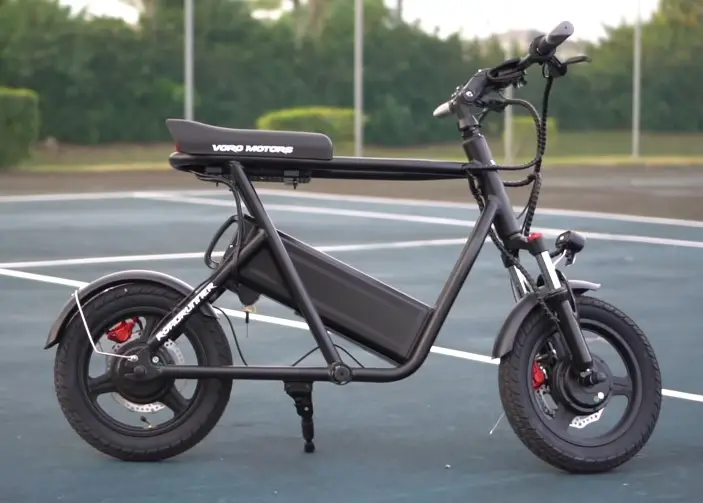 Electric scooters have been hot for some years now, but seated scooters are very rarely seen around town. Just visit any scooter store online and you'll see how more than 3/4ths of their assortment is all standing scooters with some optional seat additions.
There are many reasons why seated scooters are not as popular as other models, but most of it comes to the fact that they are just not that comfortable and fine to ride.
That is until you get to ride one that is so well made that it'll change your mind about these scooters forever.
Enter the EMove RoadRunner.
The EMove RoadRunner is a truly unique seated e-scooter like you've never seen before. It looks like a tiny thin moped with an all-black open frame and a fixed seat. I would even go as far as to say that this might be the perfect scooter for people who would love a small portable motorcycle that is both eco-friendly and tons of fun.
Buying
You can find the EMove RoadRunner at Voromotors, and using my coupon code escooternerds will get you $50 off the price.
Voromotors is one of the leading American e-scooter brands. They released the EMove RoadRunner as one of their signature high-power seated scooters. The seated scooter is typically priced at around $1800.
Some other stores have also recently added this model to their assortment, largely thanks to its instant popularity. Although these stores are official affiliates of Voromotors, I would still recommend going through the brand directly because of two reasons:
Extended warranty – Voromotors provide an option to extend the warranty period of your scooter by a set fee
Shipping – Voromotors not only provide free shipping (for U.S. orders), but they also have some of the fastest deliveries in the world of e-scooters
Ordering and shipping
As mentioned above, Voromotors ship the scooters themselves, and provide free shipping on all orders above $800 for the USA, and above $3000 for the rest of the world.
Shipments to the USA are delivered in the next 2 to 5 business days, and you will get free shipping for the EMove RoadRunner since it exceeds the minimum price.
Shipments to Canada, Mexico, New Zealand, and parts of the EU have a delivery time of 10 to 15 business days. If you order the EMove RoadRunner alone, unfortunately, you won't be eligible for free shipping and you would have to pay an extra fee based on the country of the order.
Warranty and return policy
The EMove RoadRunner has a standard 1-year warranty that covers the replacement or repair of a faulty motor, battery, controls, display, or throttle. The warranty is applicable only if the damage is done under regular usage of the scooter (no max load exceeding, no misuse, nor intentional damages).
Voromotors also allows you to extend the warranty for up to three years, added up to the one year that comes with the standard warranty. You can read up on what it covers and how much will it cost on the Voromotors' extended warranty page.
You can return the scooter within 30 days of buying, as long as it has less than 10 miles of usage.
Basics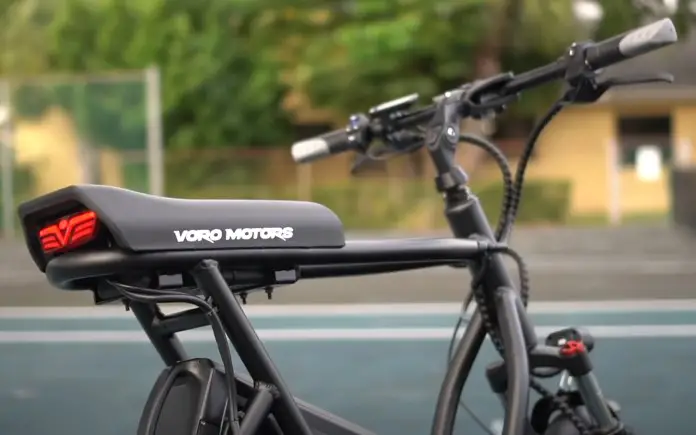 At a first glance, when seen from a distance, the EMove RoadRunner looks like one of those old-school noisy 80s mini-motorcycles that was mumbling throughout town. But a closer look would instantly show you what an exciting piece of modern technology this scooter is.
This all-black seated electric scooter has a truly marvelous design. Unlike any other scooter which would have a couple of weak and a couple of strong points, the EMove RoadRunner absolutely shines in every aspect. It has immense power and riding range, but also comes with tons of features that make the ride great, fun, and very comfortable.
Unboxing
The scooter comes delivered in a cardboard box which is relatively big, and you should watch out so you don't accidentally drop it and damage some of the scooter's parts. The EMove RoadRunner is, after all, non-foldable, so it has to be packed in a big box that can fit it nicely.
The contents inside the box include:
scooter frame
handlebars
charger
grips
multi-tool
user manual
As you can see, the handlebars come separated from the frame so they can make the box a bit more narrow and easier to pick up. The only assembly part you would need to do is to simply attach the handles on the frame, screw them in tight, and then set them up at the desired height.
The handlebars can be attached using the tool provided in the box. You will notice they come in folded inwards, but unfolding them is easy as they use a single clasp found right in the middle of the steering wheel. The whole process of attaching, unfolding, and setting the handles up takes no more than a minute or two.
You must also charge the battery fully before riding, and check if the tires are sufficiently inflated. The recommended tire pressure for this scooter is 35 – 45 psi / 2.4 – 3.1 bar, depending on how stiff of a ride you prefer.
Intended use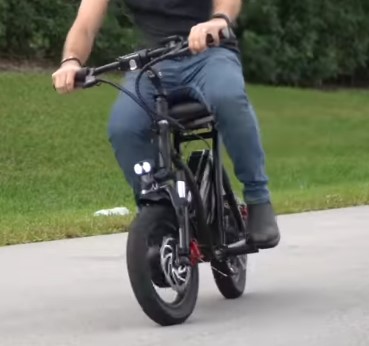 With its big squishy seat, very short height, and insane speed levels, the only way to ride the EMove RoadRunner is by seating down. There are two metal bars positioned at the sides of the scooter for you to rest your feet on while riding.
The EMove RoadRunner is ideal for urban use, as the steering wheel turns up to 90° and can handle very short corners and sharp turns. Its range, along with the speed, also makes the scooter great for open-road rides as you will sometimes be as fast as the cars and gas-powered motorcycles nearby.
Two carbon mudguards and a great suspension will allow the scooter to handle all kinds of terrains and environments, although you should be extra careful riding in wet weather as the battery is somewhat exposed and prone to water intake.
Build quality
There aren't many scooters or e-bikes with such a well-thought-out design. Made of strong materials and with a very short height, the EMove RoadRunner is a highly durable vehicle, with a low center of gravity, and a sturdy grid-like frame.
Design and colors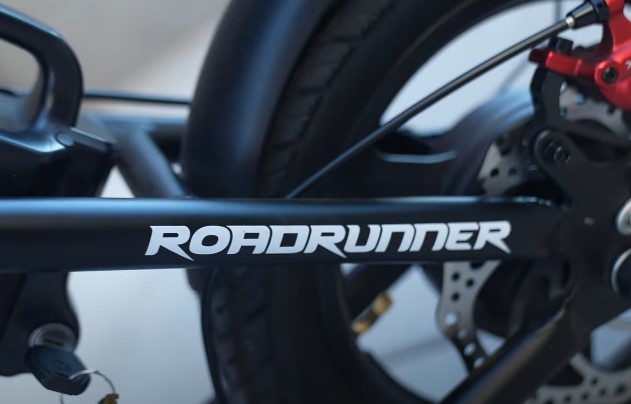 The EMove RoadRunner's frame is manufactured with an open design, with intertwined metal bars that form a strong cage around the scooter's battery. The tires of the scooter are very big, and the whole design is quite wide in order to fit the huge battery and the wide, thick seat.
Black is the flagship color of almost all scooters you will find on the Voromotors site, and such is the case for the EMove RoadRunner too. The scooter comes only in one, metallic black design, with a couple of flashy silver details that complete the contemporary style of the vehicle.
Materials
There are two main materials used to make this scooter: aluminum alloy, and carbon fiber, along with a couple of other materials like steel and plastic for some minor parts.
The main frame and the handlebars are made of aluminum, while the mudguards are made of carbon fiber for that extra durability during wet rides. You can find some bits of steel on the wheels, on the discs of the brakes, and other parts like the wires on the steering wheel, etc…
Performance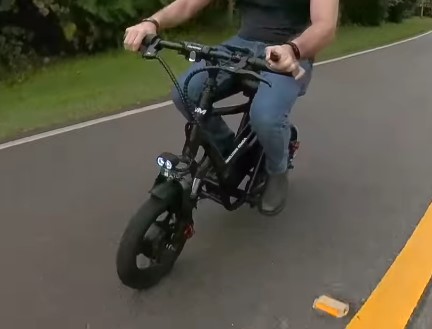 The mechanics and designers responsible for the motor, the battery, and the overall performance of the scooter did not kid around when they made the EMove RoadRunner. This mini e-bike might look unremarkable at first, but it possesses some excellent power levels.
Speed and acceleration
The EMove RoadRunner has a top of speed 34 mph / 55 kmh.
This is on par with the highest speed limits in urban areas in both the USA and Europe. You can very much zoom around the city at the same speed as all the other cars and motorcycles around you.
The motor is coupled with a very responsive and powerful throttle that goes from 0 to 15 mph / 24 kmh in just around 4 seconds, so be careful when accelerating as it might easily throw you off balance.
Motor, power, and climbing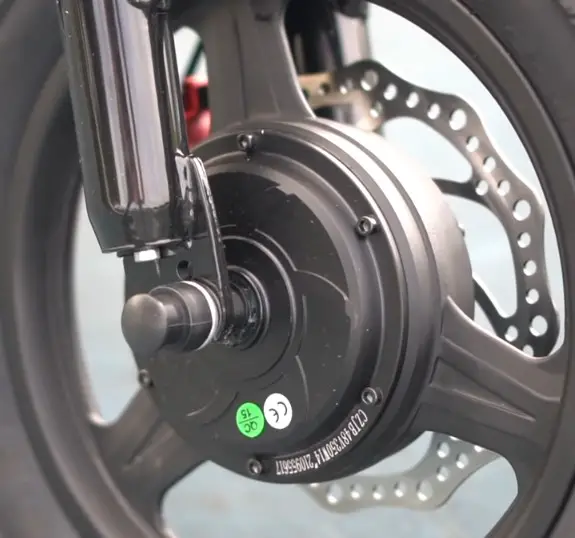 The scooter is driven by two motors mounted on each wheel. The front one has a real power of 350W, while the rear one has 500W. This imbalanced dynamic provides the scooter with a higher power on straight roads and with better handling on tight corners without losing much traction and speed.
You can also choose between a single or dual drive, depending on what kind of ride you prefer at the moment.
This type of motor setup grants the EMove RoadRunner a climbing ability for hills of up to 15°, or even 20°. On regular uphill streets of 5° – 10°, the ones typically found throughout the city, the scooter can maintain a relatively high speed of 20 mph / 32 kmh, showcasing the true power of its motors.
Weight limit and usage by heavy adults
The EMove RoadRunner has a huge weight limit of up to 330 lbs / 150 kg, meaning anyone can ride the scooter without any performance issues.
It's important to note that if you exceed this load limit and damage the scooter as a result, the warranty will not cover the damage even if it was done unintentionally.
Batteries and range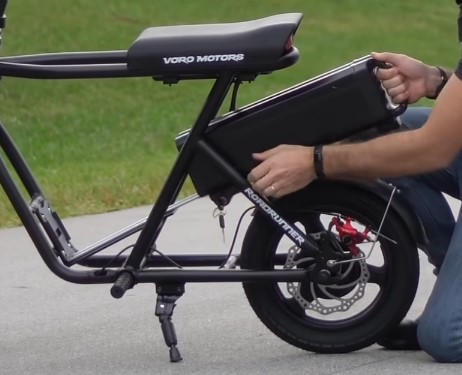 It's impossible to miss the huge battery locked right below the seat. The 48V, 26.1 Ah Dynavolt battery has a huge capacity of 1252 Wh, providing you with a max range of around 53 mi / 85 km. If you ride the scooter at high speeds, and especially if you load it up too much, the range can take somewhat of a hit. However, even under the toughest conditions, you will never get less than 32 mi / 51 km.
The big upside here is that the battery is fully removable, so you can double your range by buying a spare one and switching it up once the original battery gets drained.
You can get the battery out of its resting place in a second using just your hands, with no help from special tools. There's a little downside there, as anyone can steal the battery if you leave the scooter locked outside. But the good thing is that it's not that heavy, about 15 lbs 6.8 kg, so you can take it with you if you don't want to risk it.
Features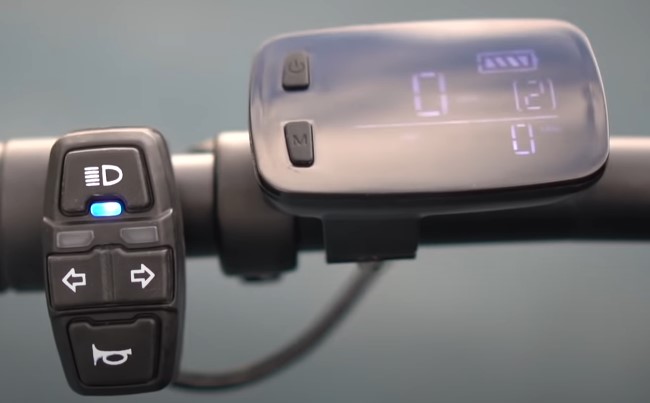 I would be lying if I said I'm not impressed by how great the features on this scooter are. It has everything you need for a smooth comfy ride, while it leaves a lot of space for customizing each feature to your own needs.
Weight, dimensions, and portability
To be upfront, I am not a big fan of non-folding scooters as I love to have the option of storing my scooter wherever I want: in my trunk, in a basement, or in my pantry. However, a lot of people seem not to have an issue with them, especially if they are designed well.
The big win in terms of portability with the EMove RoadRunner is that it's quite short, so it can still fit in most places mentioned above anyway.
The scooter has fixed dimensions of 51 x 15 x 38 in / 130 x 38 x 97 cm (L x W x H). Its width can also go down even further, thanks to the folding handlebars that save around 5 in / 13 cm.
With a weight of 55 lbs / 25 kg, this scooter can be a bit heavy for some people, but I believe it would be still manageable for pretty much everyone. Carrying it upstairs for a couple of floors shouldn't be a big problem. You probably won't be able to hop on the bus or the metro with it, although this largely depends on the public transport policies in your area.
A useful tip if you need to carry the scooter in your arms for long is to have a backpack to hold your battery so it takes some weight off the scooter. The battery makes for around one-quarter of the scooter's weight, so transferring that burden to your back and shoulders instead of your arms can be a big relief.
Waterproofing and riding in the rain or snow
The EMove RoadRunner does not have an official IP rating, suggesting that riding in any kind of wet weather or even trying to wash the scooter with a water hose can cause unrepairable damage.
This is mainly due to its open-frame design, where the battery is out in the open, leaving it kind of vulnerable. There is some assurance in the strong materials and thick wheel fenders, but, at the end of the day, the main electronic parts still have little protection.
Brakes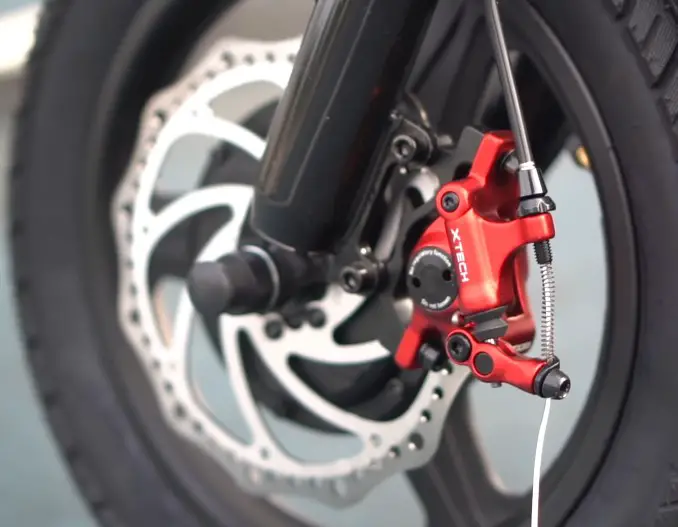 The brakes of this model are nothing less than the best there are in the scooter industry. The EMove RoadRunner uses 180mm Xtech hydraulic disc brakes, which not only function perfectly but also look quite good aesthetically.
This type of braking system can get the scooter from a speed of 15 mph / 24 kmh to a full stop in about 10 ft / 3 m. You can hardly find better-performing brakes on any other scooter out there, even if you pick from some of the most expensive high-end models.
Tires, wheels, terrains, and environments
The wheels of the EMove RoadRunner come with big pneumatic 14" tires with inner tubes. The tires are quite thick by regular e-scooter standards, and there are two reasons for this:
the EMove RoadRunner has quite a hefty build that needs strong wheel support
such thick tires provide better ride comfort and stronger shock suspension than the standard 11" tires
There are black carbon fiber fenders on each wheel that provide decent protection from water splashes. While the rear fender is nearly perfectly placed, the same can't be said for the front one too. The front fender is a bit shorter and placed at a bad angle that lets a lot of water splash through it, going right into the battery, which is the most vulnerable piece of the scooter.
Unfortunately, you can't adjust the fenders yourself, so you would have to watch out and avoid any big puddles during your rides.
Suspension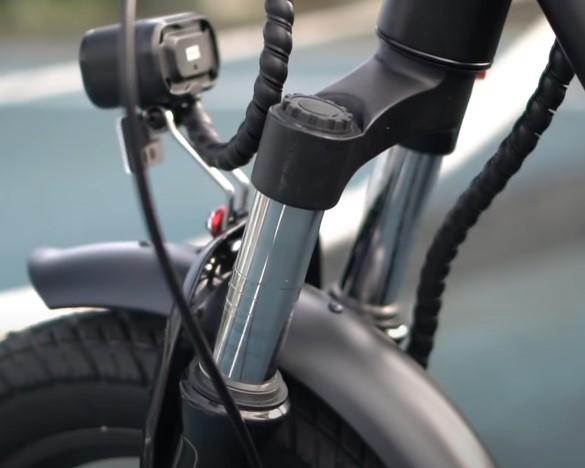 The scooter comes with a dual fork suspension system placed on the front.
The suspension is adjustable with the help of a dampener placed right beside the forks. You can set the amount of bounce you want by rotating the circular dampener that goes from stiff, marked with a "-", to ultra bouncy, marked with a "+".
My personal sweet spot for these types of suspension is always somewhere in the middle since I always ride on paved streets with few potholes. If you plan on taking the EMove RoadRunner off-road, then it's smart to set the suspension up high and properly inflate your tires.
Lights and night use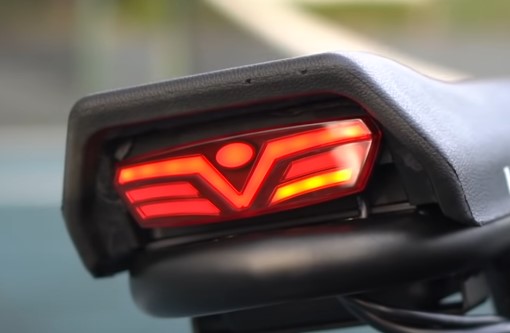 The EMove RoadRunner is well equipped for night rides with a bright front headlight that uses two bulbs to illuminate the road far ahead. There are rear lights as well, namely a brake light and integrated turn signals which are controlled from the steering wheel.
The front lights are adjustable and can be positioned to face straight ahead, up, or down, depending on the road conditions.
One thing I noticed missing from this scooter is reflective side lights, which are typically found on most other e-scooters. I guess Voromotors decided to opt against sticking these so they don't ruin the scooter's black aesthetic, but you can easily add them yourself if you feel like they're needed.
Cockpit, handlebars, controls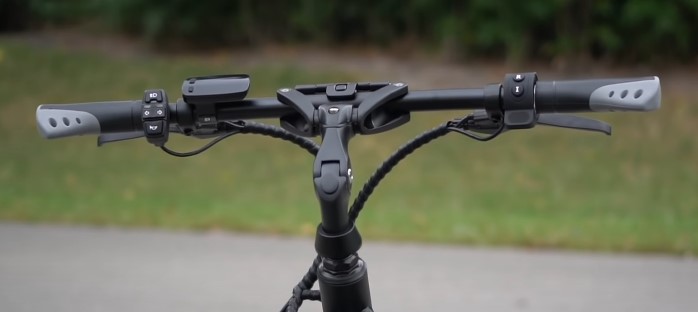 There are a few types of controls installed on the steering wheel, and it can take some time to adjust to them if you are used to a simpler cockpit. These include:
small rectangular LED display
switch buttons for the headlight and the taillights
throttle
two brake levers
horn
The throttle also has two additional buttons on it marked "R" and "I". These are used to switch between single and dual motor usage, with "R" being for single, and "I" for dual motors.
The handlebars have a great and very convenient design as they come with comfy rubber grips, and are both foldable and adjustable. You can adjust the height of the handles by unscrewing the one screw that holds them using an Allen wrench tool.
Seat
The seat on this scooter is made of memory foam, and as you'll notice, is quite long and thick in order to be more comfortable. Its precise dimensions are 14 x 8 in / 25.6 x 20.3 cm (L x W).
There are some concerns with the quality of the memory foam used for the seat, namely as it's a bit too stiff and can even lead to cramps when sitting on it for too long. You can get some seat covers with an additional soft layer to counter these issues aftermarket.
Price and value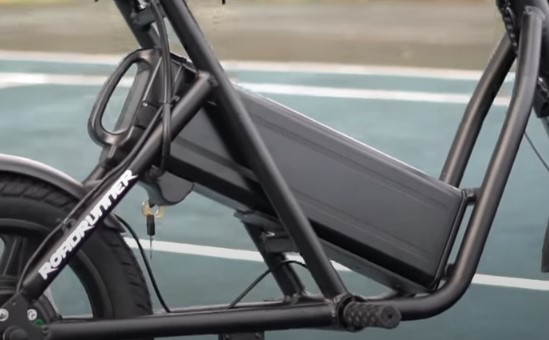 Priced at around $1800, the EMove RoadRunner can seem a bit too expensive for some people. However, if you are looking for a powerful seated e-scooter, there is hardly a better choice than this little beast.
In fact, when compared to some of its closest counterparts, this scooter can actually seem like a bargain.
Its biggest value comes from the long-range battery that is both huge and removable, so you can even double your range by buying a spare battery. Besides, the EMove RoadRunner has a lot more to offer: a complete feature setup, great suspension, hefty wheels, and high-tech brakes.
It's hard to find a truly weak spot with this scooter. If you got the money, and dig the look, I would wholeheartedly recommend going for this bad boy.
How does the EMove RoadRunner compare to other electric scooters?
Seated scooters may be rare, but they certainly aren't completely missing. There are still tons of great models that can be great alternatives to the EMove RoadRunner if you haven't quite liked what you saw here.
Here is a quick comparison between this and some of the other seated scooters that are hot on the market right now.
EMove RoadRunner vs NanRobot D5+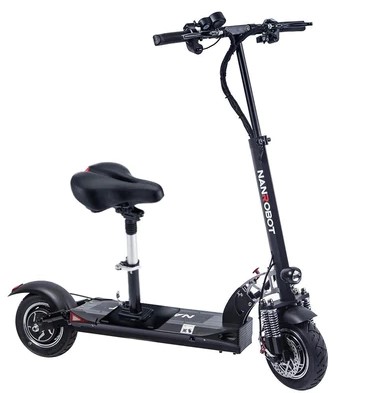 Talking about seated scooters, we must start with one of the best there is – the NanRobot D5+. Price at around $1380, it is a bit cheaper than the EMove RoadRunner, but has a lot to offer.
With a top speed of 40 mph / 64 kmh and a range of 50 mi / 80 km with a single charge, the NanRobot D5+ has a bit more power and a similar range. However, with a peak motor power of up to 2000W and a climbing ability of up to 40°, this scooter is the undisputed champion of hill rides.
While its features may not be as outstanding as the ones on the EMove RoadRunner, the NanRobot D5+ still comes with a nice pair of suspension springs, mudguards, a built-in bright headlight, and a removable seat with an additional shock absorber beneath it.
Even though the non-removable battery takes away some of the potential that the EMove RoadRunner has, this slightly cheaper model still outshines its pricier counterpart in power and customizability. And since it has a removable seat, you can use it both as a seated or a standing scooter.
You can check out the NanRobot D5+ at Amazon UK if you're curious.
EMove RoadRunner vs Kugoo M5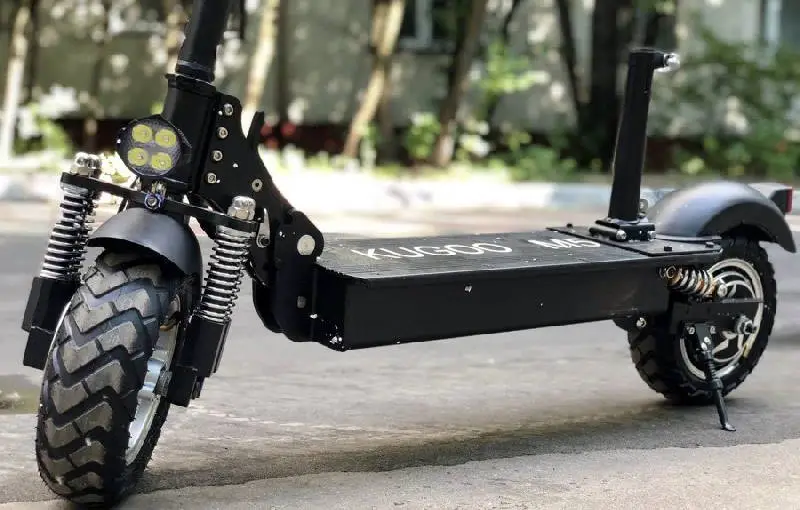 The Kugoo M5 slides in as a more modest, budget-price alternative for those who want a decent seated scooter without spending a ton of money. It comes at a price of $650 – $700, varying from store to store.
This scooter actually has a very similar speed and range as the EMove RoadRunner but comes with a completely different build and much fewer features. In fact, it has a quite bulky design, with a thick deck and stem, and a removable seat, coupled with numerous strong shock absorbers on the front and the back.
Thanks to its great suspension system and solid build, the Kugoo M5 can be ridden on any terrain, both urban and off-road. It is a great choice for people who want to start having a bit more fun with their scooter, and for a reasonable price too.
See my detailed Kugoo M5 review if this scooter sounds interesting to you.
Who should not get the EMove RoadRunner Electric Scooter?
The EMove RoadRunner is a great all-around scooter, but a somewhat limiting one as well. It simply won't fit the style of some people.
For example, if you are looking for a standing scooter or at least one that has the option to remove the seat, you are out of luck. The EMove RoadRunner has its seat built into the frame, and can only be ridden while sitting down.
You might also be troubled by the short height and bit of a funny-looking design this scooter has. This can especially be a problem if you are taller than 6′ 3″ / 1.9 m, as the riding position will be a bit uncomfortable for you. You will be way too hunched over and you might even have your knees hitting on the steering wheel. See my guide on the best electric scooters for tall adults if you're on the taller side.
The removable battery can also be a problem for people that constantly leave the scooter locked outside the street, as anyone can remove and steal it without any special tool. This means that you would have to always lock the scooter inside, or take the battery with you wherever you go, something not everyone can do all of the time.
And, at the end of the day, you can't go over the relatively high price this cooter comes at. However, don't worry if you are priced out since there a still lots of other options that come a lot cheaper than the EMove RoadRunner electric scooter. You can check out my detailed guide on some of the best electric scooters with a seat and get a better grasp on what else can you find at the moment, or just see my guide on the best electric scooters under $1000 and the best electric scooters under $500 for some more budget-friendly options in general.
Who should get the EMove RoadRunner Electric Scooter?
The EMove RoadRunner is simply the perfect purchase for people who want an electric moped with a comfy seat. If you prefer to ride sitting instead of standing the whole time, this is probably as good of a scooter as you can get. I would warmly recommend this scooter to anyone who is a fan of small motorcycles, like the Vespa, for example, but wants to get something more eco-friendly.
If you are anything like me and you want a higher range more than anything, you will love the battery of the EMove RoadRunner. It's not only huge and durable by itself, but is also swappable. This means that you double the range and get up to 100 mi / 160 km of range out of this scooter if you buy a spare battery and use both of them on a single ride.
But most of all, I think the EMove RoadRunner would be best suitable for people who just like to have a fun ride and are looking for something adventurous. Because even though it may be funny-looking, this little beast is one of the most thrilling scooters I've ever seen, and will certainly make a mark in the e-scooter industry.
Where to buy the EMove RoadRunner from?
Worldwide
The best place to get the EMove RoadRunner from will always be
Voromotors
, the official home of the scooter. You can get $50 off the price by using my coupon code
escooternerds
.
EMove RoadRunner Specifications
EMove Roadrunner Specifications
| | |
| --- | --- |
| Top speed | 55 kmh |
| Top speed | 34 mph |
| Range | 85 km |
| Range | 53 mi |
| Motors | dual hub BLDC |
| Power | 850 W |
| Battery | 1252 Wh, 48 V |
| Battery type | Dynavolt |
| Charging time | 12 h |
| Weight | 30 kg |
| Weight | 66 lbs |
| Weight limit | 150 kg |
| Weight limit | 330 lbs |
| Tire size | 14 in |
| Tire type | pneumatic |
| Tire pressure | 35-45 psi |
| Foldable | no |
| Foldable handlebars | no |
| Build material | aluminum alloy, carbon fiber, steel, plastic |
| Brakes | 180mm Xtech hydraulic disc brakes |
| Shock absorbers | front dual fork suspension |
| Lights | front headlight, brake lights, turn signals |
| App | no |
| Warranty | 1 year |
| Return period | 30 days |
| Unfolded dimensions (L * W * H) | 130 cm * 38 cm * 97 cm |
| Unfolded dimensions (L * W * H) | 51 in * 15 in * 38 in |
| Adjustable handlebar | no |
Where to buy the EMove RoadRunner
Worldwide: Voromotors (discount code: escooternerds for $50 off)
---
Want to get
FREE SCOOTER
tips, exclusive discounts and promotions, and unseen scooter hacks? Join the
Scooter Secrets club
.
---
Liked this article? It really helps if you share it.
Follow @escooternerds on social media for more cool stuff
---