Last Updated on September 17, 2023 by Matt
The only way to safely ride with 50 mph / 80 kmh is to have a high-quality, high-performance, top-notch electric scooter. It must give your safety a top priority.
If you want to get a 50 mph / 80 kmh electric scooter, the best choices will be on this list.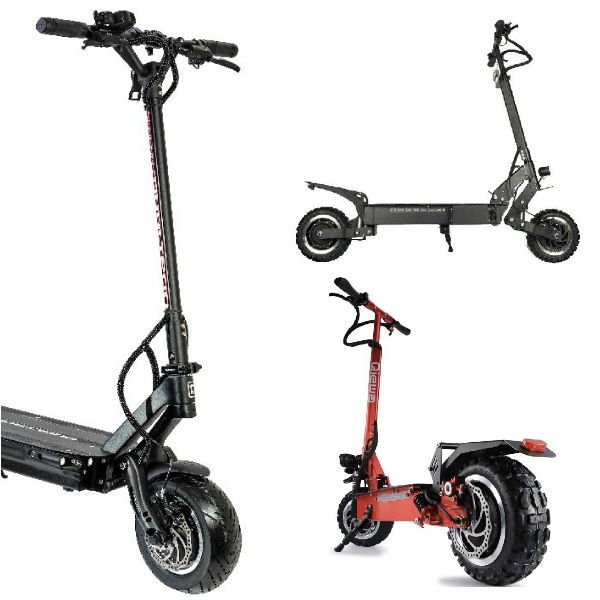 Let's see what makes them so, and which one would best fit your needs and situation.
Safety first
It goes without saying, but I still must say it.
Riding an electric scooter at 50 mph / 80 kmh is dangerous. Not only should you have all of your safety gear on, but you must also be extremely cautious, careful, and attentive to the road and traffic around you.
You should have at least one year of experience with scooters, and at least a few months of riding electric scooters with faster speeds (around 56-64 kmh / 35-40 mph) before you should dare reach speeds of 50 mph / 80 kmh.
Check out our full electric scooter safety guide if you are not familiar with all the necessary safety tips.
With that covered, let's move onto the rocketships now.
Best 50 mph electric scooters
Depending on what exactly you're looking for, these are the absolute 50 mph / 80 kmh champions in 2020.
Dualtron Thunder – best 50 mph electric scooter overall
Without a shadow of a doubt, Dualtron is one of the top 3 electric scooter brands ever, if not the best. When a scooter line has no model under 40 mph / 64 kmh, you know that it is a ridiculously strong one.
Dualtron Thunder is their 50 mph / 80 kmh offering, with a top speed of exactly that. This is the true meaning of a power scooter, with 5700 Watts of peak power, and 35 degrees of climbing angle. No wonder this monster takes 20 hours to fully charge.
The range of this scooter is 75 mi / 120 km per single charge, which makes it the scooter with the longest range on this list.
The scooter accelerates instantly, its crazy-high torque levels will easily throw you back if you're not prepared. Braking is excellent, you only need to press the brakes a bit and you can feel the strong brakes doing their job.
Its 11-inch pneumatic tires are some of the biggest tires I've seen on an electric scooter. Combined with the superb suspension system, this scooter is a dream to ride, anywhere from cruising at 10 mph / 16 kmh to blasting through with 50 mph / 80 kmh.
Dualtron didn't spare themselves when they designed this scooter. Every part of it screams top-notch quality. If you are after the safest, longest range, highest-quality 50 mph / 80 kmh electric scooter, then the Dualtron Thunder is for you.
You can find this awesome scooter on Voromotors.
Kaabo Wolf Warrior – best offroad 50 mph electric scooter
The Kaabo Wolf Warrior has been one of the best offroad scooters for a few years in a row now. Also, it has consistently been among the top 5 most powerful electric scooters, coming at half the price of some of its rivals.
A true performer, the Wolf Warrior will come with dual 2400W real / 5400W peak motor power. It can reach top speeds of 50 mph / 80 kmh, a range of 70 mi / 112 km on a single charge, and solid climbing angles.
The weight of 101 lbs / 46 kg earns it the title of a true warrior. The devotion to offroad capabilities has made this scooter one of the most beloved power models of the electric scooter community.
You will not get this scooter for its portability, or for innocent city commutes. You will get this scooter if you want to get yourself into some breathtaking outdoor adventures, challenging your level of danger tolerance. See my complete Kaabo Wolf Warrior review if you wish to find out more.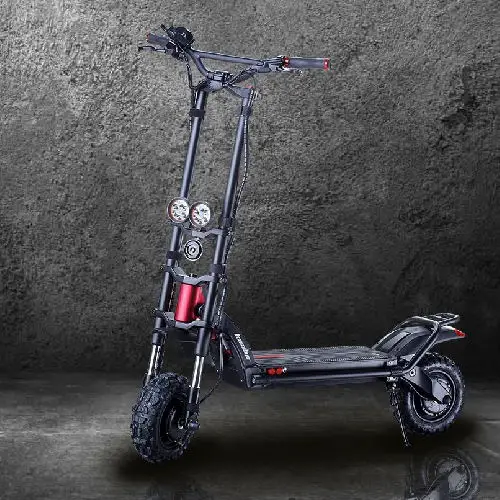 Blade 10 GT+ – best value 50 mph electric scooter
The Blade 10 GT+ comes with 3000 Watts of peak motor power. That kind of power enables it to go as fast as 52 mph / 84 kmh, and climb hills of up to 22 degrees, while being able to pull 265 lbs / 120 kg of load.
This bulldozer performs like any other scooter on this list, yet it costs almost half as much. That clearly gives it the championship belt for best value 50 mph electric scooter.
Blade has some of the coolest, geekiest-looking models out there. The Blade 10 GT+ is almost a statement. You don't buy this kind of scooter unless you are a real scooter lover.
Not only is the Blade 10 GT+ an amazing-value scooter, but it is also one of the most feature-packed electric scooters out there. Literally, any possible feature you might think of putting on your scooter is already there. Puncture-proof tires, steering damper, adjustable suspension, and a next-gen TFT screen which is the newest entry in the scooter display game.
So, besides the best-value 50 mph electric scooter, you also get the best features, the coolest look, and a starling performance overall. Brilliant.
See my complete Blade 10 GT+ review if you want to find out more about this scooter.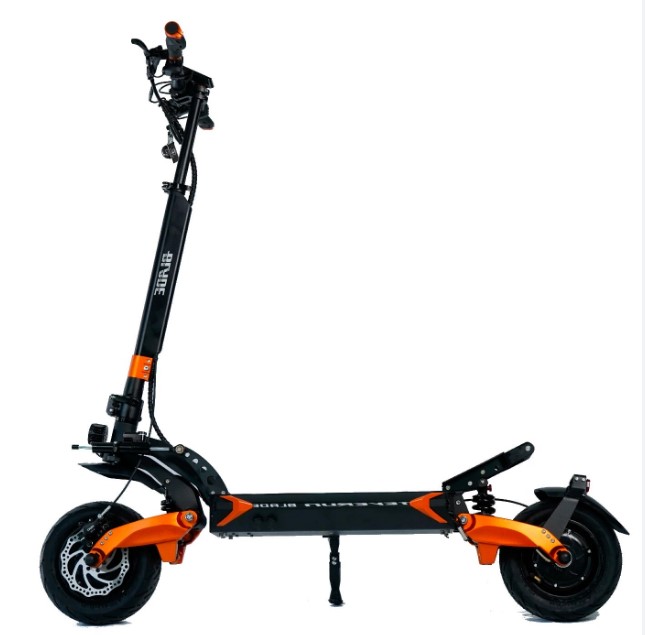 VSETT 10+ – coolest-looking 50 mph electric scooter
In a world of straight, boring stems, it is a bold decision to go for something this unique. VSETT obviously took a huge gamble in challenging the established status quo and designing a pretty different scooter.
And it paid off. It paid off well.
This wasp-like scooter comes equipped with 2800 Watt brushless DC dual hub motors that will give you speeds of 50 mph / 80 kmh and 35 degrees of climbing angle. The LG li-ion batteries provide an excellent range of 50 mi / 80 km. Simply put, this scooter will take you anywhere.
Even more importantly, it will take you there in style.
And during the entire time, you will be on the deck of one of the coolest electric scooters in existence. Even jaded scooterists will gaze at your slick, angled steering wheel, and tough look radiating with swagger and grace. If looking for the coolest, shiniest, most innovative 50 mph / 80 kmh electric scooter, that hasn't sacrificed quality even one bit, then do yourself a solid one and get the VSETT 10+.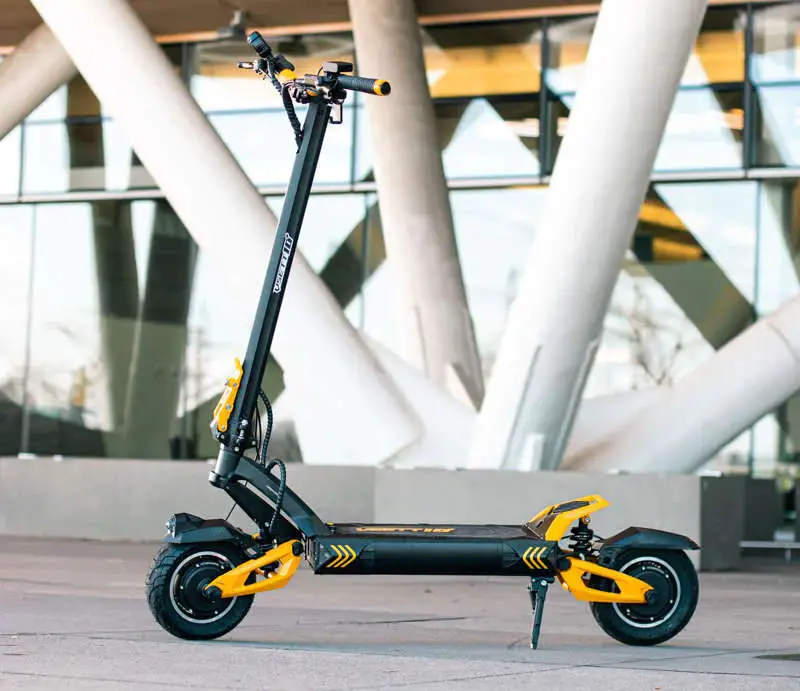 Dualtron Achilleus – longest range 50 mph scooter
Dualtron makes some of the best premium electric scooters that always come with high performances. Their models are well-suited for all of us that use our scooters all day every day.
Not only is their Dualtron Achilleus the number 1 electric scooter below $3500, but it also has the most range out of all other 50 mph scooters in its price range.
The LG 21700 battery has a capacity of 2100 Wh and power of 62V, which provides up to 50 mi / 80 km of range. While this may seem like it's on par with other scooters on this list, there is one big difference to note here. Unlike the other scooters which advertise their absolute top range, achievable only at low riding speed, the Dualtron Achilleus can actually last for 50 mi / 80 km with ease, even when pushed to its limits, and its range has been tested and proven several times.
The scooter has dual hub motors with up to 4650 Watts max power. They grant a top speed of 50 mph / 80 mph, as well as 30 degrees climb rate.
But the best part of it all?
The Dualtron Achilleus takes only 4 hours to recharge.
So you are not only getting a super quick, long-lasting scooter from a well-established brand, but you will also be able to ride at any time without waiting for it to recharge the whole day. When it comes to range, the Dualtron Achilleus is my absolute winner in the 50 mph category.
Dualtron Victor – lightest 50 mph scooter
You can't ask for too much portability if you want a super powerful scooter. After all, to achieve 50 mph you need two strong motors and a huge battery that will supply all of that energy. And all of that puts a heavy load onto the scooter's frame.
But there is one gem that stands out as the lightest 50 mph scooter available at the moment – the Dualtron Victor.
This compact city scooter weighs around 73 lbs / 33 kg, which puts it way below any other model on this list.
And, somehow, that doesn't take away from its performances, not even one bit. It can still reach 50 mph / 80 kmh. Its realistic top speed in regular conditions will be somewhere around 45 mph / 71 kmh, which is still close enough.
The scooter features the world-class LG 21700 Li-ion battery, one we've seen on a lot of premium models over the years, and it has a range of 56 mi / 90 km on a single charge.
It honestly baffles me how Dualtron managed to store all that power in such a light build, especially considering it doesn't lack any important features. The scooter comes with great Zoom hydraulic brakes, great suspension, extra wide tires, and a full lighting package.
For those of you looking for a fast scooter that you can carry around and store wherever you like, the Dualtron Victor is the winner here. See my detailed Dualtron Victor review if you're curious and you need a lightweight 50 mph electric scooter.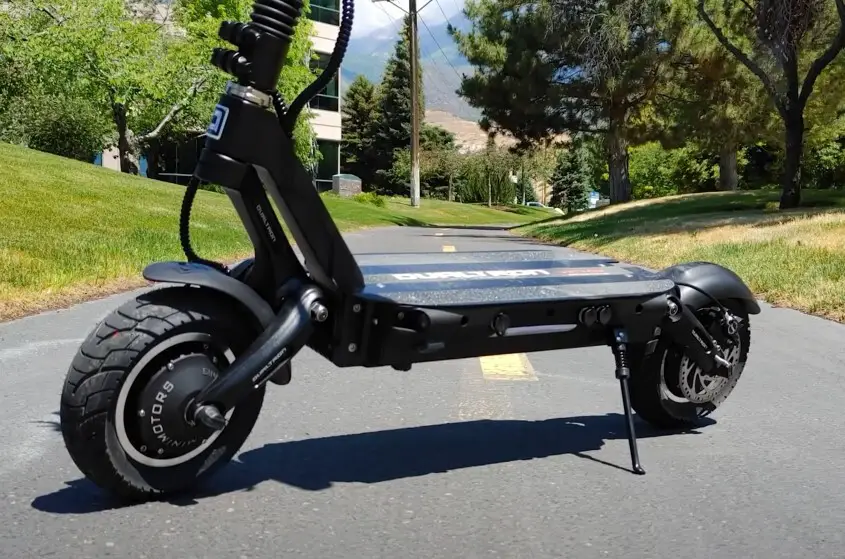 What to expect from a 50 mph electric scooter?
If this is your first time looking, or even trying, a 50 mph electric scooter, you need to be aware of a few things.
As we already mentioned, safety must be your top priority. Riding at these speeds on an electric scooter must always be done with the utmost care and precaution.
If you want a fast, powerful, quality scooter that's a bit less shocking and thrilling, you will probably want to look at the 40 mph scooters or even maybe the 30 mph scooters.
Aside from the dire warnings, you can expect to have tons of fun.
These are not your regular commuting or budget scooters. They take off immediately, and you will feel the kick at first.
They will also accelerate much faster, and usually will be much better at going uphill.
If you've had a cheap or even medium-priced electric scooter, this will be a whole new experience. At these speeds, manufacturers are aware that high-quality is a must, so they only release heavily tested, nearly perfect designs and models.
The difference will be huge.
Are there scooters that are faster than these?
For many people, 50 mph / 80 kmh on an electric scooter is already too thrilling. However, believe it or not, electric scooters can go even faster than that.
See my guide on the best 60 mph electric scooters if you're looking for the next level.
Summary
Those are all the best 50 mph electric scooters today. The following table summarizes them for reference.
---
---
Liked this article? It really helps if you share it.
Follow @escooternerds on social media for more cool stuff
---