Last Updated on July 4, 2023 by Matt
In this guide, we will take a look at the best 60 mph / 100 kmh electric scooters out there. There's only a handful of them, but boy, they are really something else…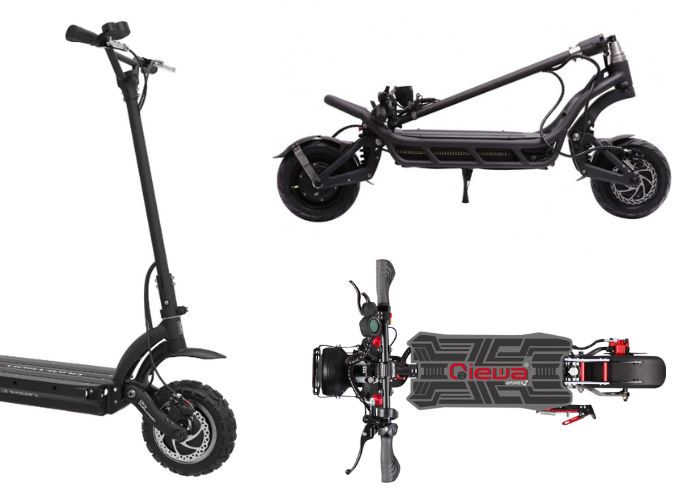 Best 60 mph electric scooters
Based on what you're looking for, these are the 6 best electric scooters with a top speed of 60 mph.
Dualtron Ultra 2 – Best overall
The Dualtron Ultra 2 electric scooter is a top-of-the-line model known for its impressive power and performance.
It has an official maximum speed of 60 mph, but can easily reach 62 mph or more in good conditions, and can travel up to 87 mi / 140 km on a single charge. This astonishing range is made possible by the LG 3200 battery cells with 1920 Wh capacity.
In terms of power, the Dualtron Ultra 2 boasts a dual hub motor system with a total output of 6,640 watts. This allows it to easily climb steep hills of up to 35 degrees, and handle rough terrain.
Made for rides on all terrains, this scooter is also built with durability in mind, boasting a lightweight aluminum frame, and a hydraulic disc brake system for smooth and safe stops to keep the tires going.
Besides power, the Dualtron Ultra 2 is designed for great rider comfort as well, featuring a large deck with plenty of room for the rider's feet, and dual rubber suspension, with the rear suspension piece being swappable for more custom control over the ride.
Overall, the Dualtron Ultra 2 is a high-powered and feature-packed electric scooter that's perfect for any type of ride. Its impressive speed and range, along with its durable design and interchangeable battery system, make it a reliable and convenient choice for riders.
And what's more, this scooter still costs less than 3 of the picks listed in this article below. A no-brainer that is easily the best 60 mph overall in my book.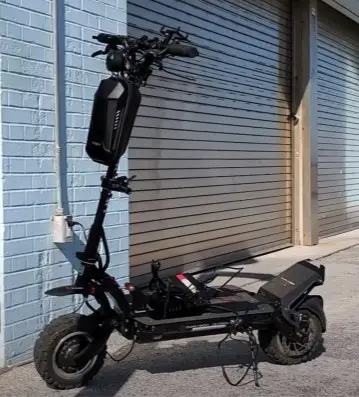 Nami Burn-E 2 Max – Best off-road, most waterproof
Just by taking a peak at the Nami Burn-E 2 Max, you can immediately see that this is a powerhouse of a scooter. It provides impressive specs and a great build overall, but the two aspects where it outshines every other scooter on this list are its off-road capabilities and its waterproofing.
The Nami Burn-E 2 Max comes with ultra-large 11 by 3.5-inch deep-threaded tubeless tires that are perfect for all kinds of rides. Muddy, rough, uneven, and all kinds of tough terrains won't be a problem for this scooter.
Of course, it gets huge help from the dual hub motors with a combined peak power of 8400 Watts.
And that only scratches the surface. With a 72V battery, you can get up to 90 mi / 145 km of riding on this scooter, aided by 4-piston full hydraulic brakes and two adjustable coil-shock suspensions.
The Nami Burn-E 2 Max is also the most waterproof 60 mph scooter, as its aluminum and carbon frame comes with IP67 water protection, by far the best in this category.
This will be the most expensive scooter on this list, coming at about $4799. For some, that price tag is well deserved, as the Nami Burn-E 2 Max is one of the best 60 mph power-riders in the world.
Check out my full Nami Burn-E 2 Max review to learn more about it.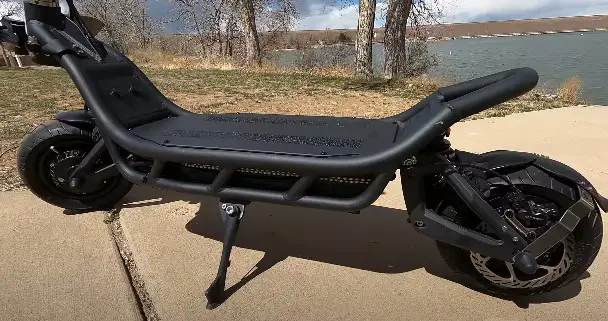 Qiewa Q Power 2 – Best for heavy adults
In reality, most scooters in this category can handle even the heaviest riders out there. All of the models on this list have a weight limit of at least 265 lbs / 120 kg, most of them even more.
But the Qiewa Q Power 2 simply goes through the roof with its unbelievable 620 lbs / 280 kg of load limit!
Yes, you read that right. 620 lbs, or 280 kg.
Three, maybe four adults can stand on top of this scooter and it won't break a sweat. Of course, you shouldn't ride it with a passenger because it can be very dangerous.
You can ride it with a full heavy backpack, or some grocery bags, or you can even mount a huge basket and use it for shopping. The options are limitless when the weight limit is practically unreachable.
The Qiewa Q Power 2 comes with a range of 93 mi / 150 km, on top of its 60+ mph top speed.
Looking at its design, the scooter comes fully equipped with large off-road tires, a huge headlight (seriously, one of the biggest headlights I've seen on a scooter), full hydraulic brakes, and all that in a fairly light 101 lbs / 46 kg build. Couple that with the price of $2499, and it's hard not to fall in love with the Qiewa Q Power 2.
Dualtron Thunder 2 – Longest range
While the above models pride themselves in tough, bulky builds and flashy designs with spectacular features, none of them comes close to the range of the Dualtron Thunder 2.
This scooter has one of the best ranges out of all electric scooters in the world. A single charge on this bad boy can last you up to 105 mi / 170 km, which is only outshined by ultra-expensive power scooters like the Dualtron Storm Limited.
But if you want to keep things reasonable (and in the 60 mph range), Dualtron Thunder 2 is your choice.
The scooter comes with the signature Dualtron design – an all-black aluminum frame, dual hub motors, a wide deck, and lots of flashing LED lights all over the frame. The motors combine for 5400W power, enough for the steepest streets and inclines. Just have in mind that it is purely an urban scooter, and won't withstand rough off-road rides.
Talking about its battery, one downside of the Dualtron Thunder 2 is that it takes a lot of time to recharge, but you can use two chargers to speed this process up. After all, you probably won't need to recharge the scooter often as you'll need days to drain that huge battery.
But all things considered, if you are tired of daily charging and just want to fill your scooter once and forget about it, Dualtron Thunder 2 is definitely your pick.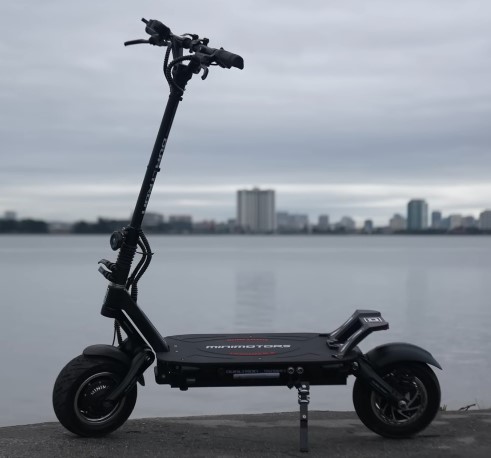 Dualtron Storm – Best with a removable battery
Electric scooters with removable batteries are, surprisingly, hard to come by.
There is just a few of those in the power-scooters category, and luckily the Dualtron Storm is one of them. I say luckily because, as you can notice, it is another model from the well-established premium scooter brand – Dualtron.
The Dualtron Storm has a lot of similarities with the rest of the models on this list, namely a 60 mph top speed, 80 mi / 130 km range, 11-inch tubeless tires, full hydraulic brakes, and even an adjustable suspension.
But its most distinctive feature is definitely the removable battery. The LG 3500 battery with a capacity of 2268 Wh is stored right beneath the deck, and can be removed in a matter of seconds by opening the deck cover and pulling the battery out.
This provides two huge advantages over other scooters: one, you can charge it wherever you like without taking the whole scooter inside, and two, it allows you to buy a second battery and use the two for double range.
It's truly a great feature that gives you a lot of benefits. Coupled with the other powerful specs this scooter offers, the Dualtron Storm is simply the best scooter with a removable battery there is. You can read my Dualtron Storm review for the full info and features list of this scooter.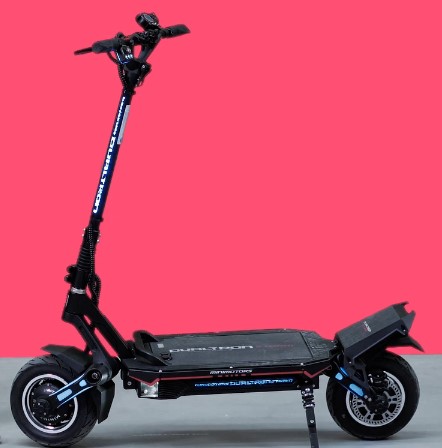 Kaabo Wolf King – Best value
High-speed scooters don't come cheap, but there are some great picks out there for value shoppers as well.
Priced at around $2999, the Kaabo Wolf King is our top value pick in the 60 mph category.
This power scooter is an instant favorite for all riders who like bulkier designs and large frames. That, in turn, provides great ride comfort, as both of your feet are stable and in place, while the scooter itself has a balanced center of gravity, making rides and turns easier.
When ordering the Kaabo Wolf King, you can choose between Samsung or LG battery, but both will grant you the same 50 mi / 80 km range. The good news is that you get that range with just 10 hours of charging (5 hours with a fast charger bought aftermarket).
Many consider this scooter the off-road king in the sub-$3000 category, mainly due to its great climb angle of 45 degrees and the large tires with deep threads. However, you can choose if you want street or off-road tires when ordering the scooter as well, as not everyone plans on riding outside of the city.
Overall, the scooter provides a lot for its relatively low price compared to the other models on this list, so it's worth checking out my detailed Kaabo Wolf King review if you want to learn more about this value pick.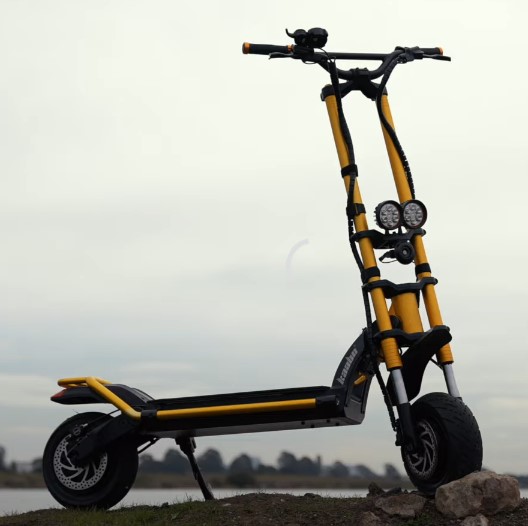 Things to know before buying a 60 mph electric scooter
Riding these ultra-powerful scooters is a serious task that requires a lot of skill and experience. Here are some of the things to have in mind before buying a 60 mph scooter.
What can you expect from a 60 mph electric scooter?
The first thing to know before riding any fast power scooter is that safety should be your priority. Do not let the speed fool you, you must always have absolute control over the ride and a good grasp of your surroundings. Ride with care and caution, and always have protective gear on.
As for the scooters themselves, you can expect them to be priced above $3000, often even above $4000, and they would require quite a bit of care and maintenance. Rides on these beasts are not the same as regular light commuters, so everything needs to be in check and working properly.
Aside from these warnings, expect to have the best time of your life.
60 mph is tons of fun. Each ride feels like a rollercoaster, with tons of thrill and excitement every time you reach high speeds.
These scooters also have insane acceleration. They typically need 4 or 5 seconds to reach 30 mph, the max street-level speed, and you might need some time to get used to this insane power.
If you are an experienced e-scooterist and want to upgrade to the next level, you should absolutely consider getting one of the models above.
Is it legal to go 60 mph on an electric scooter?
Scooter laws vary a lot around the world, but in almost all countries today it is illegal to ride any vehicle at 60 mph on a city street, including electric scooters.
The safest places to test a power scooter out are private property and open non-urban roads where there are no people around. Some countries forbid scooters from streets altogether, while others don't allow them anywhere but on bike lanes.
You should check out our detailed scooter legality guide to see how are they regulated in your country, but never plan on riding a scooter above 30 mph inside the city, regardless of how are they regulated.
Can scooters go faster than 60 mph?
As incredible as it may sound, 60 mph is not the quickest an electric scooter can go. There are models, albeit a handful of them, that can go even faster than that.
In fact, the fastest scooter in the world right now, the Weped SST, can reach up to 75 mph / 121 kmh top speed, which is just insane.
Check out our video compilation of the 10 fastest electric scooters in 2023 to get a grasp of their power.
Summary
Once again, these are the best 60 mph electric scooters you can find at the moment.
---
---
Liked this article? It really helps if you share it.
Follow @escooternerds on social media for more cool stuff
---