Last Updated on July 4, 2023 by Matt
40 mph electric scooters live in the sweet spot between performance and usefulness. They are great, high-quality, everyday scooters, coming from the best of brands, and at the same time offer awesome performances and power.
This balance between power and versatility includes some of the best electric scooters ever made, especially in the value-for-money category. It is one of my favorite daydream topics, and I will probably get myself one of the models described here very soon.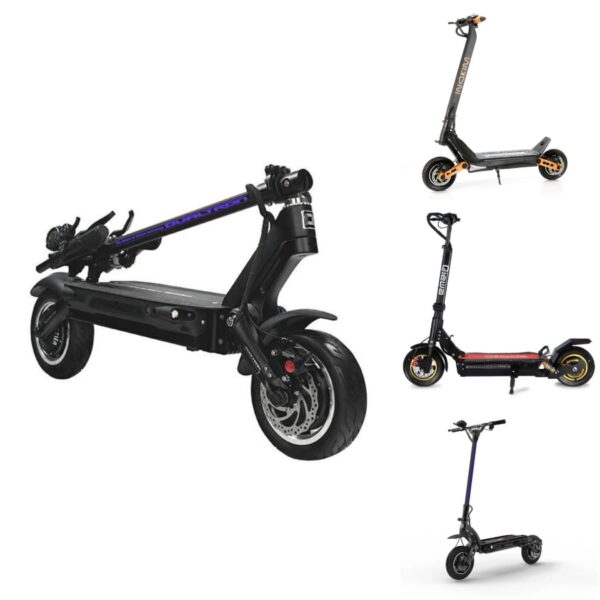 Ok, we have some amazing scooters to check out today. Let the games begin.
Best 40 mph electric scooters
This is a list of the best 40 mph / 64 kmh electric scooters right now.
Dualtron Eagle Pro – best overall
The Dualtron Eagle Pro is not only the best 40 mph / 64 kmh electric scooter overall, it is also one of the best electric scooters ever, period.
The level of quality and performance that Dualtron provides in their scooters is starting to become legendary. Almost half of the world's best electric scooters can be found in the Dualtron series.
The Dualtron Eagle Pro model is a very advanced, very customizable scooter.
Riding it feels like having a superpower. The 3600 Watt double brushless DC motor is ready to launch you forward at 40 mph / 64 kmh at any time. Just hit that throttle and you'll feel the adrenaline rush through your entire body.
It comes with the proprietary EY3 LCD screen, which has been heavily borrowed and copied in many other high-end electric scooters. You can change the colors of its light, adjust the sensitivity of the ABS brakes easily, change the tires, and adjust the suspension.
All of that makes the Dualtron Eagle Pro one of the most customizable electric scooters ever.
Getting a scooter like that is a great idea, you can tinker around with the settings to fit your needs perfectly.
You want stronger brakes? Done.
You need to adjust the suspension? It's just a few screws.
You need a different tire type? You got it.
Make no mistake, this is one of the Dualtron classics. And that says a lot.
If you want the best 40 mph electric scooter overall, then the Dualtron Eagle Pro is your choice.
See my complete Dualtron Eagle Pro review if you're curious.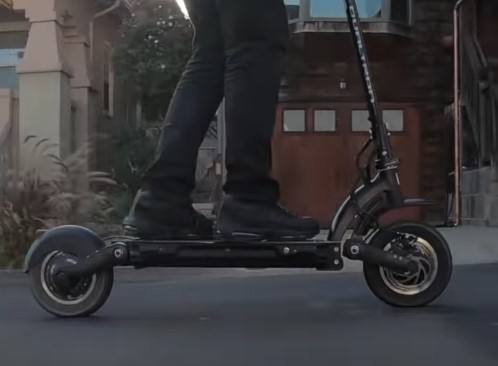 Dualtron Victor – best performance
In the 40 mph category, the Dualtron Victor is clearly the best performing model.
For starters, its top speed is actually 46 mph / 74 kmh, which makes it the fastest electric scooter on this list.
That kind of speed can only be provided by a beastly motor. And the Dualtron Victor has exactly that – the 4000 Watt dual motors make it the most powerful scooter here as well.
The LG 21700 cells are the best in this class, too. With 1800 Watt-hours of capacity, the Dualtron Victor can cover as much as 50 mi / 80 km on a single charge.
There's no doubt about it – the Dualtron Victor is the best performer in the 40 mph category. If raw power is your thing, then this scooter is your top-tier choice. See my detailed Dualtron Victor review if you'd like to find out more.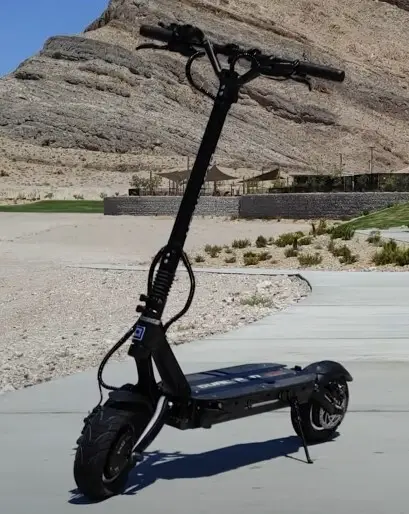 EVOLV Corsa – best for heavy adults
The EVOLV Corsa is one of the best electric scooters for heavy adults.
Their strong and sturdy build, great materials, and design prepared to handle everything can support a lot of weight. Unlike most other scooters, they've proven to be pretty solid for heavier adults.
The EVOLV Corsa has an excellent weight capacity of 330 lbs / 150 kg, and even more importantly, that limit has been proven by two adults riding the scooter without a noticeable drop in performance.
And the good news doesn't stop there.
Aside from that, this is an excellent scooter overall, with numerous parameters to show for it. Top speed of 43 mph / 70 kmh, and 37 mi / 60 km of range on a single charge, are the stats that make the EVOLV Corsa a superb value model.
Coupled with its great weight limit, it becomes one of the best choices for anyone. But for adults on the heavier side, the EVOLV Corsa is the perfect 40 mph scooter.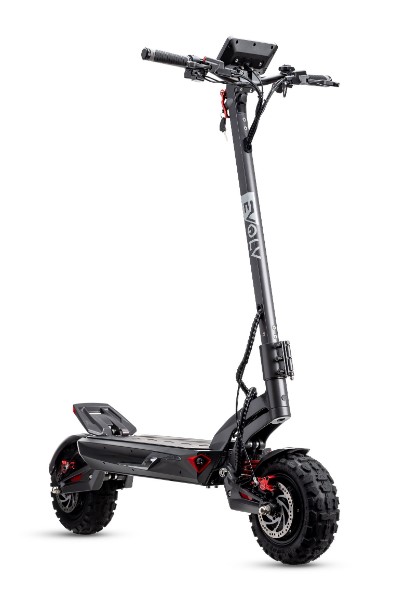 Dualtron Spider 2 – most portable
The Dualtron Spider 2 is a miracle.
The term "portable 40 mph electric scooter" is almost a paradox, almost impossible to achieve. Yet, the Dualtron Spider 2 is exactly that.
It has a top speed of 40 mph / 64 kmh, and weighs just 57 lbs / 26 kg.
I don't know how Dualtron pulled this off.
While still not the most portable electric scooter in the world, it certainly beats all the other models in this category. They weigh almost twice as much.
And you know you will be getting a Dualtron scooter, which means highest-grade quality, amazing design, and impeccable attention to detail. 50 mi / 80 km of range, 23° of climb angle, powered by a 3600 Watt dual brushless DC motors, this is the lightweight power scooter itself.
I can't think of a better choice for a commuter, or anyone that needs to carry their scooter a lot, but still wants tons of power from it. That 40 mph / 57 lbs combination is unbeatable.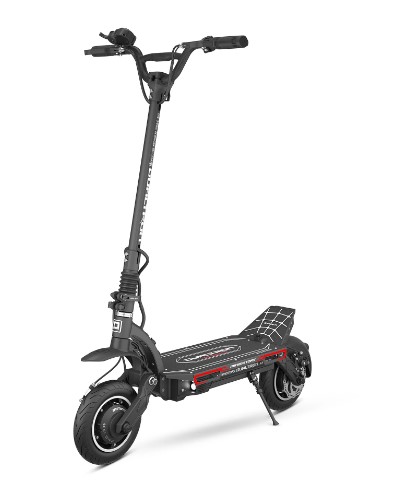 Inokim OXO – best high-end
Inokim has been making huge strides as an electric scooter brand recently. They are establishing themselves as one of the top dogs, which is evident by their presence in almost all of the best electric scooter shops.
The Inokim OXO is their flagship scooter, and boy, what a scooter…
Its signature fiery-orange color for the details perfectly matches the experience you feel while riding it. Gradually hitting and releasing the throttle literally feels like wielding fire.
Yes, that's the word I'm looking for. The InokimOXO is pure fire.
This all-terrain vehicle, made out of aviation-grade aluminum alloy, has adjustable suspension, front and rear hydraulic brakes, and an LCD display.
A true 40 mph electric scooter, this mean machine will give you a range of 68 miles. It has excellent waterproof capabilities, graded with IPX4.
The Inokim OXO is the perfect balance between price, performance, and the amazing look of a wild, tough scooter. If this balance is what you're after, then the Inokim OXO is right for you (you can check the full review of it here).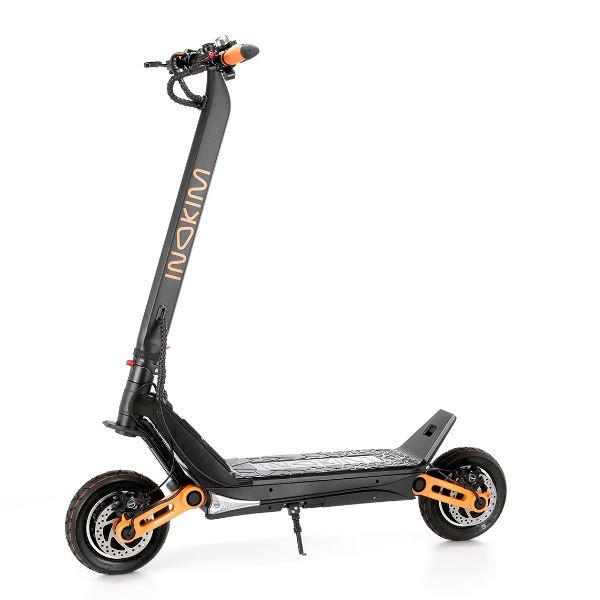 Kaabo Mantis V2 Fluid Edition – best value
As usual, Kaabo designs and manufactures strong performance scooters, and makes them last your whole life.
The Kaabo Mantis V2 is a strong-performing scooter that offers a lot of options to customize it. You can adjust or customize the riding speed, acceleration, electric braking, cruise control, handlebars, and some other features of this baby. While riding it, you will feel the holy triad of electric scooter rides – comfort, safety, and power.
The reason why the Kaabo Mantis V2 is great value is that it is basically a high-end scooter priced as a medium-price one.
It costs a lot less than half of what some the other scooters here. And still, you get 40 mph / 64 kmh top speeds, 32 mi / 53 km of range, 265 lbs / 120 kg of weight capacity, and a very good climb angle of above 16 degrees.
That kind of value is unmatched.
If you, like me, are primarily a value shopper, then the Kaabo Mantis V2 will be your ideal pick.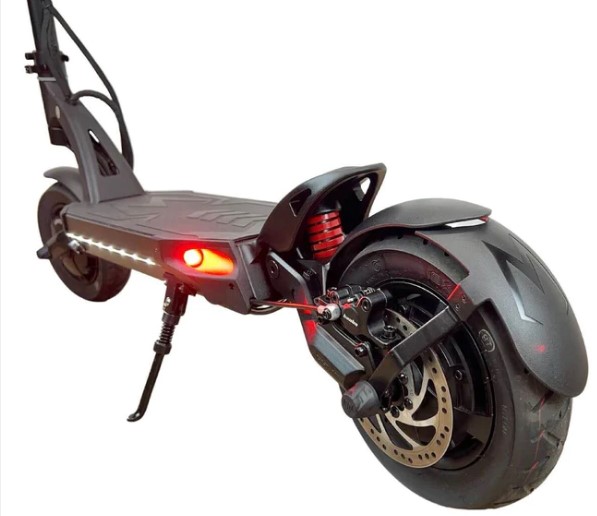 Wolf Warrior X Pro – best offroad
The Wolf Warrior scooter lines includes some of the best and most popular electric scooters today. A lot of their models have been the darlings of the electric scooter communities for years now.
They have several off-road models in their lineup. The Wolf Warrior X Pro is definitely one of their best off-road scooters today, and it's certainly the best 40 mph / 64 kmh off-road model (the scooter can actually go a bit faster at 43 mph / 69.2 kmh).
This scooter is extreme. It was designed from the bottom-up to handle all types of terrain, obstacles, and bad news you through at it.
The front and rear hydraulic shock absorbers, coupled with the 10-inch tires, the powerful LED front-light, built-in anti-theft protection, and the excellent particle and water protection, enable the Wolf Warrior X Pro to withstand anything.
This is the toughest, roughest, meanest 40 mph electric scooter ever. If you are looking for the scooter that will not let you down when things get tough, then the Wolf Warrior X Pro is your choice.
Nami Burn-E 2 – longest range
All of the scooters above have a lot of unique upsides, but none of them have an especially exciting range. Sure, almost all of them can cover more than 40 mi / 37, but is that really that much?
If you want more range, then the Nami Burn-E 2 is your best opportunity to get it in the 40 mph category.
Its 2016 Wh, 72V battery provides around 90 mi / 145 km of range on a single charge. That's more than 2 hours of non-stop riding at top speed with just one charge.
The real top speed of the Nami Burn-E 2 is actually around 45 mph / 72 kmh.
Its build allows a lot of freedom for customization. You can adjust between 5 riding modes, regulate the torque of each motor separately, and adjust the breaks, acceleration, and suspension. A real world-class package if you ask me.
This feature-complete high-range scooter will typically cost you around $3699, which, to be fair, is on the higher end of the price spectrum but it does provide everything you might ask for and then some.
If you want a premium scooter with every feature possible and a seemingly infinite range, the Nami Burn-E 2 is your best pick on this list.
Should I get a 40 mph electric scooter?
A 40 mph electric scooter is a great choice for many people and use cases.
40 mph scooters are the perfect choice for your second electric scooter.
Don't get me wrong, you can still get one as your first scooter and you will not make a mistake by any means. It's just that these scooters pack a serious punch, while also having a higher price tag. You might want to learn the ropes on a less powerful scooter, that doesn't cost as much.
In fact, that's what I did. My first scooter was a Xiaomi M365 Pro (check the full review here). And soon, my second scooter will probably be the EMove Cruiser.
While still very powerful, 40 mph scooters are not as fast as their bigger brothers, the 50 mph scooters. If you are experienced, and you are after those kinds of speeds, then you can check out our 50 mph electric scooter guide here.
And if all you need is a commuting scooter, you can do some more looking around. While many of the 40 mph models would be awesome for commuting, there could be better options for you. You can see the guides on the best 30 mph electric scooters and the commuting scooters guide for more.
But, if you need a powerful all-rounder, an advanced scooter, a truly high-end model, then the 40 mph category is the best place to look for your next scooter.
Here's a quick table summarizing the best 40 mph / 64 kmh electric scooters one more time for reference.
What to know before buying a 40 mph scooter
Although buyers looking for a 40 mph scooter will probably be experienced with these vehicles, there are still some questions you might have about them.
Is 40 mph fast for a scooter?
40 mph is no joke. It can be a thrilling experience, but a very dangerous one as well. An accident at this speed will likely end in a serious injury or even worse. You should always wear protective gear on you, especially a helmet, and only go at high speeds in safe areas with no pedestrians nearby.
Are 40 mph scooters street-legal?
In many counties, electric scooters are a kind of grey area, with little to no regulations. Driving them on the street is illegal in many places, but some still haven't updated their laws. Regardless, you should always be extra careful when riding a fast scooter like these 40 mph ones, and never put other people in danger.
Read our complete guide on electric scooter laws to check on their legality in your country.
How much range do 40 mph scooters have?
Range does not always correlate with speed. You can have a high-speed scooter with a giant range, and then one with a little over 25 miles. With 40 mph scooters, the average range would be somewhere between 35 and 50 miles / 56 – 80 km. Naturally, there will be some standout models, but most of the scooters in this category will fit in that range.
---
---
Liked this article? It really helps if you share it.
Follow @escooternerds on social media for more cool stuff
---