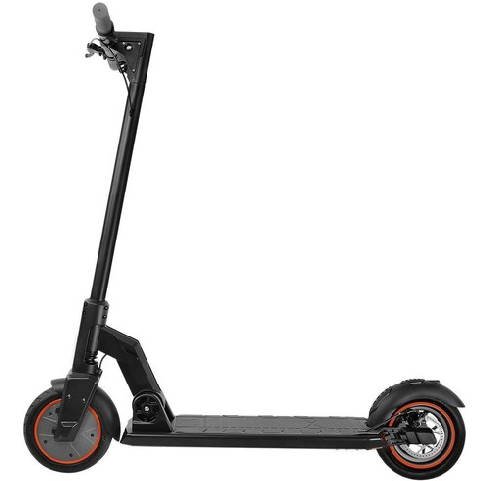 The Kugoo M2 Pro is a very versatile, very wallet-friendly electric scooter.
Kugoo is making a lot of big moves, and the Kugoo M2 Pro is one of their attempts to seize a chunk of the budget scooter demographic in Europe. As usual, they offer inexpensive models with solid specs and quality, and the Kugoo M2 Pro is one of their flagship models.
Kugoo M2 Pro Review
The Kugoo M2 Pro attempts to surpass the Xiaomi M365 with more flat-resistant tires, more raw motor power and torque, and suspension. It is about $100 cheaper than similar scooters. Overall, a great value scooter, with a 350W single hub front-drive BLDC motor, and a range of 30 km / 18 mi.
Let's see what makes this scooter a good choice.
Who should get the Kugoo M2 Pro?
Many scooterists will find the Kugoo M2 Pro to be a perfect fit for their needs.
First of all, at the current price of $365, this is simply the best scooter available in Europe under $400, and maybe even under $500. Not only is the M2 Pro a great scooter on its own, but there is very little competition in this price range anyway. If your budget is around $350 – $400, I don't think you will find a better option.
We could stop right here, as that is already a valid case for many. But let's continue.
The Kugoo M2 Pro should be strongly considered by commuters, as it has a good mix of range and portability.
With good torque and climbing power, it will also be a solid choice if you have a lot of hills and valleys in your environment.
The IP54 rating makes it a great option for anyone living in a rainy/snowy/wet place.
The air-filled tires, and the dual suspension, make this scooter heaps of fun to ride. I may be neglecting this aspect on this blog at times, as I'm kinda obsessed with value and specs and performances and brands, but that doesn't do justice to the Kugoo M2 Pro. It is simply a great fun scooter and tons of users love it precisely because of that.
As we can see, lots of people might find this scooter ideal for them.
I don't think you can find the Kugoo M2 Pro in the US or Canada (although this Amazon listing might have it at times, so it may be worth checking it out). Something like the GoTrax GXL V2 Commuter (full review here) may be considered an equivalent for this scooter there.
Where to buy the Kugoo M2 Pro from?
Europe
The best place to buy the Kugoo M2 Pro from is
GeekBuying
, as usual. The scooter should arrive at your home in 3-10 days, and the shipping is free.
---
US, Canada alternative
Since the Kugoo M2 Pro is not yet available in the US and Canada, an equivalent scooter might be the GoTrax GXL V2 Commuter. Similar price, similar specs, great quality as well. You can find it on the
official GoTrax store
.
Kugoo as a brand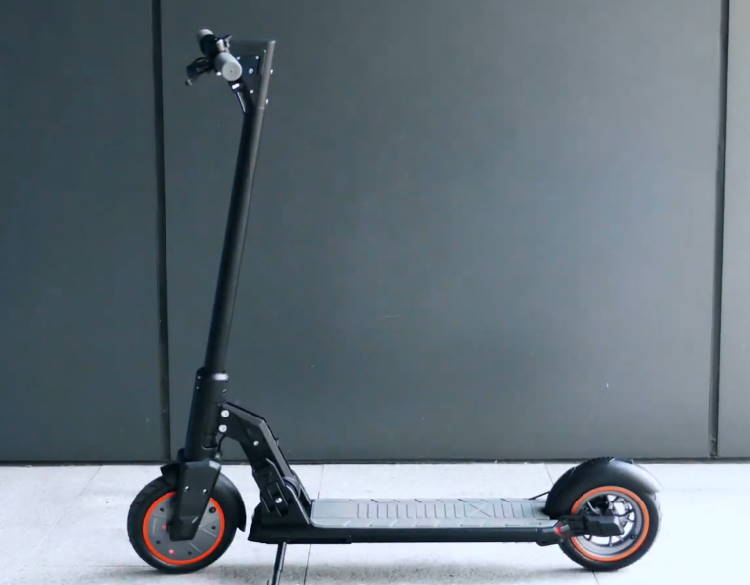 There are fewer budget electric scooter brands in Europe than you would expect. Naturally, the ever-present duo of Xiaomi and Ninebot has a strong presence, and there are some much smaller brands that don't really have many good offerings.
And then there's Kugoo.
Kugoo offers electric scooters that are often more performant and better equipped than the go-to scooters, and for a much more affordable price as well.
And they are doing pretty well so far. They were pretty much a no-name when I first got into electric scooters, and now they seem to finally be getting their foot through the door and are establishing themselves as a force to be reckoned with.
Ordering, shipping, price matching, and discount
Kugoo scooters are traditionally best ordered through GeekBuying. Most often, they only ship in Europe, and sometimes Asia. Shipping is usually free and takes between 3 and 10 days.
One thing I like about GeekBuying is that they offer price matching. If you find the Kugoo M2 Pro for a cheaper price from another online store, you will get the same price from GeekBuying (it has to be a legit store though).
Anyway, that's likely never going to be used, as GeekBuying always has the lowest prices on Kugoo scooters.
Also, right now, there is a huge discount on the Kugoo M2 Pro, and it costs $365, instead of the usual $499. Not sure how long the discount will last, but if you have a good feeling about the Kugoo M2 Pro, you may want to check it out soon. This is the link for the Kugoo M2 Pro on GeekBuying.
Warranty, returns, refunds, customer support
The Kugoo M2 Pro comes with a full year warranty, except for the battery, which gets 6 months as usual.
If the scooter is broken on arrival, or if the order is mistaken, you can replace it or get a refund in 30 days. The same may be true if you simply don't want the scooter, although for that option to be available, the scooter must not have been used.
If you buy through GeekBuying, you will receive all the support you need from the customer care team.
Unboxing and assembly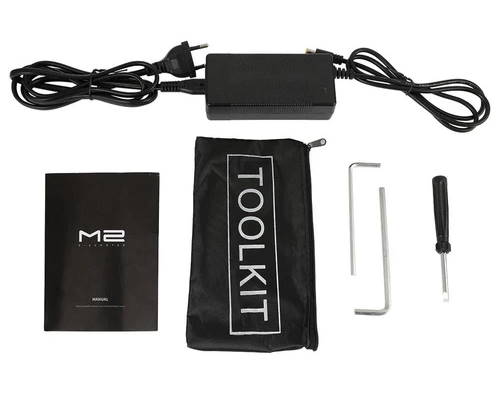 The scooter can arrive in a double box, which is unusual and may annoy some environmentally conscious people, but coupled with the rest of the protective packaging and styrofoam, it will certainly protect the scooter from damage while shipping.
The package will contain:
the scooter
the charger
the toolkit with Allen keys, a screwdriver, and a bag for the tools
the user manual
the warranty card
Assembly is simple, although honestly, not as simple as with other scooters. You will need to connect the cables from the handlebar and the stem, and then put the handlebar in place and tighten the screws.
It is recommended you charge the battery fully before riding for the first time.
Build quality and design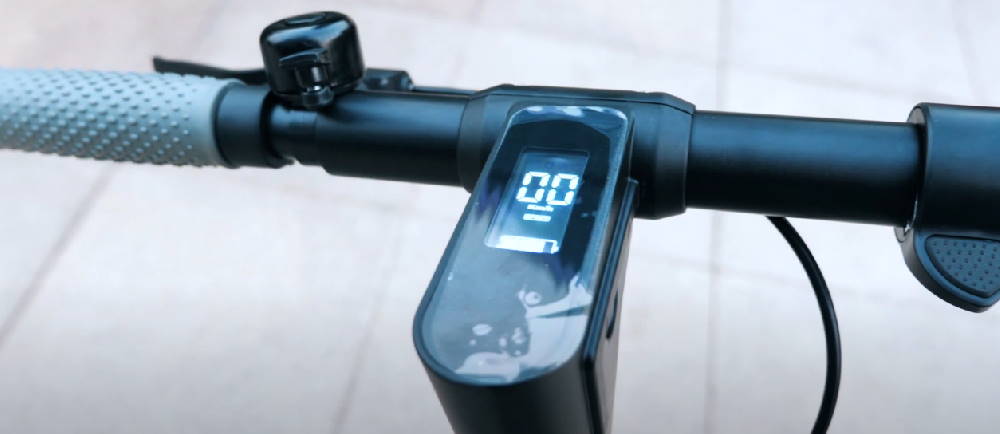 The Kugoo M2 Pro is one tough cookie. The frame has a very solid, robust look and feel to it, and the design of the scooter itself gives away a vibe of reliability and strength. Previous versions of this scooter did have some durability issues, but they have been successfully solved, and the result is a well-built, tough, very agile scooter, much more than most other entry-level scooters available today.
Basics, folding, user manual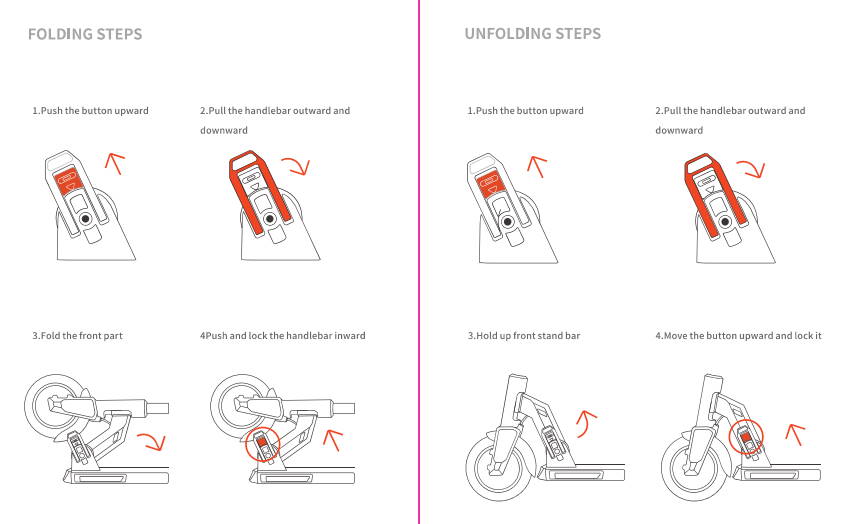 As usual, the scooter is turned on and off by a long press of the power button, located on the right of the screen. If the button is pressed while the scooter is turned on, that will toggle the front LED light.
The scooter accelerates through the thumb throttle on the right handlebar, which is the best kind of throttle in my opinion. The throttle is sensitive, but not jerky, and it will provide good speed control.
You can switch between three speed modes, which limit your top speed to:
The speed mode is changed with a double-press.
The Kugoo M2 Pro has one of the simplest folding mechanisms I've ever seen. To fold the scooter, you only need to unlock the safety lever, fold the stem, and lock the safety lever again. I don't think it can get any simpler than this. Plus, when folded, you can rotate the handlebars so that they are not as wide and you can fit your scooter in car trunks easier.
The bell is located on the left handlebar, it will be loud enough for every pedestrian, and some but not all vehicle riders will hear it as well.
Everyday use and ride experience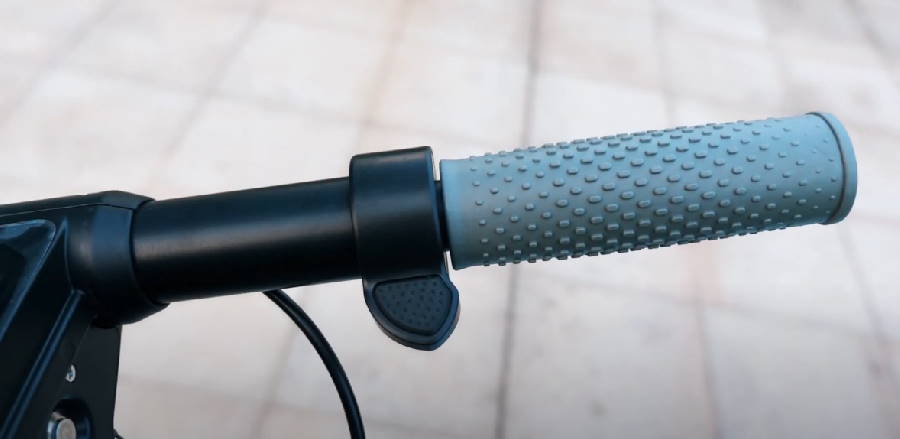 This scooter has a much better ride than most other $500 scooters, mainly thanks to the pneumatic tires + double suspension combination. That is not often found in the same scooter at this price range. The rides are smooth, comfortable, and probably most importantly, extremely fun.
The Kugoo M2 Pro includes the cruise control feature, which will be activated after pressing the throttle for a few seconds. You can change the number of seconds after which the cruise control is activated through the app.
Lifespan and reliability
It may be a bit too soon to talk about the expected lifespan, as the scooter still hasn't been around for that long. One thing is for sure – this model is a huge improvement on previous scooters from this series, and the toughness and reliability are at a whole other level. The amount of "chinesium" is greatly reduced, and higher quality parts are used overall compared to other beginner scooters.
Balance, control, turning
The scooter has made design decisions that produce greater torque and more motor output and acceleration, mainly putting the motor in the front wheel. This is a good thing, and most single-motor scooters go with this option.
The usual drawback is that control and steering will not be something to write home about, and the scooter may be a bit front-heavy.
Well, the Kugoo M2 Pro addresses some of that with bigger handlebar width, and that does help. The scooter may still be a bit front-heavy though, so make sure to shift your body's center of gravity back a bit when braking from a fast ride.
Screen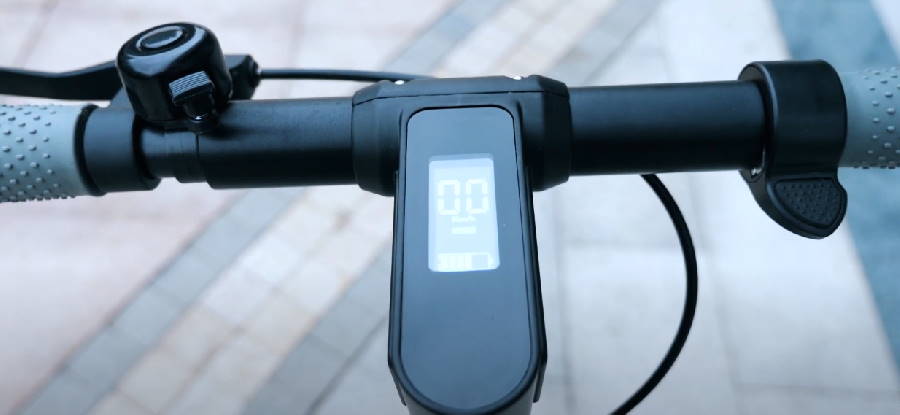 The LED screen has an anti-reflective quality, and although it isn't terribly bright, it is actually good enough for both sunny days and at night. It displays:
current speed
current speed mode
battery level
The battery level has 6 bars instead of the typical 5, which is a more precise way to gauge how much juice you have left.
Motor, power, climbing, and torque
The single hub brushless DC motor, integrated into the front wheel, has a power level of 350 Watts, with a peak power of 750 Watts, and a 14A controller. Most scooters in this price range have either 250 W or 350 W motors, so it's good that the Kugoo M2 Pro is in the latter category.
In scooters with one motor, the position of the motor plays a role and accounts for some features. Motors in the front wheel, like this one, provide more torque and traction than motors in the rear wheel. That means the scooter will generally be better at climbing and have better performance overall.
The 350 Watt motor, wisely installed in the front wheel, will make the Kugoo M2 Pro a decent climber, and it gives it an official climb angle of 15°, with users claiming it can even climb 20° hills without much difficulty.
Speed and acceleration
The official top speed of the Kugoo M2 Pro is 25 kmh (15 mph). There are not many reports from users testing this speed, but the ones that have done so confirm this claim, and some even report higher top speeds of around 28 kmh (17 mph). The top speed will decrease as the battery level drops.
The acceleration is pretty good, certainly better than average. The level of the acceleration can be set through the app as well, which is pretty cool.
Battery, range, and commuting
The 18650 lithium battery of the Kugoo M2 Pro has a 270 Watt-hour capacity and a voltage of 36 Volts. The battery has a smart battery management system that protects it from overcharging and partial charging.
The Kugoo M2 Pro has a range of 30 kilometers (18 miles) on a single battery charge. The specified range is close to what users get in real-world rides.
As such, the Kugoo M2 Pro is a very good commuting option, especially given the fact that it's not too heavy and can be carried in and out of public transport with relative ease.
Charging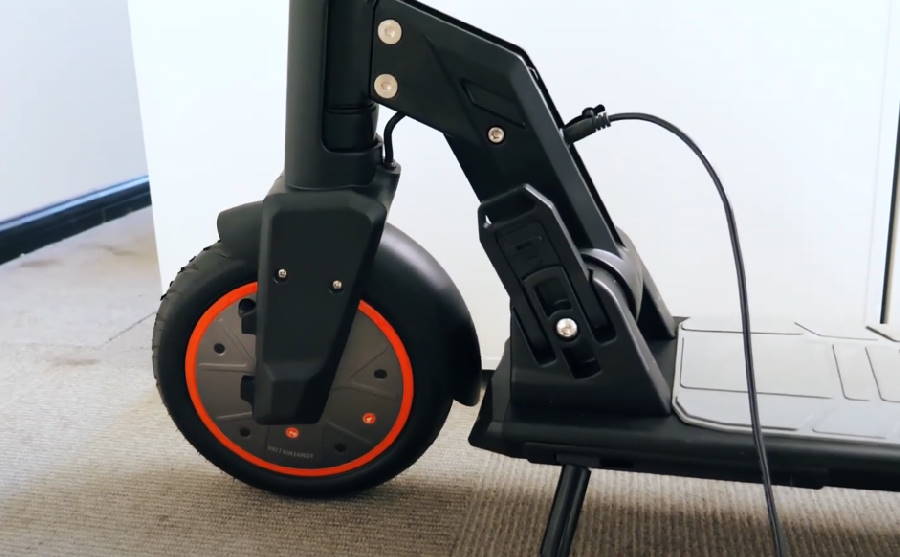 Charging takes 4 hours on average, but as the battery naturally degrades over time, the charge time can extend to up to 6 hours.
The charging port is located at the base of the stem, and is protected from water and dust by a plastic cap.
Charging the scooter fully costs 7 pence in the UK, and 6 cents in the EU on average, if you charge during off-peak hours. Charging during peak hours costs around 10 pence in the UK and 9 cents in the EU.
Tires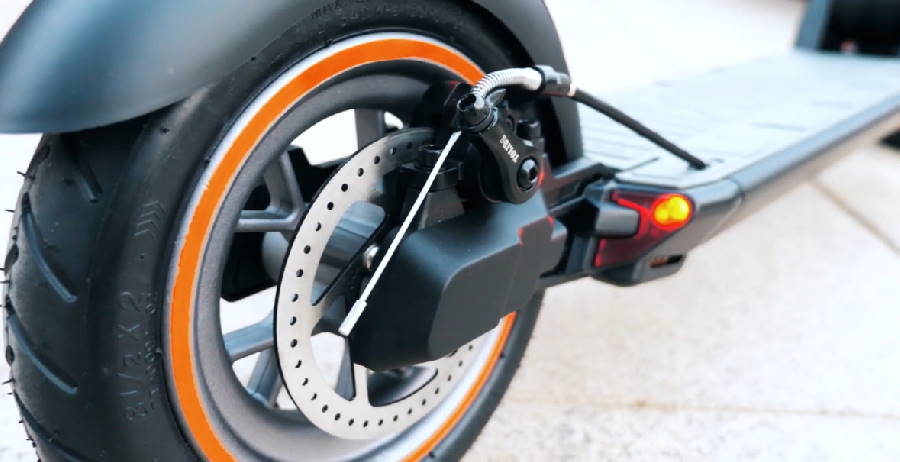 The 8.5-inch, 2.5-inch wide, pneumatic tubeless tires, strike a good balance between ride comfort and being resistant to flats, as tubeless tires are more puncture-proof than inner tube ones. The tires have a standard road tread on them.
The tires have vent spews on them, which in theory are just an irrelevant consequence from manufacturing, but in the real world, owners use them to identify how worn out the tire is. So if the little hairs on the tires are mostly gone, it may be a good time to consider changing the tire. The tire will have other visual cues, such as looking worn out.
Suspension
There is suspension on both wheels, a dual spring arm on the rear wheel, and one larger spring between the front wheel and the stem.
The suspension is good and goes a long way for increasing ride comfort, only larger bumps and holes will result in wobbling. Probably not the best shock absorbers in the world, but some suspension is much better than no suspension at all. And we have to keep in mind that the vast majority of scooters in this price category don't have any suspension at all, so this is a big advantage for this scooter.
Brakes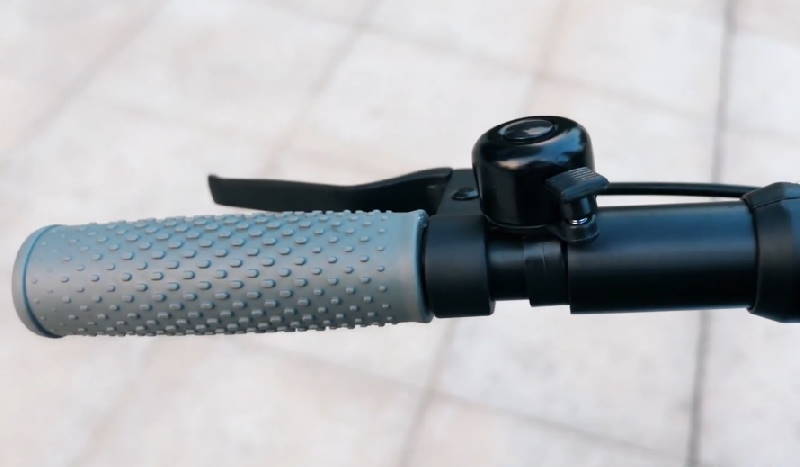 The Kugoo M2 Pro has a lot of brake redundancy, as it features two separate brake systems, that use three separate brakes in total.
The main braking mechanism includes a 110-mm disc brake on the rear wheel, and an electronic regenerative brake at the front wheel where the motor is located. They are both activated by pressing the brake lever on the left handlebar, which also activates the red rear lights and makes them blink.
The foot brake is activated by pressing your foot against the rear fender. This is an extra safety feature, and while I personally believe it is not very useful most of the time, it's better to have it available and not need it, than the other way around.
The braking distance of the scooter is 4 meters, and that gives the Kugoo M2 Pro very good stopping power, especially if you take into account its top speed.
IP rating and water resistance
The official water resistance standard of the Kugoo M2 Pro is IP54. That means the scooter is not technically waterproof, but it has good water resistance and protection, enough to protect it from water splashes from all angles (that's what IP54 means).
Kugoo recommends not riding in the rain, but that's what every company recommends as well no matter how waterproof the scooter is. Users have gone through some light rain at times and haven't had major defects. You should know that if you decide on doing that, there is a small risk of your scooter having some problems.
Deck and handlebars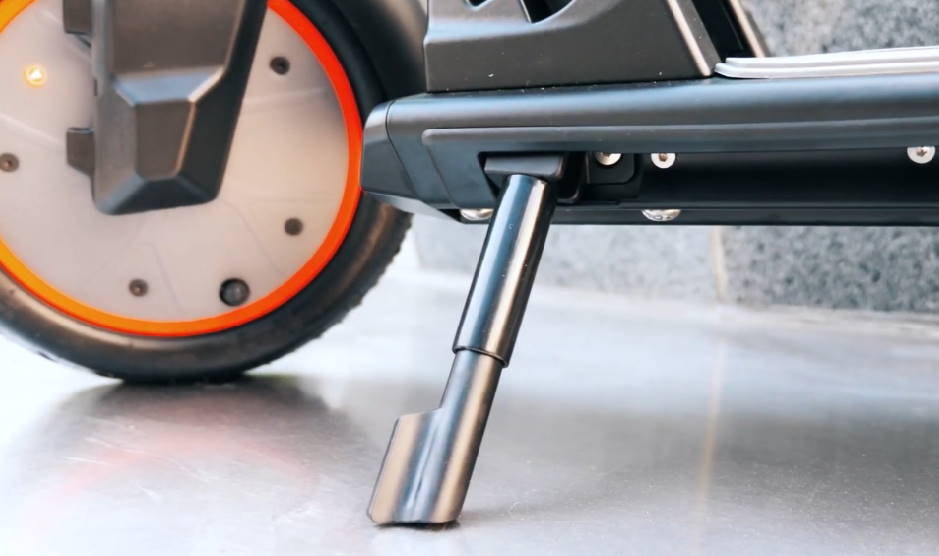 The standing surface is in a pleasing rectangular shape but with no sharp edges. With 40 cm in length and 18 cm in width, it is big enough for pretty much all types of riders. It is covered with patterned rubber to prevent slipping.
The handlebars are covered in gripped rubber covers that prevent slipping even if your hands get sweaty.
The height of the handlebar is not adjustable, but the deck-to-handlebar height (around 101-102 cm) is pretty standard and will be a good fit for most riders, including taller riders up to 195 cm / 6'5".
With a width of 50 cm, the handlebars are wider than the ones of most other scooters in this price category, which increases the control and balance of the scooter, and greatly improves the riding experience overall.
Use cases, terrains, and where to ride
The scooter's primary use case is urban use, commuting, and casual rides on roads and streets.
Going offroad with the Kugoo M2 Pro is probably not a good idea. The scooter is very tough and will probably handle it better than most $500 scooters, but it's still not designed to handle brutal offroad trails. Some grass and gravel will be ok every now and then, as the scooter's frame, its pneumatic tires, and the suspension, will all help make the ride bearable. If you're looking for a ride through some rough terrain, see my guide on the best offroad electric scooters.
Lights and night rides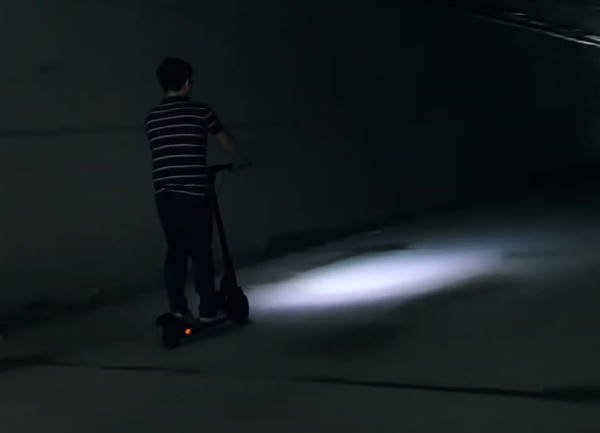 The Kugoo M2 Pro has a white LED light at the front of the stem, located at the top right under the handlebar. Because of its strength and mild angle, it casts light at about 6-7 meters of distance.
The rear of the deck has red rear lights that serve as blinking and brake lights, activated when the brake lever is pressed.
The lights are strong enough, and the scooter can be considered street-legal (missing lights may make the scooter not compliant with some traffic laws).
Dimensions, weight, and portability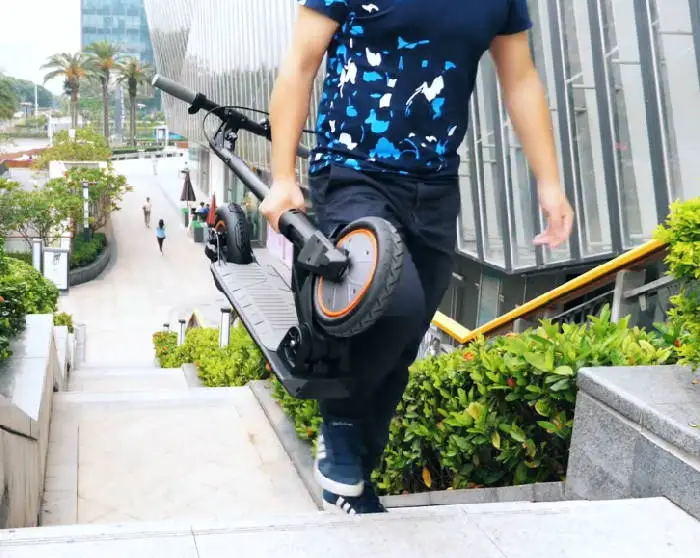 The dimensions of the Kugoo M2 Pro are:
folded (L x W x H): 113 x ~30 x 51 cm / 44.5 x ~11.8 x 20.1 in
unfolded (L x W x H): 113 x 50 x 111 cm / 44.5 x 19.7 x 43.7 in
That makes it an averagely-sized scooter, about the same as most other modern scooters.
One additional portability point should be awarded because the handlebar rotates when the scooter is folded, which decreases its width and makes it easier to carry and place in car trunks.
The weight of the Kugoo M2 Pro is 15.6 kg / 34.4 lbs, which also makes it comparable to most commuter scooters, maybe a bit heavier. It still falls into the category of scooters that are not too heavy (for most people, scooters under 12 kg are very light, and scooters over 18 kg are already getting heavy).
As usual, the center of gravity is closer to the side with the motor, and that's the front in this case, but the scooter is still not awkward to carry even for longer distances.
In summary, it's not the most portable scooter ever made, but it is fairly portable and shouldn't cause too many issues when carrying and storing for most owners.
Weight limit
The Kugoo M2 Pro can carry loads of up to 120 kg (264 lb). The scooter has been used by both heavier users, but also by rebellious couples that ride two at a time (you shouldn't do that, but it's fun, so…), and the weight limit is confirmed.
The scooter is powerful enough for riders weighing up to its weight limit. It's possible that even heavier riders can ride it, but that is usually not a good risk to take (check out the guide on the best electric scooters for heavy adults if you need bigger weight limits).
Materials and colors
The build materials used for the scooter are aluminum and magnesium alloy. The details are made from plastic, rubber, and silicon.
The scooter usually comes in black and silver as base colors, sometimes pink is available too, and it sports orange rings on the wheels. This is subjective, but I like that color choice and combo a lot.
App, bluetooth, and lock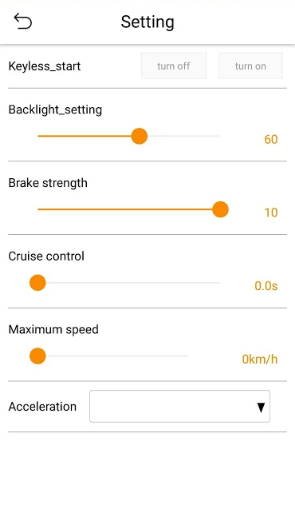 The app has a nice design and should have useful features, but it's poorly implemented and users generally are not satisfied with it. This seems to be a common theme among many popular electric scooter brands, which is very weird to me – isn't creating a good scooter the harder part, which Kugoo has already done?
To be fair, even a bad app shouldn't be considered a downside unless it prevents the scooter from being used, as the majority of scooters simply offer no app at all. Kugoo is making an effort at least.
Anyway, the app can lock the scooter, which is a cool feature I always love seeing from apps. I still recommend getting a good scooter lock, as the app lock alone won't prevent theft, but it's still better to have it than not.
It can also power the scooter on and off and toggle the lights.
It can display:
the current speed
the battery level
the trip distance
the total distance covered
There are several preferences you can set through it, like:
whether to use the metric or the imperial system
brake strength
backlight settings
how many seconds to activate cruise control
how fast should the acceleration be
Even though it's full of features, the app is poorly rated mainly because of bluetooth and connectivity issues. This is the most common problem with scooter apps, and almost no app has solved these problems successfully.
The app is available for Android and iPhone. It has a 1.8-star rating on the Google Play Store, which seems pretty disappointing, although the poor ratings can mean very little since satisfied users are likely to not review the app at all, while frustrated users who have just got their scooters and can't use it fully because of the app are much more likely to leave a bad review. In any case, the app obviously needs work, so let's hope Kugoo address that soon.
In addition to the original Kugoo app, I recommend taking a look at the Universal Electric Scooter App by EScooterNerds. It is designed to work together with the Kugoo app, and provides many complementary features like tools, calculators, hacks, guides, and other resources. The app can be found both on the Apple App Store and the Google Play Store.
Accessories and customizations
The Kugoo M2 Pro is reasonably feature-full, so there will not be a need for too many customizations.
If you want to beef up your scooter, you can start with some common cheap accessories, usually the generics should fit:
mirror
trunk or basket
possibly a louder horn if you need it (like the Airzound on Amazon)
Check out the full post on all the possible electric scooter accessories for more cool ideas. Of course, don't forget the helmet.
It seems that the scooter doesn't support a seat, and there are no known seat customizations for it at the moment.
Maintenance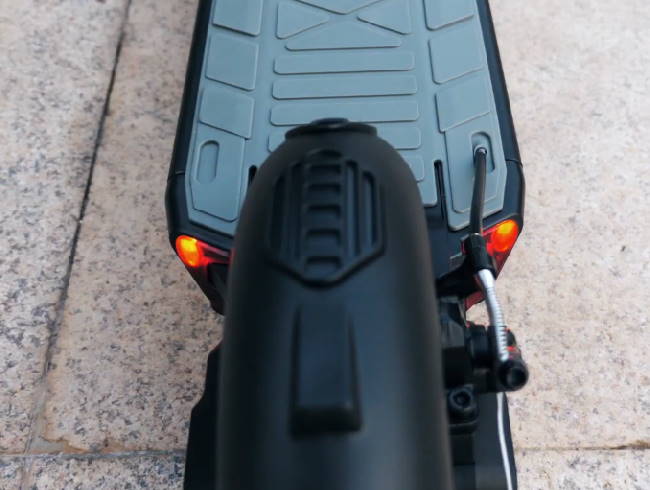 The scooter requires some light maintenance work every now and then. You can probably get away with simply checking things once a month, and only doing something that needs to be done, which will be once every 3-6 months.
All you have to do is make sure there are no loose screws, and potentially lubricate the screws and joints if needed.
Kugoo M2 Pro specifications
Kugoo M2 Pro Specifications
| | |
| --- | --- |
| Top speed | 25 kmh |
| Top speed | 15.5 mph |
| Range | 30 km |
| Range | 18.6 mi |
| Motors | single hub BLDC motor |
| Power | 350 W real, 750 W peak |
| Climb angle | 15 ° |
| Rotations | 680-730 rpm |
| Battery | 270 Wh, 36 V |
| Battery type | 18650 lithium |
| Charging time | 6 h |
| Ingress protection (IP) | IP54 |
| Weight | 15.6 kg |
| Weight | 34 lbs |
| Weight limit | 120 kg |
| Weight limit | 265 lbs |
| Tire size | 8.5 in |
| Tire type | pneumatic |
| Foldable | yes |
| Foldable handlebars | no |
| Seat | no |
| Trunk or basket | no (customization possible) |
| Build material | aviation-grade aluminum |
| Terrains | urban |
| Brakes | front electric + rear mechanical disc + foot brake, braking distance 4m |
| Lights | headlights + taillights |
| Control | high-contrast round display |
| Speed modes | 3 |
| App | yes |
| Warranty | 12 months (6 on battery) |
| Folded dimensions (L * W * H) | 113 cm * 50 cm * 51 cm |
| Folded dimensions (L * W * H) | 44 in * 20 in * 20 in |
| Unfolded dimensions (L * W * H) | 113 cm * 50 cm * 111 cm |
| Unfolded dimensions (L * W * H) | 44 in * 20 in * 44 in |
| Deck dimensions (L * W) | 40 cm * 18 cm |
| Deck dimensions (L * W) | 16 in * 7 in |
| Deck to handlebar height | 101 cm (est) |
| Deck to handlebar height | 40 in (est) |
| Adjustable handlebar | no |
FAQ
These are some commonly asked questions about the Kugoo M2 Pro.
Can you ride the Kugoo M2 Pro in the rain?
While it's not recommended to be ridden in the rain, the Kugoo M2 Pro has an IP54 rating that should make short rides through light rain harmless. Despite the good water resistance rating, there is always a slight risk of damage though, as with every electronic gadget.
How fast can the Kugoo M2 Pro go?
The advertised top speed of the Kugoo M2 Pro is 25 kmh / 15.5 mph. Most users are able to get this speed in their rides, and some have even got 28 kmh / 17 mph.
How much range does the Kugoo M2 Pro have?
The official range of the Kugoo M2 Pro is 30 km / 18.6 mi. User tests almost confirm this range and get similar results in real-world rides.
How long does it take for the Kugoo M2 Pro to charge?
The Kugoo M2 Pro will take anywhere between 4 and 6 hours to fully charge.
Kugoo M2 Pro vs Kugoo S1 Pro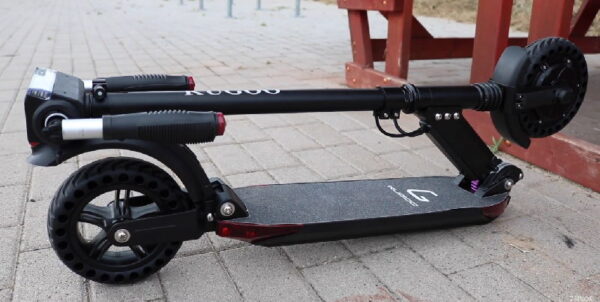 The M2 Pro and the Kugoo S1 Pro share a lot of commonalities, most notably similar top speed and range, weight load, climb angle, and water resistance.
The S1 Pro is a bit lighter and more portable, and that's its main advantage.
However, the S1 Pro has solid tires, and while that is a plus in some scenarios (like if you get a lot of flats), overall, air-filled tires provide a much better ride.
Personally, I would pick the M2 Pro here, especially at the discounted price, which makes them priced the same. You can read the full review of the Kugoo S1 Pro if you want a very similar scooter to the M2 Pro but with solid wheels.
Kugoo M2 Pro vs Xiaomi M365
This may sound crazy to some, but I truly believe the Kugoo M2 Pro has enough advantages over the Xiaomi M365, to be considered better on average, or better for some use cases at the very least. It is, after all, designed to be a direct improvement of the Xiaomi M365.
The Kugoo M2 Pro has tubeless tires, and it doesn't suffer from flats as much as the Xiaomi M365 does. Plus, it has suspension, which the M365 sorely lacks. Also, let's not forget, currently the Kugoo M2 Pro is about $100 cheaper than the Xiaomi M365.
The Xiaomi M365 has brand recognition on its side. Also, it's a bit lighter, weighing about 3.5 kg / 7.7 lbs less. Those are not trivial things, and will make a difference for some users. If that's something closer to what you're looking for, you can see my detailed Xiaomi M365 review to learn more.
Now, if we're talking about the Xiaomi M365 Pro, that's a whole different story, and the price difference between the Kugoo M2 Pro and the Xiaomi M365 Pro is so big that comparing them makes very little sense.
Kugoo M2 Pro vs Lenovo M2 Pro
The Kugoo M2 Pro and the Lenovo M2 Pro are essentially the same scooter.
Lenovo has obviously decided to join in on the electric scooter craze, but not with an original model of their own just yet.
Unrelated, I'm typing this on a Lenovo laptop which I've had for more than 7 years, it has suffered a lot of punishment and it's still going strong, so I hope Lenovo decide to apply their technical know-how and release an electric scooter of their own.
User reviews, issues, and what owners are saying
Owners have mostly good things to say about the Kugoo M2 Pro. The scooter is of great service to its users, and most have no issues, or only minor issues with it.
One thing worth mentioning is a rather infamous case of the handlebar of a previous version braking after some use, mostly because of faulty design. Kugoo has stated that the issue is resolved in the latest release. This is something you should be aware of if you're considering buying this scooter, but I guess you should also know that many other more famous and expensive models have had this problem pop up here and there.
Another issue I noticed is the complaint from one user that the tires of his scooter actually had inner tubes instead of being tubeless as advertised. Still, another review stated that the scooter did in fact have tubeless tires, so it's likely that the user with the inner tube tires had gotten an older version.
You might also have some issues with the display of the scooter, like the speedometer showing just 1 mph even when you're zooming fast, but this is usually solved by restarting the scooter or letting it rest for a few minutes.
Overall, the Kugoo M2 Pro has a reputation as a tough and durable scooter. It is still a budget scooter, and that will always mean it has made some tradeoffs, but the latest version will be of sufficient quality, and great value for money.
Price, value, and savings
Currently, the Kugoo M2 Pro costs $365, and that's a real bargain. The scooter's price was $499 for a long time, and even at that price, the scooter was great value for money.
If you use this scooter as a replacement for a part of your commute, or the entire commute, your scooter will pay itself off on saved transport costs within one year, often much sooner than that.
Verdict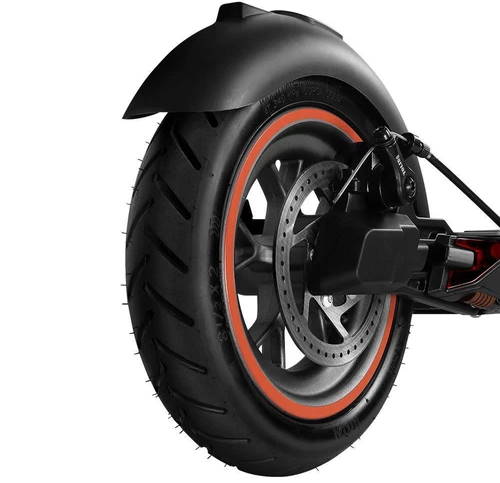 The Kugoo M2 Pro is a scooter made in the true Kugoo spirit – great value, very affordable, very good specifications and performance. They are still not available in the US, where there are many other budget-friendly brands available (the GoTrax GXL V2 Commuter is a great alternative), but in Europe, they are often the clear winner for some price ranges. I believe that to be the case for the Kugoo M2 Pro – it is a very good budget option, and you simply won't find a better scooter for that price.
Where to buy the Kugoo M2 Pro from?
Europe
The best place to buy the Kugoo M2 Pro from is
GeekBuying
, as usual. The scooter should arrive at your home in 3-10 days, and the shipping is free.
---
US, Canada alternative
Since the Kugoo M2 Pro is not yet available in the US and Canada, an equivalent scooter might be the GoTrax GXL V2 Commuter. Similar price, similar specs, great quality as well. You can find it on the
official GoTrax store
.
---
Want to get
FREE SCOOTER
tips, exclusive discounts and promotions, and unseen scooter hacks? Join the
Scooter Secrets club
.
---
Liked this article? It really helps if you share it.
Follow @escooternerds on social media for more cool stuff
---