Last Updated on August 6, 2023 by Matt
Of all the 25 mph electric scooters I've tested, some stood out more in performance and features than others. 
This guide will cover my favorite 25 mph electric scooters in detail so that you can decide what scooter will suit your needs the best.
Best 25 mph Electric Scooters
Here's my list of the best 25 mph / 40 kmh electric scooters with their use cases and prices. 
Best Overall: Apollo City
The Apollo City is easy to use and beginner-friendly, like most budget electric scooters, but offers better performance. Even though it's a mid-price electric scooter, you get several features that you would usually find in more premium models.
This includes suspension in both wheels, which enhances the scooter's ability to absorb shocks and deliver a smoother ride. 
The scooter has 3 speed modes and has lights fitted all around in the frame. You get two red brake lights, two main headlights on the deck, and additional LED strips on the side and stem.
If you think the Apollo City might be the electric scooter you're looking for, read my comprehensive review of the model here.
Who should get the Apollo City?
If you're looking for an entry-level electric scooter that offers more than typical budget scooters, the Apollo City can be a good option. 
The model is also great if you're looking for a high-quality braking system but can't find one in this price range. It's equipped with a drum brake in the rear wheel and mechanical brakes in the front. In addition, you also get regenerative brakes and a brake lever on each handle.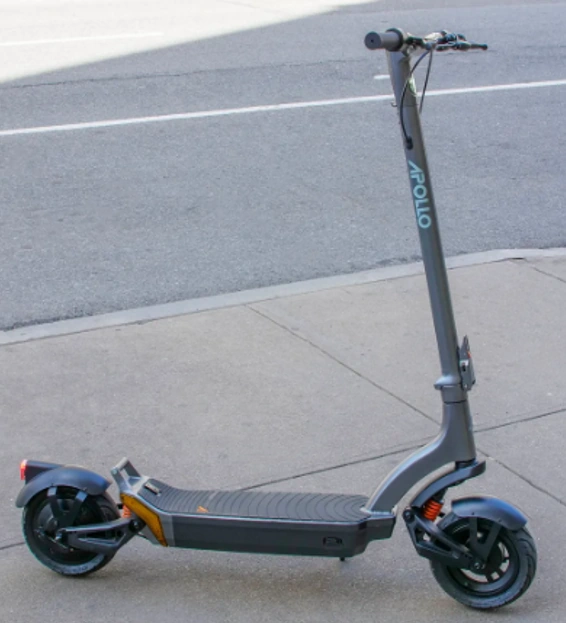 Who should not get the Apollo City?
Since the Apollo City is an urban electric scooter whose tires are too small for off-road riding, it won't do much for you on challenging terrains.
Best High-End: Inokim Quick 4
With its unique silver and black frame and red accents, the Inokim Quick 4 is quite the head-turner.
The electric scooter has a great build quality. You can count on this long-lasting model as a reliable ride for your everyday commuting needs.
To absorb shocks, the Quick 4 has rubber suspension at the back and a spring in the front.
I had doubts about the rubber suspension when I first rode the electric scooter, but the ride ended up being one of the smoothest I've had.
Who should get the Inokim Quick 4?
The Inokim Quick 4 is for anyone looking for a durable electric scooter with consistent performance.
The stem of the electric scooter can be shortened, and the handlebars are foldable, making it a great option if you prioritize portability.
All those features, combined with a good 36 miles range, make the model suitable for anyone seeking an everyday commuting scooter.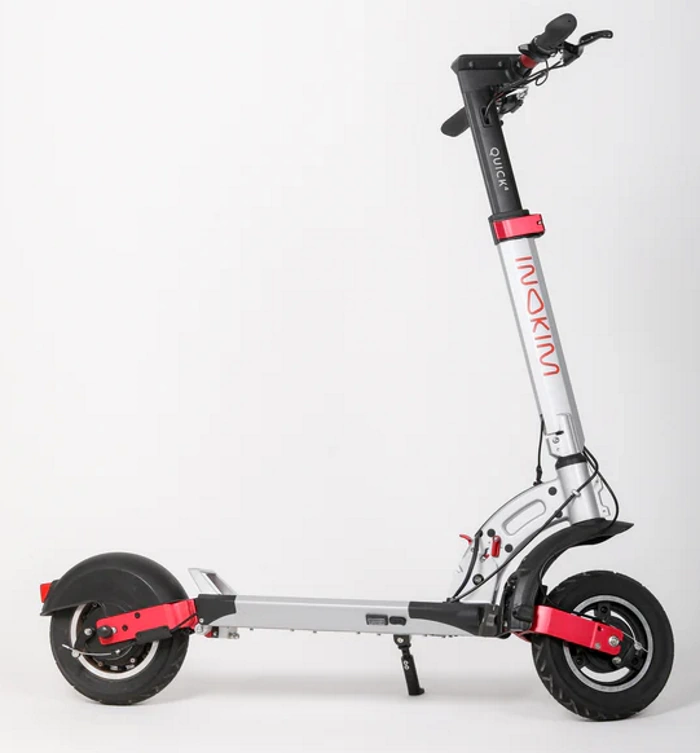 Who should not get the Inokim Quick 4?
The Inokim Quick 4 is a good commuter electric scooter, but the deck is small, even for an average electric scooter rider. 
Also, for an electric scooter of this price, I do feel that the acceleration speed could be better.
Plus, the model has no IP rating, so I wouldn't say it's a reliable model to invest in if you live in a rainy area.
Longest Range: Mercane Jubel
The Mercane Jubel isn't the most well-known electric scooter, but it was a breath of fresh air when it was released. The scooter has a modern and slick design with unique patterns and aesthetic lines.
Apart from looks, you also get impressive performance with an 800-watt (peak) motor in the rear wheel and 40 miles / 64 kilometers of range.
The electric scooter can climb well because of its dual motors and has 12-inch pneumatic tires to ensure a smooth ride. You also get a dual brake system consisting of both a drum and disc brake.
Who should get the Mercane Jubel?
The Mercane Jubel is for anyone who wants a premium electric scooter with all the features you will ever need. You get a long-range, fast electric scooter with a high-quality brake system, great safety features, and solid performance.
It's also great for riders who want their electric scooter to stand out and give off a sporty, sleek, and elegant appeal.
Who should not get the Mercane Jubel?
The Mercane Jubel has a weight limit of 220 lbs, so it's not the best electric scooter for heavier riders. If that's what you need, you should check out scooters with a higher weight limit.
Also, since the escooter doesn't have an IP rating, I wouldn't risk buying it if I lived in a rainy area.
Best Off-Road: Hiboy Titan
The Hiboy Titan is a powerful urban electric scooter with 10-inch off-road tires. Its 800-watt dual motors and 25-degree climb angle make it perfect for riding over hilly areas as well.
The double disc braking system and dual shock suspension of the model do help with uneven paths, but I wouldn't recommend the electric scooter for more challenging terrains.
With a scissored structure, the scooter can support loads up to 286 lbs / 130 kg, which is higher than other electric scooters in this price range.
Who should get the Hiboy Titan?
The Hiboy Titan is for riders who often commute over hilly areas and want a powerful electric scooter for a smoother ride. 
With the big weight limit, wide deck, and excellent build quality, the electric scooter is also good for heavier riders. It's made of reinforced aluminum steel, so you can count on the model to last longer than some of the more delicate electric scooters on the market.
Who should not get the Hiboy Titan?
The Hiboy Titan isn't too portable, especially if you carry your electric scooter around a lot. It is light enough to fit in your car's trunk, but it might not be the best choice if you need to carry it in and out of public transport a lot.
Best Value: EMove Touring
EMove Touring is the type of electric scooter that works great as an entry-level electric scooter but that also provides its owners with a bit of extra benefits. It has all the qualities you would want in an electric scooter, but better than what you might expect at this price range.
The scooter has a 750 watt motor and a 20 degree climbing angle. Combined with the 624 watt-hour battery, you can rely on the scooter to ride smoothly over hills.
The advertised range is 25 mi / 40 km, but you may even reach a bit more under ideal conditions. 
Check out my detailed EMove Touring review for more information.
Who should get the EMove Touring?
The EMove Touring is an urban commuter designed to maximize comfort for the rider and is great for touring. Its triple suspension system allows the electric scooter to eat up any potholes and bumps on the road facilitating a smoother ride experience.
It has an IPX6 rating. So, if you live somewhere with a lot of rain, you can count on the Emove Touring to handle some water easily. 
Who should not get the EMove Touring?
If you're looking for a high-performance scooter, you might want to skip the EMove Touring. 
Also, the tires are only 8 inches, so they'll not give you enough stability to maintain control and ride smoothly on off-road terrain.
Users have also reported that some parts of the electric scooter get wobbly after a few months of usage.
Best Solid Tire: Mercane Widewheel Pro
Most electric scooters aim to have a little bit of every feature to appeal to a larger number of consumers. The Mercane Widewheel, on the other hand, knows exactly the areas where it wants to dominate.
It has a robust build quality with dual motors providing 1600 Watts of peak power and a dual suspension system.
But that's not the main superweapon of the scooter.
The scooter is famous for its tires. The Mercane Midwheel Pro has wide 8″ x 3.9″ airless tires that are filled with foam. If there is any scooter you can rely on to not get flat tires, it's this one. No need to worry too much about their maintenance either.
Check out my detailed Mercane Widewheel Pro review if you're curious.
Who should get the Mercane Widewheel Pro?
Anyone looking for an electric scooter with a tough build that can offer high performance on even roads will love the Mercane Widewheel Pro.
Overall, the scooter looks great, performs great, and is a reliable commuter electric scooter.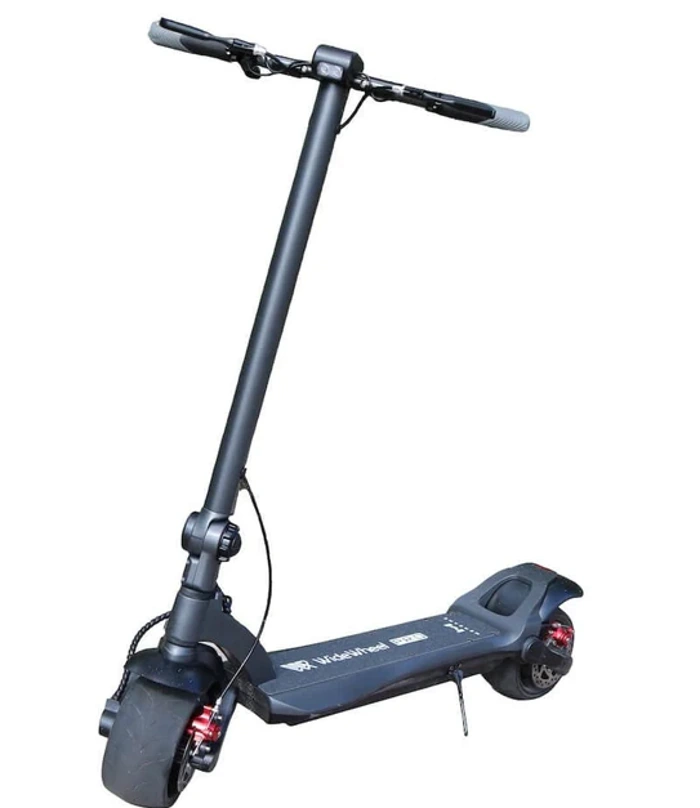 Who should not get the Mercane Widewheel Pro?
The Mercane Widewheel Pro is a somewhat heavy electric scooter in this category.
Also, the electric scooter may look like it can handle off-road terrains on the outside because of the sturdy exterior, but the solid tires will make it a struggle to stay stable and in control.
Best Alternative: FFR Mosquito
The FFR mosquito is an electric scooter popular for its speed and portability. 25 mph / 40 kmh may not be the fastest electric scooter speed, but it's pretty high for an electric scooter that just weighs 29 lbs / 13 kg.
With the FFR Mosquito, you get a sleek design consisting of a black frame with chrome accents. The cables are outside, which is one of my biggest pet peeves when it comes to electric scooters, but they're tethered close to the scooter so nothing is hanging out.
The scooter is equipped with a 500-watt motor, which is sufficient considering how small the scooter is.
Who should get the FFR Mosquito?
If portability is important to you in an electric scooter, it doesn't get better than the FFR Mosquito.
The model is already compact as it is, but with the foldable handlebars and the retractable stem, it becomes ultra-portable. The folding mechanism is so easy and convenient you can close and open the scooter in seconds.
There's also a velcro band you can attach to the scooter's stem to easily carry it around.
Who should not get the FFR Mosquito?
The FFR mosquito may be ultra-portable, but it's also a very delicate electric scooter. That, combined with the solid tires, makes it a big no-no for off-road terrains and heavier riders.
Plus, the handlebars are narrower than average, so they may take some time to get used to, especially if you have big hands. All in all, I would only recommend this model to riders who need an electric scooter that they can carry around frequently without getting tired. 
Is getting a 25 mph electric scooter worth it?
If you're looking for a commuter electric scooter that performs better than the budget electric scooters available in the market, then sure, a 25 mph electric scooter can be great. They're great for making regular commutes and running short errands. 
However, if you're an electric scooter enthusiast who rides more for the thrill, you might want something faster than a 25 mph electric scooter. The fastest electric scooters will probably be more to your liking.
Summary
That's a wrap on my list of the best 25 mph electric scooters. For reference, here's a quick summary of them one more time.
---
---
Liked this article? It really helps if you share it.
Follow @escooternerds on social media for more cool stuff
---