Last Updated on February 18, 2023 by Matt
Most electric scooters today are made out of aerospace or industry-grade aluminum alloy. That is the same stuff they use to build airplanes, which is great news. It is a battle-tested material that has been proven over time to be reliable, relatively cheap, and most importantly, both strong and light at the same time.
But lately, we're seeing a growing trend in manufacturers using another material for the frames of their scooters. One that is, miraculously, both stronger and lighter somehow, than aluminum.
We're talking, of course, about carbon fiber. Many top-of-the-line electric scooters today are either made out of carbon fiber entirely, or they use carbon fiber predominantly in their build.
If you want a super-lightweight, carbon-fiber electric scooter, this is a list of the best possible choices today.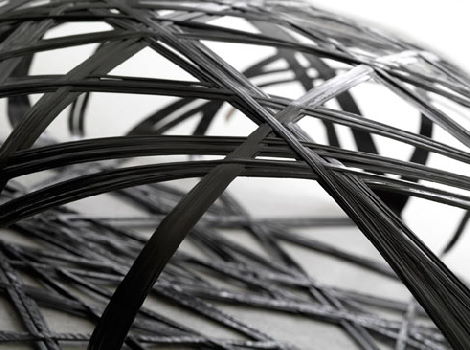 Let's see why carbon fiber is such an amazing building material, and why these scooters are so great for users that need tough yet light and portable electric scooters.
Best carbon fiber electric scooters
Let's explore the best carbon fiber electric scooters which you can get today.
If you want to check out the video version of this guide, see our Youtube video on the best carbon-fiber electric scooters.
Dualtron Storm Limited
Dualtron Storm Limited is the best carbon fiber electric scooter available today. This is my opinion, but I've found that it is shared by the vast majority of the electric scooter world.
Hailing from one of the best high-end scooter lines in the world, this Dualtron model surpasses all expectations one might have had before opening this list.
Before I go onto its specs, I must say that the Dualtron Storm Limited is a true colossus in the e-scooter world, and would only suit experienced riders with deep pockets. The scooter is priced at around $5399, but boy does it deliver.
Thanks to the dual hub motors with a peak power of 11500W, this scooter can reach speeds of up to 69 mph / 112 kmh!
It also comes with a range of up to 136 mi / 220 km, which makes it the longest-range electric scooter in the world.
While the base build material for the Dualtron Storm Limited is aviation-grade aluminum alloy, it is further coated in UltraLight carbon fiber in order to increase its performance. The scooter is labeled as an "extreme performance vehicle" by the brand itself, and it's clearly not a scooter for the average daily rider.
However, if you're looking for arguably the best, most performant electric scooter in the world right now, and definitely the best carbon fiber scooter money can buy, then this will be your pick.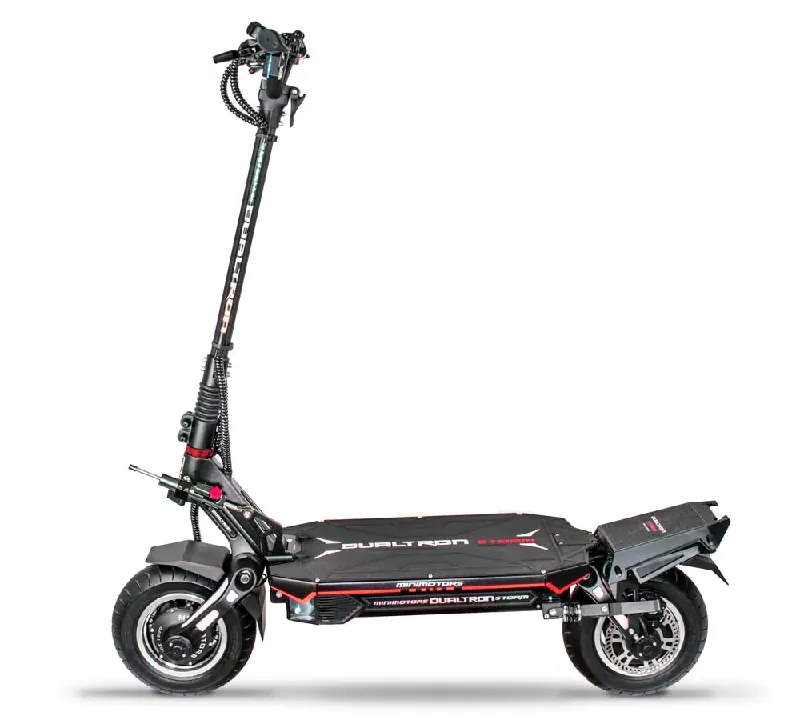 Nami Burn-E 2 Max
The Nami Burn-E 2 Max is a very close contender for the top spot, but I would still say it lacks some details in comparison to the Dualtron brand.
This scooter line is fairly new, and this latest model has been released in 2022, but it sure did make a splash on the scooter scene.
Unlike most other carbon fiber electric scooters, the Nami Burn E-2 Max is not a lightweight budget model meant for gentle cruises and having a bit of fun. Featuring a robust frame, along with giant deep-treaded tires, this scooter is made to handle rough terrains and all kinds of weather conditions.
The reason why Nami Burn E-2 Max includes a lot of carbon fiber in its build is so that it can go faster. Sure, reduced weight is a result of more carbon fiber at the expense of other, heavier materials, but the primary reason for that isn't portability, but speed.
This beast can reach speeds of up to 60 mph / 96.5 kmh, and with dual motors with a combined peak power level of 8400 Watts, this is one of the craziest scooters in existence.
Further, this amazing machine can go 90 mi / 144 km on a single charge, and it also comes with fully hydraulic 4-piston disc brakes, dual coil-shock hydraulic suspension springs, and 11-inch tubeless tires which offer a great balance of durability and traction.
The scooter is quickly gaining ground and becoming one of the most sought-after power scooters in the world, but its price of around $4900 is what prevents most people from enjoying a super-exciting ride on this monster.
If you're curious about the best off-road carbon fiber scooter ever made, check out my detailed Nami Burn-E 2 Max review.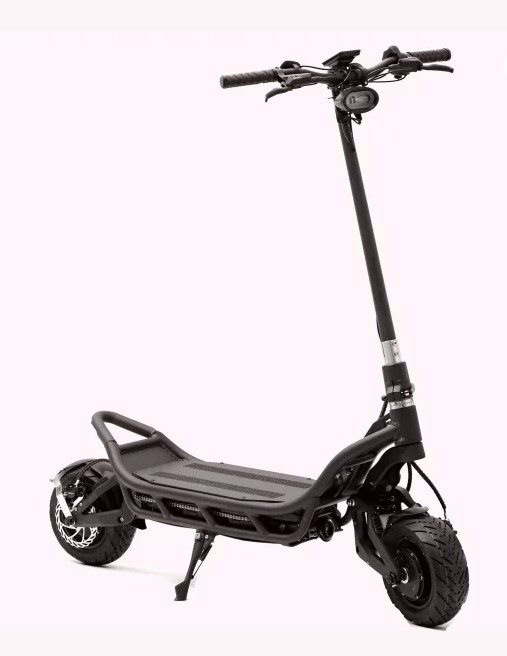 Weped GT
The Weped GT is priced at $3499.
Its top speed is 44 mph / 72 kmh, while its range is at about 64 mi / 104 km.
Thanks to the carbon fiber included in every part of its frame, the Weped GT weighs just about 77 lbs / 35 kg, which is the lowest among all power scooters using carbon materials in their build. It also outshines the rest of its competition with its great climbing abilities for inclines up to 27 degrees.
We could go on and list hundreds more aspects and comparisons between this and all the other carbon fiber scooters in this price range, but the choice is very simple. If you want a cool-looking carbon fiber scooter with a manageable weight that could go on for miles a day, but won't cost a fortune, the Weped GT is your ideal candidate.
Unagi Model One
The Unagi Model One is a very stylish, elegant scooter. It is built with a combination of aluminum alloy, and the special Toray carbon fiber, produced only in Japan.
Favored among tech journalists and bloggers, it is one of the most popular $1000 electric scooters in the US. It comes with a price tag of $999.
The Unagi Model One has a dual 500 Watt motor (there's also a 250 Watt version that costs $840). That kind of power gives it a climbing angle of 15 degrees, a top speed of 15 mph / 25 kmh, and a range of 15 mi / 25 km.
With the ability to pull as much as 275 lbs / 125 kg of weight, this is the best carbon fiber electric scooters for heavy adults on this list.
See my detailed Unagi Model One review if you want to learn more about this scooter.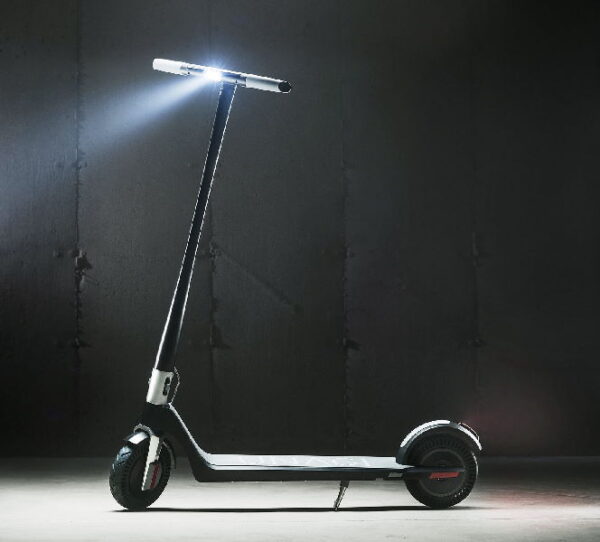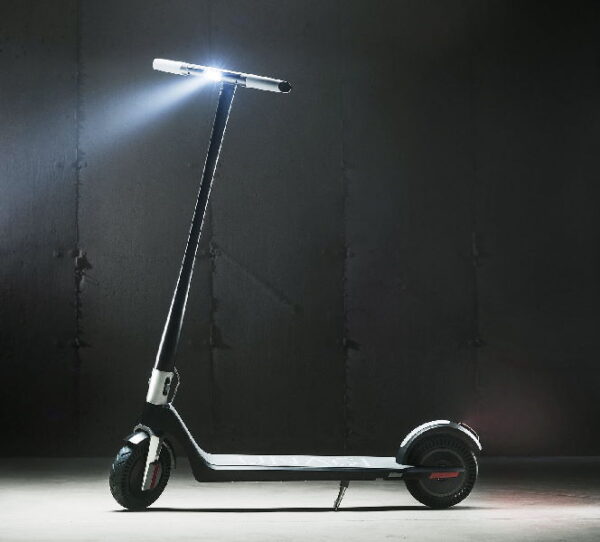 Swagtron Swagger
Without a doubt, the Swagtron Swagger is one of the most popular, most iconic, best-selling electric scooters of all time. There have been many versions of this scooter, but the Swagtron Swagger remains a classic.
The great thing about buying a scooter like the Swagtron Swagger is that it has already been proven through time as an excellent choice. Countless units have been sold, and there are swaths of satisfied customers, despite the scooter costing only $239.
That also makes it the cheapest carbon fiber electric scooter ever. That almost contradicts the notion that carbon fiber scooters must be on the pricier side.
Weighing only 18 lbs / 8 kg, but still being able to carry 250 lbs / 113 kg of load on its deck, this is one of the models that may even suit heavier adults.
The Swagtron Swagger offers very decent performances given its small mass and volume. It has a top speed of 15 mph / 25 kmh, a range of 15 mi / 25 km, and a proven climbing angle of at least 15 degrees (the company claims 20). This scooter will meet the needs of the vast majority of electric scooter lovers.
If you are on a tighter budget, you should seriously consider the Swagtron Swagger. It's one of those models that is almost impossible to make a mistake with.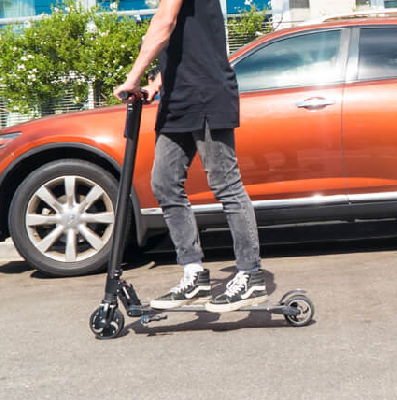 EcoReco XS
Coming from one of the most environmentally conscious brands of electric scooters, the EcoReco models are sort of a darling of Silicon Valley. They have become very popular over the past few years.
The EcoReco XS is their lightest model. As the name suggests, this is an extra-small scooter. Even though it's not made out of carbon fiber entirely (parts of it are from aluminum too), it is still a very light scooter.
It weighs around 16.5 lbs / 7.5 kg. The scooter folds down to a very small volume, perfect for carrying it in public transport and elevators.
The EcoReco brand prides itself in producing very energy-efficient scooters. The EcoReco XS model fits that description. It even has the regenerative braking feature.
Like many lightweight scooters, the EcoReco XS is not the most powerful of machines out there. There are actually several variants of the same scooter, but the most powerful one can reach a top speed of 20 mph / 32 kmh, and a range of around 32 mi / 52 km. Of course, that is more than enough for this category of scooters. Its price is also very affordable, with a price tag of $499.
Specifications:
top speed: 32 km/h
range: 52 km
battery: 288 Wh, 36 V
climb angle: 20 degrees
weight: 8 kg
weight limit: 100 kg
price: $499
EvoMotion EvoLite Carbon
Note: The EvoMotion EvoLite Carbon electric scooter has been discontinued and is no longer sold online. See the Unagi Model One on this list if you're looking for a similar carbon fiber scooter.
The British brand offers a large variety of scooters. The EvoLight Carbon is their lightest, most portable model.
A great option for commuters, this scooter weighs only 16.5 lbs / 7.5 kg thanks to its carbon fiber frame. Despite that, it can still carry loads of up to 220 lbs / 100 kg.
It usually comes in an all-black variant, making it one of the smoothest, coolest looking scooters on this list.
Its brushless 250 Watt motor can provide a top speed of up to 12 mph / 19 kmh, and a range of 22 mi / 35 km on a single battery charge, which should be enough for most people with short to medium commutes.
The price of the EvoLite Carbon is around $350.
Specifications:
top speed: 20 km/h
range: 35 km
motor: 250 W (real)
battery: 240 Wh, 24 V
weight: 7.5 kg
weight limit: 110 kg
charge time: 3 hours
price: $350
Voltion SX2
An often overlooked brand, Voltion is one of the first manufacturers of 100% carbon fiber scooters. Primarily a consumer tech brand, they only have one scooter so far, but it has sold pretty well and customer satisfaction seems to be pretty great.
The Voltion SX2 is not as light as some of the other scooters on this list. With a weight of 28.4 lbs / 12.9 kg, it's still pretty portable. While not too heavy, there are many lighter scooters out there.
Its folded dimensions of 107 cm in length, 23 of height, and only 12 cm of width, make it one of the least space-occupying and easily carryable scooters in the world.
It does, however, have a dual motor, something which is not very common for carbon-fiber motors. That's likely where the larger weight comes from.
The scooter comes at a price of around $820. For that price, you will get a top speed of 15 mph / 25 kmh and a range of 18 mi / 30 km on a single charge. It has a combined power of 500 Watts, which will make it the most powerful carbon fiber scooter for under $1000. It can carry a maximum load of 120 kilograms.
Its climb angle of 25 degrees is also worth mentioning, making it clearly one of the best climbing scooters on this list.
Specifications:
top speed: 25 km
range: 30 km
motor: 500 W (real), 1000 W (peak)
battery: 374.4 Wh, 36 V
climb angle: 25 degrees
weight: 12.9 kg
weight limit: 120 kg
charge time: 5 hours
price: $822
Rion RE90
This is a clear case of saving the best for last.
Rion is easily one of the top manufacturers of electric scooters in the world. While it is hard to find real, tested, and proven data for this, it is very likely that Rion produces the fastest electric scooters in the world right now.
Every Rion scooter is hand made. It takes 90 days for you to get the scooter after ordering it. But the wait will be worth it.
The Rion RE90 is a very different type of scooter than the rest on this list. It is made out of a combination of aerospace-grade aluminum alloy and carbon fiber to make it as light as possible.
But lightness is not its main priority by any means. It weighs 60 lbs / 27 kg, making it almost impossible to carry.
The reason why this scooter uses carbon fiber for its chassis is so that it can go faster. And going fast is what this scooter does! It is primarily a racing scooter, and it will be a vastly overwhelming and overperforming scooter for a huge majority of the population.
The top speed that this scooter is able to reach is an astonishing 100 mph / 160 kmh! Yes, you read that right. You can actually go as fast as 100 mph / 160 kmh with an electric scooter! However, out of the box, the scooter will come limited to "only" 80 mph / 128 kmh. Not your typical commuting scooter.
I like to joke with my fellow scooter lovers that when going that fast, you don't even need to wear a helmet. It will not make even the slightest difference if you fall at that speed. (That is a joke. Always follow electric scooter safety guidelines and always wear a helmet).
Another "most" epithet that the Rion RE90 holds is the most expensive electric scooter in existence. With shipping, this spaceship will cost you a total of $7400 ($7100 if you are in the United States).
The predecessors of the Rion RE90 are the RE70 and the RE60. They are also made out of carbon fiber for the most part.
Even though the Rion RE90 is in a class of its own, it still has to be mentioned on this list since most of its body is made out of carbon fiber. This will not be your first scooter, and it will not be the scooter you get if you only need to get to and from work. Typically, Rion owners are a combination of long time scooter aficionados, certified speed demons, and of course, adrenaline junkies. If those words describe you well, then the Rion RE90 is your perfect choice.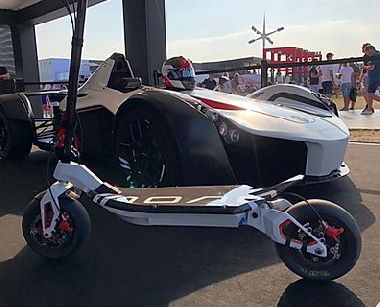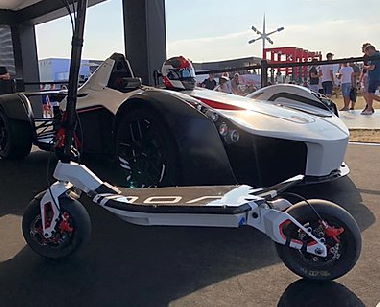 SoFlow Air Carbon (discontinued)
Note: The SoFlow Air Carbon electric scooter has been discontinued and is no longer sold online. See the Unagi Model One on this list if you're looking for a similar carbon fiber scooter.
I think the brand couldn't have chosen a better name for this scooter. The chassis is made entirely out of carbon fiber, and the title "Air" is fully deserved.
This is the lightest electric scooter for adults currently in existence. It weighs only 15 lbs / 7 kilograms!
Besides that, this scooter is one of the most portable electric scooters ever because of its low space occupancy. When folded, its dimensions are 94 cm in length, 14 cm in width, and only 20 cm in height. With a total volume of 26.3 liters, this is one of the scooters that is the easiest to carry around with you everywhere you go.
Naturally, the tradeoff for its lightness and portability will come at the cost of performance. It can reach top speeds of 15 mph / 25 kmh, and has a range of 13 mi / 21 km on a single charge.
The SoFlow Air Carbon comes at the price of $449, which is pretty amazing for the lightest scooter in the world.
Carbon fiber vs aluminum
The only reason we're not seeing everything made out of carbon fiber is that it is still expensive. Its price has gone down a lot over the last decade, but it's still not as cheap as aluminum.
Carbon fiber used to cost $150 for a pound about ten years ago, and now it costs only $10 (source). For comparison, aluminum costs only $0.88 for a pound (source).
Even though it's harder for manufacturers to work with aluminum in production, that price difference makes it worthwhile, and it is the only reason why we're still seeing it used in the majority of electric scooters.
But there is no doubt about it – some of the highest quality electric scooters, which will prioritize lightness, portability, and durability, will be made out of carbon fiber. They will have many advantages over their aluminum cousins, as carbon fiber is both stronger and lighter than aluminum.
Carbon fiber electric scooter advantages
As we already hinted, the main advantage that carbon fiber has over other materials used for vehicles is that it is very light. It may even be the lightest yet hard material that is currently in widespread use.
At the same time, this futuristic material is also a lot harder than other materials used for similar products. When compared to aluminum, it is 5 times stronger! (If you want to get all nerdy about it, carbon fiber has a tensile strength of 2550 Mega-Pascals, while aluminum alloy has 570 Mega-Pascals).
Finally, carbon fiber is not a metal, which makes it immune to corrosion. It is also more resistant to oxidation in regular temperatures. That will make carbon fiber electric scooters more water-resistant and better equipped to handle rides in the rain and winter rides.
Carbon fiber electric scooter disadvantages
Even though carbon fiber has been around since 1958, its use has remained limited to specialized products whose primary property should be small mass.
The main reason for that is its high price. It's about 12 times more expensive than the current default material, which is the industrial-grade aluminum alloy.
That difference in the price of materials will translate into a difference in end-product prices. The same scooter made out of aluminum will always be cheaper than an identical one made out of carbon fiber. Often times though, this is not a truly big margin. As we can see from the scooters in this article, many of them would even fall into the budget price category, despite being made out of carbon fiber.
The other big downside to using carbon fiber for the bulk of an electric scooter is the difficulties that come from recycling it. Reusing carbon fiber is a lot harder since it can't be melted and turned into something else like metals can.
Another disadvantage that you need to keep in mind about carbon fiber is that it doesn't bend as well as aluminum, which means it is more likely to crack during a significant impact.
Finally, carbon fiber is not as durable as aluminum. It will degrade faster, especially in hotter environments.
When to get a carbon fiber electric scooter?
There are many scenarios where getting a scooter made predominantly from carbon fiber would be a smart choice.
Pretty much any case involving the need for a more lightweight scooter will lead you to a carbon fiber model. That is the main purpose of carbon fiber scooters after all. So, if portability or storage is an issue for you, consider getting yourself one of the scooters above.
A carbon fiber scooter is also a good idea when you live and ride in a location that has a lot of rain and humidity. Carbon fiber's water resistance and immunity to corrosion will make sure your scooter lasts longer in those environments.
There are also a few scenarios where getting a carbon fiber model is not really a good idea.
One instance is if you live in a city with bad streets and infrastructure, where the rides are bumpy. Your scooter would shake a lot, and possibly even break. In that case, get yourself a regular aluminum scooter. The elasticity of aluminum will make sure that your scooter suffers less damage from the impacts.
Also, a carbon fiber scooter would be unsuitable for places that are generally warmer for the longer part of the year. Carbon fiber doesn't respond well to increased temperature. You will probably see your scooter degrade faster in hot weather. So, in hotter climates, go for a classic aluminum electric scooter as well.
Summary
Those were the best carbon fiber electric scooters available today. Here's a list of them one more time for reference.
---
---