Last Updated on May 17, 2023 by Matt
In this review, I will lay out my experience with what I've found to be a budget electric scooter that still has very good quality – the 1PLUS Pro.
This affordable little piece has proven to be very reliable, while not being pricey. This review explains why.
1PLUS Pro electric scooter Review
The 1PLUS Pro is a light, aluminum-made electric scooter designed for city rides. The scooter has decent power, with a 19 mph / 30 kmh top speed, a 15° climbing angle, and a range of 17.5 mi / 28 km on a single charge. It features maintenance-free solid rubber tires, an ultra-bright headlight, and a big LCD screen in the middle of the cockpit.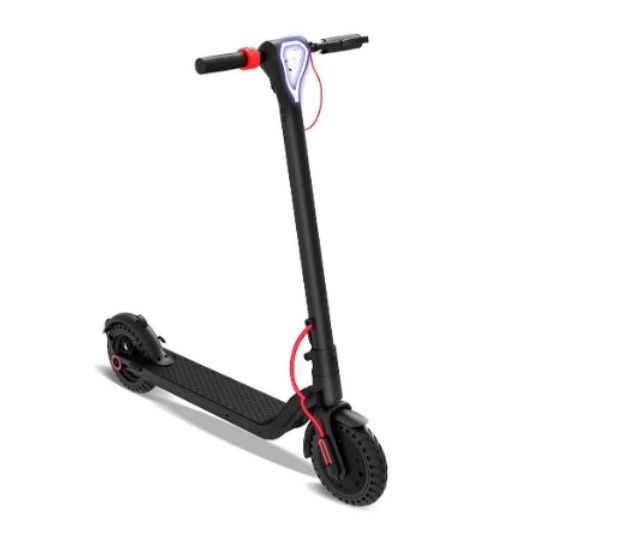 Should you buy the 1PLUS Pro?
Based on my experience of riding the 1Plust Pro for a few weeks, I'd recommend it to anyone looking for a cheap and reliable scooter.
Its strongest points are definitely the solid rubber tires and the handy portable design.
Solid tires are common in the e-scooter industry and have been used in many models. However, the 1PLUS brand has gone a step further here by putting extra suspension on each wheel, greatly absorbing the impact when riding over bumpy surfaces.
The light and slim build is accompanied by a quick folding system and a nice way of using the stem as a bar to easily carry the scooter around.
All in all, I would say this is a perfect scooter for new riders looking for stable and relatively comfortable rides and little to no maintenance on a limited budget.
Buying
The best, and probably the only place where you can find the 1PLUS Pro at the moment is Amazon.
The scooter typically costs $459, but you might also find many second-hand options on Amazon with prices as low as $300.
Ordering and shipping
Shipping with Amazon is usually free, especially for big orders above $50. Ordering to the US comes with a relatively fast free shipping time of about a week or two.
International shipping is also available for most countries throughout the world, although the prices vary based on how far you are from the USA.
Warranty, return policy, and customer support
The 1PLUS Pro comes with a 1-year warranty for the electronic parts, and a 180-day warranty for the rest of the scooter.
Buying from Amazon comes with eligibility for a refund as well. You can apply for a return and refund in the first 30 days after the order is completed. The product will have to be returned unused and in the original packaging after you've received confirmation from the company.
Basics
1PLUS Pro is a casual scooter with a standard slim build made for rides around the city. Its upsides include high portability, thanks to its light and convenient design, and solid and reliable build quality.
Unboxing and assembly
The scooter comes packaged in a long and narrow cardboard box. Most of its parts are already assembled, but there is some minor additional assembly needed to be done. In my experience, this was very easy to do, and took less than 10 minutes.
The box contains the following items:
scooter, folded
steering wheel
charger
screws
Allen key
user's manual
After you take the scooter out of the box and remove the protective styrofoam, you will unfold it and start setting it up. You will see that the steering wheel is completely detached from the stem, so you will first need to connect the wires and then attach the wheel to the stem bar.
There are a few extra screws that you'll need to screw in as well. The screws, along with a multitool, are provided in the box. Follow the manual to put each screw into the right place and complete the setup.
Folding and unfolding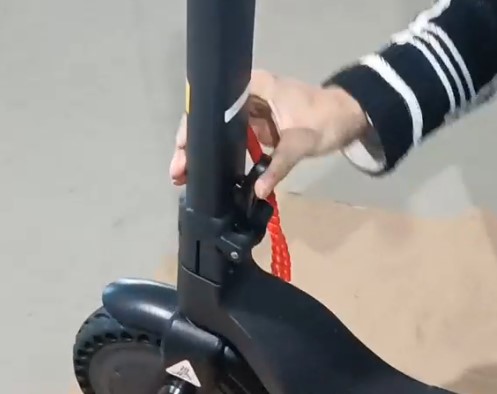 The 1PLUS Pro is foldable at the stem. A standard latch is used to fold the stem bar onto the deck, which is then locked into place on the rear mudguard.
The folding process is quick and easy, as it doesn't take more than a few seconds to complete. Locking the stem on the mudguard is optional, but a very helpful method that helps you pick the scooter up and carry it in your arm.
Ride experience
The rides with this scooter were unusually comfortable, as I definitely didn't expect this kind of stability from a budget scooter with solid tires.
Now, as with any low-priced scooter with a slim profile, the ride experience is not among the best, but the rest of the features provide enough value to cover up that potential downside.
The major pro of the 1PLUS Pro scooter is that it's very reliable and easy to use. The scooter has a decent suspension system, which is not often found in this price range, and will absorb most of the bumps on the road.
Build quality
Hundreds of users have vouched for the build quality of the 1PLUS Pro scooter, and I can definitely see their point. The frame shows no signs of wobbling, as many parts are tightened with a few additional screws for extra stiffness.
Design, colors, and materials
The 1PLUS Pro is designed as a conventional slim lightweight scooter with a thin cylinder stem, narrow deck, and no extra clutter throughout its build. The wires that go from the steering wheel to the deck are all neatly packed inside the stem.
You won't have much choice in terms of looks, as the scooter comes only in black (which, personally, I like quite a lot). The brand has opted for a single-color design, where almost everything – from the handlebars, all the way to the wheels, is colored in matte black, with the only exception being the red wires.
The main material used for the frame is aluminum, with a few minor parts such as the mudguards, controls, and wheel covers made of plastic.
Performance
As you might have guessed based on the low price, you can't expect much power from the 1PLUS Pro. While the scooter shines in portability and light urban use, its performance levels take somewhat of a backseat.
Speed and acceleration
The top speed you can reach on the 1PLUS Pro is about 19 mph / 30 kmh. I was able to achieve that exact speed.
This number may not look that high, but budget-priced scooters rarely exceed this limit. Most scooters priced below $500 top off at about this speed.
Still, it is more than sufficient to get you around the city, during rush hour, as you can hardly reach a higher speed on a busy street anyway.
Motor, power, and climbing
The 1PLUS Pro is powered by a single brushless motor placed in the front wheel. The motor has a power output of 450W that provides a climbing angle of up to 15° under regular circumstances.
You can control the total motor power as well as the battery expenditure by setting the scooter to one of the 3 riding modes:
eco mode – low speed, battery management
standard mode – average speed, faster battery drain
speed mode – top speed (what I used mostly)
The controls also allow you to set the scooter on cruise mode and let it ride automatically without keeping the throttle pressed all the time. This helps for an easier ride without fatiguing your fingers when you go on riding longer times without interruption.
Weight limit and usage by heavy adults
Somewhat surprising for such a light and slim scooter, the 1PLUS Pro can handle a load of up to 264 lbs / 120 kg. Most of the other models in this price range have a weight limit of up to 220 lbs / 100 kg.
Batteries and charging
The battery of the 1PLUS Pro is mounted inside the deck of the scooter. Thanks to its very narrow shape, the battery can easily fit inside a thin deck and not disrupt the scooter's slim outlook.
The charging plug is placed on the side of the deck. Using the standard charger provided in the box will charge the battery fully in about 4-5 hours.
Range and commuting
A full battery will grant you a max riding range of around 17.5 mi / 28 km. I tested the range, and I got almost as much on a full battery charge (17 mi / 27 km).
As you can see, the disadvantage of a small and thin battery is that it has a fairly small capacity and range too. It should also be noted that you can only reach this range by riding on standard mode and under regular conditions (straight road, average weight load, dry road conditions).
Granted, this kind of range may not look satisfactory at first, but a huge upside here is the scooter's high portability and fast charging. Thanks to it, you can always easily take the 1PLUS Pro up to your workspace and recharge it there while it's not in use.
Features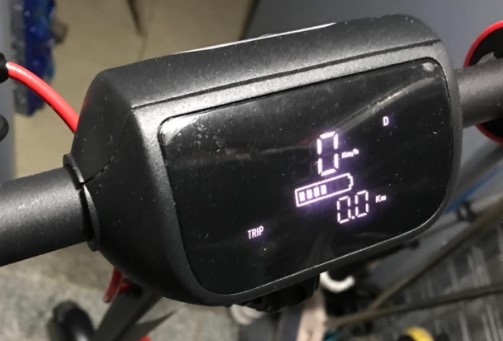 For such a low-priced scooter, the 1PLUS Pro has quite a lot of features. It comes with low weight, solid braking and suspension systems, and good water resistance.
Weight, dimensions, and portability
The 1PLUS Pro weighs only around 35 lbs / 16 kg.
It is among the lightest e-scooters for adults out there. This makes it very portable as almost anyone could pick it up and carry it upstairs when needed. I had absolutely no issues carrying it. The fact that you can lock the stem bar onto the mudguard is of great help as well.
Storing the 1PLUS Pro is very easy too. Once you fold it down, it measures about 36 x 21 x 18 in / 91.5 x 53.3 x 46 cm (L x W x H). It could fit into any car trunk, a small pantry, or your workplace without taking up too much space.
Waterproofing and riding in the rain or snow
The outer coating of the scooter's frame provides slight protection from smaller water splashes. Small puddles and wet streets won't cause any problems and you can safely ride the scooter even after heavy rainfall.
However, I wouldn't recommend riding during the rain, especially not in the snow. Even though the scooter has some waterproofing, any heavier water splashes could seriously damage the electronic parts.
Brakes
The 1PLUS Pro has a great braking system consisting of a mechanical and electrical anti-lock braking system. Two standard levers mounted on the handlebars control these brakes, and using both can stop the scooter in its tracks in less than 5 meters.
The ABS helps control the skidding after a sudden stop, so you can safely ride the scooter at top speeds and rely on its brakes.
Tires, wheels, terrains, and environments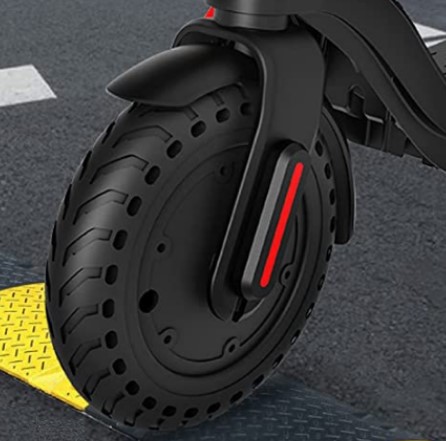 The scooter is equipped with narrow 8.5-inch solid rubber tires on both wheels. A honeycomb structure helps prevent flats and punctures, requiring vastly lower maintenance than standard pneumatic tires. Additionally, the tires have thick long threads that prevent skidding on wet surfaces.
Suspension
The downside of solid tires is the slightly worse ride experience, but the brand has taken care of that part as well by adding a solid suspension system on the scooter.
There are shock absorbers mounted on both wheels that soak up some of the impact caused by potholes and speed bumps you encounter on the road. This still doesn't make the scooter viable for off-road rides, but is a nice addition for smoother rides through the city.
Lights and night use
The headlight is a strong asset of the 1PLUS Pro scooter. The bright light illuminates the road up to 15 feet ahead of you, making night rides almost as safe as your day ones.
Unfortunately, there is no rear light nor any side reflectors. You can add these parts aftermarket if you plan on riding a lot during the night. If you ride mostly on well-lit streets, there is no need for such customizations.
Screen, handlebars, and connectivity
A sophisticated cockpit is a rare sight on any electric scooter, let alone the cheaper ones such as this one. But the 1PLUS Pro stands out from the rest here due to its large and detailed LCD display right in the middle of the cockpit.
The screen has a huge rectangular shape, bigger than an average palm. You can choose what's displayed on the screen by connecting the scooter to the 1PLUS mobile app for iPhone via Bluetooth. Typically, the screen displays the most important things during the ride such as current speed, distance, and battery life.
Using the mobile app, you can also check all of the scooter's parameters, as well as control the headlight, riding modes, and lock and unlock the scooter. Make sure to check out the universal scooter app as an additional useful app for this scooter.
Besides the screen, there are a few more controls mounted on the handlebars: the two brake levers, the throttle, the light switch for the headlight, and the cruise control button.
Accessories
As with most budget scooters, the 1Plus Pro doesn't really have its own custom-made accessories. Luckily, the scooter is built in a way that will support most of the standard electric scooter accessories, and you can choose several cool yet affordable items to upgrade this scooter (I recommend a trunk and a carry handle or a carry strap). You will probably want a scooter lock for when you leave the scooter outside as well.
Even though the scooter is not terribly fast, you will still want to stay safe while riding at all times by wearing a proper helmet that fits you. See my guide on the best electric scooter helmets to find a good match for you and this scooter.
Price and value
Although the performance levels of this scooter are somewhat weak, its speed and range are still around the average for this price range.
The scooter's feature list, on the other hand, is a whole other story. Priced at $459, the 1PLUS Pro is probably the only scooter that has non-puncture tires, an ultra-bright headlight, and a suspension system.
But the best value of this scooter I believe comes from its highly functional cockpit and ease of use. The unique LCD screen is one of the biggest displays I've ever seen on a budget electric scooter. With its convenient handlebars, cruise control options, and shallow learning curve, the 1PLUS Pro is great value for beginners and less avid scooter riders.
How does the 1PLUS Pro compare to other electric scooters?
Here is a quick comparison between some of the competitors to the 1PLUS Pro that will help you make a better choice.
1PLUS Pro vs Hiboy S2
Currently priced at around $439, the Hiboy S2 is one of the most reliable and sought-after cheap scooters on the market. This model is a great alternative hailing from one of the most popular brands for affordable electric scooters.
Compared to the 1PLUS Pro, the Hiboy S2 has roughly the same performance levels, with a top speed of 18 mph / 29 kmh, and a 17 mi / 27 km range. Its climbing angle is slightly worse, as the Hiboy S2 is a scooter mainly made for level urban areas.
The Hiboy S2 comes with a similar design and the same solid rubber tires as the 1PLUS Pro. However, it is some 5 lbs / 2.3 kg lighter and has a more minimalistic cockpit with a small display.
The main difference between the two scooters largely comes down to your steering wheel preference, and whether you want a large visible display or a more minimalistic approach. The 1PLUS Pro would satisfy the first group, while the Hiboy S2 would be more appealing to the latter.
You can check out my complete Hiboy S2 review for more details.
1PLUS Pro vs Xiaomi M365 Pro
The Xiaomi M365 Pro is still the most popular electric scooter in the world, even after spending several years on the throne. It has been the top-selling scooter for years now and has undoubtedly stood the test of time.
Because of its popularity, you can find the Xiaomi M365 Pro in hundreds of web stores throughout the world, with each offering a different price. I've seen this scooter priced as low as $350, and as high as $650 or more.
The Xiaomi M365 Pro has a range that's twice as higher, and a better climbing angle than the 1PLUS Pro. Granted, it does come with slightly lower power, but the top speed between the two scooters differs by just a few miles per hour.
Additionally, the Xiaomi M365 Pro provides better riding comfort thanks to its pneumatic tires. The downside here is that you'll have to deal with flats much more often. Go and check out my full Xiaomi M365 Pro review if you're interested.
1PLUS Pro vs Eskuta KS-350
If there is an even cheaper alternative to the 1PLUS Pro, then it would definitely be the Eskuta KS-350. This slim urban scooter costs a mere $320 and comes with an almost identical design to the 1PLUS Pro.
Although slightly slower, with a top speed of 15.5 mph / 25 kmh, the Eskuta KS-350 has the same range and charging time as its slightly more expensive counterpart.
The designs of the two scooters are practically the same, except the Eskuta KS-350 is offered in more colors, including black and silver. It also has air-filled tires, no suspension, and a much smaller display than the 1PLUS Pro.
Naturally, because of the lower price, you can expect some tradeoffs, including lower speed, lesser riding experience, and tire punctures, but if you can't afford to spend more than $350, the Eskuta KS-350 would probably be your best choice.
See my detailed review of the Eskuta KS-350 if you'd like to find out more about it.
Who should not get the 1PLUS Pro Electric Scooter?
While it may be among the top scooters below $500, the 1PLUS Pro would still not satisfy some types of scooterists. This is, of course, my opinion based on my experience, but I believe it won't be too far from the truth for many people.
If you are constantly making long commutes daily and need a scooter with more than a 15 mi / 24 km range, you should probably look at some longer-range scooters. Scooters in this price range are rarely providing a higher range than this one on a single charge, and scooters with removable batteries are also a much better fit here.
The 1PLUS Pro is also not a high-powered, super-fast scooter. Its top speed is on the lower scale, even among its peers. The 1PLUS Pro is an ideal scooter for casual rides throughout the city.
I also wouldn't recommend it to people who aren't fond of solid rubber tires. This type of tire provides huge advantages such as low maintenance, but the price you pay for that is reduced comfort.
And finally, this might be a minor thing for some people, but the 1PLUS Pro doesn't support a seat. So if you are looking for a scooter with a seat, or one that can support one, this model won't do you any good.
Who should get the 1PLUS Pro Electric Scooter?
I recommend the 1PLUS Pro as an ideal scooter for beginners. If you haven't ridden an e-scooter before and want to try your first one, there likely won't be a better option than this relatively cheap piece. The scooter has a very gentle learning curve, a great and convenient cockpit, and is practically maintenance-free.
Another type that would love a scooter like this one is people tired of flat tires. I personally know the struggle of having to change a flat tire, and getting a scooter with solid tires may be a great idea if you live somewhere with poor roads and infrastructure.
Portability is another key point of the 1PLUS Pro that many people would cherish. If you are struggling with a small trunk, low storage space, and no spare room to keep your scooter, you will love the compact size of this model. The scooter folds in a second, and with such a compact design you can take it anywhere.
Where to buy the 1Plus Pro Electric Scooter from?
Worldwide
Usually, the 1Plus Pro Electric Scooter will only be available on
Amazon
.
Specifications
1Plus Pro Specifications
| | |
| --- | --- |
| Top speed | 30 kmh |
| Top speed | 18.6 mph |
| Range | 28 km |
| Range | 17 mi |
| Motors | single brushless BLDC |
| Power | 450 W |
| Climb angle | 15 ° |
| Battery type | non-removable deck battery |
| Charging time | 5 h |
| Ingress protection (IP) | IPX4 |
| Weight | 16.58 kg |
| Weight | 37 lbs |
| Weight limit | 120 kg |
| Weight limit | 265 lbs |
| Tire size | 8.5 in |
| Tire type | solid honeycomb |
| Foldable | yes |
| Foldable handlebars | no |
| Build material | aluminum |
| Brakes | mechanical and electronic |
| ABS | yes |
| Shock absorbers | dual shock absorbers |
| Lights | headlight |
| Control | large LCD |
| Speed modes | 3 |
| Cruise control | yes |
| App | yes |
| Warranty | 1-year on electronic parts, 180-day on the other parts |
| Folded dimensions (L * W * H) | 91.5 cm * 53.3 cm * 46 cm |
| Folded dimensions (L * W * H) | 36 in * 21 in * 18 in |
| Adjustable handlebar | no |
---
Want to get
FREE SCOOTER
tips, exclusive discounts and promotions, and unseen scooter hacks? Join the
Scooter Secrets club
.
---
Liked this article? It really helps if you share it.
Follow @escooternerds on social media for more cool stuff
---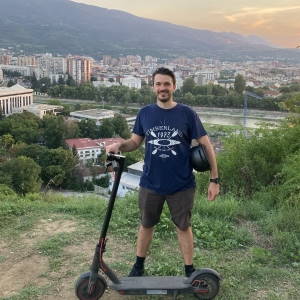 Where to buy the 1Plus Pro Electric Scooter
Worldwide: Amazon