Last Updated on May 17, 2023 by Matt
This is the complete review of the YYD ROBO electric scooter. In this article, we will go through all features and components of this scooter, its powers, design, and intended use, as well as all of the downsides and disadvantages it comes with.
YYD ROBO Review
The YYD ROBO is a light, portable electric scooter with a slim mate-black design. It is powered by a 350W brushless motor and has a top speed of 19 mph / 30.5 kmh. The thin battery stored beneath the deck provides a range of 13 mi / 21 km. The scooter is mainly intended as a city-commuter and comes with solid rubber tires, rubber suspension springs, and an LCD screen you can connect to a mobile app.
YYD ROBO electric scooter overview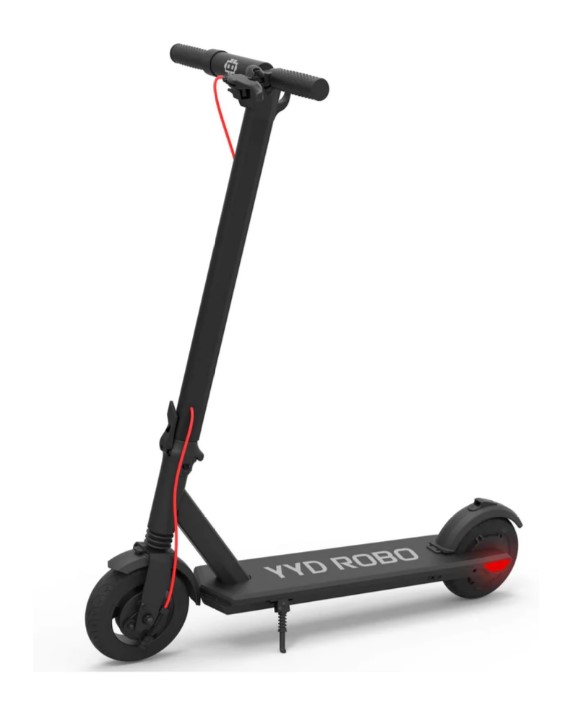 In the sea of dozens of electric scooters released each year, choosing the right one may seem like a difficult task. That task becomes even harder if your budget is limited
Among all of the options, one of my favorite budget-friendly alternatives is the YYD ROBO. It is a cheap, simple, and convenient electric scooter made for people living in the city.
The scooter prides itself on high portability, as it's foldable and very light, but also with some nice features such as rubber suspension springs, solid rubber tires, and a great LCD screen integrated into the steering wheel that you can connect to your phone via mobile app. It's a true budget-friendly all-in-one option.
Buying
The YYD ROBO is a very popular budget-priced scooter. The best and most reliable way to order it is from Amazon.
The biggest issue caused by the scooter's popularity is that it can sometimes be out of stock. Almost all of the stores that sell the YYD ROBO do not have the scooter available in stock at the moment, with Amazon being the only exception currently. You will sometimes have to even wait up to a few months to order it. You can always sign up to the store's email list to get notified when they have it back in stock.
When you do manage to find it, the YYD ROBO should typically cost you between $350 and $450, depending on when and where you purchase it from.
Shipping
Amazon provides free shipping with almost all of their orders above $50, so you should be eligible to get the scooter delivered at no additional cost. The delivery time, however, varies by a lot since all orders are dispatched from just a few warehouses in the US.
Warranty and return policy
Purchasing electric scooters from Amazon comes with a standard 1-year warranty activated from the day of the purchase. This warranty covers manufacturers' defects and damages done under intended use.
You will also get a 30-day free return policy to send the scooter back if you weren't satisfied with it. The return costs are most often free, with some exceptions of a restocking fee. You can contact the seller to get more detailed info about the policies concerning specific products.
Basics
Marked by its low price, familiar design, and modest power, the YYD ROBO is a great option for newcomers to the e-scooter game.
Unboxing and assembly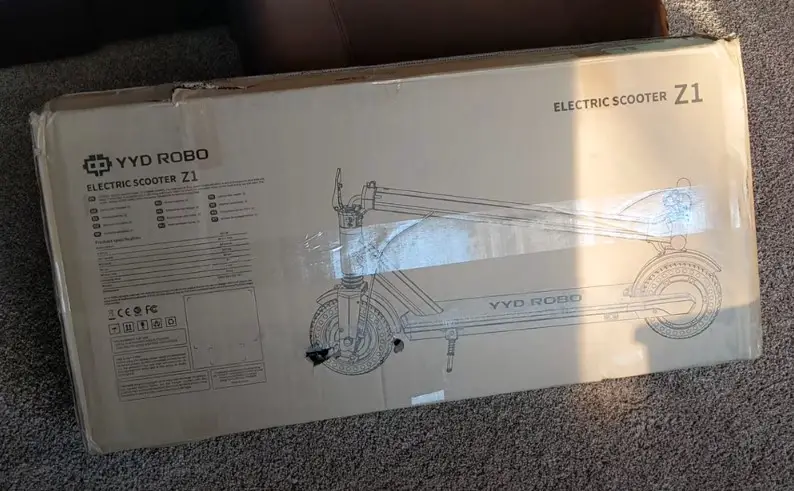 The scooter is packaged in a standard rectangular brown cardboard box. Thanks to its simple design, you get the scooter almost fully assembled, with just a few minor tweaks that need to be done.
Besides the scooter itself, inside the box you will also find:
user's manual
charger
Allen key
The steering wheel is dismounted from the stem bar, hanging to it by a couple of wires that connect the controls to the motor and the brakes. You will need to attach this wheel onto the stem and tighten it up using the Allen key provided in the box. Make sure to tighten all of the screws properly so there are no wobbling and loose ends.
Most of the time the battery will be full from the get-go, so you won't have to charge the scooter before riding. However, you should check if that's the case before riding, as you want to ride with a full battery the first time.
In order to check this, you'll have to power the scooter on by holding the "Power" key in the middle of the cockpit for a couple of seconds. The battery level should be displayed right in the middle of the screen.
If you can't get the scooter to power on, there's a chance that the main wire isn't connected properly. This is the single red-colored wire that goes from the cockpit all the way down to the front wheel and connects to the motor and the battery. The wire enters the stem midway, and there's a chance that it got disconnected somewhere in between.
But other than that, the YYD ROBO is all set and ready to be tested.
Folding and unfolding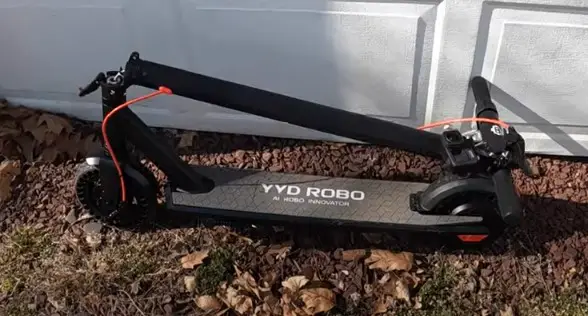 The stem of the YYD ROBO is foldable. Just like any other standard e-scooter, it uses a latch that folds the stem onto the deck. You can then secure the stem by locking it into the hook hole found on top of the rear mudguard.
Unfortunately, you can't fold the handlebars of this scooter. However, this isn't an inconvenience at all since the handlebars are very narrowly designed and would easily fit anywhere you plan to store the scooter.
Ride experience and intended use
As you can judge by the simple thin design, narrow solid tires, and limited power, the YYD ROBO is purely made for rides around the city. The ride experience is pretty good, as long as you stay on paved streets.
The moment you try to ride the scooter on any dirt tracks or rougher terrains, you'll notice the sudden drop in ride quality. This is something you can predict by the scooter's low price.
At the end of the day, any scooter priced below $500 is made exclusively as an urban commuter intended for light rides and nothing more extraordinary.
Build quality
Quality-wise, the YYD ROBO is what you can expect from any other budget-priced scooter. Its build is nothing extraordinary, but it is very stable and neatly executed. While it may not endure rough rides or off-road adventures, it will do just fine under regular city use.
Design and colors
There are no surprises in the design of the YYD ROBO. It comes with the standard minimalistic design found on most models in this price range.
The scooter's frame is slim, characterized by an angled stem and a thin flattened deck that stores the battery. Aesthetically, however, the scooter is very smooth and tidy, with no hanging parts, cables, or any extra additions. The one wire that connects the electronic parts is stored inside the stem so it doesn't stick out.
On the inner side of the cockpit, right in front of the rider, there's a hook you can use to attach a bag or a smaller backpack.
The scooter is colored in a single matte-black color, with a few minor details in red such as the wires and rear lights. The only thing standing out from this sleek dusky design is the YYD logo engraved in white letters on the deck area.
Performance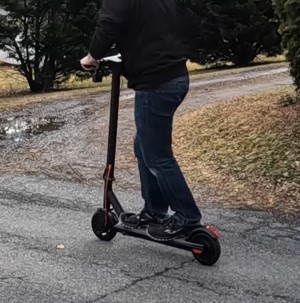 In order to make the YYD ROBO as affordable as possible, the brand took the freedom to downsize its performance a bit, in exchange for higher portability and simpler, more reliable usage.
Speed and acceleration
Officially, the top speed the YYD ROBO can reach is 19 mph / 30.5 kmh.
However, setting the scooter on its highest speed mode and riding it under clear conditions could take its speed up to 25 mph / 40 kmh, which is more than anyone can ask from a scooter at this price.
Motor, power, and climbing angle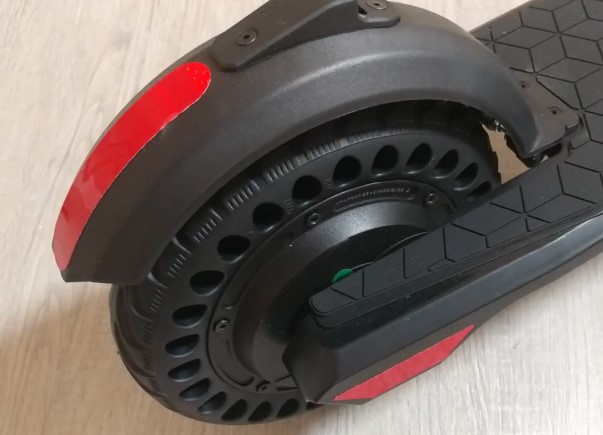 A single 350W brushless motor powers the YYD ROBO scooter. The motor is placed at the rear wheel, encapsulated inside a plastic cover in the center of the wheel.
The motor provides a solid torque that gets the scooter going seamlessly. Riding uphill is, expectedly, tougher, although the scooter can handle streets with an incline as steep as 10°. Granted, it's not the best, but certainly, more than you can expect at its low rate.
There are two gears you can choose to ride on. The lower gear, P1, has a top speed of up to around 10 mph / 16 kmh, while the higher P2 gear has a top speed going up to 19 mph / 30.5 kmh. Be noted that as you push the scooter to its limits, the battery will burn progressively faster.
Weight limit and usage by heavy adults
Don't be fooled by the slim and light design of the YYD ROBO, the scooter can still endure a weight limit of up to 264 lbs / 120 kg.
This number is an upgrade to almost all the scooters priced below $500, as most of them can only handle a load of 220 lbs / 100 kg.
Range and commuting
The range is arguably the biggest downside of the YYD ROBO scooter. With such a small battery, a full charge will only get you around 13 mi / 21 km of range.
Since the scooter is very portable and easy to carry around, you can rely on recharging it wherever you go. But beware to not get stranded in the middle of the city without any battery left, as you won't be able to use the YYD ROBO as a kick-scooter without the throttle.
Batteries and charging
The relatively small battery stored inside the deck has a power output of 36 V and 7.5 Ah. As we mentioned above, this might feel way too little for some as it only provides enough range for a small light ride for some errands and back home.
The good news is that it only takes around 4 to 5 hours to fully charge the battery, so a single hour of charging amounts to about 2.5 mi / 4 km of range. If you need to use the scooter to go to work, you can recharge it there for a couple of hours and have enough battery to get back home.
Features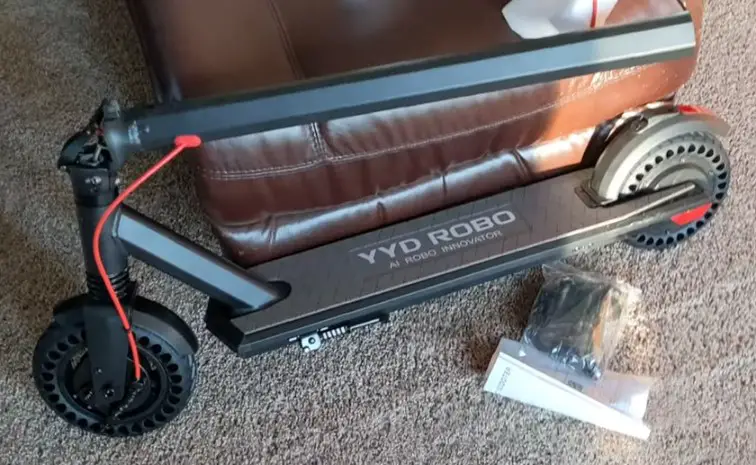 Some of the features included in the YYD ROBO scooter are:
dual brakes with regenerative braking
solid tires
front headlight
rear light
kickstand
cruise control
Weight, dimensions, and portability
Portability is probably the best aspect of the YYD ROBO. As it weighs roughly 28.5 lbs / 13 kg, and can easily fold down in a second, it is one of the lightest and most portable scooters out there.
The dimensions of the scooter measure 40 x 17.7 x 45 in / 100 x 45 x 115 cm (L x W x H) when it's unfolded.
Waterproofing and riding in the rain or snow
Like most cheaper scooters out there, this one is also made of less-than-ideal materials that would hardly sustain any rougher weather conditions. As such, the YYD ROBO does not have a proper waterproofing index.
Riding in light rain, or splashing through the occasional puddle probably wouldn't do any damage to the scooter, but exposing it to heavy rain or other hard splashes of water certainly would.
Brakes
The scooter uses a double braking system consisting of a front drum brake, activated by the lever on the handlebars, and a foot brake integrated into the rear mudguard.
The lever used for the front brake also activates the regenerative electric brake which stores some of that stopping power as electricity back into the motor.
Tires and wheels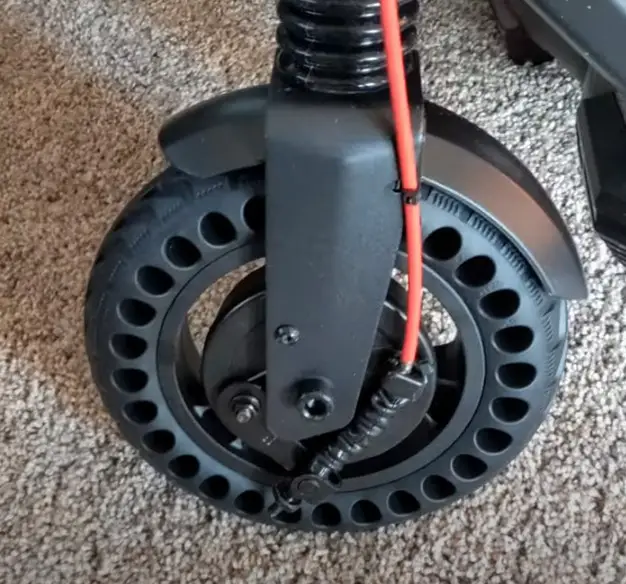 The YYD ROBO uses solid rubber tires instead of pneumatic ones. The tires are 8 inches wide and have the signature honeycomb structure that keeps them from puncturing.
The biggest upside with these tires is that you'll no longer have to deal with flats, as there's no inner tube nor air filled into them, but they do come with slightly worse riding comfort. Nevertheless, if you use the scooter as intended, this ride difference would feel insignificant.
Suspension
A double suspension system is put on both sides of the scooter to absorb some of the bumps that you would inevitably feel with the solid tires. The front rubber suspension spring is placed right above the wheel's fork, while the rear one is integrated into the rear-wheel holders.
Lights and night use
The lighting system on the YYD ROBO is decent, nothing too flashy but enough to get you through the occasional night ride and signal people in the area of your presence. There's a front headlight mounted on top of the stem, and two rear lights placed on the sides of the rear-wheel fork.
This might be enough if you only ride on a well-lit street, but if you often ride in the dark, I would advise getting an additional brighter headlight.
Screen, handlebars, and controls
The cockpit of the YYD ROBO consists of:
LCD screen
throttle button
brake lever
ring bell
The display is placed centrally and is integrated into the steering wheel so it doesn't stick out. It shows your current speed, battery level, current cruising mode, gear, and whether the lights are on or off.
The small throttle button is placed on the right, while the brake lever is put on the left handlebar together with the bell.
Mobile app and connectivity
Connecting the YYD ROBO scooter to your phone app is not necessary, but it does give you some room for customization and better control of your ride.
You can download the app on from your app store and connect it to the scooter via Bluetooth. Once you open it, you'll see a front page where it shows everything that's already displayed on the scooter's screen, and a few other pieces of information.
Through the app, you can lock/unlock the scooter, turn the lights on/off, set up the cruise mode, switch the riding gear, switch the units from miles to kilometers and vice versa, as well as manage a few other controls.
Deck and standing surface
In a typical fashion for a budget-price scooter, the YYD ROBO has a long and narrow deck with the scooter's name engraved on top. Many brands have started opting for huge, platform-like decks with some of their recent scooters, but here you have the old-school long thin deck to work with.
Accessories and customizations
As is the case with most budget scooters, there are no custom-made accessories for the YYD ROBO. However, the scooter's lines and design are not that different from the ones of most scooters, which means that the YYD ROBO will support the majority of the generic electric scooter accessories. The scooter could use a phone holder, a carry strap, and potentially a trunk, in my opinion.
Also, you will definitely want to get the proper electric scooter helmet which you should wear at all times, as well as a solid electric scooter lock to prevent theft. You don't really have to overspend on these items, in fact you can get pretty decent products at budget prices.
Problems and what to know
As with any other budget-priced scooter, the YYD ROBO is not without issues.
The biggest concern with this scooter is its relatively short life expectancy. Performance attributes, such as battery and motor functionality reportedly go down after a year or two of usage, making the scooter less reliable than some of its more expensive counterparts.
Additionally, the headlight's brightness is a bit of a concern too. Riding the scooter on roads with no street lights at night could very well be a problem because the headlight would only illuminate a few feet ahead of you.
But the most notable problem that's simply a part of the scooter's design is its battery. The YYD ROBO has one of the shortest ranges among electric scooters I've reviewed so far. If you plan on using the scooter as a regular daily commuter, make sure that you have a place to recharge it in the middle of those commutes because one charge of the battery will only get you so far.
Price and value
At the end of the day, the YYD ROBO provides just as much as you would expect from a budget-priced electric scooter. The scooter has its ups and downs, and may require lowered expectations, but for a vehicle worth around $400, I would say it can easily be a great starting point for riders on a tight budget.
The biggest reasons why the YYD ROBO holds value to me are simple: it's fun to ride and causes zero maintenance headaches. Even with its somewhat modest motor with a power 350W, the scooter can still provide a very thrilling ride. And with its solid tires and super simple design, there is absolutely no need to care about regular services or preservation.
How does the YYD ROBO compare to other electric scooters?
There are plenty of options for affordable electric scooters. You can find dozens of different models priced below $500. While all of them may look quite similar at first, there are huge differences between those that are worth something and those that are not.
Below we've conducted a quick comparison between some of the best options you can get in this price range in order to help you a bit in this search for your next scooter.
YYD ROBO vs Hiboy Max3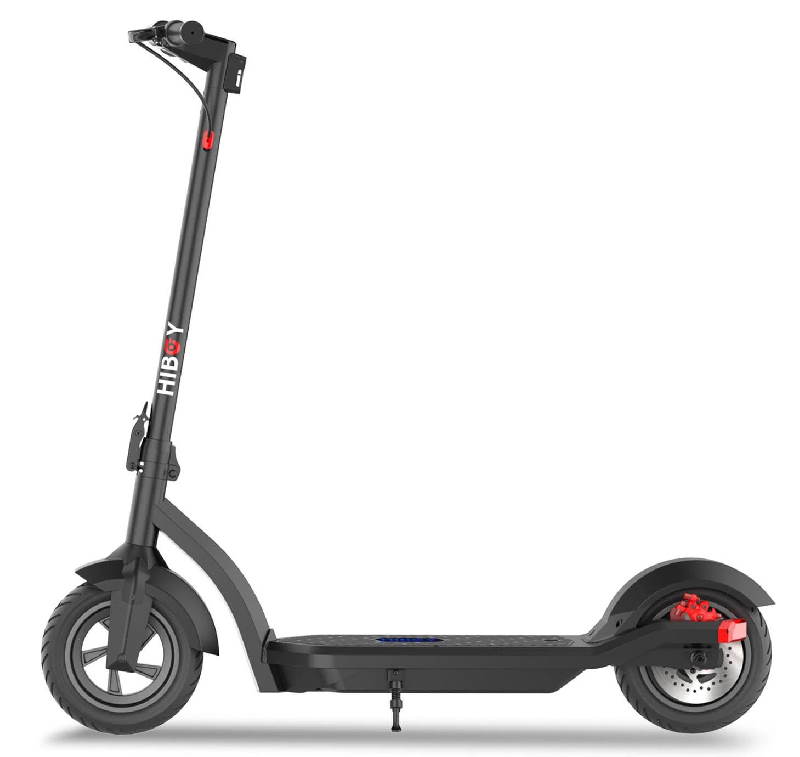 Hiboy Max3 is arguably the best value scooter on the market right now. It is typically priced at around $550 but is often on sale and you can find it for as low as $450.
Some of its pros over the YYD ROBO include a higher range, a waterproofing rating of IP54, and the fact that it comes with wider pneumatic tires. These are off-road self-healing air-filled tires that provide better ride comfort while also being less prone to flats.
The downside of getting this scooter is that it's much heavier, and much less portable as a result. Most people would probably be still able to pick it up and carry it on flights of stairs, but the 12 lbs / 6 kg difference between the Hiboy Max3 and the YYD ROBO needs to be taken into consideration.
This scooter also doesn't come with any mobile app connectivity, so you are only left with the LCD screen mounted in the middle of the cockpit.
If you'd like to find out more, check out my detailed Hiboy Max3 review.
YYD ROBO vs Eskuta KS-350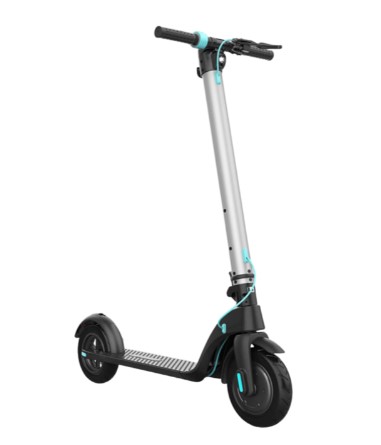 Eskuta KS-350 is probably one of my favorite budget electric scooter for beginners. It is one of the cheapest options on the market, priced at around $320.
This low price is compensated with a slightly lower top speed of just 15.5 mph / 25 kmh, the lack of any suspension on the scooter, and the fact that it comes with standard pneumatic tires which are vulnerable to punctures but provide a better ride comfort.
The major advantages of the Eskuta KS-350 include its removable battery, meaning you can charge it on the go wherever you like, and its ultra-light build that weighs about as much as the YYD ROBO.
Who should not get the YYD ROBO Electric Scooter?
You can instantly notice how this scooter won't be a great fit for many people.
Mainly, I don't think the YYD ROBO would be loved by any adventurers out there who are looking for something more thrilling. For a $400-something scooter, it is pretty fun to ride, but nothing too special. It especially won't fit you if you are looking to have any off-road adventures or frequent rides on dirt tracks.
Another reason why anyone wouldn't consider the YYD ROBO is because of its short range. If you are looking to use this scooter for daily long-range commutes, like to get to work and back, I don't recommend getting the YYD ROBO unless you have a safe place to recharge it while you are at work.
Who should get the YYD ROBO Electric Scooter?
When shopping for the YYD ROBO, you'll notice many shops advertising it as an electric scooter for adults. However, don't let this push you off buying the scooter for your children, as it is a great scooter for younger riders too.
This is mainly because of two reasons.
First, the YYD ROBO has a relatively low top speed, meaning it doesn't present much of a danger to ride on.
But second, the scooter is much more suitable for short and fun local rides instead of long-range commutes, so it would be the perfect gift for teenagers looking to get their first e-scooter.
For similar reasons, the scooter would be a great fit for all beginners who are yet to try out an electric scooter in their life.
I would also recommend the YYD ROBO for people looking for a light and casual electric scooter. With its modest powers and superb portability, the YYD ROBO would be a great suburban commuter to be used on relaxing afternoon rides.
Where to buy the YYD Robo from?
Worldwide
The best place to buy the YYD ROBO from will universally be
Amazon
.
Specifications
YYD ROBO Specifications
| | |
| --- | --- |
| Top speed | 30.5 kmh |
| Top speed | 19 mph |
| Range | 21 km |
| Range | 13 mi |
| Motors | BLDC hub |
| Power | 350 W |
| Climb angle | 10 ° |
| Battery | 270 Wh, 36 V |
| Charging time | 5 h |
| Ingress protection (IP) | IP54 |
| Weight | 13 kg |
| Weight | 28.7 lbs |
| Weight limit | 120 kg |
| Weight limit | 265 lbs |
| Tire size | 8 in |
| Tire type | solid rubber honeycomb |
| Foldable | yes |
| Foldable handlebars | no |
| Seat | no |
| Terrains | urban |
| Brakes | drum brake, electronic brake, pedal brake |
| Shock absorbers | front + rear rubber spring suspension |
| Lights | front headlight + rear light + side reflectors |
| Control | LCD screen |
| Cruise control | cruise control |
| App | yes |
| Warranty | 1 year |
| Return period | 30 days |
| Unfolded dimensions (L * W * H) | 100 cm * 45 cm * 115 cm |
| Unfolded dimensions (L * W * H) | 39 in * 18 in * 45 in |
Where to buy the YYD Robo
Worldwide: Amazon
---
Want to get
FREE SCOOTER
tips, exclusive discounts and promotions, and unseen scooter hacks? Join the
Scooter Secrets club
.
---
Liked this article? It really helps if you share it.
Follow @escooternerds on social media for more cool stuff
---