Last Updated on November 15, 2022 by Matt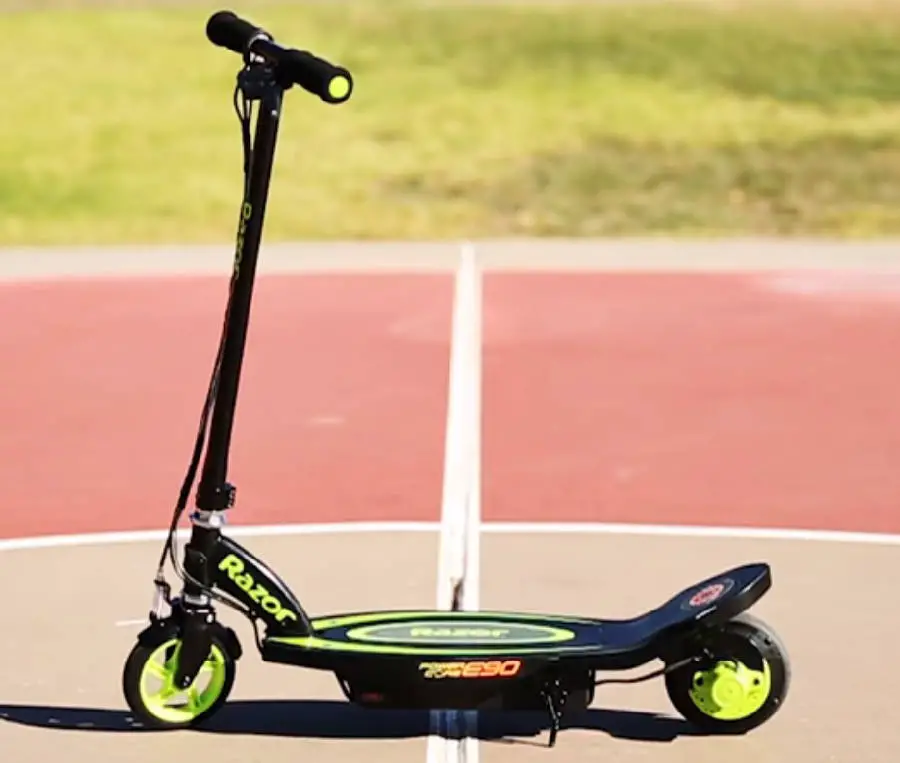 In this review of the Razor Power Core E90, we will go in-depth into all of its uses, features, benefits, and whether it is the right choice for your child, or as a gift for the child of a friend or a relative.
Should you buy the Razor Power Core E90 for your kid?
If your child has expressed a desire for an electric scooter, and your child is between 8 and 10 years of age, then you will probably not find a better choice than the Razor Power Core E90. It is one of the safest, most fun, most popular electric scooters for children ever made. As it's often reported by parents that have gotten this scooter for their children, once they get their hands on it, they will not leave it alone, and will probably have heaps of fun with it non-stop.
Ordering, shipping, warranty, return policy
The best place to buy the Razor Power Core E90 from is Amazon. You can choose between the different colors, but also you can check out the Razor Power Core E90 Glow on Amazon as well for the version that has electroluminescent wire on the deck and 6 LED lights below it (many kids seem to prefer this version).
In general, you will get a warranty period of 90 days, and a return period of 30 days. Razor is a very reputable brand, so if your order happens to arrive damaged, you will probably be eligible for a refund or a replacement.
If you live in the UK or in Europe, you may want to check out the listing for the Razor Power Core E90 at Ride And Glide, as they may provide free shipping in some cases, and shipping will be quicker in general.
The Razor scooter brand

There's little doubt that Razor is the best manufacturer of electric scooters for children of all time. It's quite possible that they have sold millions of units in their 20 years of existence, and have brought smiles to the faces of countless children.
Even more, their scooter models seem to get better with time, and even though scooters like the E90 have been around for several years now, they are getting constantly upgraded and improved, so today, nearly all of their models are safe, fun, and durable.
Unboxing, assembly, user manual
The Razor Power Core E90 will arrive in a double box, a plain brown one on the outside, and a branded colorful one on the inside. It ships with plenty of protective covers, and there shouldn't be any damages on arrival. You will need a pair of scissors or a scalpel to open up everything.
The box includes:
scooter
handlebars
Allen key and bolts
charger
manual
warranty card
The only assembly required on your end is installing the handlebar, which is a quick and simple process (just tightening the bolts with the Allen key).
Before riding, make sure that the scooter's battery is fully charged. Also, make sure that the brakes are operational.
Basics and how to use
The Razor E90 is a typical kick-to-start scooter, which is a great safety feature and in practice prevents a lot of falls and injuries.
The scooter has a thumb throttle for acceleration on the right handlebar. The throttle is pretty nice and provides a gentle acceleration curve.
The left handlebar hosts the brake lever, the same as a kid's bike.
The scooter does not fold.
On the left side of the deck, you can find a small dashboard with two buttons and a charging port. The kickstand also resides on the rear left side of the deck.
How to start the Razor Power Core E90?
The power button is located on the dashboard on the front left side of the deck. Simply switching it powers the Razor Power Core E90 on and off.
How to reset the Razor Power Core E90?
The black reset button on the dashboard, right next to the power button, can be used to quickly reset the scooter.
Rider age, weight limit, rider height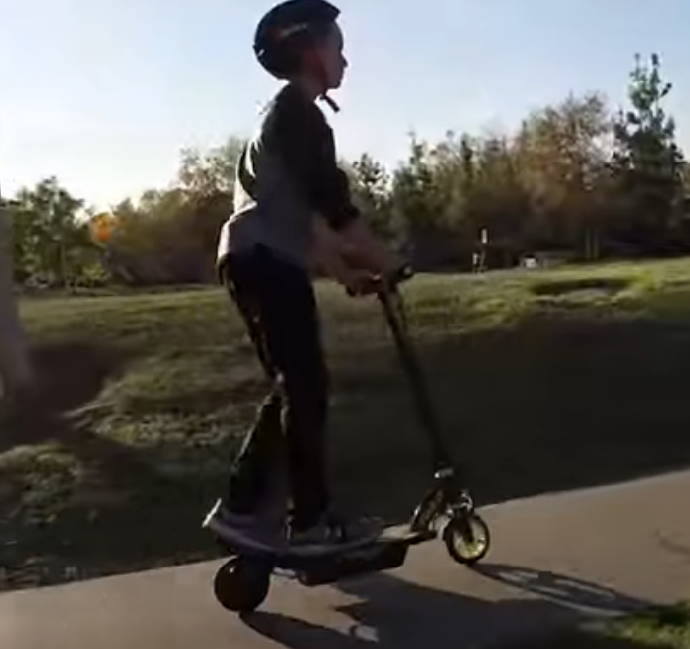 The recommended rider age for the Razor Power Core E90 is 8 years or older. However, children much younger (and often a bit older) will almost certainly be able to use it without any issue. Children taller than the typical 8 year old will likely find the scooter small, so if the child is above 4'6" / 138 cm, it's probably better to get her or him the Razor E200.
The weight limit of the scooter is 120 lbs / 54 kg, which will probably be enough for most kids aged 8-10.
What to know before buying
Even though this is one of the most popular electric scooters for kids ever released, there are still a few downsides that you should be aware of if you consider buying it for your child or someone else's child.
For starters, even though the top speed is very safe and very limited, it will still be very important for the child to wear a helmet at all times while riding. Safety must always come first.
Unless you decide to get the Glow version (more on that below), the scooter doesn't come with any lighting, and in that case, it's recommended for the child not to ride after it gets dark (and maybe that's a good idea even with the Glow version, as the lights are not spectacularly strong on it neither).
The scooter is well-made, but it will make a sound while riding. I would say that the sound actually sounds worse than how the scooter actually performs, but it's still not a quiet ride.
Finally, be aware that even though this has proven to be one of the best scooters for children ever, one of the following two will eventually happen: either the child will outgrow the scooter in a few years, or the scooter's battery will wear out and the range will dramatically decrease (which is the faith of every battery). Replacing the battery is not difficult, and the child will probably outgrow the scooter before that needs to be done. However, often, younger siblings inherit the scooter, or the scooter is given to a younger child in the family or friend circle, so it doesn't completely go to waste.
Those are all the main issues you should be aware of as a consumer.
Design and colors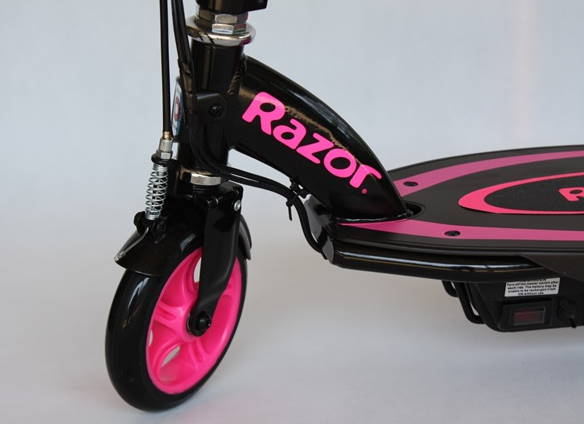 The Razor E90 is made to look super-fun, and that's probably one of the main reasons for its massive popularity amongst children. The lines and color patterns are very lively and playful.
The scooter is available in two color patterns:
black base, green for the details
black base, pink for the details
black base, red details (Glow version)
Build quality and materials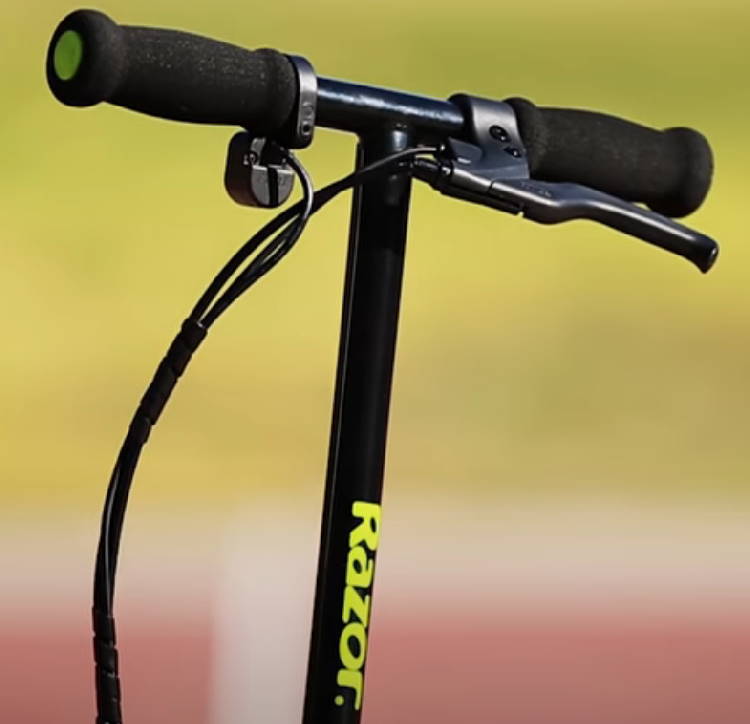 The scooter is made from steel, which is a very safe choice in my opinion, as it will be much harder to break and much more durable than aluminum (what's typically used in most electric scooters). This gives the Razor Power Core E90 a lot of safety points.
If you buy this scooter today, you will be buying several years of experience acquired by the previous versions, which includes many improvements and fixes over the years. Razor has been paying attention to user feedback diligently, and today, very few issues remain in this model. In fact, chances are, your scooter will have no issues at all, and your child will almost certainly ride the scooter until it outgrows it.
Everyday experience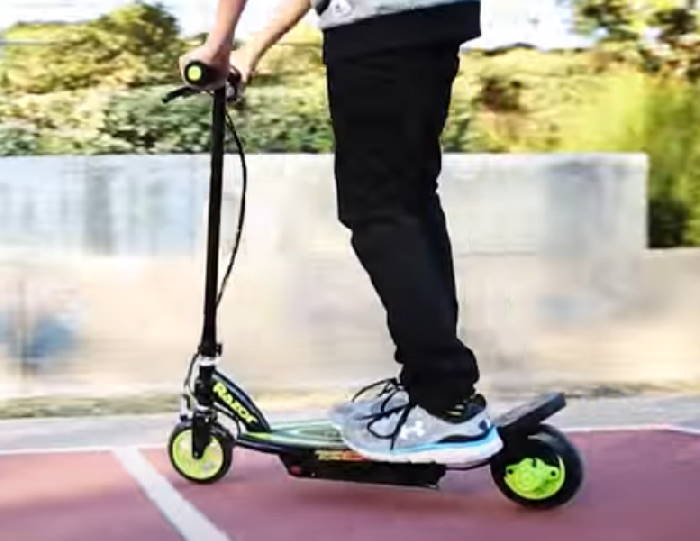 Since the Razor Power Core E90 is a children's scooter, it is not meant for long rides. With both of the wheels being solid to avoid punctures and accidents, the scooter will be quite safe and fun, but also it will not provide the smoothest, quietest ride, and it will shake during faster rides. Pretty much all the parents I've talked to say that's something they've observed, and their children have never complained about any of that. On the contrary, the majority of the children can't get enough of this scooter and ride it until the battery gets empty every time.
Brakes and safety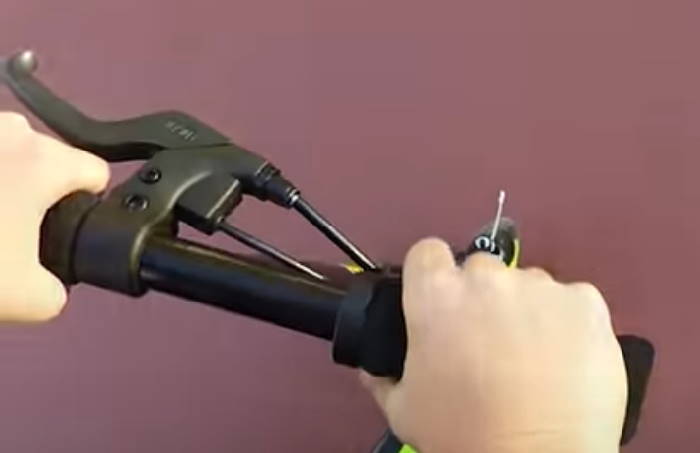 The brake system is easy to operate. If your kid has had a bike before, it will already know how to brake with this scooter, and if this is your kid's first rideable, it will figure it out in a matter of minutes.
The brake lever on the left handlebar engages the brake pads on the front wheel. The scooter is not that fast to begin with, but still, the scooter's brakes are fairly sensitive, and provide a safe stopping distance.
Overall, the combination of a safe top speed, a robust build, and a strong brake, make this scooter very safe.
Wheels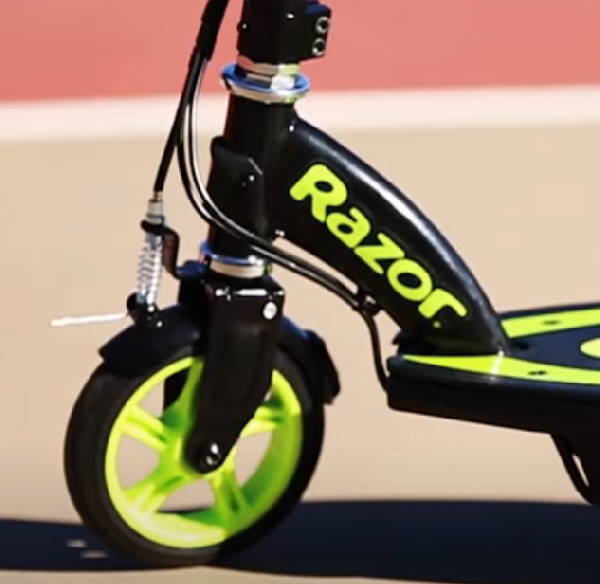 Since the scooter is intended for kids, it's made to be durable and withstand a lot of punishment and abuse, so it naturally comes with solid wheels, with the front wheel from urethane, and the rear wheel from rubber. The wheels are pretty small in their diameter as well (around 5 inches). As we mentioned before, they don't provide the smoothest rides, but they will never go flat and you will never have to worry about them at all.
Motor power and speed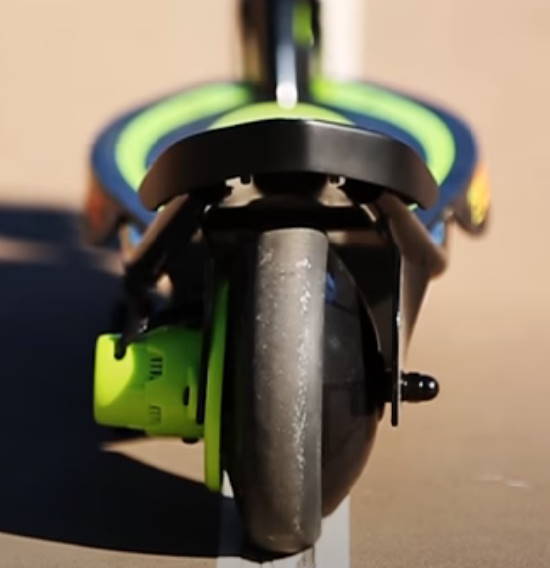 The motor power is 90 Watts, which gives the scooter its model name. Unlike other Razor scooters which have a chain-drive motor, the E90 has a hub motor, integrated into the rear wheel. Even though hub motors are usually quieter, this scooter still makes somewhat of a loud noise while riding, mostly because of the solid wheels but also because of the motor itself.
The Razor Power Core E90 can develop a top speed of 10 mph / 16 kmh.
Battery and ride time
The Razor E90 has a 12-Volt battery. The battery is of the SLA type (sealed-lead-acid), which usually drives the price down when compared to a lithium battery, although charging will be slower.
The scooter provides a ride time of up to 80 minutes in regular conditions, or somewhere around 13 mi / 21 km as claimed by the brand, and probably around 12 mi / 20 km as reported by a few owners.
Charging
The scooter can take up to 12 hours to fully charge. It's strongly recommended to charge it fully before the first use, and then charge it fully as often as possible.
Typical for lead-acid batteries, the charge times will be somewhat longer even though the range will not be that great, and you will have to be mindful not to overcharge the battery too much, as that can shorten its lifespan.
Water resistance
The Razor Power Core E90 doesn't have an official IP rating for protection against water damage. Moreover, the warranty doesn't cover water damage, so it's highly recommended to instruct your child to avoid riding in the rain or on wet surfaces.
All of that said, if the child somehow ends up riding through some rain, the scooter will probably be just fine, as most owners have reported that scenario.
Weight and dimensions

The scooter weighs 21.6 lbs / 9.8 kg, which makes it very light when compared to adult scooters, but it will still be robust and reliable enough to keep the child riding it safe.
The scooter's dimension are:
length: 31.7 in / 80.4 cm
width: 12.9 in / 32.7 cm
height: 32.9 in / 83.6 cm
Gear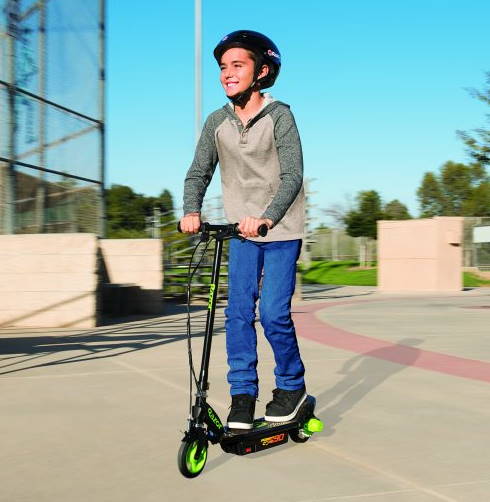 While the scooter arrives pretty much ready to be used, you may want to customize it further with some additional features like lights or horns or something of that sort. In that case, I recommend checking out my complete guide on the best electric scooter accessories, where you will find every possible option to upgrade any electric scooter, including this one.
As we mentioned before, it is strongly recommended for the child riding the scooter to wear a helmet at all times. Also, pads for the knees and elbows will be a good idea for a child that has never ridden a scooter or a bike before. The scooter is not too fast, the brakes are good, and the scooter is reliable and safe overall, but still, in the case of a fall, the helmet will prevent any sort of more serious injury, and the pads will make sure the child doesn't get any scrapes.
You might be offered the Razor Helmet as a package deal together with the scooter on Amazon, and that helmet will be both affordable and of solid quality. If you want something safer and of higher quality though, see my guide on the best electric scooter helmets.
Finally, while this is probably not the type of scooter that will be left outside for longer periods of time, it still might be wise to get at least a budget scooter lock to protect it from theft.
Maintenance, repairs, spare parts
Young children, especially ones more on the energetic side, will truly put the Razor Power Core E90 to the test. But that has proven to be exactly where this scooter shines, and it will require almost no maintenance.
Besides taking proper care of the battery as we described above, you will periodically want to check two things:
the brakes are functioning properly
all the screws are tightly screwed
There's practically no other maintenance you should do.
As this is a very popular scooter, spare parts will typically be available and very cheap. Also, because of its widespread use, most scooter, or even bike repair shops, should be able to assist you if you need some repairs.
Specifications
Razor Power Core E90 (kids) Specifications
| | |
| --- | --- |
| Top speed | 16 kmh |
| Top speed | 10 mph |
| Range | 21 km |
| Range | 13 mi |
| Motors | hub-drive rear |
| Power | 90 W |
| Battery | 12 V |
| Battery type | lead-acid |
| Charging time | 12 h |
| Weight | 9.8 kg |
| Weight | 22 lbs |
| Weight limit | 54 kg |
| Weight limit | 119 lbs |
| Tire type | solid |
| Foldable | no |
| Foldable handlebars | no |
| Seat | no |
| Trunk or basket | no |
| Build material | steel alloy, urethane, rubber |
| Terrains | urban |
| Brakes | hand-operated front wheel |
| Lights | EL wire and LED in Glow version |
| Warranty | 90 days, 30 days return period |
| Rider age | 8+ |
| Unfolded dimensions (L * W * H) | 80.4 cm * 32.7 cm * 83.6 cm |
| Unfolded dimensions (L * W * H) | 32 in * 13 in * 33 in |
| Adjustable handlebar | no |
Reviews and user satisfaction
The Razor Power Core E90 is one of the best-selling children's scooters ever. It has been around for more than 5 years now, and while it's difficult to estimate exactly how many units it has sold, it's almost certainly in the millions.
Even more importantly, the scooter is universally acclaimed and praised by its owners. In most of the listings on the big online retailers, the scooter has a very high average rating, often around the 4.7-4.8 range out of 5 stars, which is impossible for any other electric scooter for children to match.
Razor Power Core E90 Glow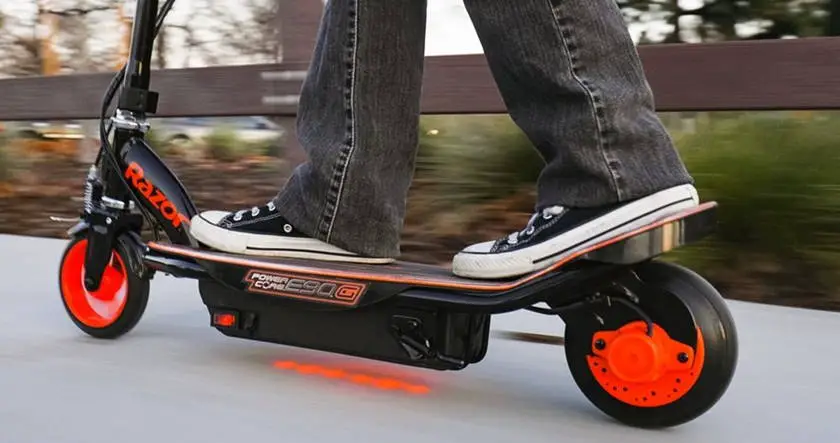 The scooter is available in a version with lights as well, coming with an EL wire on the deck, and additional 6 LED lights under the deck. This version is called the Razor Power Core E90 Glow, it is available on Amazon for a slightly higher price, and comes in a black base color with red details and a red glow under the deck.
While this will largely depend on the preferences of the child, there is one advantage that the Glow version has over the regular version, and that's the fact that it is clearly safer for rides after dark, as the standard version has no lights at all. It's generally not recommended for a child to be riding an electric scooter at night, no matter how well-lit the scooter is. Still, if there's a chance your child does that often and you prefer playing it safer, then the Razor Power Core E90 Glow is clearly the better choice.
Razor Power Core E90 vs Razor Power Core E95
The differences between the two Razor Power Core versions, the E90 and the E95, are only in the available colors (both are available in pink, and additionally, the E90 comes in green, while the E95 comes in blue). Everything else is exactly the same, and even though the E95 label may suggest that it comes with a 95 Watt motor, both still come with the same 90 Watt motor.
So, those two are practically the same model.
Razor Power Core E90 vs Razor E100
The Razor E100 has a 100 Watt motor, which is only slightly more powerful than the motor of the E90. Their top speed is still the same though.
The major difference between the Razor Power Core E90 and the Razor E100 is in the tires. The Razor E100 comes with a pneumatic front tire, and that brings an interesting set of tradeoffs. The rides with the E100 will be much smoother and more comfortable. However, the tire can easily sustain a flat, and it will require more maintenance on your part.
Another major difference is the ride time. The Razor E100 only has 40 minutes of ride time, which is half the ride time of the E90, and that's why I'd generally recommend the E90 for most children. Also, I would recommend the E100 for more careful children that will not challenge their scooter too much, and the E90 for more lively and spirited children that are more likely to put it to the test.
If you're interested in the Razor E100, you can see the full review, or check it out on Amazon.
Verdict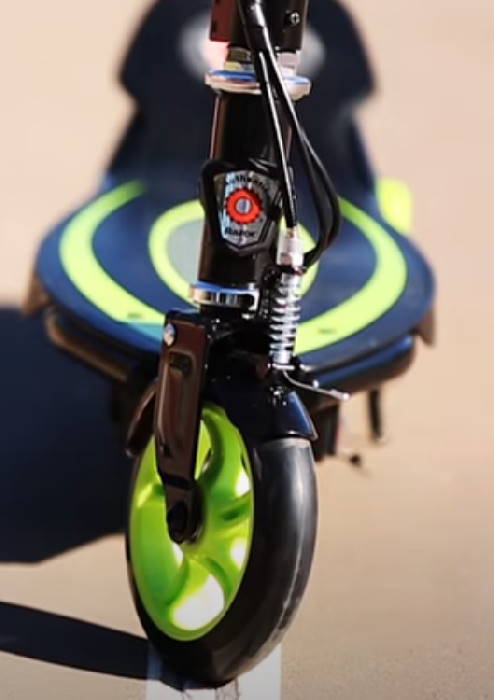 If you've made the decision to get your child the gift of an electric scooter, then I doubt you'll find a better choice than the Razor Power Core E90 for a child between the ages of 8 and 10. Based on what parents have told me, the moment when the child receives the scooter is alone worth the small price of it, and pretty much every child that receives it as a gift falls in love with it immediately and has a blast with it for years.
Where to buy the Razor Power Core E90 from?
Worldwide
The best place to order the Razor Power Core E90 from is
Amazon
, as both the price and the delivery terms will almost certainly be the best ones out there. You can also check out the
Razor Power Core E90 Glow
for a lighted version as well.
---
UK, Europe
In Europe, and the UK in particular, the scooter is available at
Ride And Glide
, and that might be a better option at times, since shipping is free for some countries, and it will usually be faster.
---
Want to get cool tips, exclusive discounts and promotions, and unseen scooter hacks? Join
Scooter Secrets
.
---
Liked this article? It really helps if you share it.
Follow @escooternerds on social media for more cool stuff
---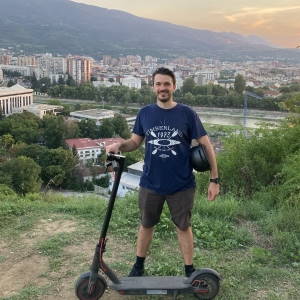 Where to buy the Razor Power Core E90