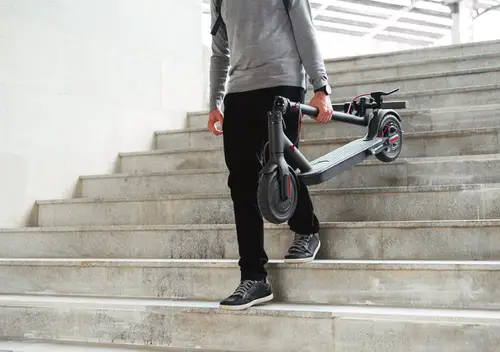 If you're preparing to move or maybe you're just visiting your friends that live out of town and wondering how to transport your electric scooter, you've found the right guide. I've faced this situation a few times so far, and based on my experience, I've put together a few methods that I've found the easiest and most useful for transporting your scooter.
If riding your scooter to a certain location isn't possible, you can transport it by car, with a moving van, or using a scooter hitch carrier. You can also transport it by taking it on a bus, the train, or the subway.
Let's see exactly how to do this.
How to transport an electric scooter
Generally, you can take your scooter with you on a bus, train, metro, or in your car. That will almost always be the best way to transport it over longer distances.
Car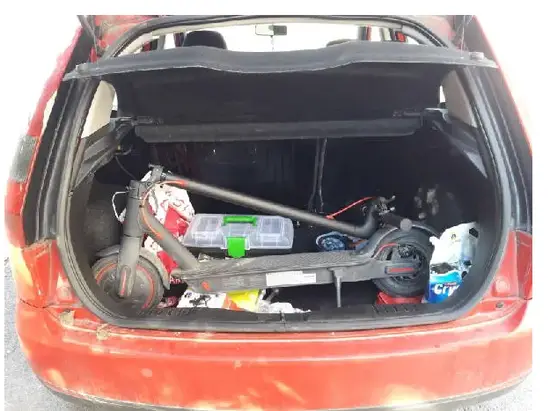 Even if your electric scooter doesn't have a foldable design, you can still place it across the floor in the rear, on the back seats, or in the trunk of your car.
If you're planning a road trip and want to take your scooter with you, transporting it by car is definitely the most convenient way. Transporting your scooter this way will be the best fit if you're preparing to move house too. Now let's see why this is so.
A standard car trunk is about 72.5"/ 184 cm wide.
A standard electric scooter has the following dimensions:
It's 19" to 22"/48.26 to 55.88 cm long
It comes with a deck ranging from 4" to 7"/ 10.16 to 17.78 cm in weight
It has a handlebar height of 39"/ 99.06 cm
So, if you do the math, you'll see that transporting your e-scooter by storing it in a normal car trunk won't cause you any problems. Also, you may even throw more luggage into the trunk. And if your scooter is foldable (which is the case for most modern scooters), it will even fit a trunk of a smaller size.
How do you transport an electric scooter in a car?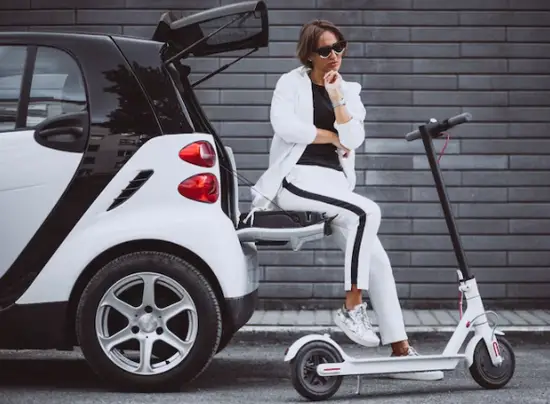 To ensure you transport your scooter easily and safely with a car, I recommend that you follow these steps:
First, dismantle the scooter if possible.
Disassembling your electric scooter before putting it in a car trunk will make it easier and more portable to transport. Also, this will keep you from worrying that it might get damaged during transport.
Of course, if you decide to just place the scooter in a horizontal position in the trunk, you may avoid disassembling it. However, you'll need to ensure it doesn't slide around to prevent it from getting damaged or damaging the trunk or any other stuff that might be stored in it.
Then, you will want to secure the scooter.
To ensure the scooter and its controls don't get damaged during transport, it's best to fix it firmly to something in the trunk or the inside of the vehicle by using bungee cords or straps.
Securing the scooter this way will prevent it from tipping over when driving through a curve or hitting bumps on the road. In case you can't secure your scooter, ensure that you position it in a way that it won't slide around or fall over during transport.
Extra tip: if you decide to transport your e-scooter by placing it on the backseats of your car, make sure you protect them from getting scratched. You can do this by laying some paper, a beach towel, or old sheets or blankets over them.
Finally, prepare the scooter for arrival.
You've probably heard the saying: "A stitch in time saves nine." So, instead of rushing to take your scooter out of the car and ride it right after that, take a few moments to check if there are any signs of damage on it.
Then, once you've checked your scooter and found no signs of damage, you can put your feet on its deck and enjoy the ride.
Moving van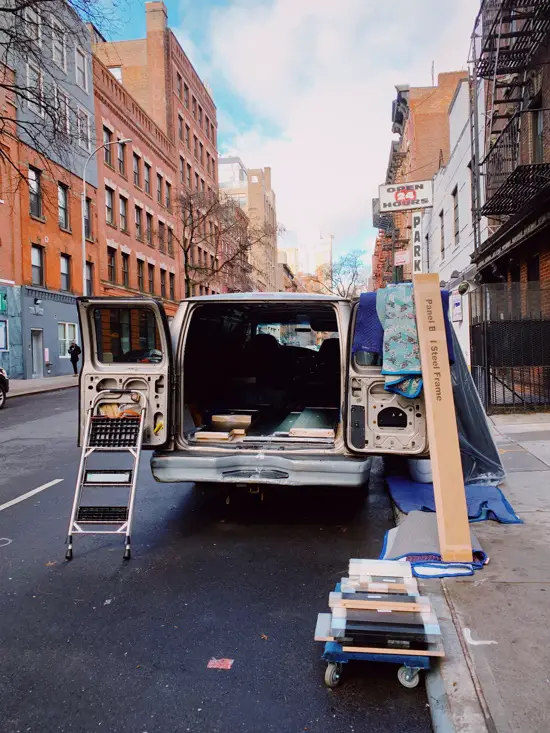 If you don't have enough space in your car trunk to store your e-scooter to transport it, you can do this by hiring a moving company. Even if your scooter doesn't have a folding mechanism, it should still fit in the back of the moving van.
However, if you choose to transport the scooter using a moving van, ensure it's tied down well or placed in a position where it will stay stabilized the whole time during transport.
Loading the scooter properly into the moving van will keep you from worrying that it might flip or get damaged if other heavy furniture items fall over it.
Scooter hitch carrier
Attaching a scooter hitch carrier to the back of your car is a pretty convenient way to transport your e-scooter. This way, the scooter won't take up a lot of space in your car trunk. Also, you won't need to worry that it might get damaged as it won't be surrounded by other heavy items in the hitch carrier.
Now, since scooter hitch carriers can be pricey, you can make one on your own if you don't want to invest in one. Of course, doing this requires having some technical knowledge and skills. But it'll save you some money for sure as well.
Here's a great video that can provide you with guidance on how to make and customize a scooter hitch carrier by yourself.
Bus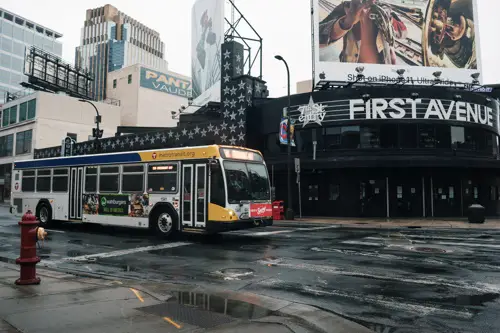 Most bus operating companies allow electric scooters on their buses. So, if you can't transport your scooter by car or with a moving van, taking it with you on a bus is another convenient option.
However, there are a few things you should be mindful of when taking your scooter on a bus, including:
Fold the scooter: To avoid bumping into or scratching things on the bus and inconveniencing the other passengers, it is best to fold the scooter before getting on. Make sure you also fold the stand.
Be careful how you get your scooter through the door: You may have a hard time getting your e-scooter through the door due to the handlebars and all the other sticking parts.
Watch where you keep the scooter while on the bus: The best place to keep your e-scooter on the bus is under the seat. You can secure it to the seat using straps to prevent it from sliding around. I also recommend that you sit on a seat in the last row of the bus as there's more space in that area. However, if the bus is fully crowded and you need to stand in the aisle, ensure you fold and hold your e-scooter straight. No matter where you choose to sit on a bus when you have your scooter with you, make sure you don't block access to the seats, aisle, and exits.
Cover or wipe your scooter's wheels on rainy days: Be considerate towards the other passengers. On rainy days, cover the wheels with a cloth or plastic bags to avoid smearing the other passengers' clothes as well as yours with mud. This way, the aisle on the bus won't get soiled or slippery too.

Note: You may occasionally receive tactless comments from the other passengers for bringing your scooter on the bus with you, but don't let this get to you. As long as you're not inconveniencing anyone and you're keeping your scooter properly while on the bus, the other passengers' comments shouldn't worry you at all.

Get off the bus the same way you got on it: Wait to unfold your e-scooter after you exit the bus. This way, you'll avoid blocking the other commuters or scratching things on the bus with your scooter.

Note: Be aware that there are bus companies that only allow electric vehicles in the cabin if they're for disabled people. So, before taking your scooter on a bus with you, check if that bus-operating company allows such vehicles first.
Take it on the train or the subway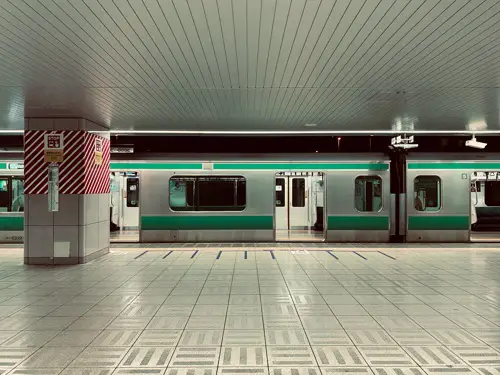 If you've ever wondered if you can take an electric scooter on a train or subway, the answer is yes, you can! And here are a few things you should keep in mind when you choose to use this transportation type to haul your e-scooter:
While you're allowed to take an electric scooter on a train, you're still not allowed to ride the scooter in the station. To avoid getting yourself in trouble, always carry it once you're inside the station premises.
Avoid taking your e-scooter on the subway if the subway station uses revolving metal doors. Going through such doors while carrying your scooter can be really challenging. To save yourself from this trouble, look for subway stations where the entrances and exits have regular doors so you can simply push the scooter through them or lift it over them.
If the subway or train is crowded, avoid standing on the aisles so as not to cause discomfort to the other passengers. In this situation, you'll be better off riding in the first or last railroad car as these areas offer more space.
However, when you need to stand in the subway or train aisle, it's best to fold your scooter and keep it propped up vertically during the entire ride.
Note: Keep in mind that some railway companies don't permit devices running on lithium-ion batteries on board their trains because of safety concerns. So, before taking your e-scooter on a train in your city, check if doing so is okay.
Extra tip: use an electric scooter storage transport bag
No matter which way you choose to transport your scooter, to ensure it doesn't get scratched during transport, I recommend you place it in an electric scooter carrying bag before loading it in the vehicle. This type of bag is usually made of a waterproof, tear-resistant lining, and there are various types of it available on the market.
This type of bag also allows you to take your electric scooter in shops, supermarkets, or other places where this type of vehicle isn't allowed unless it's stored in a bag. Check out my guide on the best electric scooter accessories for some cheap but high-quality picks.
How to transport an electric scooter when moving
Let's say you're preparing to move and you're looking for a safe and quick way to transport your scooter to your new home.
Start with the following: ask yourself if you really have to transport your scooter, or if you can simply ride it to your new home. At the end of the day, electric scooters are made for riding, right?
Without a doubt, if your new home is up to 50 miles / 80 kilometers from your old home, or if you have a long-range scooter, riding it to its new home might be a good idea.
However, if your new home is more than 50 miles / 80 kilometers from your old home or if you're moving to another country, hitting the road on your electric scooter to transport it will only work if it can cover that mileage on a single charge. Also, I would recommend planning your route ahead, and planning for your rest stops. You can also consider a few charging points along the way, although generally, I would try to avoid this, as it's a less reliable method.
Can you bring an e-scooter on a plane?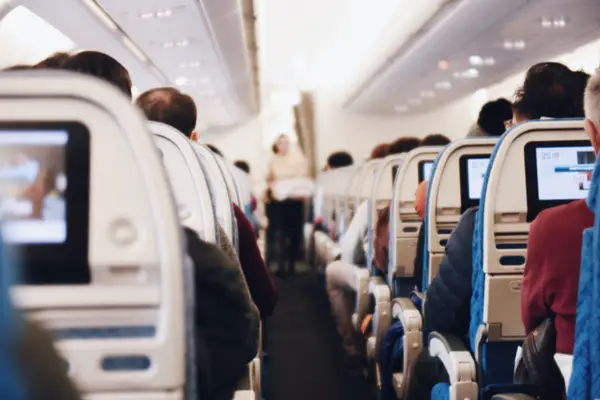 Unfortunately, most airlines don't permit e-scooters on board – neither as checked nor as carry-on baggage. This is because the Federal Aviation Administration (FAA) doesn't allow devices powered by Li-ion batteries with a watt-hour rating of over 160 Wh. And as you may already know, most scooters for adults run on Li-ion batteries that exceed 160 Wh.
As for e-scooters having Li-ion batteries with a watt-hour rating of 160 Wh or less, the FAA requires such devices to be approved by the operator as well as carried as hand luggage and under the pilot's control.
The main reason e-scooters using lithium-ion batteries that exceed 160 Wh aren't allowed on a plane is the likelihood of them producing heat or sparks. In fact, the International Air Transport Association classifies such batteries as "dangerous goods" due to the possibility of overheating, catching fire, and even exploding.
Check out my guide on airline-approved electric scooters if you're looking for such a scooter.
Can you ship an electric scooter?
If you can't transport an e-scooter by taking it on a plane when traveling internationally, an easy (though not that cost-effective) option to do so would be to ship it. You can do this using shipping services, such as FedEx Ground or UPS Ground.
As for how much it will cost to ship an electric scooter, that usually depends on the weight and dimensions of the scooter and the distance to the destination.
What characteristics make an electric scooter easy to transport?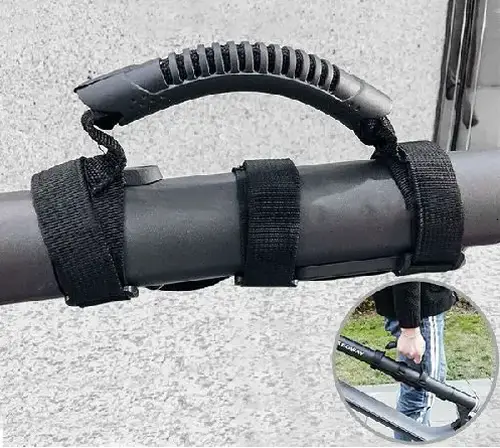 There are several parameters that play a role in how easy it is to transport your electric scooter.
Lightweight design
Of course, the lighter the scooter is, the easier it'll be to carry it up and down stairs or bring it on public transportation.
If you're unsure what weight you can bear, just think about how much weight you can lift in the gym. If you're able to do several repetitions carrying 45 lbs / 20 kg, or more than that, then you won't have trouble picking up and carrying around most of the popular commuter scooters.
See my guide on the lightest electric scooters if you're looking for a scooter that you can carry around easily.
Note: Electric scooters are generally easy to carry around. However, some models are less convenient to be carried in one hand. For such e-scooters, buying an extra accessory, such as a carry handle like the one presented in the photo above, can help you solve this problem quickly.
Compact design
Small-sized electric scooters are easy to carry around, especially if they also come with a folding mechanism.
Moreover, the design of some models allows you to decrease the scooter's total size by adjusting the height of the stem. So, if you're looking to buy an e-scooter that will be convenient to transport no matter the transport mode, get yourself a portable scooter that occupies little volume when folded.
Folding mechanism
Today, most regular scooters are foldable at least at the stem, and some have foldable handlebars as well.
Not all foldable scooters use the same mechanisms for folding the stem. Some fold the stem itself, while others involve folding the scooter at the deck. In any case, folding the scooter drastically reduces its volume, and makes it much more portable.
---
Want to get
FREE SCOOTER
tips, exclusive discounts and promotions, and unseen scooter hacks? Join the
Scooter Secrets club
.
---
Liked this article? It really helps if you share it.
Follow @escooternerds on social media for more cool stuff
---