Last Updated on May 17, 2023 by Matt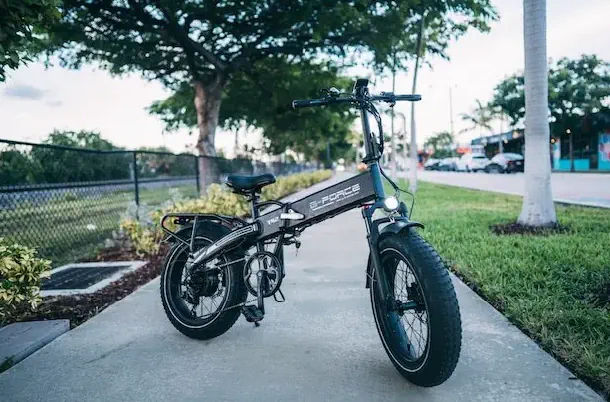 For most people, purchasing an electric bike, even for leisurely activities, is a significant investment. Even budget models from top brands are usually a bit pricier than normal bikes. Of course, many riders will focus on reliability and durability when making their buying decision.
In this guide, I will explain how long electric bikes last using data and real-world examples. We'll also explore what you can expect in the long run, including some of the most common issues for both basic and advanced electric bike models.
How long do e-bikes last?
Most electric bikes can last between 3 to 10 years at peak performance depending on their build quality, usage, maintenance, components used, etc.
I analyzed thousands of end-user reviews, testing data, and manufacturer estimates to calculate this number.
Electric bike durability research
For this analysis, I curated issues from end-user testimonials and other sources for two categories of electric bikes. The first category covers popular budget bike models focusing on the most common issues affecting their durability. The second category covers premium electric brands still focusing on the same durability-related metrics.
We'll focus on the following five key metrics to estimate the durability of the electric bikes sampled in this analysis:
Factory defects – These include issues that will likely affect the durability and reliability of your electric bike in the first month of ownership. They may include faulty batteries, poor assembly, missing parts, cheap components, software/app issues, structural defects, etc.
Battery Issues – Most electric bikes will develop serious usability defects if the battery is faulty or dead. Battery issues can develop at any time but more serious issues usually surface after 3 years of use.
Motor Issues – An issue with the electric bike's motor will have a direct effect on its durability and may even reduce its lifespan.
Controller issues – More often than not, a fault with the electric bike's controller will affect its usability. The issue may even render the e-bike useless if the repair or replacement costs are too high outside the warranty.
Usability issues – These are issues affecting the ride quality, safety, and other aspects of the electric bike from a rider's perspective. They may include faulty pedal assistance, faulty throttle, dead display, issues with the handlebars, etc. 
Common electric bike faults and their frequency
| Fault | Frequency |
| --- | --- |
| Battery failure | High |
| Motor failure | High |
| Controller failure | Medium |
| Wiring problems | Medium |
| Brakes not functioning | Medium |
| Display malfunction | Low |
| Throttle failure | Low |
| Pedal assist sensor issue | Low |
| Charger failure | Low |
| Battery failure | High |
Budget electric bikes – durability and common issues
The following electric bikes whose pricing puts them in the budget category were considered for this durability analysis:
Swagtron EB5 Plus Folding Electric Bike
Ancheer Power Plus Electric Mountain Bike
Nakto 26″ City Electric Bicycle
Gotrax E-Bike Folding Electric Bicycle
ECOTRIC Citycruiser Electric Bike
Kemanner 26-inch Electric Mountain Bike
Jetson Bolt Folding E-Bike
The table below summarizes real-world data about the durability of these electric bikes.
| E-bike model | Sample size (Review Count) | Factory Defects | Battery Issues | Motor Issues | Controller Issues | Usability Issues | Total Issues | % of Failure | Average Lifespan (years) |
| --- | --- | --- | --- | --- | --- | --- | --- | --- | --- |
| Swagtron EB5 | 1449 | 54 | 170 | 47 | 30 | 88 | 389 | 6% | 3 |
| Ancheer Power Plus | 1553 | 152 | 46 | 93 | 248 | 44 | 583 | 3% | 4 |
| Nakto 26″ City | 300 | 12 | 9 | 6 | 1 | 16 | 44 | 5% | 3 |
| Gotrax E-Bike | 380 | 5 | 7 | 11 | 0 | 8 | 31 | 2% | 5 |
| ECOTRIC Citycruiser | 200 | 6 | 3 | 6 | 0 | 2 | 17 | 1% | 4 |
| Kemanner 26-inch | 240 | 6 | 10 | 7 | 2 | 3 | 28 | 1% | 5 |
| Jetson Bolt | 700 | 15 | 4 | 15 | 12 | 3 | 49 | 7% | 5 |
The chart below compares the most common issues reported in budget electric bikes that are likely to affect their durability and usability in the short term and long term.
From the curated data, we can get a clear picture of the durability of each of the sampled electric bikes.
For instance, Swagtron EB5, despite being one of the most popular budget models, has some points of weakness, with the battery being the most obvious one.
From my analysis,  riders of this particular model experienced problems with the bike's lithium-ion battery. In most cases, the battery died after 2 years of use or could not charge at all necessitating a replacement. That said, a battery replacement almost always got the bike working normally again which speaks to the bike's overall build quality and durability.
Something to note about the Swagtron EB5's reliability is the number of cases reported in the first six months of ownership. About a third of the failures reported for this particular bike model happened soon after the purchase with some coming with factory defects.
The Ancheer Power Plus is a relatively new brand of budget electric bikes but quite popular among beginners because of its price tag. I expected this bike to perform poorly in some areas but was pleasantly surprised by its apparent reliability, especially on battery life. Its weakest point from the data seems to be the build quality.
There was a myriad of issues reported including clanking sounds, broken chains, and trouble with the pedal assist. All these issues affect usability and can generally point to poor build quality. However, for a budget electric bike, the Ancheer Power Plus's estimated 3-4 year lifespan is quite impressive.
A good number of cases reported for the Ancheer Power Plus occurred in the first year. This means many of them were either factory defects or issues that could be fixed under warranty. As it is with most budget electric bikes, you are almost always going to find a few units whose build quality is not good.
The Nakto City Bike comes in a range of configurations with the 26" 250W model being the most popular choice. The Nakto suffers some issues that are an indicator of its durability.
From the research conducted, the most common issues with the Nakto have to do with the e-bike's overall build quality, which often ends up affecting usability. Most of the complaints center around pedal assistance failures, bent frames, squeaky breaks, etc. However, more than 70% of people who bought this electric bike had a good experience and were able to get at least 3 to 4 years of trouble-free use from it.
Gotrax is a popular brand in the electric bike segment and its budget model is the Gotrax R1. Concerning its durability, the Gotrax R1 has an average performance based on the data used in the analysis. Some people who bought this model had issues with the major components such as the battery, motor, and assembly.
The Gotrax R1's major weak points that are likely to affect its longevity have to do with the motor and build quality. From the data, the expected trouble-free lifespan of this model ranges between 2 to 3 years. It is, however, sold with a 90-day limited warranty which can be a dealbreaker for some people considering some of its reported issues over the long term.
The ECOTRIC Citycruiser is another relatively popular small-brand electric bike that has impressive durability given its pricing. Some of the main issues you might experience with this particular model from the research include motor failures, power issues, and issues with the frame.
Overall, about 70% of users have reported having an okay experience with the e-bike, and the remaining 30% report a few issues that point to the e-bike's reliability. The expected lifespan for the ECOTRIC Citycruiser is roughly 3 to 4 years, but you can get more if you replace major parts and take care of it.
I knew little about the Kemanner 26-inch budget electric bike before this research, but was surprised by the number of units sold and its overall build quality. A good number of the issues reported for this budget electric bike model have to do with the main components (motor and controller). This electric bike will likely give you between 2 to 4 years of trouble-free service.
Last on the list of budget e-bikes is the Jetson Bolt Folding E-Bike. From the research, we can confidently conclude that this model is good enough for at least 4 years of trouble-free usage. A small percentage of people who bought it have had issues with the battery unit in the first two years. Others have complained about its build quality. However, the majority expressed satisfaction with the Jetson Bolt Folding E-Bike.
The data below shows the total number of issues reported for each of the budget electric bikes in this analysis, from the time of purchase to at least two years of usage. Please note that some of the issues reported are minor and a good number have been rectified. The owners were also able to continue using the bikes for longer after replacing some components.
| E-bike model | Sample size (Review Count) | Issues in the first 6 months | Issues in the first year | Issues after a year |
| --- | --- | --- | --- | --- |
| Swagtron EB5 | 1449 | 54 | 88 | 98 |
| Ancheer Power Plus | 1553 | 152 | 12 | 12 |
| Nakto 26″ City | 300 | 12 | 18 | 23 |
| Gotrax E-Bike | 380 | 5 | 19 | 35 |
| ECOTRIC Citycruiser | 200 | 6 | 12 | 12 |
| Kemanner 26-inch | 240 | 6 | 13 | 13 |
| Jetson Bolt | 700 | 23 | 14 | 14 |
Budget electric bike time-based reported issues
The expectation for more expensive premium electric bikes is that they have a longer lifespan and better reliability. Indeed, as my research proved, most top electric bikes come equipped with more durable lithium-ion batteries and have overall better build quality and reliability.
For this segment, I curated and analyzed information for the following premium electric bikes:
Trefecta RDR
Shimano 7-Speed
Stealth B-52
HPC Revolution AT
Specialized Turbo Kenevo SL Comp Carbon
Stromer ST5
Optibike R15C
Most of these bikes have a price tag above the thousand-dollar mark and have long manufacturer warranties. On top of that, most are from well-known brands that have sold thousands of units. In comparison to the budget bike segment, I had more data to work with, which means the conclusions are more accurate.
In the table below, I have summarized r data about the durability of popular premium electric bikes.
| Ebike Model | Sample size (Review Count) | Factory Defects | Battery Issues | Motor Issues | Controller Issues | Usability Issues | Total Issues | % of Failure | Average Lifespan (years) |
| --- | --- | --- | --- | --- | --- | --- | --- | --- | --- |
| Trefecta RDR | 5400 | 11 | 23 | 24 | 27 | 14 | 99 | 2% | 7 |
| Shimano 7-Speed | 4533 | 14 | 33 | 30 | 24 | 3 | 104 | 2% | 7 |
| Stealth B-52 | 6456 | 16 | 37 | 26 | 3 | 21 | 103 | 2% | 10 |
| HPC Revolution AT | 1874 | 3 | 2 | 32 | 5 | 9 | 51 | 3% | 7 |
| Specialized Turbo Kenevo SL Comp Carbon | 4677 | 17 | 26 | 21 | 28 | 24 | 116 | 2% | 10 |
| Stromer ST5 | 5467 | 12 | 35 | 33 | 20 | 7 | 107 | 2% | 10 |
| Optibike R15C | 3456 | 9 | 30 | 28 | 31 | 18 | 116 | 3% | 10 |
On average you can expect any e-bike in this category to last at least 7 years without developing major issues. Most come with an extended warranty period of one year or more. Out of all the e-bikes in this analysis, a very small percentage had major issues outside of the warranty period.
Do electric bikes last?
In general, you can expect most electric bikes to last you at least a few years, and more expensive bikes can last up to 10 years or more.
The conclusion I drew from this research is that less expensive electric bike models tend to have more issues with reliability as compared to the more premium options. As a buyer, you have to choose between spending more money upfront to buy an electric bike that lasts longer, or taking your chances with a cheaper model and risking having to buy a new bike after a few years.
Consider the following points when trying to make criteria to make the right decision for you.
How will you use the electric bike?
In some cases, it might be wiser to purchase an inexpensive electric bike if you don't intend to use it for long trips, in tough terrains, or as your daily means of transport. Cheaper bike models may have a shorter lifespan and develop more issues in the long run, but they are good enough for most people in most situations.
However, more expensive bikes, besides their durability, tend to be more capable and enjoyable, and provide a better user experience in general, which is also something worth considering.
What is your experience with electric bikes?
If you are a newbie to electric biking, a less expensive electric bike will likely be better suited for you.
You will probably make a few mistakes as a beginner. Such mistakes lead to costly repairs for expensive e-bikes, as they tend to have more expensive components, and the mechanics may charge more for fixing them. Also, some expensive pro models have a steeper learning curve and are not very friendly to novice riders.
Do you care about brand names?
In the electric bike market, newer or lesser-known brands can sometimes offer the best deals in terms of pricing and value for money. If you don't care about brand names, you might be able to save some money on your first e-bike purchase.
On the other hand, popular brands tend to offer more in terms of after-sales services and availability of parts, and more repair shops will be familiar with them as well.
How to make your electric bike last longer
There are a few things you can do to extend the life of your electric bike regardless of its price or brand. A lot of these strategies revolve around your bike's maintenance and how you use to ride it. Here are some of them.
Preventive maintenance
Don't wait for your electric bike to show signs of wear and tear before you repair it. 
You can extend its life significantly through preventive maintenance. For electric bikes, preventive maintenance involves checking the motor, crankset components, controller, tires, frame, etc. Replace or repair any components as soon as they develop a defect, and your e-bike will serve you for a long time.  
Ride settings
Take time to learn how to ride your electric bike and understand its ride setting before you start using it. Doing so will help you choose the right ride setting or ride modes for every terrain you are riding, thus avoiding stressing the e-bike's motor. It will also help you get better range from your battery.
Correct tires
Using the wrong tires or worn tires on your electric bike can shorten its lifespan. It stresses the braking system, the motor, and other active components. It may also cause a bent frame in cases where road tires or worn-out tires are used on rough terrain. Ideally, e-bike tires should be checked for wear and tear as often as possible.
Battery replacement
Most electric bikes use a lithium-ion battery with a lifespan of about 3 to 5 years. To extend the life of your e-bike you can always replace the batteries with new ones if the other components are intact.
Avoiding modifications
Modifying your bike can shorten its lifespan significantly, especially if the mods introduce more weight or make the motor work harder than it should. Also, big modifications will probably void your warranty.
---
Want to get
FREE SCOOTER
tips, exclusive discounts and promotions, and unseen scooter hacks? Join the
Scooter Secrets club
.
---
Liked this article? It really helps if you share it.
Follow @escooternerds on social media for more cool stuff
---