Last Updated on June 12, 2023 by Matt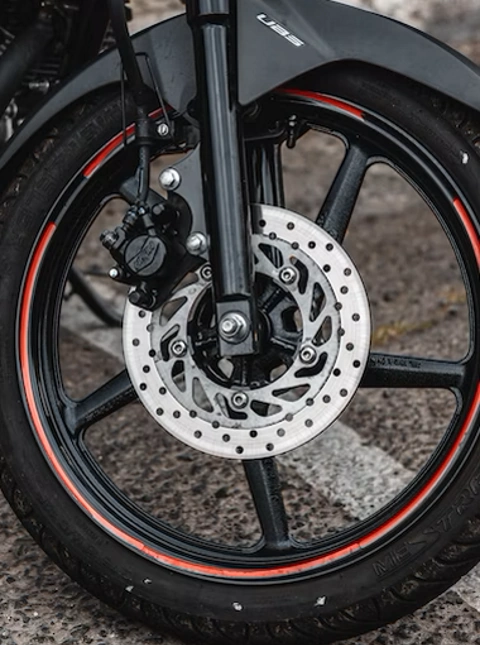 Anti-lock braking systems (ABS) are a crucial safety feature that are becoming increasingly common in electric scooters. If you're looking to purchase a new electric scooter, it's important you understand the importance of this system, and more importantly, how it works.
In this comprehensive electric scooter ABS guide, I'll cover the braking system's functionality, benefits, and maintenance, so you know exactly what you're signing up for.
What is ABS?
An Anti-lock Braking System, or ABS, is an advanced safety feature found in most modern vehicles, including electric scooters. These brakes are more efficient and effective than conventional escooter brakes at stopping the vehicle in emergency situations. Using a rapid and pulsating braking mechanism, ABS improves the functionality of an electric scooter by improving traction, stopping power, and steering control.
How does ABS work?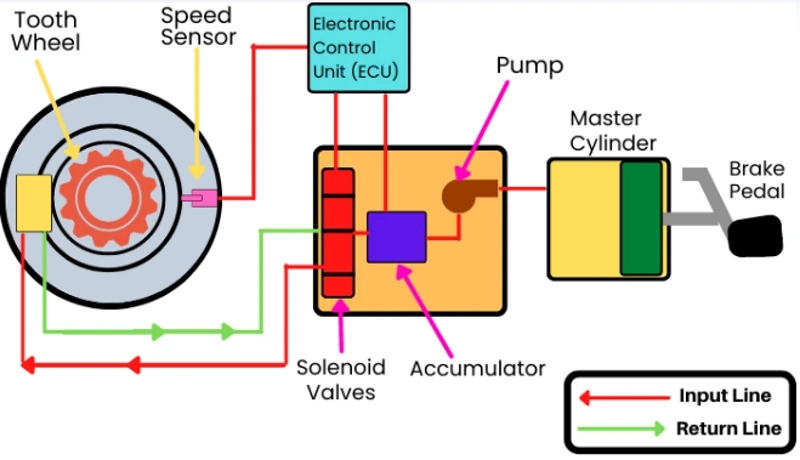 An electric scooter anti-lock braking system is made up of 4 integral components:
speed sensors
a control unit
hydraulic valves
an ABS pump
These parts work together in concert to prevent the wheels from locking up. The purpose of the system is to prevent the scooter from skidding when braking.
The rotational speed of the escooter's wheels is monitored by a speed sensor, which sends real-time data to the control unit. When you apply the brakes, the control unit detects the rapid deceleration of the wheels and activates the scooter's ABS before the wheels lock up.
The solenoid valves of the system rapidly open and close to release brake fluid stored in an accumulator while the pump ensures proper hydraulic pressure is maintained throughout the operation. This repeated rapid application and release of brake pressure maintains the wheels' traction with the road and increases the stability of the electric scooter during hard braking.
Some electric scooters are equipped with ABS indicator lights to indicate their status, e.g., when the system is active or not working correctly.
Here's a video to get a better idea of how ABS works. The video explains the system for a car, and not an electric scooter. Nonetheless, it does a good job explaining the basic principle of ABS, which applies to all kinds of vehicles, including electric scooters.
Pros of ABS in electric scooters
The pulsating brake operation of an antilock braking system prevents the wheels from locking up. This decreases the risk of accidents caused by skidding and poor traction.
An electric scooter with ABS has increased stopping ability, providing more stability when you make sharp turns or apply a hard brake. You get improved maneuverability and can stop worrying about losing control of the scooter.
ABS reduces the stopping distance of an electric scooter, making the braking operation more efficient.
The excellent stopping ability of antilock braking systems is great for riding on slippery and icy roads due to improved traction.
Since the demand for antilock braking systems in electric scooters has increased, having ABS in your electric scooter will increase its resale value.
Cons of ABS in electric scooters
Electric scooters equipped with an antilock braking system are more expensive than those without it. This is mainly because of the system's high-priced additional components and its advanced braking technology. 
ABS comprises a complex network of sensors, hydraulic components, and a control unit. So, troubleshooting and maintaining the system will require someone with specialized knowledge.
Complex components also mean higher maintenance, repair, and replacement costs.
An antilock braking system can be less effective on rough terrains, like loose gravel pathways and snow-covered roads.
How much does an ABS cost for an electric scooter?
On average, an ABS will cost you one or several hundred dollars, mainly depending on the brand, model, and system specifications.
The price may also differ based on the country where it is being sold.
When it comes to ABS, you have two options. You can buy an electric scooter with preinstalled ABS, or buy the system separately and have it installed in your scooter by a professional mechanic.
A factory-installed antilock braking system means seamless integration and no compatibility issues with the other components of the electric scooter. However, this usually means a higher price.
Getting the system separately will be cheaper, but personally, I think that the installation hassle wouldn't be worth it (although, a few friends that have done this have told me it wasn't a huge headache to install it).
The brakes are the most important safety feature of your electric scooter. A factory-installed ABS is more reliable and usually comes with a warranty. That alone is worth not tinkering with it yourself and buying it preinstalled.
Factors to consider when choosing an ABS for your electric scooter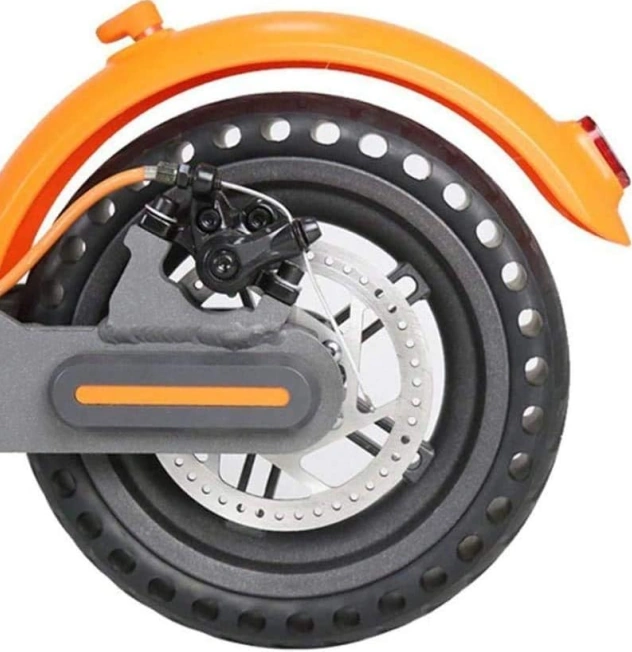 Whether you plan on buying an aftermarket ABS option or an electric scooter with preinstalled ABS, there are some things to look out for before making the final decision. 
Look for an ABS that is sensitive, responsive to different braking options, and suitable for many terrains. If the system gives you the option to customize the sensitivity and responsiveness to suit your riding style, it will be a bonus.
You may find some cheap ABS options in the market, but I recommend investing in a known, high-quality brand. A colleague of mine got a second-hand one for a pretty cheap price, but it wasn't that effective, and completely broke down in a few months.
If you're considering aftermarket options, make sure the ABS is compatible with your existing electric scooter model so that it can seamlessly be integrated with the existing braking system. Ideally, choose an option that won't require any additional components or modifications for installation.
Go for a lightweight system so that the functioning of your electric scooter isn't affected. If the system doesn't come with a warranty, check if it has any reviews to know if users have found the specific model to be worth it.
Maintenance and care for an electric scooter ABS
Regular checks and maintenance are the keys to prolonging the life of your electric scooter's ABS and ensuring it's always in optimal working condition. Here are some care tips you'll need to follow to maintain the system's safe and reliable function:
Have your ABS system regularly inspected by a professional to make sure everything is working right. This will help catch any damage early on so that you don't have to spend on repairs later.
Always keep track of the system's braking performance while riding your electric scooter, especially after a fall or collision. If you feel any kind of reduction in braking performance, get the ABS checked by a professional as soon as possible.
Keep the exposed parts of the electric scooter's brakes clean to prevent accumulation of any moisture, dust, and debris. Avoid using harsh chemicals or high-pressure water to clean the brakes. Instead, use a damp microfiber cloth with light soap. Make sure you go over the parts with a dry cloth in the end to prevent corrosion.
Hydraulic fluid plays a critical role in ABS operation, so its pressure maintenance is very important. Schedule regular checks to ensure the brake fluid level is always within the manufacturer's recommended range. If it isn't or needs to be replaced, contact an electric scooter professional.
Go through the system's user manual for maintenance tips specific to your electric scooter model and ABS. If you're having trouble finding a skilled technician, contact the electric scooter's manufacturer for recommendations. They'll point you in the right direction and will often help you troubleshoot any problem with the system.
How to know if the ABS isn't working?
Usually, an electric scooter with ABS will have an indicator light to tell you if the brake system isn't working right.
If there is no indicator light, there are other signs you can look out for.
When the rider applies the brake, the antilock braking system normally causes vibration in the brake lever. So, if the vibration is absent, there's a high chance your scooter's ABS is malfunctioning. 
Another major sign is when the electric scooter does not effectively stop when the rider brakes, and skids along the road instead.
As someone who frequently rides the electric scooter, you'll also be able to sense any unusual brake performance, like uneven brake distribution between the wheels. In such cases, trust your instinct and get your brakes checked by a professional.
Do you need ABS brakes?
An electric scooter can function without an antilocking braking system, so it's common to wonder if the brake system is even worth it. I've ridden electric scooters, both with and without ABS, and in my view, the riding experience is considerably different with the two types of scooters. I like the ABS feature, I think it provides a lot of safety, and I don't see myself going back to riding an electric scooter without ABS.
There was a 37% increase in escooter accidents in the U.K. last year. The more safety measures you take, the better. So, if you're someone who values safety, the increased stability and control you get with an anti-lock braking system is definitely worth it.
---
Want to get
FREE SCOOTER
tips, exclusive discounts and promotions, and unseen scooter hacks? Join the
Scooter Secrets club
.
---
Liked this article? It really helps if you share it.
Follow @escooternerds on social media for more cool stuff
---