Last Updated on November 14, 2022 by Matt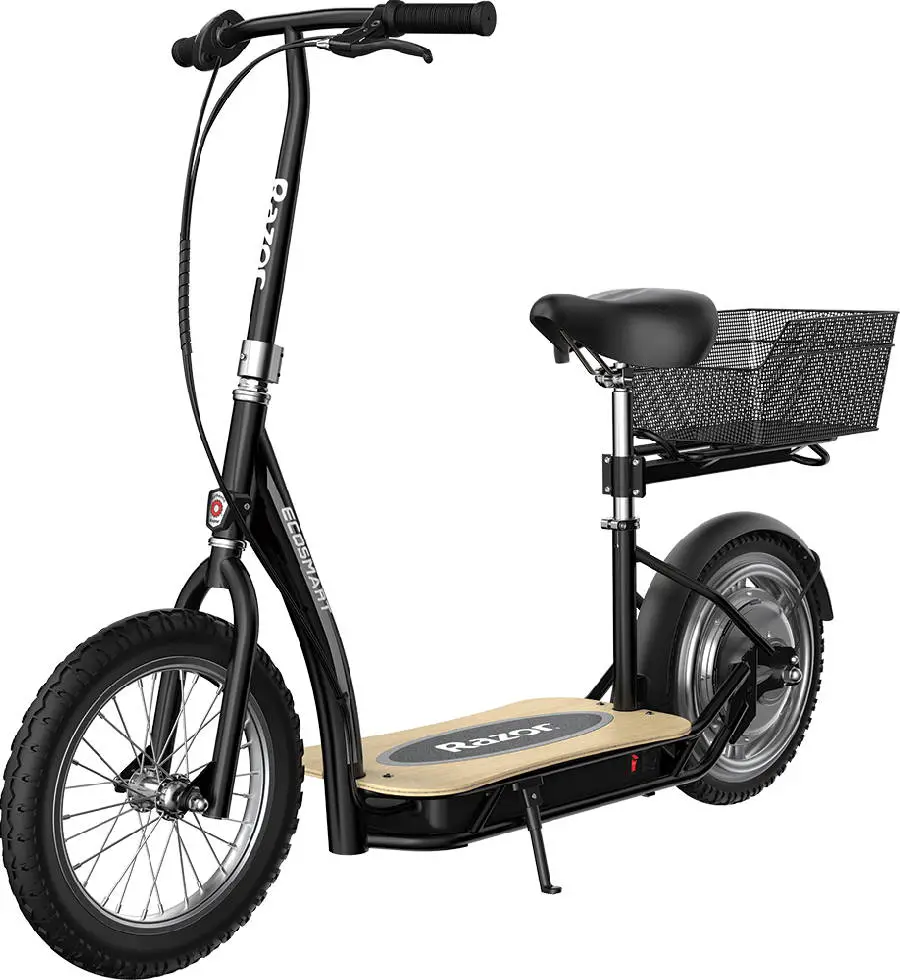 In this detailed Razor EcoSmart Metro review, we will find out why this evergreen model is one true adult scooter, and why it makes the other popular scooters look like toys for children in comparison.
Who is the Razor EcoSmart Metro for?
The Razor EcoSmart Metro is a versatile scooter, with a top speed of 18.6 mph / 30 kmh, a range of 12 mi / 19 km, a chain-drive 500 Watt motor, and a 36 Volt sealed-lead-acid battery. The large 16-inch tires provide a lot of comfort and shock-absorption. It comes with a soft seat, and a large basket for your groceries in the back.
This is primarily an adult model, but a lot of teenagers and even children ride it a lot as well. The scooter is durable, tough, very safe, and of solid quality, and as such is perfect for many different activities: cruising, shopping, riding around town, getting chores done, or just relaxing and having some fun with it. Its distinct seat and basket configuration has made it one of the best-selling models for senior citizens and adults that are looking for a super-comfortable scooter, or a scooter that comes prepared for crossing off items from that daily task list.
Where to buy the Razor EcoSmart Metro from?
---
Europe
In Europe, it's best to get Razor EcoSmart from another
Amazon listing
, as the listing above may not ship to Europe sometimes. You should also check out
Ride And Glide
as an alternative, as they might provide the best deal at times.
The Razor electric scooter line and brand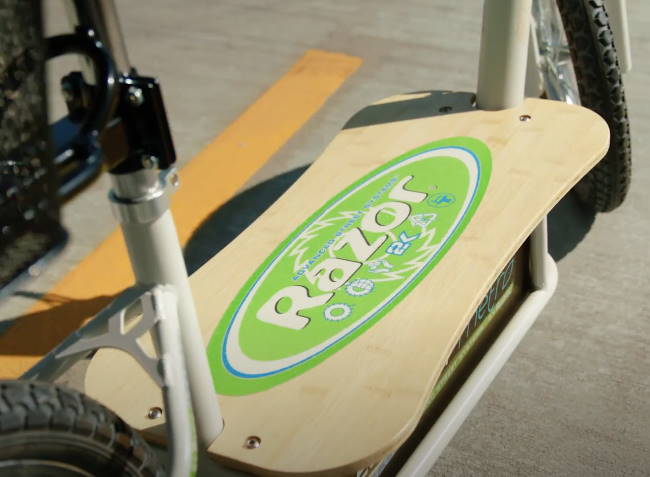 Razor is one of the oldest and most trusted brands in the electric scooter world. Their scooters were mostly intended for children initially, and the brand is still often associated with children's scooters. However, they've had several models for adults for quite a few years now, and it's exactly the adult models that have skyrocketed the brand's recognition and launched them into prominence.
Today, Razor offers probably the best children's scooters, a lot of amazing adult models, and a few models somewhere in between, aimed at teenagers or younger adults.
Warranty and return policies
If the scooter arrives damaged, or you wish to return it for another reason, you can do so within 30 days of ordering. You will need to preserve the original package, so don't throw that away on assembly until you're sure you want to keep your scooter.
The warranty period for the scooter is 90 days, and if any of the critical components break down during that time, you will get replacements for them free of charge.
Unboxing and assembly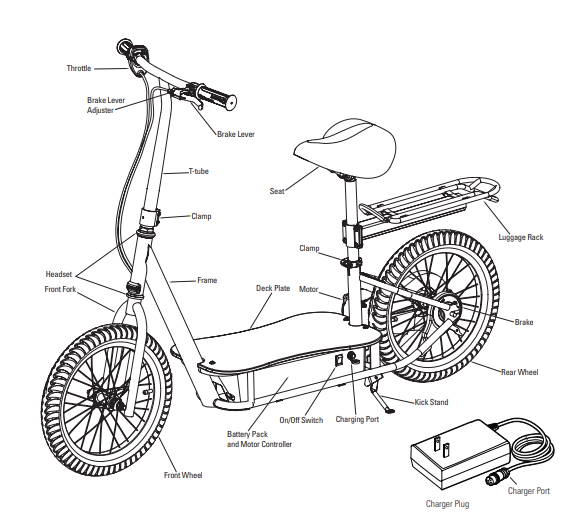 The scooter will arrive unassembled, in a somewhat heavy box, with the Razor branding on it.
The box contains:
scooter's main chassis with the rear wheel
handlebars
front wheel
seat
basket frame and basket
screws
tools required for the assembly (screwdriver, Allen wrench, open wrench, spoke tightener)
charger
user manual
warranty card
The assembly process may take you somewhere between 15 and 30 minutes. The process itself is easy, and it provides that vibe of anticipation while assembling your cool new gadget, so it can actually be quite fun. The manual clearly describes all the steps in detail.
You should charge the scooter's battery fully before riding for the first time.
How to use the Razor EcoSmart Metro?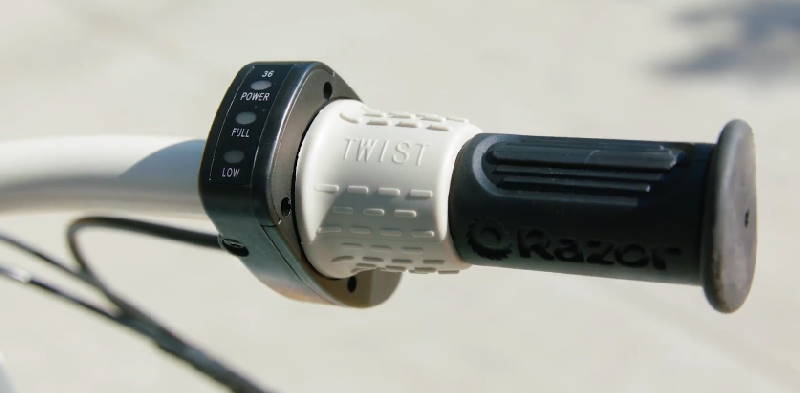 The power button for the scooter is on the rear left side of the deck, which I believe is not ideal, as dirt and liquid can easily end up around it and interfere with its function. The charging port is right next to it as well, and it's protected by a plastic cap.
The right handlebar has a simple screen with indicator lights for the power, the voltage, and whether the battery level is full or low.
The scooter has a twist-grip throttle that's used for acceleration, and a brake lever for stopping. This is a zero-start scooter, so you don't need to kick off the ground to start.
Lifespan, build quality, and defect rates
The Razor EcoSmart Metro is very reliable. Even though chain-drive motors are typically more prone to defects than hub-drive motors, the rate of defects for this scooter is very low. Plus, with the option to choose a hub-drive motor, you can eliminate that risk completely, which might be a good choice for riders that don't really plan to be super-careful with their scooters.
The scooter has been around for a long time now, and owners frequently report their scooters lasting for several years without a major defect. Also, as time goes by, Razor keeps improving this scooter with every new version and they're addressing problems swiftly and frequently. If you buy the Razor EcoSmart Metro today, chances are, you will ride it for at least 2 years without a problem.
Design and engineering
The design of the Razor EcoSmart Metro makes it instantly recognizable. Its distinct look features the unique bamboo wooden deck, the comfortable Razor seat, and the celebrated basket in the back, which all together make the scooter one of the most useful and practical adult electric scooters ever made.
Up until a few years ago, the Razor EcoSmart Metro was traditionally a chain-drive scooter, in fact it was one of the very few chain-drive electric scooters left. Today, the choice of the motor type is left to you, and you can choose whether you'd like the chain-drive or the hub-drive motor (more on that in the motor section).
No matter what you choose, you will get a well-engineered, well-crafted scooter, that has been through many iterations, with issues addressed and fixed to the point where there's almost nothing left to fix.
User experience and ride smoothness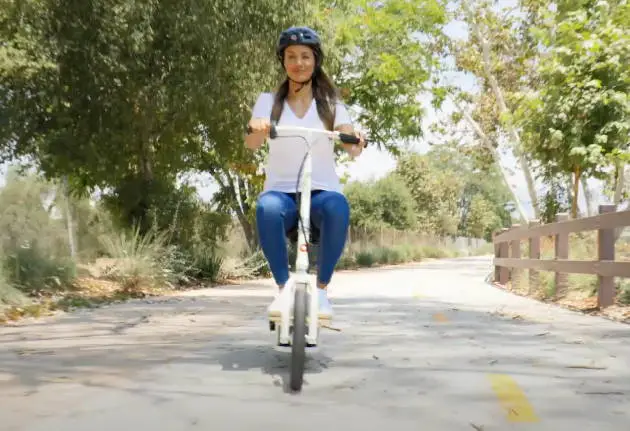 The Razor EcoSmart Metro has very large tires, especially for an electric scooter. Since small tire diameter in scooters is the biggest reason for shaking and bumpy rides, it's only natural that this scooter will provide very smooth and stable rides.
You will typically ride the scooter while seated. The seat is very comfortable and provides a lot of cushioning, which makes the rides even more enjoyable, especially if you're like me and you're a bit on the lazier side.
With both a seat for you to rest on, and a large basket for your items, the Razor EcoSmart Metro is a fully-featured adult scooter and gives you all the help you need in your daily tasks.
Motor, power, torque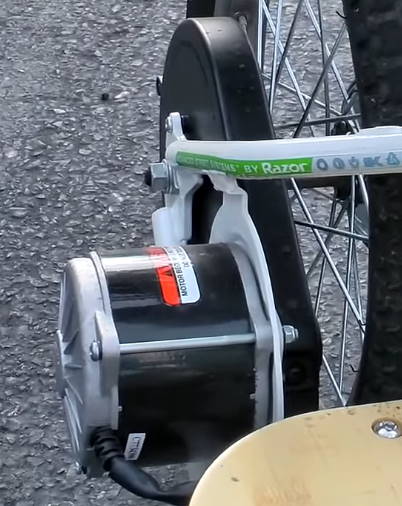 Not too long ago, the Razor EcoSmart was only available with a chain-drive motor, but today, you can also go with the hub-motor if you desire so. Most owners still seem to choose the chain-drive motor, which may be understandable, as that's how the scooter was envisioned to work. Personally, I believe that hub motors are a much better option in general, but for this scooter, it may be better to stick with the chain-drive motor, as that's how the original design of the scooter suggests. The chain-drive motor will also provide more torque, and the only downside will be the possibility of something going wrong with the chain (you can learn more about the differences between chain and hub motors in the complete motors guide).
The motor power is 500 Watts for the chain-drive, and 350 Watts for the hub-drive, which is another reason to stick with the chain drive.
Speed, acceleration
The advertised top speed of the Razor EcoSmart is 18.6 mph / 30 kmh, and that's exactly the speed you can expect to get in your everyday rides. There have been very few reports of owners not being able to achieve those speeds, and mostly by owners over the weight limit, or when riding with nearly empty batteries.
The scooter will accelerate mildly and gradually, although you can still feel a nice little kick if you go full throttle.
Climbing
Razor doesn't specify an official climb angle for the scooter. Owner reports suggest that the scooter climbs well, and it tackles mild to moderate hills fairly well, but it slows down on steeper hills, and it may even stop completely if the hill is too steep or the battery is not full.
Range, battery, and charging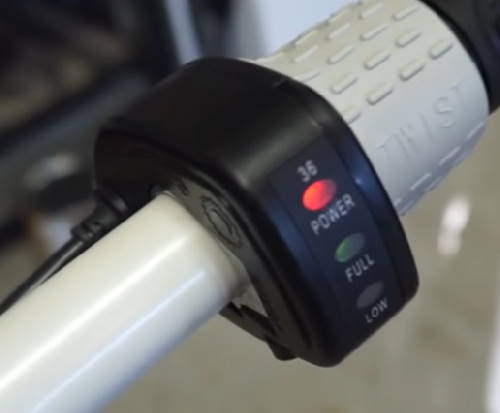 The official range of the Razor EcoSmart Metro is 12 mi / 19 km, or between 40 minutes and 1 hour of non-stop riding. That range is in line with what owners get out of their scooters in their everyday rides.
This is one of the few electric scooters with a sealed-lead-acid battery. It has a voltage of 36 V, and a capacity of 9 Ah.
Because the battery is lead-acid, charging the scooter fully takes up to 12 hours. In my opinion, this is one of the biggest weaknesses of this scooter, as it takes too long to charge, yet doesn't provide you with that much range. Just for reference, lithium-ion scooters that have a charge time of 12 hours will have three or even four times more range.
As usual, the charger indicator light will be red when the scooter is charging, and green when the charging is done. You should try and unplug the charger soon after the battery is full, as the battery system doesn't have overcharging protection, and leaving the charger for too long after the battery is full may shorten the battery's lifespan.
Battery replacement
Lead-acid batteries have less capacity than lithium-ion batteries, and take longer to charge, but luckily, you can replace the default batteries on this scooter with lithium-ion ones, and you will get much better performance. You should find batteries with the same voltage, unless you're planning on overvolting your scooter.
Water resistance
The Razor EcoSmart Metro has no official IP rating, and it should not be used in the rain, snow, or other wet conditions.
That said, some owners have gone against that recommendation and ridden in the rain, and the vast majority of them report the scooter handling that without any issues (only one water-related defect has been reported). If you happen to ride in the rain, don't forget to wipe the scooter's chassis afterward with a dry cloth, to prevent it from rusting.
Riding at night
The scooter has no lights, and is not suited for riding at night. If you wish to ride at night, you will have to get some after-market lights and install them. I recommend checking out a LED front-and-rear system that provides sufficient brightness but doesn't cost a ton (the Cincred on Amazon is a great choice).
Dimensions, weight, and portability
The Razor EcoSmart Metro weighs 65.3 lbs / 29.6 kg.
The scooter does not fold. With dimensions of 57.5 x 20 x 43 in / 146 x 51 x 109 cm, it is smaller than a bike, but larger than a typical electric scooter.
As I mentioned before, portability is probably the biggest weakness of this scooter, and you should plan out how you might carry and store this scooter to work around its large weight and volume.
Weight limit and rider age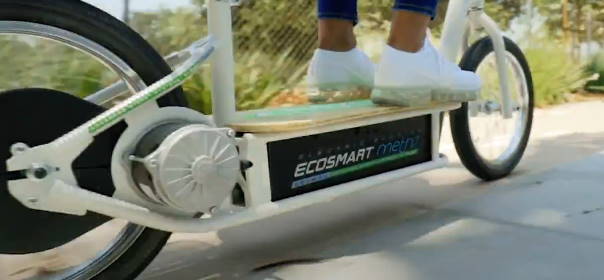 The official weight limit of the Razor EcoSmart Metro is 220 lbs / 100 kg, and that means the scooter will handle most adults without a problem. Many adults close to the weight limit report either no drop in performance, or a barely noticeable one.
The official rider age for this scooter is 16 or older, but many children younger than that successfully pester their parents and convince them to buy them one, so the scooter is frequently used by teenagers and kids as well.
Brakes and safety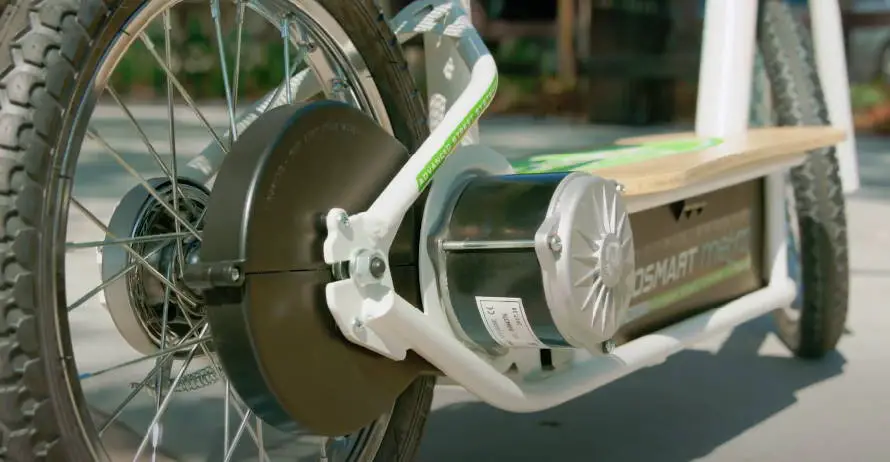 The scooter has a single disk brake on the rear wheel that's engaged by the brake lever on the left handlebar. The scooter is not capable of dangerously-high speeds, and the brake is pretty strong, so overall this is a safe scooter. Still, common scooter rules apply, and you should always wear a scooter-appropriate helmet while riding.
Tires and wheels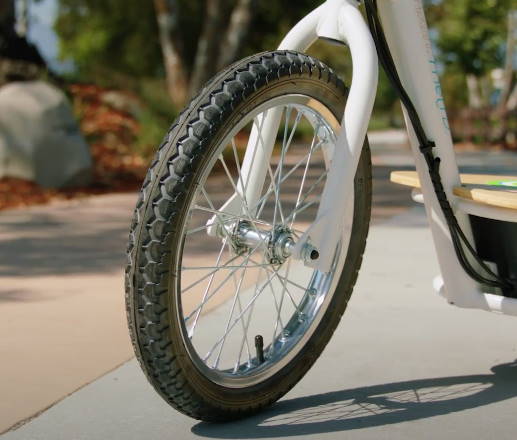 The Razor EcoSmart Metro has large 16-inch air-filled tires, which almost puts it in the electric bike category. Given how typical electric scooter tires range somewhere from 6 inches for the smallest models, to 11 inches for the biggest scooters, we can say the Razor EcoSmart Metro has some of the biggest tires in the scooter world.
The big tires do wonders for ride comfort, and naturally, the rides will be much more stable than the rides of most commuter scooters, which come with 8.5-inch tires. Flats are not very common with this scooter, and if they happen, they are not a nightmare to replace, as the same rules for bike tires apply.
It is a good idea to check the tire pressure frequently. I recommend a light kick before every ride, and a detailed check and re-inflating once a week.
Deck and chassis
The scooter's chassis is made mostly from steel, with some other metals used in the build as well. The steel frame gives the scooter great reliability and stability, although it does so at the cost of portability.
The large, wide wooden deck, made out of bamboo wood, is one of the most unique features of this scooter. It has the green Razor logo on it, which is extra-grippy and will prevent slipping. The kickstand is actually kind of small, but it still gets the job done and the scooter is nicely balanced when leaning on it.
Accessories, seat, basket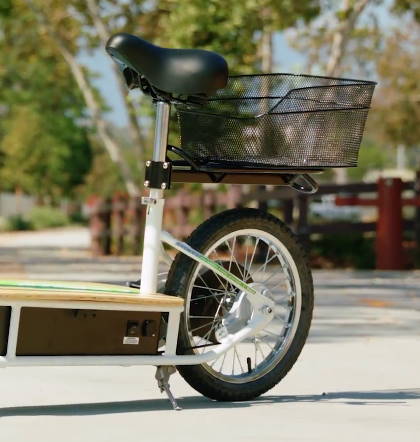 Even though the scooter is not capable of insane speeds, you will definitely not want to ride without your helmet. See my guide on the best electric scooter helmets to find the right choice for you.
Additionally, while this is not an expensive scooter, it still might be the target of theft, so you will probably want to see some of the best electric scooter locks if you decide to buy.
One of the coolest things about the Razor EcoSmart Metro is that it comes fully equipped, with all the accessories that most adults need. I'm talking about the seat and the basket of course.
The seat of the scooter is ergonomic, comfortable, and most importantly, plenty soft. It is not removable, or rather, it's not easy to remove, which means the scooter is a fully-seated scooter.
The basket is quite large, it can carry several full shopping bags or a backpack without an issue, with a weight limit of at least 33 lbs / 15 kg, and probably more.
Still, you might feel like you need to customize your scooter further. In that case, check out my detailed guide on the best electric scooter accessories. Most of the parts recommended there are generic and will fit most scooters, including this one.
Maintenance, repairs, spare parts
Interestingly, the Razor EcoSmart Metro doesn't break down nearly as often as you might expect from a chain-drive scooter. The build quality of the scooter is very good, even excellent considering the price, and chances are, you will cross several thousand miles before noticing a single glitch.
That said, defects are possible, and if that happens, you should be able to find all the parts you need from the Razor store. Also, with diligent maintenance, you will drastically reduce the chances of something going wrong, so incorporate a quick and simple maintenance routine that you will perform at least once a month. The simplest suggested maintenance routine can include cleaning your scooter, inflating the tires if needed, and making sure there are no loose screws.
Specifications
Razor EcoSmart Metro Specifications
| | |
| --- | --- |
| Top speed | 30 kmh |
| Top speed | 18.6 mph |
| Range | 19 km |
| Range | 12 mi |
| Motors | single chain drive |
| Power | 500 W |
| Battery | 36 V |
| Charging time | 12 h |
| Weight | 29 kg |
| Weight | 64 lbs |
| Weight limit | 100 kg |
| Weight limit | 220 lbs |
| Tire size | 16 in |
| Tire type | pneumatic |
| Foldable | no |
| Foldable handlebars | no |
| Seat | yes |
| Trunk or basket | yes |
| Build material | wood, steel |
| Terrains | urban |
| Brakes | rear disc brake |
| Shock absorbers | no |
| Lights | no (customization possible) |
| Keys | no |
| Warranty | 90 days |
| Return period | 30 days |
| Rider age | 16 |
| Unfolded dimensions (L * W * H) | 146 cm * 51 cm * 109 cm |
| Unfolded dimensions (L * W * H) | 57 in * 20 in * 43 in |
| Adjustable handlebar | yes |
| Notes | lead-acid battery; |
App
The scooter has no bluetooth connectivity features, and there is no app available for it.
I recommend the Universal Scooter Helper App by EScooterNerds as an alternative. The app provides many other features that owners might find useful, including checklists, calculators, guides, hacks, tips, etc. The app is available for iPhone and Android.
Downsides and tradeoffs
One of the most concerning issues with this scooter in the past has been the squeaking noises that the area around the motor has made, reported by a significant number of owners. Fortunately, Razor has paid close attention to the complaints, and that issue seems to no longer plague this scooter.
The scooter has a lot of strong suits, but it comes with one pretty big tradeoff that's not found in most of the popular electric scooters today, and that's its lack of ability to fold the stem. With quite a large weight, and no folding features, the Razor EcoSmart Metro is not a portable model at all. It will be more portable than, say, a bicycle, as it occupies a lot less space, but it will not be nearly as easy to carry as some lightweight electric scooters.
Another major issue is its lack of water protection, so you can't really ride the scooter anytime it rains, or snows, nor wash it down with water if it gets all dirty and muddy.
Reviews and reputation
The Razor EcoSmart Metro is available on several online stores and listings, and the story is the same everywhere – brilliant reviews, incredibly high ratings, and delighted owners reporting getting both value and fun out of the scooter.
We can never be certain exactly how many units the Razor EcoSmart Metro has sold, but this is one of the most popular electric scooters ever made, and it's almost certain it has brought smiles to the faces of several tens of thousands of owners, possibly even hundreds of thousands.
Frequently asked questions
Let's look at the most common questions users have about the Razor EcoSmart Metro.
What is the weight limit of the Razor EcoSmart Metro electric scooter?
The Razor EcoSmart Metro can sustain a weight of up to 220 lbs / 100 kg, meaning it can handle almost all adults, as well as some extra small loads like grocery bags.
Can I replace the battery in my Razor EcoSmart Metro?
Yes, you can replace a worn-off battery of a Razor EcoSmart Metro scooter, and it's a fairly easy process too. Visit the official Razor battery maintenance webpage for a detailed guide on replacing the battery of your scooter.
Is it OK to ride my Razor EcoSmart Metro in the rain?
It is not advisable to ride the Razor EcoSmart Metro out in the rain, as it does not have an official IP rating. Water intake can damage the electronic parts of the scooter, especially the battery, which is stored in the deck, right above the ground.
Should you buy the Razor EcoSmart Metro?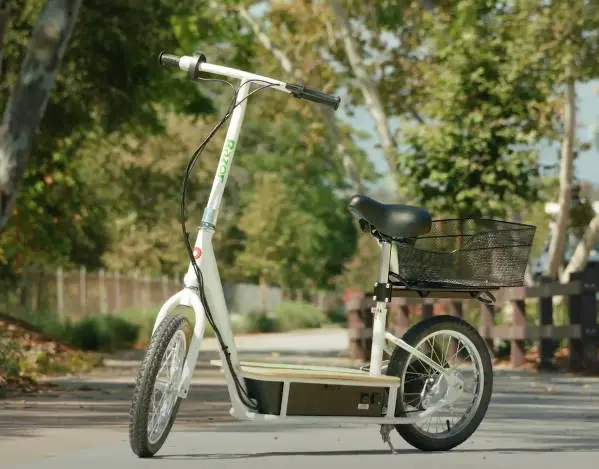 There are a few categories of scooterists that I believe may not find the Razor EcoSmart Metro to be the best choice for them.
The biggest one may be commuters. With its large weight, and the lack of foldability, this scooter will not be ideal for anyone that needs to take their scooter on public transport. Related, anyone looking for a scooter that's portable, easy to fold, carry around, and store in smaller spaces, will probably not find this scooter to be a good fit. If that's what you're after, you'll want to check out the guide on the most portable electric scooters.
However, there are many other groups of scooterists that will simply fall in love with the Razor EcoSmart Metro, and the insanely high customer satisfaction is proof of that. Casual riders that need a strong and reliable scooter, adults looking for a fun ride for cruising, senior citizens or anyone that enjoys the support of a comfortable seat while riding, and pretty much every adult that needs a small vehicle for getting things done throughout the day, all of those use cases are exactly what the Razor EcoSmart Metro is made for. If you fit into any of those scenarios, you should get yourself the Razor EcoSmart Metro, you will be making a wise choice.
Where to buy the Razor EcoSmart Metro from?
---
Europe
In Europe, it's best to get Razor EcoSmart from another
Amazon listing
, as the listing above may not ship to Europe sometimes. You should also check out
Ride And Glide
as an alternative, as they might provide the best deal at times.
---
Want to get
FREE SCOOTER
tips, exclusive discounts and promotions, and unseen scooter hacks? Join the
Scooter Secrets club
.
---
Liked this article? It really helps if you share it.
Follow @escooternerds on social media for more cool stuff
---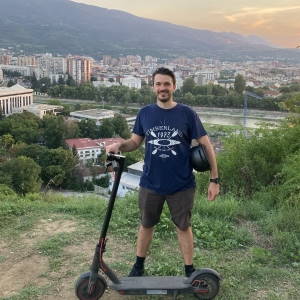 Where to buy the Razor EcoSmart Metro