Last Updated on July 24, 2023 by Matt
Before buying, you may wonder if electric bikes are good for commuting.
I get that question asked quite often by my audience. Today, I'm going to answer it completely.
Are electric bikes good for commuting?
Electric bikes are one of the best options for commuting, and for many, they are the number one option.
They're fast, cost-effective, and eco-friendly. You don't have to wait hours in traffic because you can just use bike lanes instead. In addition, the power assistance you get with an electric bike does most of the work, saving you from pedaling hard and getting tired.
In summary, you get an easier commuting experience than riding a traditional bicycle but more maneuverability than a car.
Let's see exactly why electric bikes are perfect for commuting.
Electric bikes are cost-effective
When it comes to commuting long distances, touring, or riding in hilly areas, electric bikes are not only eco-friendly and convenient, but they are also very cost-effective because you save a lot of money in the long run. 
At first, you may find electric bikes much more expensive than traditional bikes because of their high upfront costs. However, the operating costs are much cheaper than cars or motorcycles.
Cars require fuel to run, and the fuel prices are pretty high right now (and only get higher as time goes by).
In contrast, electric bikes use electricity to charge, which compared to fuel, is very cheap.
Similarly, the maintenance costs of electric bikes are low. Since ebikes don't need petrol to run, most of their maintenance just involves keeping the bike clean and lubricated. The most you'll spend on an electric bike's maintenance will be for a replacement battery, but even those can last up to 5 years or more. 
Since you can store an electric bike inside your house, you also don't have to pay any parking fees. So, it's safe to say electric bikes definitely win in terms of cost-effectiveness compared to other modes of transportation.
Electric bikes are fast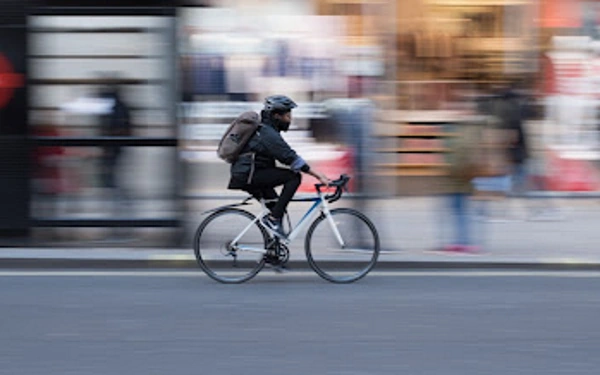 Electric bikes have a huge advantage over traditional bikes in terms of speed. They are much faster and provide a smoother, easier everyday experience.
Being equipped with an electric motor and features like pedal assistance and throttle, you get to ride faster without putting in much effort. The motor does most of the work for you.
The average speed of an electric bike ranges from 20-28 mph / 32-45 kmh, but higher-end models can even go over 70 mph / 112 kmh.
Electric bikes are rechargeable
Electric bikes are equipped with rechargeable, lithium-ion batteries. Charging them is a pretty straightforward process.
You can charge the battery while it's plugged into the bike, or even remove it and then charge it separately, whatever suits you best. Do note that you don't always get these options together, and it mainly depends on the design of the ebike.
Modern electric bikes take just a few hours to charge, even quicker if you use a fast charger. The only downside is that if you're traveling a long distance on your electric bike, you'll be forced to take breaks to recharge.
In such cases, I recommend traveling with a backup battery that you can change when the first battery drains. You can also just install a second battery to your already existing one on your electric bike to increase your range.
The following video demonstrates how.
Electric bikes are safe 
Most electric bikes go through rigorous safety testing before their release to the market. Powerful electric bikes are equipped with advanced braking and suspension systems to offer more control and stability, especially on tough terrains.
However, you can't rely solely on the safety features of an electric bike. It's important you take your own safety precautions by wearing the right safety gear e.g. a helmet, knee pads, elbow pads, reflective vest, etc. 
You should also be mindful of traffic rules and be wary of unexpected obstacles that could cause you to crash.
Electric bikes are easy to use  
One of the best things about electric bikes is that you can ride them just like you would a traditional scooter. You just get more assistance thanks to the motor and pedal assistance features. 
That means there's a very low learning curve. All you really need to learn is how to use the pedal assist and throttle features to optimize your riding experience.
Electric bikes are easy to maintain
Since electric bikes don't run on fuel, the maintenance just involves properly cleaning the electric bike and making regular checks to ensure you catch any damage before it gets worse.
Other electric bike maintenance involves replacing the battery or other components, lubricating the moving parts, and brake inspection. 
With cars, you have a more extensive maintenance list, including oil changes, engine maintenance, exhaust systems, spark plugs, air filters, etc.
Electric bikes help with fitness
Life is becoming more busy and hectic day by day. I barely find time for myself, making it hard to incorporate fitness and exercise into my routine. So, unless I'm working from home, I often use my electric bike to commute to and from the office and to run short errands.
This way, I'm getting my daily tasks done as usual but staying active and fit in the process. If I want a more intense cardio workout, I just turn off the pedal assistance and ride my ebike like a traditional one. If I'm in the mood for some light exercise, I use higher levels of pedal assistance.
Electric bikes help to avoid traffic jams
This is where electric bikes really shine.
Who doesn't hate traffic jams? With an electric bike, you can avoid traffic jams by riding in the bike lanes. You can take alternative routes and maneuver your electric bike through tight places to get ahead of cars.
According to a study, if all electric bikes and electric scooters become banned, the daily travel time for commuting will increase by 9-11%. That's how big of an effect electric bikes have on traffic. 
In addition, traffic jams are one of the major contributors to air pollution. So, by using an electric bike, you're helping reduce that as well.
Electric bikes mean no more parking woes
Nothing annoys me more than spending an hour finding a parking place. I also like parking near the door of wherever I'm going, which can be an impossible task if the place is a people's favorite. 
Not having to go through that is one of the biggest reliefs I have with my electric bike. Most popular places have bike racks, so finding a place to park my electric bike is easy. Plus, even if there isn't a designated parking space with bike racks where I'm going, I just lock it to an immovable object like a lamp post, fence, etc.
Electric bikes come with tax benefits
Carbon footprints are a global issue right now, and a lot of countries are investing tons of money on research in the hope to find a way of reducing it. Electric bikes produce way less carbon footprint than cars, motorbikes, and other vehicles that run on fuel.
So naturally, governments are offering tax benefits to motivate people to use electric bikes instead of cars. In short, you can get paid to use an electric bike. For example, the U.S. government has proposed the Electric Bicycle Incentive Kickstart for the Environment (E-BIKE) Act. 
According to this act, you can get almost 30% of your electric bike's upfront cost refunded as a tax credit, with a cap of $1500.
Electric bikes are fun and cool
Why have an old-school traditional bike, when you can have a fun and cool-looking electric bike? Electric bikes with their sleek and modern designs have a more premium look compared to traditional bikes.
They're more hi-tech, convenient, and a more enjoyable source of leisure.
Plus, riding a bike is way more fun when you have motorized assistance and don't tire quickly. Zooming on the roads with an electric bike is a style statement that traditional electric bikes just can't compete with.
When are electric bikes not good for commuting?
Electric bikes aren't the best vehicle for commuting when you plan on riding long distances. This is because you're ebike will run out of battery and you'll need to make frequent stops to charge. With a car, you can just fill your tank and be on your way. 
Also, riding an electric bike for long distances will most likely tire you out and the last thing you need is to be stranded with no energy left to pedal. 
Another case in which electric bikes may not be good for commuting is during extreme weather. Riding on an electric bike, you're very exposed to weather conditions like snow or rainfall. These can not only damage the electric bike, but can increase the risk of you falling down and injuring yourself.
If you carry heavy stuff while commuting often, an electric bike doesn't have a lot of storage space to carry it. You could attach a basket to your bike, but that won't be enough for bigger packages. In such cases, you're better off using a car than an electric bike.
What are the best electric bikes for commuting?
If you're having trouble figuring out what electric bike to get for commuting, I've written a detailed electric bike buying guide that could help you out. Some of the factors that you should always look at are stability, range, speed, comfort, reliability, and overall value for money. 
These are some of the best electric bikes for commuting.
Best electric commuter bike for around $1000 – Ride1UP Roadster V2
The Ride1UP Roadster V2 is a lightweight electric bike perfect for commuting in the city. Its design is very similar to a conventional bike, so it's good for riders who don't want an attention-catching design but still want a punch in terms of power.
The electric bike only takes 2-4 hours to charge and will give you up to 30 mi / 48 km before needing to be recharged again.  It has up to 5 pedal-assist modes that can take you up to a maximum of 24 mph in terms of speed.
All-in-all, with the Ride1UP Roadster V2 you get a good value for money. The only downsides I found in the electric bike were its LCD display not being bright enough and the fact that you can't detach the battery. A full-throttle mode wouldn't have hurt either.
Best electric commuter bike under $2000 – Cannondale Compact Neo
If you're willing to spend a little more, I recommend getting the Cannondale Compact Neo. It's compact and lightweight, so it's even easy to ride when you aren't using pedal assist. When you do choose to use pedal assistance, riding is like a breeze on the Cannondale Compact Neo.
Do note that though the bike is one of the most comfortable ones I've tried, it comes at the cost of power and speed.
Priced at $1900, this electric bike is best for riders who like having the best of both electric and conventional bikes. 
Best high-end electric commuter bike – Turbo Vado 4.0
The Turbo Vado 4.0 is a more powerful electric bike than the ones I've mentioned. You get seamless power delivery from the 250-watt motor that has a torque of 70 Nm.
The class 3 electric bike has a top speed of 28 mph / 45 kmh and is fitted with 2-piston hydraulic brakes for consistent and powerful braking. You even get a basket in the back that can hold up to 60 lbs / 27 kg of weight.
The main downsides of the electric bike are its heavy weight and high price. The weight doesn't reduce the bike's performance, but it does add to the effort required to maneuver it.
---
Want to get
FREE SCOOTER
tips, exclusive discounts and promotions, and unseen scooter hacks? Join the
Scooter Secrets club
.
---
Liked this article? It really helps if you share it.
Follow @escooternerds on social media for more cool stuff
---